Teachers, families anticipate start of in-person learning
Mandatory return to campus for faculty without accommodations forces Mac families to make tough choices
It's 10 p.m., and after a day of Zoom classes, kid wrangling, dinner making and sanity maintaining, Richard Cowles sits down to grade with the hope that he'll be finished before he sees the clock turn from p.m. to a.m. Already spread thin, Cowles is one of many McCallum teachers who sees going back to school on Monday as more of a looming dread than a welcome shift back to normalcy. 
Facing pressure from the Texas Education Administration and some Austin parents and students to return to a face-to-face model for school, Superintendent Dr. Stephanie Elizalde signed off on a decision that requires all teachers to return to campuses on Oct. 5. The plan will follow a more cautious route for phase-in than was previously planned, after Elizalde submitted a waiver to extend the time that district schools are able to spend in virtual capacity another four weeks and opted to delay allowing returning students to follow their course schedule in-person by traveling from classroom to classroom. 
"In order for us to get back to school and one day get back to what we typically experience, we need to go about it in this fashion," Elizalde said at the Sept. 14 Board of Trustees meeting. "If we don't, we will constantly be opening and closing and opening and closing, and I know this is something the parents need us to get a plan for."
Currently, that plan is that the first 25 percent will consist mainly of faculty, but if the number of students that wish to return exceeds the 25 percent capacity limit, freshmen and students with special needs will be admitted first.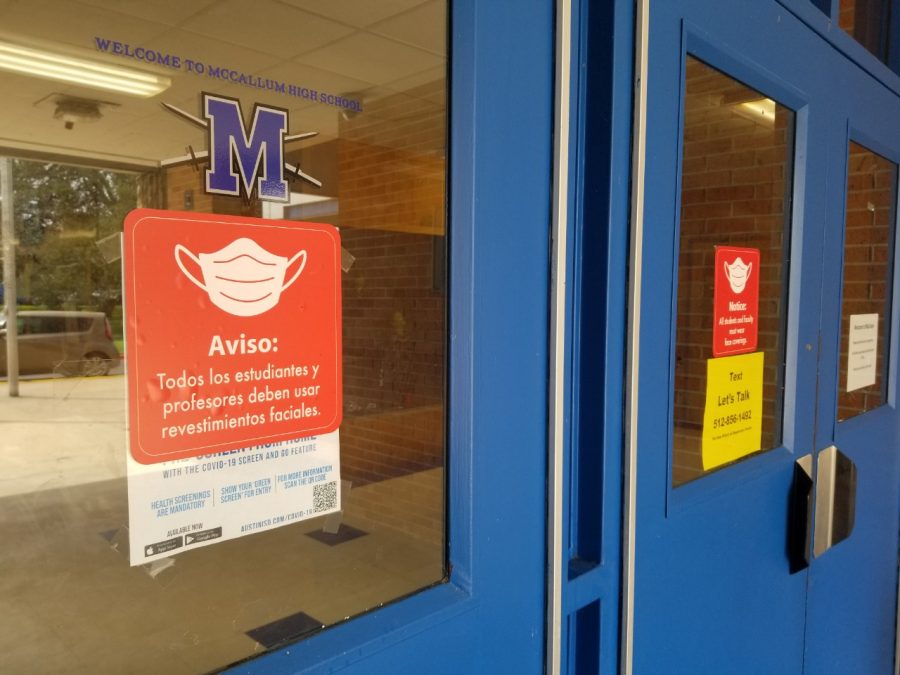 This method gives students and their families the opportunity to make a decision that will be safest and most effective for them. Many McCallum teachers, however, have expressed frustration with the requirement to return and the lack of choice they have been given in the decision. 
Those that don't have approved accommodations are finding themselves in complicated situations. One is Cowles, who has been a MACulty member for the past 23 years and a father for the past 15. With two fifth-graders, a freshman and a wife whose work also forces her out of the house, Cowles and his wife have had to choose between having their young kids stay home alone or sending them to school, where they face a much higher risk of infection. 
"All three of them are under stress, and I am the moderator during the day," Cowles said. "Without me being here, there's going to be shouting which only adds to the stress. They're siblings, that kind of thing happens. But typically, you know, usually I'm there to help them. 'Okay, what's the compromise? You know, that's not a compromise, try again,' and eventually they get it worked out."
"
I mean, realistically I know they're going to be fine. But you know, I don't want them to end up with PTSD at the end of this because their parents were gone from 8:30 to 5 every day.
— Richard Cowles
Without supervision, Cowles feels nervous about leaving his kids alone all day. 
"Say a dish drops," Cowles said. "There's glass, and we always talk about how you got to sweep it up. You can't go there barefoot, but they're all barefoot, so who is the one that's gonna sweep it up. I mean, realistically I know they're going to be fine. But you know, I don't want them to end up with PTSD at the end of this because their parents were gone from 8:30 to 5 every day."
Students with learning disabilities and 504s are also more affected by online school. Blythe Wyrtzen, a McCallum senior who receives special education services, is one of the community who will not be attending online school. 
According to a Shield Online survey with 104 respondents, Blythe is not alone. Ninety-three percent of respondents said they would be attending classes virtually on Oct. 5 while 5 percent are opting for hybrid attendance (a mix of virtual and in-person) and 2 percent are opting to attend wholly in-person. 
Blythe's mother, Courtney, and sister, Fiona, who is also a McCallum senior, all say that the decision to keep Blythe, Fiona and their brother Noah home is motivated by the desire to reduce their risk of infection.
"We know how serious it is, and life-altering, and scary and devastating. And we don't want to be in the position of exposing ourselves to it, and then, on the other side, we don't want to expose teachers who are having to come back when they're frightened," Courtney said.
Fiona added that for special education, some of the needs the students have make a contactless day virtually impossible. 
"With the special ed kids, it's different," Fiona said. "They can't go to the classroom and sit six feet apart all day, they can't just sit in a chair, they have to do activities. And then you have to have the aides who are touching them… I mean, a lot of them, they need to be fed. You might have masks on, but if you need someone to take you to the bathroom, there's not really much you can do."
For the Wyrtzens, the risk of exposure outweighs the struggle of online learning.
"I think because we live a life with a person who has a disability, we know how to handle chaos and crisis when they come up, so we just handle it," Courtney said.  "We have a few options, you know, we have money to have more internet, we already have nursing services so we have an extra set of hands and then [my husband] and I are both home. So we can work this out if we have to. And so I feel right about my decision."
However, even though staying home is right for their family, the Wyrtzens stressed that the important thing is that they were able to make that choice. 
"What any family has to do I respect their decision, because I know they're not just making it off of one factor. There's so many factors," Courtney said.
"
Even though I feel strongly about what's right for our family, if another family had to make a different decision, I would go out of my way to try to respect that because they have a different set of factors that I may or may not know about.
— Courtney Wyrtzen
Taking this into account, the lack of choice given to the teachers is not something that the family supports. As a parent who was able to make a decision for her family without having to consider her or her husband's jobs, Courtney was able to come up with a plan that worked for her family, but she can imagine the difficulty if that wasn't the case. 
"My work is not calling us back anytime soon, there's no date there, they're not even talking about it. That is a huge weight off of my shoulders," Wyrtzen said. "So then that gives me empathy for these teachers. They're at the opposite end of the spectrum. The weight is all on them."
Her empathy has shaped her decision to be as much of an ally to the teachers' choices as possible.
"I think they're working so hard, and they're under this incredible pressure. But in every teacher I've seen from special education, they're just coming up with these amazing resources, and they're doing such a good job. I want to honor their good job by honoring what they want," Courtney said. "And if they want to come back and they feel OK, great. But if they don't, I don't think they should be forced, because this truly is a life-or-death illness. Even if you live, your quality of life and your potential long term health issues are very real factors."