Against talented Mustangs, persistent Knights show flashes of potential on offense, defense
Rosales to Johnson TD on final play of live quarter ends Manor scrimmage on promising note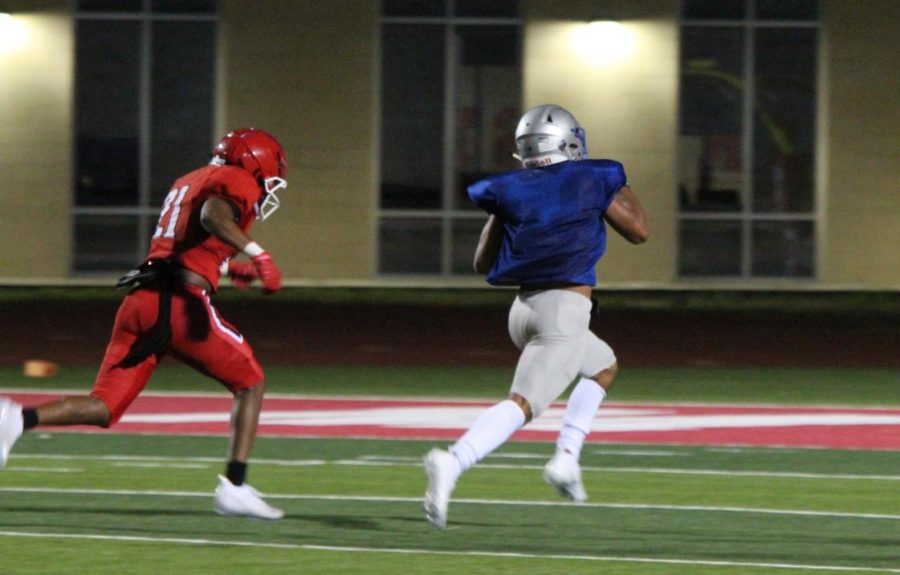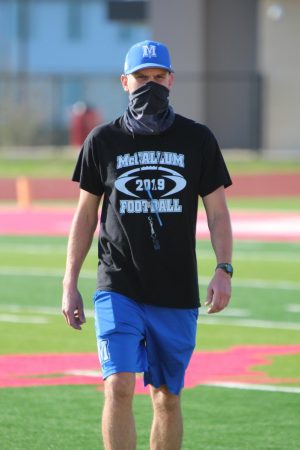 The Knights trailed the Mustangs, 7-0, in the live quarter portion of their season-opening scrimmage at the Manor Sports Complex. 
The Mustangs had scored on their opening drive of the quarter, and both defenses forced a punt, leading to one last possession for the Knights to answer with a touchdown of their own.
Methodically mixing a short passing game with the run game, the offense marched to the 16-yard line, with nine seconds left on the clock. 
After a timeout, junior quarterback Jaxon Rosales lofted a precision pass to senior wideout Ed Johnson who beat his defender to the corner of the endzone to even the live quarter at a touchdown apiece.
Prior to the live quarter, Mac and Manor had alternated 10-play sequences on offense and defense, and while Manor got the better of that exchange, McCallum showed against a quality opponent flashes of its potential on both offense and on defense. 
"We just played well as a unit," junior outside linebacker Tino Rodriguez said. "We weren't scared out there. We wanted to go out there and prove ourselves. We had some great stops…. [juniors] Jake [Hissey] and Wyatt [Cunningham] had some great deflections. The D-line would've had a couple of sacks if we could hit the quarterback."
The offense also had some shining moments. Rosales was composed in the pocket and delivered accurate passes to several receivers during the scrimmage, and senior running back Andres Rodriguez produced the Knights' most explosive play of the scrimmage, a 50-plus yard run. 
"
We weren't scared out there. We wanted to go out there and prove ourselves."
— junior outside linebacker Tino Rodriguez
"It was a tone-setting play because everyone got hyped up," Andres told MacJournalism after the game. "The play was designed for the right, but Booje [senior Joel Bourgeois] and [senior] Charlie [Pecina] made some outstanding backside blocks, allowing me to make the quick cut and score." 
After the game, Coach G told the players he was proud of them and that honestly they were further along than he expected them to be, but he also told them that still have a lot of work to do to be ready for Anderson and an all-time-series tiebreaker game against the Trojans on Friday at House Park. 
"We just need to work on the simple things for next week," Tino Rodriguez said, "and have a great week of practice to go out and have a great game against Anderson."  
— with reporting by Grace Nugent
To view our exclusive photo galleries from Thursday's scrimmage, visit the Flickr galleries below.