Spain is not itself in wake of COVID-19
Manon Wilson, a teacher in Vigo and the daughter of Mac teacher Cassandra Troy, says "everything has changed" as nation battles spread of coronavirus
If you've ever visited Barcelona, Madrid or any other Spanish city, you wouldn't recognize it now. The usual city clamor has been replaced with eerie silence, and the groups of affectionate friends talking, eating and laughing have disappeared from patios, parks and balconies. Since March 14, the country has been on lockdown after prime minister, Pedro Sánchez, declared a state of emergency on March 13 which enacted Spanish emergency powers stated in Article 116 of their constitution. 
For Manon Wilson, the daughter of McCallum English teacher Cassandra Troy, everything has "completely changed" and suddenly too. Wilson has been teaching English as a second language in Vigo, Spain, for nearly four years,  making the small town her home. Early in march, Wilson traveled to Texas for the wedding of her high school best friend, but her trip was cut short by the threat of the COVID-19 global pandemic.
"I was supposed to leave [on March 15]," Wilson said, "and on the 13th, Spain declared a state of national emergency, so I bought a ticket and came back that day. I left the 13th and got to Spain on the 14th. Immediately when I arrived, it was in full quarantine with nobody allowed outside." 
"
Spain is a touchy, tactile culture, and that has completely disappeared. It's really odd."
— Manon Wilson, who teaches English in Vigo, Spain
"After she landed there, and was home, she started getting news reports that they were turning flights around midair," her mother, Troy, said "She got there just in time, and she happened to be flying on a Spanish airline. I think that's why she was allowed to land because the people on the crew were Spaniards, and they wanted everybody to get home."
The Spanish Health Ministry claims that the first known patient in Spain was a German tourist visiting the small island of La Gomera, who was diagnosed and treated in late January. The government framed the virus as an outside threat, brought in from their infected neighbors from Germany and Italy. They went as far as declaring the country "virus-free." That statement was quickly disproven on Feb. 26 when a resident of the city Seville tested positive for the coronavirus and a week later, another case popped up in Valencia. Spain now ranks second in the world, just behind the United States, with 194,416 confirmed cases and and 20,639 deaths as of April 18, according to Johns Hopkins University. 
The virus spread like a wildfire in Spain's cities due to close quarters and social events. March 8 marked Spain's third nationwide "feminist strike," where about 5 million women walked out of work for a two-hour strike. The walkouts were held to commemorate International Women's Day and draw attention to issues such as the wage gap, domestic violence and gender discrimination. According to a news analysis written by Guardian correspondent, historian and author Giles Tremlett, the march caused large crowds in the cities, especially the capital, Madrid, creating conditions where the coronavirus could spread quickly. Soon, three government ministers tested positive for the coronavirus as did with the prime minister's wife and mother.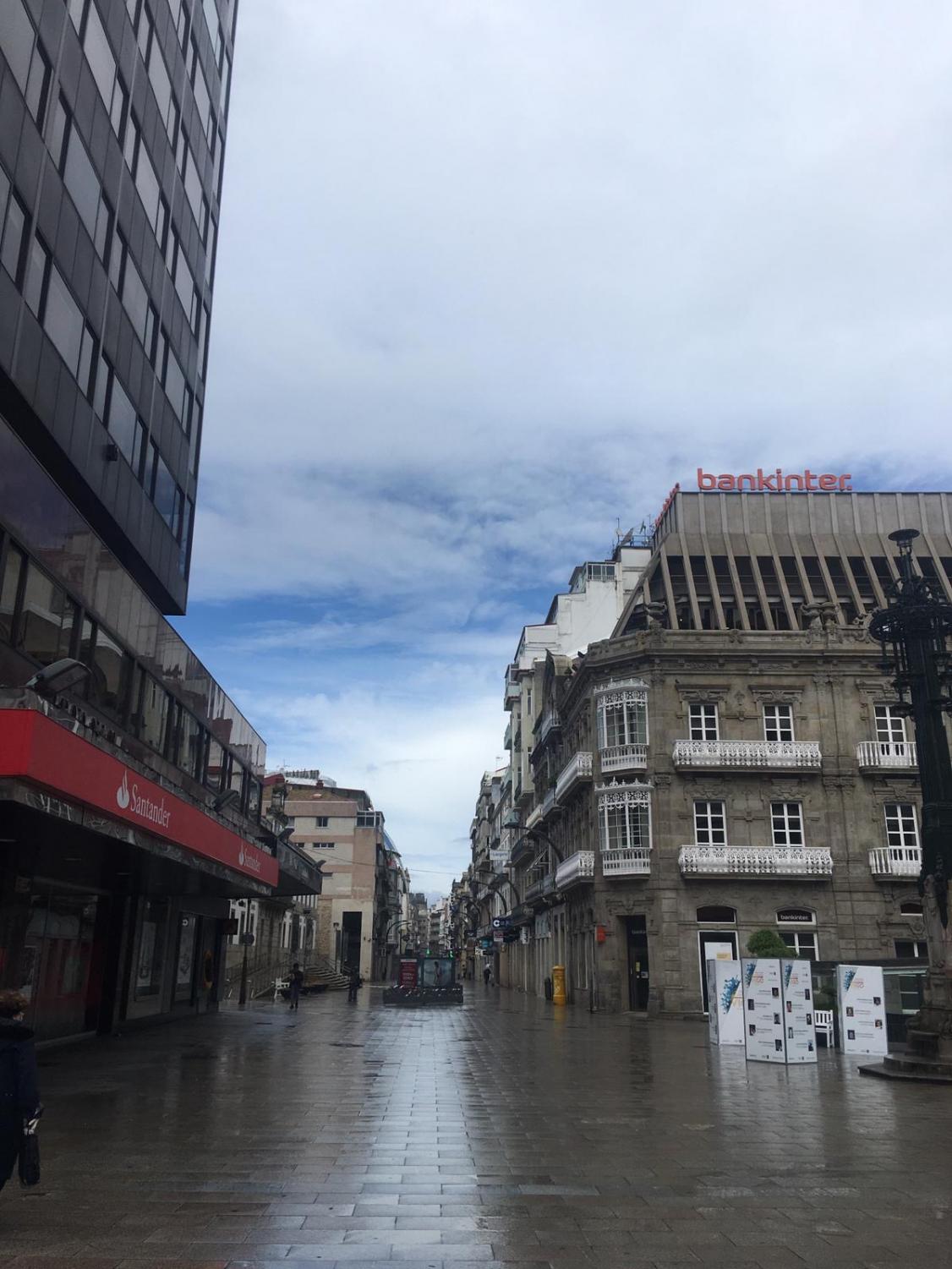 With the football (or soccer as it's known in America) season in full swing, crowds continued to gather into early March. The New York Post Wire Report reported that nearly 2,500 Valencia CF fans joined the players and sports journalists travelling to Milan, Italy for a Champions League match, and about 3,000 Atlético de Madrid supporters made their way to Liverpool, England for another match. These games and their subsequent travel have been blamed for spreading the virus to smaller cities and towns, leaving local media to refer to these matches as "game zero." 
All large gatherings, political, sports and otherwise, were shut down upon Sánchez's state of emergency announcement. So, arenas are serving a much different purpose. The country's largest skating rink is being used as a morgue while exhibition and convention centers have become temporary hospitals. As a result of the quick coronavirus spread, Prime Minister Sánchez, along with his cabinet, has faced mass public criticism for his reaction time and lack of preparedness.
"
Spain now ranks second in the world, behind only the United States, with 194,416 confirmed COVID-19 cases and 20,639 deaths as of April 18, according to Johns Hopkins University."
To make matters worse, medical statistics reported by The World Bank Group on shows that Spain's hospitals are painfully underprepared. Though no country expected an international health epidemic, Spanish hospitals are still recovering from the crippling financial crisis lasting from 2008 to 2014. The economy has been improving over the past decade, but in the past 2 years, the GDP's growth rate has slowed, external demand has fallen and unemployment has risen. This has left Spain without the necessary equipment needed to fight coronavirus like ventilators, protective wear for healthcare workers and COVID-19 tests, causing them to rely on shipments from China. Spanish hospitals stand behind their neighbors in hospital beds per capita, reporting only one third of counts from Austria and Germany.
Due to these multiple factors, Spain's original 14-day lockdown has been extended. The country is expected to ease up from their state of emergency "in phases" according to Prime Minister Sánchez. As the Spanish Health Minister, Salvador Illa said in a press conference, "Spain continues in a state of lockdown. [It is] not yet in a de-escalation phase." The prime minister has required all Spaniards to stay home and closed all non-essential businesses including shops, bars, restaurants and theaters. Only supermarkets, pet supply stores, gas stations and pharmacies remain open during these times. 
"We have, now, military personnel in the streets making sure that people aren't sitting in parks or standing on street corners," Wilson said. "The regulations are super different. Spain is a touchy, tactile culture, and that has completely disappeared. It's really odd. Everything is different. We have this culture based largely on being outside on a terrace having [drinks] in the middle of the day, and kissing your friends on the face, and everybody loving each other. That's completely gone."
"You are not allowed to just be on the street walking," Troy added. "You are not allowed to just go and visit a friend. The expectation is that you are in your space unless you have to get food or go to the hospital."
Though Spain is granting slightly more leeway to some "non-essential" workers, such as construction workers, the majority of the country is still being asked to work from home. For Wilson, teaching online has been an adjustment during this time. 
"The first week, we really sent most of the time just trying to figure out how to organize all of the students with Google accounts so that we could Google meet," she said. "So, it was mostly just organization between the teachers. We just told the kids 'look, try to watch something in English, or if you want to send me an audio of a conversation, that's great.'" 
Wilson said that the Spanish government has changed its television programming in order to assist with the education of the country's students. In the mornings, she said, the broadcasts are mostly educational. The government is funding a wide range of free television, as they mandated that all kids must continue learning during the lockdowns. 
By the third week, Wilson had organized and sent out lesson plans and scheduled a meeting in Google Hangouts. Unlike many schools in the United States, schools in Spain are still giving grades to students during online schooling and are facing the possibility of returning to in-person classes. Therefore, the students are forced to, in Wilson's words, "hunker down and try to teach themselves difficult concepts in a distracting environment." 
"
You are not allowed to just be on the street walking. You are not allowed to just go and visit a friend. The expectation is that you are in your space unless you have to get food or go to the hospital."
— Cassandra Troy on how COVID-19 restrictions have affected life in Spain where her daughter teaches English
"It's been difficult to organize amongst the teachers," Wilson said. "We've organized times, and were trying to give classes at the same time as we would normally have them in schools, but if a kid's grandma is in the hospital or they have family obligations because they're home, it's a bit harder to be accountable in that aspect.  It's just been pretty hard to keep them focused in class. For us, it's hard to gauge what level is fair to expect from them. So it has been a big adjustment in expectations and focus."
Similarly, her mother has also been concerned about access and expectations for her students in the United States as online, or Zoom, schooling takes over the nation.
"We [English teachers] now have a lot of freedom, thankfully, because the STAAR test mandate has been taken away," Troy said. "We can have a little bit of fun with it. The other disciplines like math and science, I imagine, are feeling some pressure because you guys still need to have a certain amount of skills underneath your belt before you can start up next year. Right now, there are just so many options. I think that the most important question[s are], 'Can we put all these materials on Blend, but are our students all going to be able to access them? Are they all going to have the time if they're taking care of siblings, or if they have brothers and sisters who also need the computer? Are they going to be able to even find the information, and how can I help them? How can I make myself available to them?' We're also working with information that changes almost daily, so we have to be very flexible about that."
In America, many schools, including Austin ISD on Tuesday, have cancelled proms, graduations and in-person classes for the rest of the year, but in Spain the school year traditionally doesn't end until mid-summer. 
"We've planned to not have in school classes throughout May," Wilson said "The [prime minister] extended our quarantine until April 26, but there's no way that's viable. I think that in terms of going back to school, it won't be possible until at least June."