MacJ captures 164 TAJE Best in Texas Newspaper Awards
Samantha Powers wins Best of the Best in Print News Subjective Writing; Bella Russo, Kristen Tibbetts combine to win 42 individual awards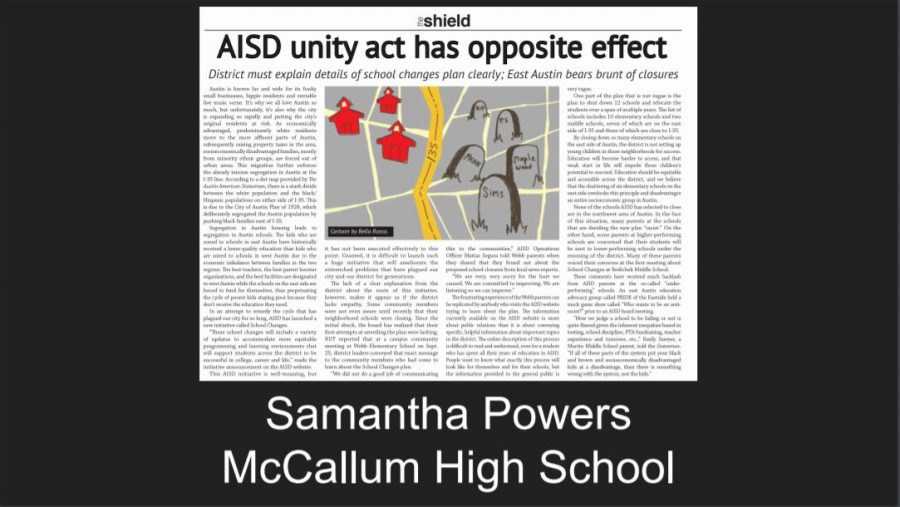 The Texas Association of Journalism Educators announced the winners in its annual Best in Texas Newspaper Awards, and McCallum earned a total of 164 individual awards in a competition that gave out a total of 656 awards across the state of Texas.
MacJournalism's total included 41 superior awards, 55 excellent awards and 68 honorable mention awards.
The 41 superior awards were also eligible for a second round of judging to be named Best of the Best in Texas, and we are pleased to say that one of our superior winners, sophomore Samantha Powers, has today been named Best of the Best in Texas in the Print News Subjective Writing Category.
She won Best of the Best in Texas for her issue two board editorial, "AISD unity act has opposite effect."
It's the second straight year that McCallum has earned Best of the Best in Texas in that category. In 2019, current co-editor in chief Kristen Tibbetts earned the same honor for her board editorial, "We have all been Hood-winked."
Tibbetts was also a big winner in this year's contest, capturing a total of 20 awards. Her total was surpassed by only one other Shield staff member, junior visuals editor Bella Russo who won 22.
Congrats to all of our winners. A document listing all of them is embedded below.