Hudnall hopes for state
Girls wrestling captain values leadership, self-motivation, pride, on the mat and off
The Shield: What's your favorite part about wrestling?
London Hudnall: It's like my escape. I consider myself to be a very nice person, and that's my time to get out [my emotions]. I can release everything that I have on the inside. And the community is really great. Honestly, it seems like everyone might be scary, but everyone is really friendly and open.
TS: What kind of relationship do you have with your McCallum teammates?
LH: We're a family. That's what it feels like. That's your home away from home, and it's really nice to have that.
TS: How long have you been wrestling?
LH: Since seventh grade, and I'm a junior now so I think like five or six years.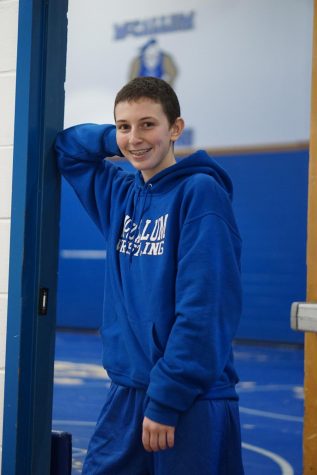 TS: How do people react when you tell them that you wrestle?
LH: A lot of people [are] really shocked. I feel like womens' wrestling is really looked down upon in a way. It's not seen as the same as men's wrestling when we're doing the exact same workouts [and] the exact same moves. A lot of people are like, "Oh, you're a girl wrestler; that's nothing." They just see it as "You're just going out there to cat-fight," when it's not. It's a lot more intense than people like to believe that it is. But they'll never know because they aren't me, and they don't go out there and do it themselves.
TS: How did you become girls wrestling captain during your first year here?
LH: Well, last year, at my old school [Lubbock Monterey], I was the captain as well, as a sophomore, which was kind of a big deal because normally that role is for seniors or upperclassmen. Some people think that being captain means that you're really awesome at what you do, or you're the best at what you do, but I don't think that's the case. Being a captain shows that you're a good leader and that you can work through your losses and work with your team and motivate them and motivate yourself. … I wanted to help [my teammates] and be a leader to them and show them how to be better, not even on the mat, but just in general.
TS: What motivates you to do all that you do?
LH: Mainly myself. I've always been very big on self-motivation. I have other support systems like my family and my friends and my teachers, but in the end, you only have yourself. I do these things because it makes me proud of me. It makes me proud of who I am. Pushing myself to go as far as I can will just bring self-happiness. I try to be as optimistic as I can.
TS: Do you have a favorite memory from this year? Or any memory in your wrestling career?
"
Wrestling is like a language, just with your body. It's a physical art.
— junior London Hudnall
LH: Honestly, no. There [aren't] too many things that really stand out to me, which may sound bad, but it's like, in some ways I do and I don't like to look back on the stuff I've done. I like to look back on the stuff that I've done wrong to help fix it. It's like every match, you're on a clean slate because not only are you getting better, but your opponent's also getting better. You're never going to wrestle the same match twice. So if anything, all of them have stood out because they've all been very different. But I did have a match a few tournaments ago where I went against [the] No. 5 [girl] in the state, but she has since been knocked down to No. 7 in the state. … When I wrestled her, I think she was very surprised to get someone who actually challenged her and who she didn't pin in like 30 seconds. I ended up going all three rounds with her, and she won only by a few points. So that was a really big moment for me because I could tell she was very frazzled by that when she normally isn't.
TS: How do you feel in the moment when you're on the mat wrestling?
LH: There's a lot of different emotions that I feel. And I guess that also depends on the match. Before my match, … I get into a zone. When I'm warming up, I don't talk to people. I get in my own head and then my own little world. You have to tell yourself, "Hey, you've got this. You just have to go out there and wrestle your match." … If you have that negative mindset, then you're already defeated. I was guilty of that a long time ago, so now that's what I try to combat when I warm up. I'm like, "Yes, you got this" and then in the middle of the match depending on how it's going, that's when I start to tell myself, "Keep on fighting. Keep on doing what you're doing; you're doing awesome London." You have to also remember, that's not going to be the last time that you see that person and you have a chance for redemption for yourself. Overall, though, yeah, I feel empowered and I feel motivated and very grateful that I'm there doing the sport and showing what I got.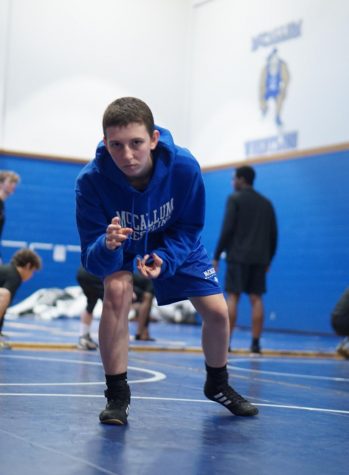 TS: Have you ever suffered any injuries?
LH: Yes, nothing serious that has completely taken me out, but I did. I had a pretty bad back injury in middle school. I was having to go to the chiropractor, like once or twice every week for over a few months' span because my back was really, really hurt and my nerves were getting pinched really bad. Shoulder injuries are very, very common amongst wrestlers. I can't even tell you how it happened. With all the fighting that you're doing, your muscles start to wear out. So last year, we had to bring our own personal trainer with us, and they had to bring a whole electrotherapy kit to help my shoulders keep their strength. Even right now, it's actually starting to kind of catch up to me again, like my shoulders are starting to feel a lot more sore than they should, and for a lot longer than they should. But if you want an interesting story, we did have a girl last year get paralyzed from the waist down. It can be a dangerous sport. Someone fell on her and she did something to her neck and then it pinched a nerve and did something to a nerve to where she could not move her legs. So, it's scary, and I've seen people's arms get broken and stuff like that. It can be intense, but me personally, no.
TS: So, what makes it worth it?
LH: For me, it's just fun [and] I enjoy it. Wrestling is like a language, just with your body. It's a physical art. It's something that I can be satisfied with in myself. It's something that I can look back on when I'm older and be like, "London, you were this really bad-ass wrestler." The wins are awesome and then the [losses] are also awesome. The experiences make it worth it. The joy that I get from it is worth the fun [and] the knowledge [I've gained.] Everything makes it worth it.
"
What's most important to me is that they're happy doing what they do, and they're pleased with how they performed in their matches and throughout the whole entire year.
— Hudnall on her priorities as team captain
TS: What are your plans? What are you hoping for the team for the rest of this year and maybe next year, as captain?
LH: I just want my team to be proud of themselves. I want them to see that they actually know what they're doing. I want them to be proud of their work and what they have done, and I want them to make it as far as they hope to and want to. I truly believe that we have a very, very talented team this year. My hope for all of them is to go to regionals, but what's most important to me is that they're happy doing what they do, and they're pleased with how they performed in their matches and throughout the whole entire year. I don't want anyone leaving this season feeling disappointed in themselves or feeling like they could have done better. I want them to come into next season feeling motivated to get even further.
TS: Do you have any personal goals, like in your performance?
LH: I want to make it to state. That's my biggest goal. I guess personally, I need to get more aggressive. I'm a pretty defensive wrestler. I'm good at getting reversals and stuff, but I'm usually not the one to make the first move. So that's something that I want to try to get better at. Hopefully, in getting more aggressive, I can start to dominate more. And then hopefully make it to state because that's been my goal the last two years and we still haven't made it. So, that's what we're hoping for this year. That's my goal.
—interview by Evelyn Griffin and Elisha Scott