When in Denton, do as the locals do
It's a college town, a county seat and a respite from the infernal highway that leads you to it
Max Rhodes, Online editor in chief
December 10, 2019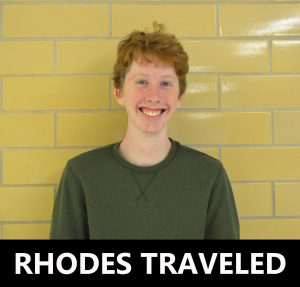 Picture this: You've been driving down a stretch of highway for many hours and hundreds of miles. You've passed through more small towns than you can count, and a handful of huge cities as well. Your phone is getting one bar of service, if any, and the only music on the radio is either country, religious or high school sports. On the road it's complete anarchy. The Ford F-250s and Ram 2500s are passing you in the right lane pushing 95 mph and the left lane is consumed by the herd of seniors in their 1990s Buicks. Amidst all of this, you see the green highway sign on the right side of the road: Denton — 17 miles away. While perhaps not the cultural metropolis that some cities are, anything is better than the hostility of that highway. That's right folks, next up on Rhodes Traveled is the highly anticipated Denton, Texas.
Denton is home to 136,000 lucky residents and is almost a four hour drive up everyone's favorite stretch of pavement known as Interstate 35. This may seem like a long drive, but you don't have to do it all in one stretch. There are plenty of places to stop along the way, such as the world famous Waco and West, Texas. Not just a region of the state, West is a town with a population of 3,000. There are multiple Czech themed restaurants and stores here, such as Slovack's, Czech Stop, Gerik's Ole Czech Bakery & Deli and Czech American. I couldn't find anything about Eastern European immigrants here, so maybe it's just something the locals are into.
After you survive the traffic of Fort Worth,and pass by Arlington, you enter Denton. Being situated along one of the busiest highways in the country, there are a surplus of "travelers hotels," your Holiday Inns and what have you. While a little generic, these hotels are consistently clean and not too expensive.
If you're on the hunt for a college to attend, the University of North Texas is in Denton. It's a mid-size college and is not overly difficult to get into. I'm not going to go into too much detail, as this is not my area of expertise, but I thought it was worth mentioning. It also brings up an important question: Is Denton a college town? It depends on your definition of college town I suppose. True, most of the businesses around town have several college-aged employees, but there are also a lot of non-college aged residents. If about 38,000 people attend the university, that still leaves almost 100,000 other residents. Now, if you want a college town, take a look at San Marcos. The university there, Texas State, is a similar size to UNT, but the entire population of the city is only about 60,000. The student body makes up more than half of the city's population.
Another thing worthy of note is that Denton is the County seat of, appropriately enough, Denton County. This means it's the biggest town in the county and sees a little more traffic than say, Dish, Krum or Ponder, which are a couple miles west (yes, those are real town names). So, apart from other things, Denton has a courthouse. No longer used to convict Denton county's most wanted criminals, it now functions as a museum. The grounds outside the courthouse are nice and a central part of the town square. Its a good spot to take pictures, which are needed to remember the wonderful times had in Denton. Just make sure to take them on the side of the square that doesn't have the Confederate soldier monument.
"
Denton, being a small town, may not offer the same level of entertainment as, say Austin, but there are plenty of things to do here to occupy your time."
Denton, being a small town, may not offer the same level of entertainment as, say Austin, but there are plenty of things to do here to occupy your time. It's got a small-town charm, and while there isn't much in the way of nightlife, as most businesses close by 7 p.m, there are some unique restaurants and stores to capture your attention.
Restaurants are a great unique way to get an idea of the place you're in. And even if you're on a budget, try to avoid any chains. You can eat at McDonald's or Dairy Queen back home. A local spot will give you an idea of what food is popular in the area and of the locals who eat there. When choosing a good spot to eat in a new place, you've got a few options. Either you can read a "professional's" account of a place and pick where to go based on their descriptions, or you could choose a place on your own. A good way to find such a place, I've found, is to look up a list of the oldest or the best restaurants in town, then head over to Yelp or a similar site to read a few customer reviews. Take these people's opinions with a grain of salt, and keep an eye out for the average rating and the number of reviews; usually, the more reviews the better. Also make sure to check the hours of operation. In these small-town places, restaurants or otherwise, will be randomly closed one day and not open till noon another. Now let me keep up my end of the deal. Here are a few restaurants in Denton.
Barley & Board is on the main square, at the corner of Oak and Locust streets. It's a brew pub, but they offer more than just alcoholic beverages. They've got a classic selection of American cuisine, baby back ribs, hamburgers, etc., including unique "matchstick fries," which are smaller and more crunchy than ordinary french fries. Good soft pretzels and local sodas (well, if you consider Dublin local. Not Ireland, Texas) make this one of the better spots on the Denton square.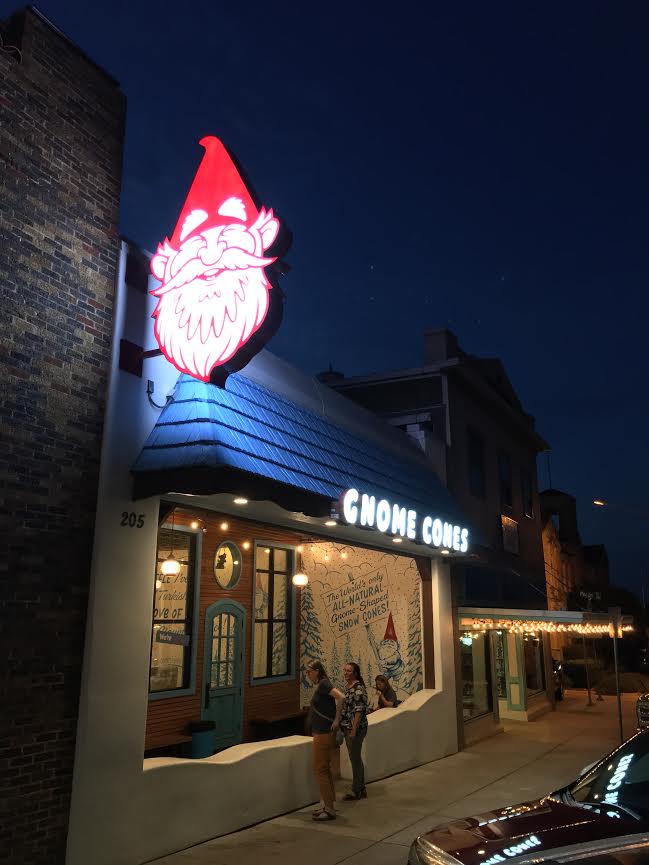 If you're looking for a more bizarre spot, just down the block from Barley & Board is a little place called Gnome Cones. True to its name, this is a gnome-themed ice cream restaurant. Inside, the seats around the tables resemble logs and large mushrooms and all of the employees are dressed with little red hats. When they call out an order, the microphone has been changed to make their voice a higher pitch, and therefore more gnome-like I suppose. The snowcones themselves are in cups with a gnome faces on them, and the ice makes up the pointy hats. It's an unusual spot and worth a visit.
"
If you're looking for a more bizarre spot, just down the block from Barley & Board is a little place called Gnome Cones."
As for other businesses, I'd suggest going to the used bookstore on the square in Denton, called Recycled Books Records and CDs. It's like Half Price Books books. Inside they have three stories filled with thousands of books, with just about any genre one could ask for. They also have a huge selection of vinyl records, with a section of old country records, something the locals must be interested in. They also have a spot downstairs dedicated to books favoring the Confederacy in the Civil War. Take what you will from that.
My last suggestion for getting the most out of your stay in Denton is to allow time for spur-of- the-moment activities. Just take a walk around the square and see what looks interesting. You could ask some of the locals their favorite things to do; sometimes these suggestions can be more fun than the preplanned stuff. Whatever ends up happening, it's usually just fun to go to a new place, even if it is just old Denton.