Meeting people outweighs paycheck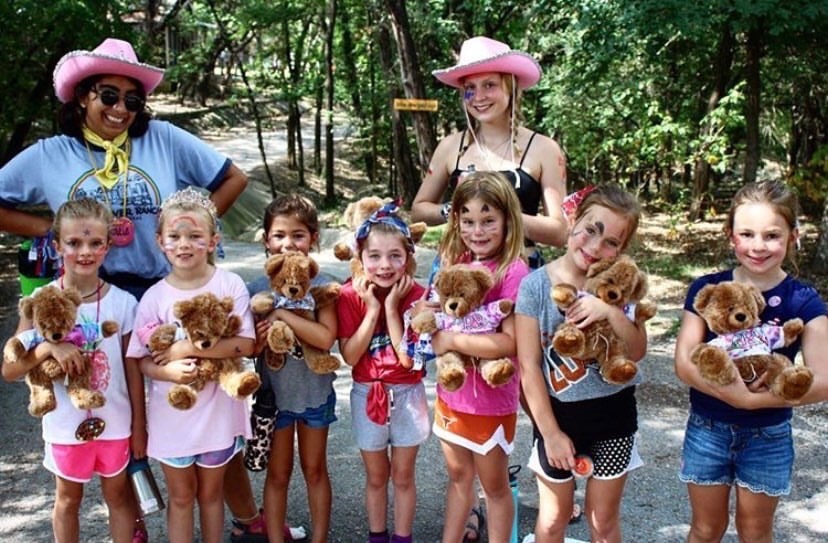 High school students need money, whether it's to pay for something as small as gas or as big as college tuition. For working McCallum students, however, their jobs are about more than just a paycheck. four students have found a way to make work fun by finding a job that is unique and presents exciting opportunities to meet a lot of interesting people.
"I didn't just want a basic job like working at HEB and bagging stuff or doing something that everybody does," senior Abby Lerma said. "I wanted something that was a little more unique and cool and flexible."
Lerma has found her unique, cool job with Big Top Candy Shop on South Congress. Alongside a fellow Mac student, Grayson Garza, she sells candy, makes sodas and scoops ice cream in this wonderland of a store. Deep in the heart of the city, these students get to meet people from all around. Even people from out of the country come to the store because of the tourist action in downtown Austin.
"I've had people that have come from London and all over the place because Austin's such a cool place to visit and they'll stop by for candy," Lerma said. "So you get to talk with customers and hear their stories sometimes."
One of Lerma's favorite things about her job is the kids that come through the store, toting brown bags waiting to be filled with candy and wearing wonder-struck expressions. She likes how many kids find their paradise in this old-fashioned shop.
"Their eyes just brighten up when they walk in," Lerma said. "I've had kids yell, 'Oh, my goodness, it's like I'm in Charlie and the Chocolate Factory!' They get so excited."
Lerma and Garza aren't the only ones who have the pleasure of meeting and interacting with young kids at their job. Senior Catie Mendivil works as a counselor at a summer camp in Wimberley every year. She herself is a veteran camper, and she has the pleasure of returning to her childhood getaway every summer and getting paid for it. Mendivil was inspired to come back and work as a leader by her counselors from her camping days.
"
I've been volunteering since I was 7, and after seven years, I was finally able to actually get paid."
— Elanor Olson
"I've been going forever and my counselors were always super amazing," Mendivil said. "So when I was old enough to become one, I said, 'Yes, please.' It's been really fun."
Mendivil meets a lot of kids on the job and works with a lot of age groups, too. She has learned a lot about children from this experience.
"Working with children is so humbling," Mendivil said. "It's really fun, I think kids are hilarious. I think people may not realize that kids can be so diverse and interesting, especially working with different age groups."
Mendivil faces challenges that come with working with kids: the job requires hard work, and the kids need constant attention.
"It's definitely a 24/7 job," Mendivil said. "So it's pretty tough, but it's also really rewarding."
Similar to Mendivil, Elanor Olson grew up in her place of work, the Texas Rowing Center, learning how the job is done.
"My mom is the manager there, so I grew up volunteering there," Olson said. "I've been volunteering since I was 7, and after seven years, I was finally able to actually get paid."
She assists customers with getting in and out of their watercrafts, and she also is a cashier.
"
Working with children is so humbling"
— Catie Mendivil
Like her fellow students Lerma and Garza, Olson works downtown where the Texas Rowing Center is located. And like Lerma and Garza, Olson has found that working downtown at a popular location in Austin is guaranteed to bring some interesting customers in.
Olson gets to meet people from all over the world, which is part of what makes the job appealing to her.
"A lot of times we have people come from out of the country because they want the experience and paddleboarding is our most popular form of boards," Olson said. "People are really attracted to that, so you see a lot of people from Europe and China and their accents are so fun."
Lerma, Garza and Olson do get to meet a lot of diverse people from all over the world, but they also get to interact with many Austin locals and even Mac students they know. Their popular workplaces attract all kinds of people.
"I see a lot of students at McCallum because some people go there for fun, but a lot of people row that I know," Olson said. "I see a lot of people around McCallum wearing Texas Rowing T-shirts."
Mendivil sees a lot of fellow Mac students working as leaders at the camp. She spends weeks meeting people from all over Texas as well as bonding with fellow students that she already knows.
"There are a lot of McCallum students who are campers or who are going through the leadership program," Mendivil said. "There are kids from all over the area, I see a lot of people from Austin, and we get people from Houston and Dallas, so that's really cool."
The girls concede that working as a teenager has its challenges, but the rewards make it worth it in the end. Each job will take a unique skill set and present its own challenges, but they agree that if the worker is willing to overcome these challenges, a lot of doors will be opened for them in the future.
When asked what advice these girls would give to Mac students looking for jobs, their answer was unanimous: go out there and find something you are passionate about.
"Just keep looking. There's a lot of cool opportunities you can find around Austin," Olson advised. "I think there's a lot of cool opportunities to be found if you just ask. Look around, keep your eyes open."