TribFest enables candidates to speak uninterrupted
Unlike tomorrow night's debate, five Democrats got ample opportunity to share what separates them from Trump and their competition to challenge him
Max Rhodes, online editor-in-chief
October 14, 2019
In many ways, the 2019 Texas Tribune Festival, which took place in downtown Austin on the weekend of Sept. 27-28, was a typical TribFest.
The festival featured hundreds of speakers and panel discussions, which covered trending topics in the news, such as climate change, the impeachment trials and others.
But in one important respect, the 2019 version of the festival was different because it attracted five of the Democratic candidates vying for their party's nomination to challenge incumbent president Donald Trump in the presidential election of 2020. Over the course of the weekend, the five presidential candidates–Pete Buttigieg, Beto O'Rourke, Amy Klobuchar, Michael Bennet and Julian Castro–all sat for "one on one" discussions on the stage of the Paramount Theatre.
"
The world really needs America right now."
— South Bend, Ind., mayor Pete Buttigieg
Unlike the fourth presidential debate that will take place in Westerville, Ohio, tomorrow night and air exclusively on CNN beginning at 7 p.m. CST, these dialogues gave the candidates a chance to speak without interruptions for an hour and gave them an opportunity to expound on the priorities and the policy proposals that make up the heart of their campaigns.
Each candidate was interviewed by a credible journalist, and in front of a crowd of up to 1,000 people.  Although all Democrats, each candidate had differing viewpoints and solutions for the issues they were asked about.
South Bend, Ind., mayor Pete Buttigieg was the first to speak, and the only candidate to appear at the festival on Friday.
Buttigieg said that, if elected president, he would be the youngest man ever to hold the office at 37 years old. When asked about immigration, he said that he is supportive of the idea of bringing more people into the country, especially in cities with shrinking populations.
"When the president says [America is] full, I think we're not full," he said. "I'd love to have 30,000 more tax payers in my city."
Buttigieg believes that climate change is not a lost cause, and that America's farmers will help the nation solve the problem. He spoke of the role the United States plays on the world stage and how vitally important the United States is  to other countries.
"I don't want to sound too romantic," Buttigieg said, "but I think the world really needs America right now."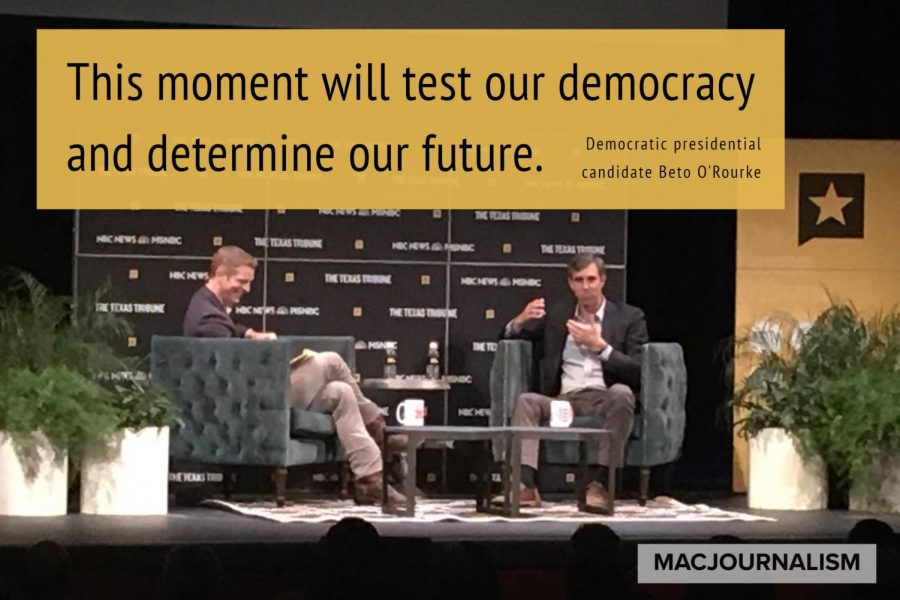 Early in the morning, former El Paso congress  man and U.S. Senate candidate Beto O'Rourke started off a busy Saturday that featured appearances by four candidates on the Paramount stage. 
The first point the O'Rourke addressed was the impeachment proceedings in the House.
O'Rourke said it is crucial that Americans do all they can to remove President Trump from the White House.
"Once we get him out of office, then America can prosper," he said, adding that doing the right thing now is just as important in the immediate future as it is in the long run.
"This moment in history will test our democracy and determine our future." 
"
I'm in this thing until the very end."
— former El Paso congressman Beto O'Rourke
O'Rourke is one of the candidates with the most aggressive proposal for ameliorating gun violence. He insists that gun manufacturers cease production of assault rifles and that the government institute a mandatory buyback of existing assault rifles. Other Democratic candidates have argued that the proposal is too drastic. O'Rourke, however, maintains that the plan is a common-sense approach supported by Americans of all political views. 
While he acknowledged that many conservatives oppose the stricter measures, he said his faith in his country was partially restored by an interaction he had at a Buc-ee's in Katy, Texas. He told the story of how he ran into a man who was a self-identified hard-core Republican, who has never voted Democrat and most likely never will. But O'Rourke said this man said he agreed not only with the premise that assault weapons are unnecessary but also with the policy proposal to institute an involuntary buyback.
Although he is not polling as high as some of the other candidates, O'Rourke said that he had no intention of dropping out, regardless of his standing in the polls or the amount of campaign funds he has to run his campaign.
"I'm in this thing until the very end," he said.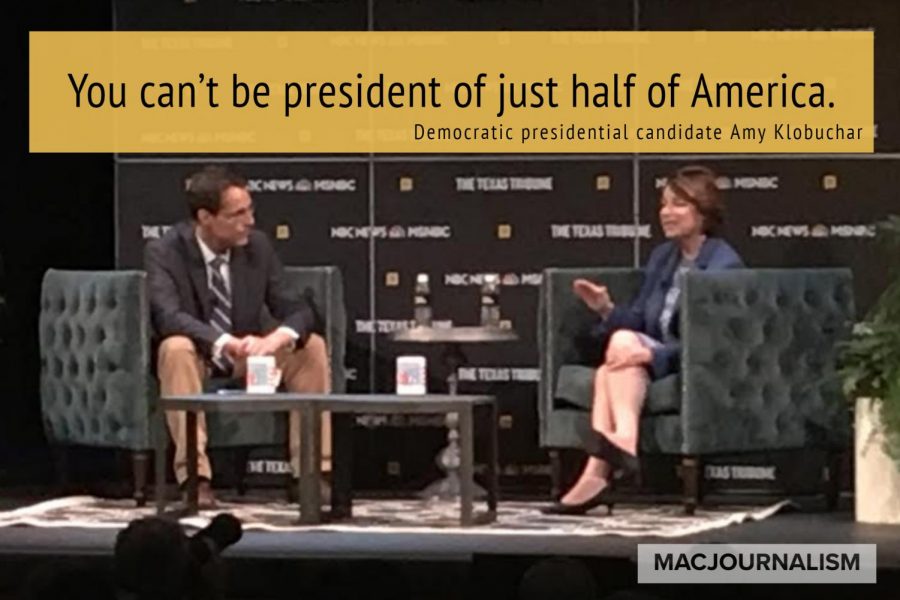 Minnesota senator Amy Klobuchar was next to take the stage. Sen. Klobuchar talked about her possible role in the impeachment proceedings and drew ties between this situation and Watergate.
"
We can't just leave the Midwest behind at the gas station."
— Minnesota senator Amy Klobuchar
She also stressed the importance of appealing to as many voters as possible while on the campaign trail, and not just focusing on a particular demographic or region.
"We can't just leave the Midwest behind at the gas station," she joked. 
Like many of her fellow Democratic candidates, Klobuchar supports more gun control and universal background checks.
Other major aspects of her campaign include affordable college, and making education accessible to those who desire it, as well as universal health care.
One point Klobuchar stressed that was not covered by any of the other candidates was her contention that the government should abolish the Electoral College because she believes that it's not a fair way of counting votes.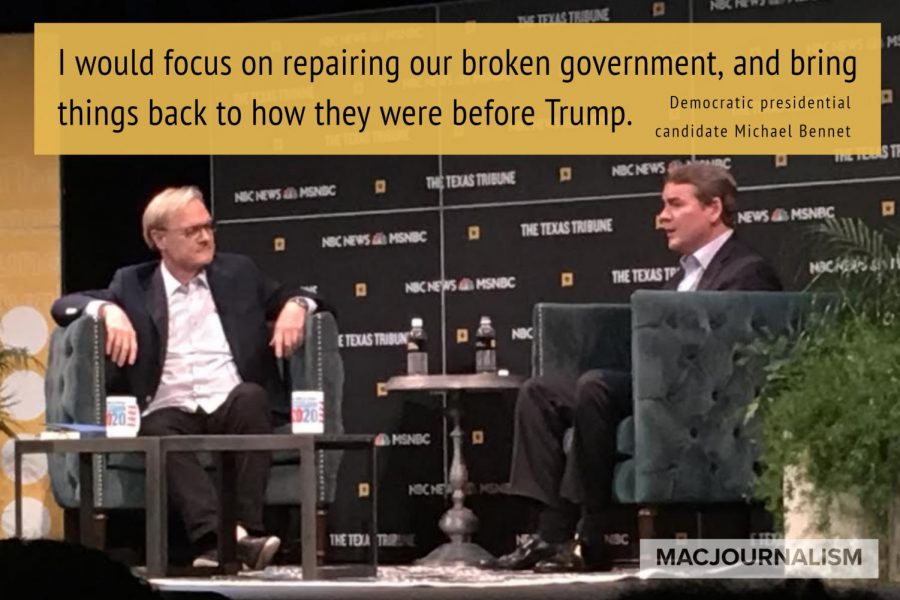 Colorado senator Micheal Bennet was sit in the hot seat on the Paramount Theatre stage.
"
We can't continue this pattern where one side makes a change just for the other to rip it out."
— Colorado senator Michael Bennet
Although only polling at about 2 percent, Bennet is still in the race, even though Bennett did not meet the donor and polling qualifications to appear in the third presidential debate on Sept. 12 in Houston. He also failed to qualify for tomorrow night's debate in Westerville, Ohio. To be eligible for the third and the fourth debate, each candidate had to reach at least 2 percent in four qualifying polls and raise money from 130,000 unique donors.
"I disagree with the decision to kick me off the debate stage," he said.
Bennet said his main priority if he was elected into office would be to repair the current state of the government, and bring it back to how it was in before Trump was elected. He would also work on repairing connection with our allies in Europe and elsewhere.
Bennet thinks that America needs to focus less on Republican versus Democrat labels in order to effect major political change.
"This is not a game of politics," he said. "It's about constitutions for change. We can't continue this pattern where one side makes a change just for the other to rip it out."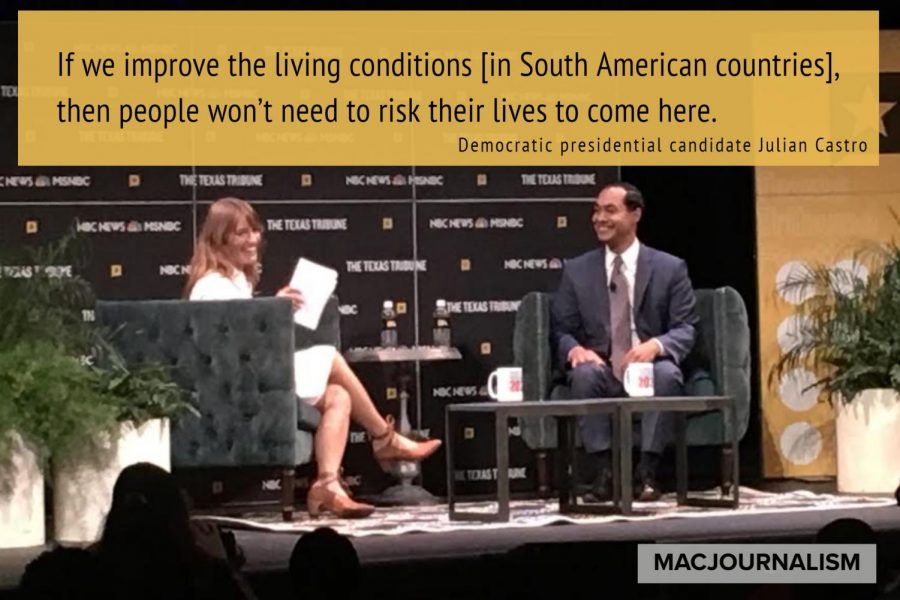 The last candidate to speak that evening was former San Antonio mayor and former Housing and Urban Development secretary Julian Castro.
A major part of Castro's campaign centers on immigration. While the subject was touched on by some other candidates, he devoted a lot of his appearance to the subject.
Castro believes that the so-called immigration crisis has been exaggerated by the president, and that even other Republicans aren't as concerned about it as Trump claims to be.
He believes that border issues should be handled civilly and not criminally, and that he would actually remove border fences and walls to help the environment.
"
Former HUD secretary Julian Castro wants to reduce animal abuse and end euthanization in shelters. "
His proposals go even further. Castro proposes that the U.S. government send aid to South American countries rather than devoting so much of the nation's resources on border security.
"If we improve the living conditions there, then people won't need to risk their lives to come here," Castro said.
When asked his thoughts on O'Rourke's mandatory assault-weapon buyback, Castro said he felt it was too extreme. He added, however, that he does support more gun regulations.
Castro also touched on the topics of affordable housing and basing taxes and minimum wage on the cost of living in certain areas.
One thing Castro talked about that was not mentioned  by any of the other candidates was his policy on dogs. He wants to reduce animal abuse and end euthanization in shelters. 
Although all of the candidates were Democrats, each of these five presidential candidates offered different opinions and varying solutions to topics currently trending in the news.
While Buttigieg is polling the highest of the group that appeared, only time will tell who the nominee will be come March. 
The next four of these candidates comes in Ohio tomorrow night where they will once again try to show the nation why they should be counted among the front-runners to challenge Trump in the general election in November 2020.