MAC band's new 'Swedish Fish'
She walked into the stadium with the other flute players, not completely sure what to expect — her eyes getting wider and wider, taking it all in. The rhythmic chants of the cheerleaders bobbing up and down, laughing as they shout. Dancers smiling in red lipstick, sparkling from hat to boot. Royal blue covering every square inch, school spirit practically dripping through the stands. The piercing whistle of the coaches, the looming red countdown of the clock, the smell of nacho cheese and the cool breeze of the night — everything whirling together and the chants getting louder and louder.
"And this," her section leader shouted to her over the roar of the crowd. "Is an American high school football game."
For freshman Sigrid Ekelin, a lot of things are new this school year. Just three days after arriving in America from her home of south Sweden, she attended her first ever marching band rehearsal. This also happened to be the first day she had ever heard of what marching band was. Two weeks later, she began her first day of school in the USA, and, concurrently, her first day as a high school student.
 "Every day is such a big experience and I learn so much," Ekelin stated when asked about handling all this change. "I really just want to do the most I can and just be open to everything, say yes to everything."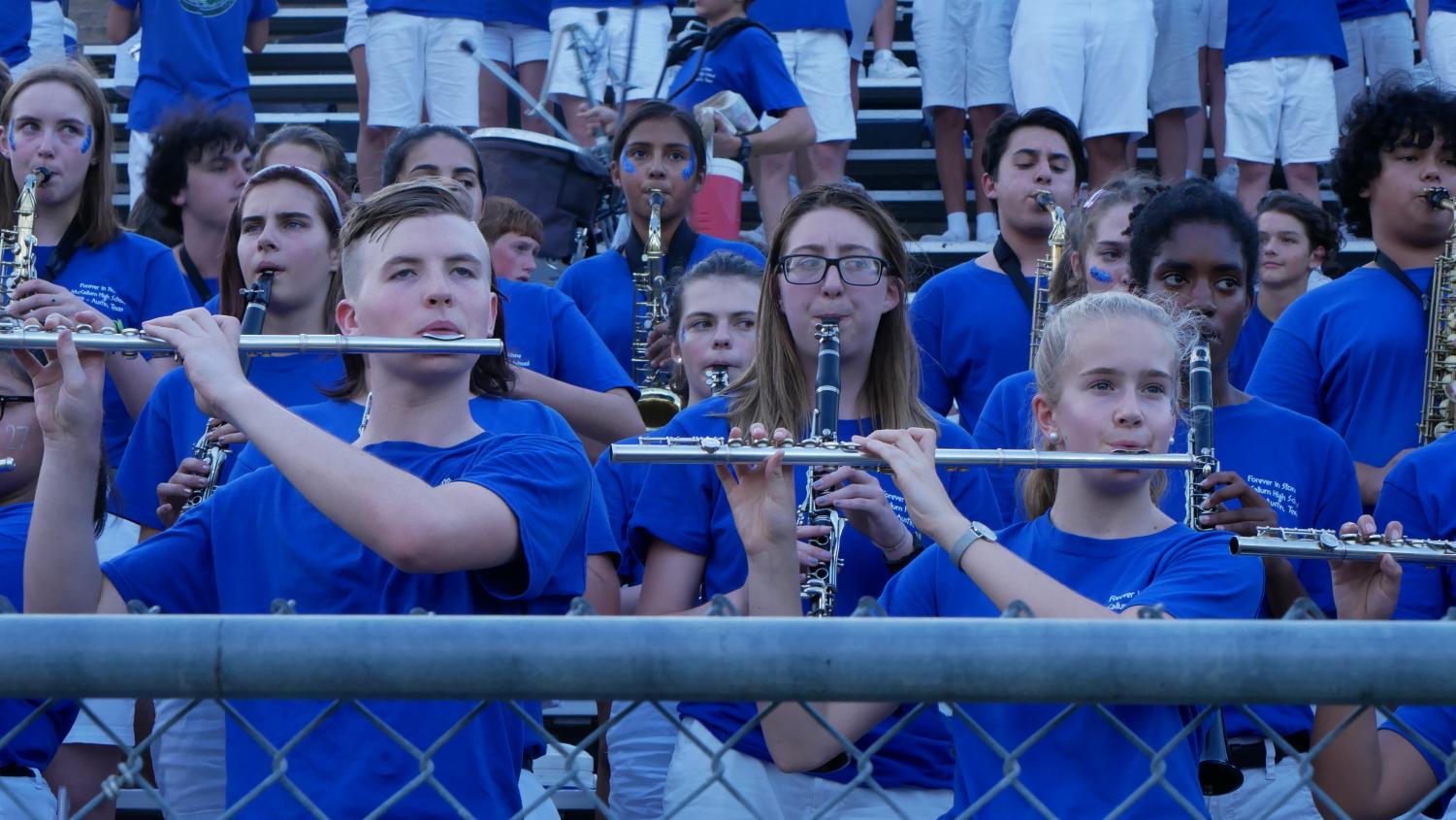 It was just over one year ago that Ekelin's mother began considering to apply for a six month sabbatical in the US — and just before she would present the idea to her daughter. She stated that the question was popped while her and some of her family were out with her sister, who was trying on wedding dresses for her upcoming marriage.
"My mom wasn't like, 'oh okay we're going to move now,'" she said. "My mom said, 'Sigrid, I got an email about… a sabbatical in the US, would you like to do it? Just a thought!'" 
"I thought for five seconds, then I said yes."
The following year was filled with interviews and procedures, and in the end, it was Ekelin's family who packed up their things and headed for Austin, Texas.
"
I had never seen anything like that [marching band] at all. I got so many goosebumps, I was just like… wow."
— Sigrid Ekelin
In Sweden, Ekelin had been privately studying and playing the flute for six years —  it was natural for her to join the marching band, other than the fact that she had never seen or even heard of what a marching band was until arriving here. 
"I feel like everything that's new, you get nervous." Ekelin stated. "So I was nervous, but super excited — a good nervous."
Within the first week of her arrival, she attended Bandapalooza, the McCallum marching band's informal premiere of the marching show for parents and community members. She began learning the music, as well as viewing a sneak peak performance of the first two movements of MAC's show this year, Forever In Stone.
Now, almost a month later, she has jumped right in to the marching culture — from dancing in the stands at football games to the daily early morning practices. In band director Carol Nelson's eyes, she has been very successful in embracing this new activity.
"She's always so punctual, and she tries very hard, and it's just a delight to have her in our band," Nelson said. "I was not nervous (for her to start) at all — she seemed so eager and capable, and watching her," much like how Ekelin felt the first time watching the band perform, "I just thought… wow."
"
I didn't understand most of [the game], but it was really fun to watch. I just screamed when everyone else screamed."
— Sigrid Ekelin
Out of all of her new experiences here in Texas, Ekelin said that her most memorable one has been attending and performing at the Taco Shack Bowl, the annual football game held against Anderson to kick off the season. 
"My first reaction when I saw the football players start to begin, it was probably—" she drops her jaw dramatically and laughs. "It took like five seconds for the coach to whistle and stop, because it was just like.. a bunch of guys throwing themselves at each other, and I didn't understand most of it, but it was really fun to watch. I just screamed when everyone else screamed."
"Unfortunately", Ekelin said. "I will be leaving McCallum right before Christmas."
With the marching season finished and the first semester complete, she will return to Sweden filled with new and crazy stories to tell — the days she rehearsed for hours on end in the Texas heat, the nights she spent laughing as she screamed as loud as she could in the stands of a football game, and that very first moment she watched the band perform in August, nervous but excited. 
The good nervous.