Lightning Rod brings energy to the Knights
Hyped up. Positive Energy. Great Attitude. Those are just a few of the words that come to mind when people think of the new face, actually more like a loud voice, on the sideline of McCallum football. Over the summer, the McCallum football program got a new defensive line coach, Ryan Rodriguez.
Rodriguez began his career in high school football at Southwest High School in San Antonio where he was a four-year starter playing offensive line and defensive end. He earned multiple first and second-team All-District selections. He continued his football career when he became a Texas Longhorn, playing two years in a burnt orange jersey under coach Mack Brown in 2010 and 2011. He participated in UTeach until 2015, earning his degree in Biology. From there, he went on to coach football at Cedar Park and finally, here to McCallum to coach both the defensive line as well as track and teach aquatic science.
"
I tell my guys I am looking for relentless violence. I know it sounds bad, but I want them to have fun in what they do
— Ryan Rodriguez
Rodriguez wants to instill many lessons into our young players. Head football coach Thomas Gammerdinger told the Shield that Rodriguez's desire to teach the students was part of his appeal, along with his knowledge of the D-line technique and his coaching abilities.
"On the field," Rodriguez said, "I tell my guys I am looking for relentless violence. I know it sounds bad, but I want them to have fun in what they do." 
Rodriguez seems to take his own words to heart, as he brings his pwn relentless energy to every game. If you have ever seen Coach Rod during a football game you will be scared. He paces up and down the sideline while watching the game with a tiger-like intensity, his eyes are pinpointed, watching to see what the players can do better. As soon as the defense is off the field and headed to the bench, Rodriguez is there in a flash, dry erase marker and whiteboard in hand, ready to speak his mind.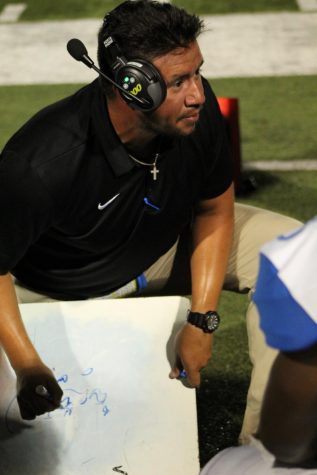 Yelling is Coach Rod's superpower. It's a convenient tool to have, especially when you need to be able to shout to your players on the other side of the field. At Taco Shack, a tough game where the Knights lost their winning streak, you could hear Coach Rod's voice above the noise of the stadium. Especially early in the fourth quarter, when hope had seemed all but lost and the performance of the players on the field reflected their lack of spirit, the morale booster to the players was Coach Rod's voice on the sideline yelling, "GIVE ME HEART, GIVE ME ENERGY, HAVE NO FEAR!"
Rodriguez not only inspires the boys but he also celebrates them. During the Knights second game of the season against the Lehman Lobos, Coach Rodriguez would be there to congratulate his "silverbacks," the defensive line, when a big play was made. 
"He really is one of a kind, he is always there to celebrate with us when we make a good play," senior lineman Alvino Carbajal said. In the Lehman game when the McCallum defense shutdown the Lobos, allowing them only seven first downs and reducing their third-down conversion efficiency to 18 percent, Coach Rod was there to congratulate them and celebrate their success. 
"
He really is one of a kind, he is always there to celebrate with us when we make a good play
— Alvino Carbajal
Although Coach Rod is a power source on the sideline, he also believes in inspiring the players and finding greatness within them, both in the classroom and in their lives. Rodriguez wants his players to realize that they are more than a football player and more than an athlete. He wants them to see their potential on and off the field, just like his exuberant energy on and off the field. 
"I don't want them to belittle themselves and to think that there are only good enough to amount to this," Rodriguez said. "I want them to strive for greatness in every aspect of their life."
Though Coach Rod is a great coach who gives his all every game, just like his players, football isn't his whole life, and he makes it clear that football shouldn't be the entirety of his players lives either. He believes that an athlete needs to be the best version of themselves in all aspects of life. Rodriguez's focus on the whole self is one of the reasons he loves both teaching and coaching; he loves seeing students and players alike succeed and become better people. 
"I not only love my job because I love coaching football and I love football, but because I love being with kids and watching them develop," Rodriguez said. 
McCallum football is unique, but Coach Rod has quickly found his place on the team. He fits in very well with the players and coaches, which is an impressive feat on such a tight-knit team. When Rodriguez transferred over from Cedar Park to Mac he realized just how great of a team bond has been built.
 "I like the closeness of the team, the players, the coaches," Rodriguez said. "Everybody here loves each other and it brings the meaning of the word brotherhood to a new level for me."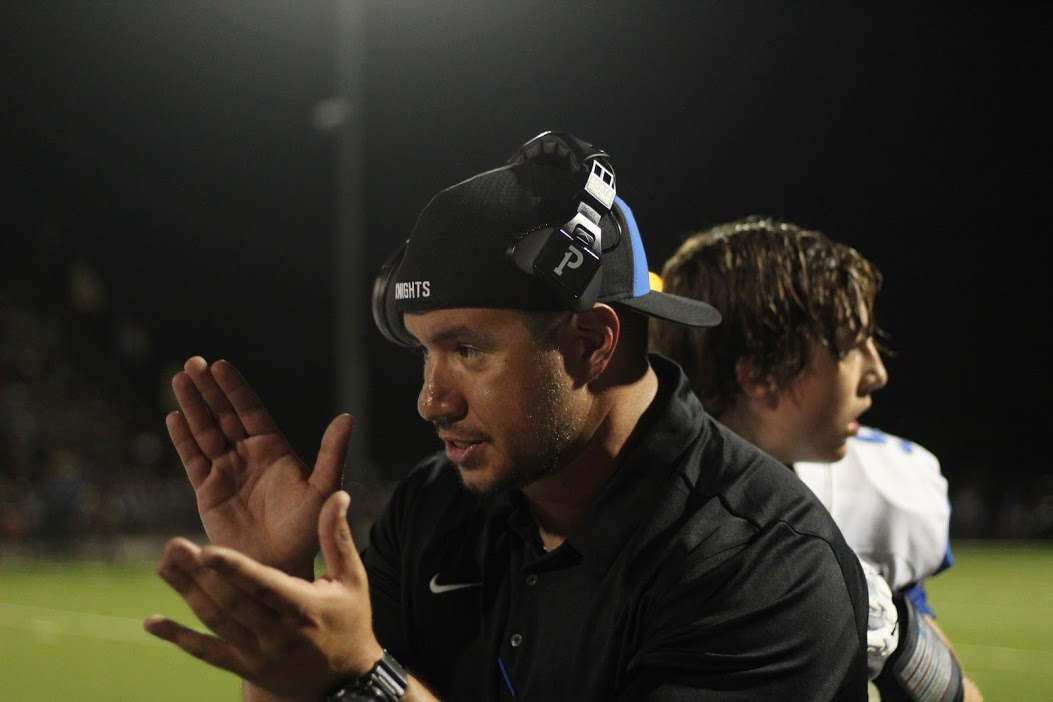 View Comments (4)