Art imitates life in path to prison play
Students see play at Zach Scott Theater, view American education system in a new light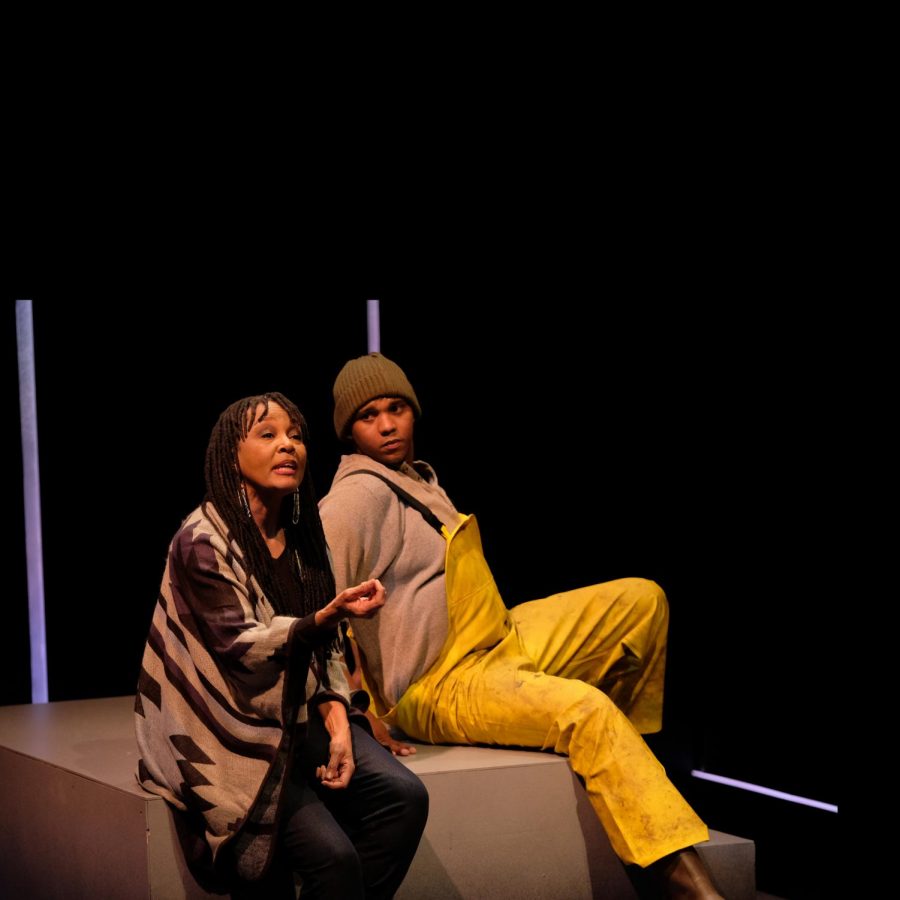 On two Saturdays in March—the 9th and the 16th—McCallum students filed into the rows of the audience, tickets and name tags in tow. Within the walls of the Kleberg Building at the Zach Scott Theatre, Notes From the Field was about to begin. Notes from the Field is a play written by Anna Deavere Smith, and consists of 16 characters played by an all-black cast of four actors.
Notes from the Field is a theatrical performance about the school to prison pipeline. It explores 16 different experiences, from real-life interviews conducted by Deavere Smith. The play was wrought with emotional monologues, expressive movements and interactions and an engaging use of minimal stage props.
"
Students who have a run-in with law enforcement or with school-based authorities are significantly more likely to end up under the watch of the criminal justice system later in life."
— Ethnic studies teacher Lucy Griswold
Ethnics studies teacher and chaperone on the trip Lucy Griswold described the school-to-prison pipeline to The Shield before the play began. Often, students who are labeled "deviant" in school find that that label sticks with them through the rest of their life.
"The school-to-prison pipeline is a term that is used to refer to the reality that students who have a run-in with law enforcement or with school-based authorities are significantly more likely to end up under the watch of the criminal justice system later in life," Griswold said. "Even something like a suspension increases a student's probability of incarceration later in life, significantly."
Sculpture and photography teacher Carey West was the one who first brought the opportunity to students. West is one of four Creative Learning Initiative leaders on the McCallum campus. As a CLI leader, she searches the Austin creative scene for ways to show students the intersections between art and learning. In years past CLI had focused on excursions to the Blanton and then last year they did the school mural on the exterior brick wall of the gym. She wanted to expand the experience of the arts a little further.
"When I'm looking for opportunities for students to experience the arts I want to look for something that's going to not only be an experience in the arts but also spark interest in the community," West said. "I want the students to have interest beyond just, 'It's an arts event.'"
The group of students who saw the play ranged in age from ninth to 12th grade. Sophomores Zakiya Robertson and Ingrid Limas were two who went to see the play on March 9. They both agreed that the play felt very real and truthful: there was no sugarcoating.
"
Our country spends more money on the prison system than on education….. You show people your priorities through how you spend money.""
— AVID teacher Zulmy Galindo
"It was even more real because it was real accounts from people who were witnesses to these events in America," Robertson said. "I was going to say [American] history, but [this stuff happened], like, yesterday."
The scene that stuck out to Limas was of a teen girl unnecessarily and violently dragged out of a classroom by a campus officer. To Robertson, it was of a woman who climbed the pole and removed the Confederate flag from where it flew at the South Carolina state house.
These scenes played out on a bare, black stage, the audience squaring it in from three sides, and three projector screens displayed above the stage, diagonally and off-tilt, one for each side of audience.
The scene that Limas described, where a high school girl was dragged out of class by a campus officer, happened in South Carolina in 2015. The student had been asked to leave the classroom because she was on her cellphone and when she didn't comply, the officer removed her with excessive force. Niya Kenny, a senior in that same classroom, watched the scene unfold. She stood up for the unnamed student and recorded a video of the officer assaulting her, which quickly became viral. Actress Michelle Alexander played the character Niya Kenny. Kenny was 18 years old when she was charged and taken to jail for disturbing schools.
"It just really stuck out to me," Limas said. "Just reacting like, 'Woah, why'd you do that?'"
The scene where the woman, Bree Newsome, took the Confederate flag down concluded the second act of the play. The stage had been transformed, a platform placed in the middle, with a chair on top of it, and the Confederate flag projected downwards onto the stage. Bree Newsome was also played by Michelle Alexander.
"Hearing that one, I [felt like] wow, that was really intense. She must've been so brave." Robertson said, "There were police surrounding her, yelling at her, telling her to climb down. That was really interesting. It made me wonder if I would or could do that."
Chaperone and AVID teacher Zulmy Galindo agreed: "That one was incredible. I can't imagine being surrounded by people, being surrounded by police officers having their guns out and trying to climb a pole. Trying to take off the Confederate flag," Galindo said. "You're on the spotlight. The fact that she knew she could potentially be shot, but she decided to keep doing it because the power of the movement was bigger than herself. That was incredible."
"
If you want to get more educated on the subject, if you want to open your eyes more, … go see this play."
— sophomore Zakiya Robinson
Galindo also noted that from her perspective, none of the things going on in this spectrum or dominating news cycles are new; we are different.
"We have technology now, we have cell phones, we are able to actually see what's going on. People are videotaping these different acts," Galindo said. "It's waking us up a little more. It's not hearsay, it's not written on the news. We can see it. It's heartbreaking."
Lastly, Galindo brought up one statistic that stuck with her even after she went home that day.
"Our country spends more money on the prison system than on education. I went home to look it up, and it's over half," Galindo said. "Is our priority education? Is our priority the youth? You show people your priorities through how you spend money."
The play itself had a deep influence on all of its audiences. After both acts concluded, the audience and cast engaged in a community discussion where people shared how they had been impacted by seeing Notes from the Field and how they might have seen or influenced aspects of the school-to-prison pipeline in their lives or the lives of their close friends and family.
Robertson expressed who she thought the intended audience for this play was.
"Probably like the youth or cops. Cops should go see it." Robertson said, "There was a lot of old white people. I don't know if that was the target. I think the target was young people because we're the generation that are going to start leading this country, this movement."
"If you want to get more educated on the subject, if you want to open your eyes more, go do it. Go see this play."