Stone embraces new role
New AP is in it for the long run as she starts her first year at MAC
With the start of a new school year, returning students and staff are seeing many new faces in the halls. One noteworthy addition to McCallum this year is new Assistant Principal Tamara Stone. Stone replaced former Assistant Principal James Wilson, who retired at the end of the 2017-2018 school year.
Stone had previously worked as an assistant principal and taught math, science, social studies, music and special education in middle schools, including Sadler Means Young Women's Leadership Academy and Webb Middle School. However, she decided it was time for a change, and chose to come work at McCallum after hearing about it from friends who had students here in the past.
"I had been at my old school for four years, and I felt it was time for a change," Stone said. "I was very excited when I saw the opportunity for McCallum posted."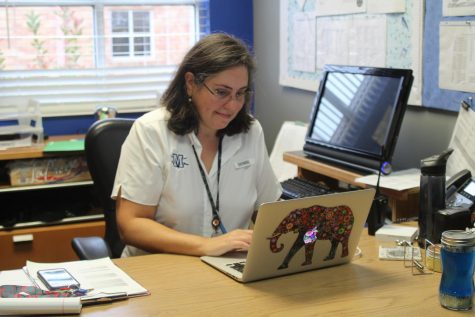 Stone hoped that McCallum would be a good place for her to grow as an administrator and give her an opportunity to experience working in a high school. She liked the idea of working at a Fine Arts Academy, as well as the warm, welcoming feeling and diverse community of McCallum.
"One thing that really struck me was that the faculty and staff stay here for a long time because they want to be here," Stone said. "Mr. Garrison really tries to make it so that they want to stay here."
According to Garrison, she had a specific skill set which he and the committee who hired her felt would benefit the administrative team. He also says that Stone has an upbeat and positive personality.
"She's a pleasant lady, always happy, upbeat, very knowledgeable, very nice. It's obvious that she really like kids and cares about kids," Garrison said. "I think she's going to be a great addition to McCallum."
Her colleagues are also very excited for her to be here ad to work with her. Among them, Larry Featherstone is very excited to have her on board and to hear her ideas for the McCallum administrative team. He describes her very positively and with much enthusiasm when it comes to her beneficial traits
"She's very knowledgeable about a lot of things," fellow Assistant Principal Larry Featherstone said. "She has a lot of experience that she brings to the table and I think she makes our team much better."
Featherstone also referred to Stone as energetic, caring, personable, and a leader. He  believes her past experience in middle schools really helps their team when it comes to transitioning  ninth graders and their mindset.
"
She's a pleasant lady, always happy, upbeat, very knowledgeable, very nice. It's obvious that she really likes kids and cares about kids. I think she's going to be a great addition to McCallum.
— Principal Michael Garrison
"She brings middle school experience and a lot of times we have a lot of kids transitioning from eighth grade to ninth grade and it's good to have somebody on board who understands that transition." Featherstone said.
Featherstone says that Stone's perspective of ninth graders, a unique skill set, and past experience as an assistant principal outside of McCallum and AISD brings many new, helpful ideas to their meetings and to McCallum in general.
"I think she brings some skill sets that are uniquely different from what each of us already have here and that's always great to be able to hear from a different perspective or hear some new ideas about how to handle situations," Featherstone said.
Stone says she always wants to do everything to the best of her ability, including working with the students. She also hopes to create a welcoming and safe environment and wants the students to know that she is open to talking and helping them throughout their high school years. Stone believes her experience and calmness will help her be a successful assistant principal at McCallum.
"I try to always be respectful, it doesn't matter what the situation is because I know I would want that respect if I'm in a heated situation or I'm upset," Stone said.
Stone has been in Austin for 16 years. She loves to swim at her outdoor pool, read the newspaper, cook and spend time with her family. She also sang in high school and college and continues to sing now in a choir. She doesn't like to eat out a lot but when she does, she likes healthy option like The Steeping Room and Flower Child. She also enjoys spending time at Krause Springs, a spring fed pool in Spicewood.
Stone says that she is excited to meet all the students and work with them throughout their years at McCallum. She wants to get to know all of her students and for them to get to know her.
"I hope they'll introduce themselves to me" said Stone. "I'd like to learn about more students, each one of them."