Tucker puts the 'world' in world history
With stops in South Korea and Somalia, first-year teacher brings international insight to teaching, coaching role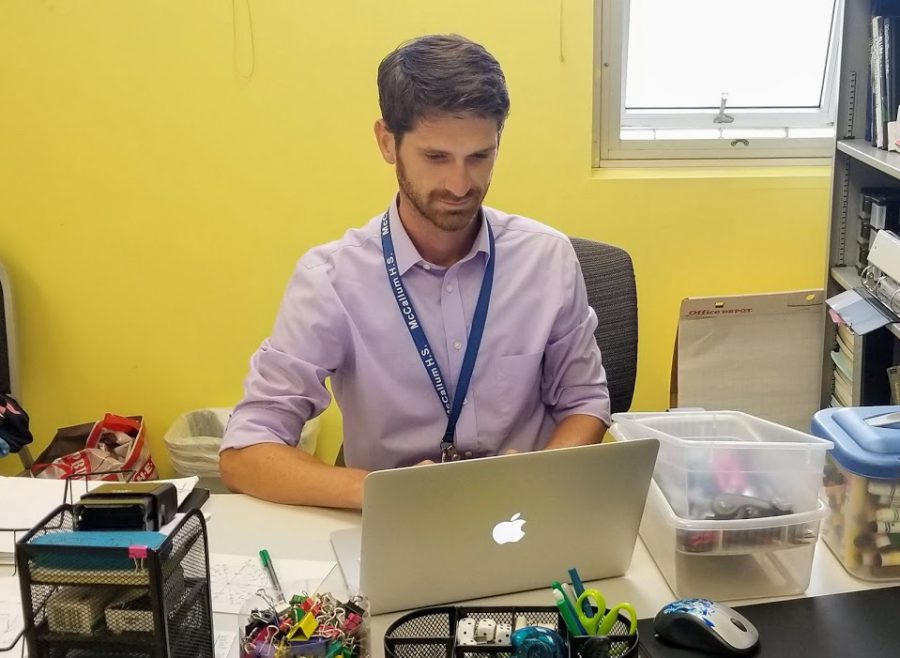 Mr. Tucker's room might be harder to find, but that's not because it isn't in the building. It's because the room in which he teaches isn't exactly his.
When we caught up with one of the first-year Mac teachers, Zach Tucker, known to students as Mr. Tucker or Coach Tucker depending on the context, he was in Mrs. Stephanie Watson's room. While Watson, who teaches various math subjects and coaches girl's soccer, is coaching soccer, Mr. Tucker moves into her room to teach world history.
"
A dream class would be something like human geography, where I get to talk about history, the present day, and the people as a result of the place. "
— First-year teacher Zach Tucker
Mr. Tucker coaches freshman football, varsity football, and JV soccer in the mornings, and teaches classes in the afternoon, even though he doesn't have his own room.
"Since I only teach for half the day, and the other half I do sports, they just have me bouncing around," Tucker said. "It's tough to get set up, but other than that, I don't change, so that's consistency enough."
Mr. Tucker enjoys his new job very much and said that the principal and the faculty are great colleagues. Although he has found the environment to be welcoming, he also said his adjustment to Mac has been challenging because he hasn't always taught the same subjects that he does here. Mr. Tucker has been to and taught in many different places, and his family is scattered all around the country. Other than his wife, who is from the Seattle area, he doesn't have much family nearby. Mr. Tucker has a sister in New York City. His parents, plus his two sisters and their husbands, live in the Dallas area. 
Mr. Tucker also decided rather than just going around the U.S.A., he would travel to different countries. During his world travels, Tucker said he learned many things about people especially the way that their environment can affect how they learn. His journeys also taught him something important about himself: that he truly wants to teach.
"I was a substitute teacher for a while," Tucker said. "I taught in South Korea for two years; I taught English there. And then I taught geometry as a long-term sub. I also taught geometry at a boarding school in Somalia. And I got an English-teaching certification for foreign students in Costa Rica."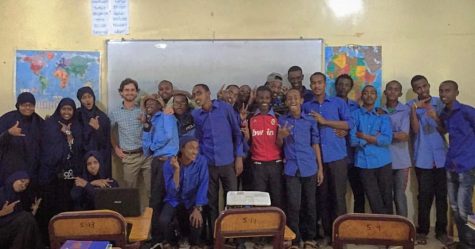 Mr. Tucker said that he really enjoyed traveling, exploring, teaching and learning about the world and about its cultures; he learned a lot by experiencing different education systems and coming to understand what each culture values through those differences..
"
If we all take ownership of our education, then we learn how to fight against violence, and how to fight against racial prejudice."
— First-year teacher Zach Tucker
"In South Korea the main difference there was that, instead of celebrating diversity, since it's the least diverse country in the world, they all were kind of in the same mindset, and they were looking out for each other, so rather than being like everybody is doing their own thing, everybody's all on the same page there. And then in Somalia the main difference there is that it was a great school in a terrible part of the world, and so these kids knew that they had a really cool chance to get out of Somalia, and so they really, really wanted to learn."
After coming back to the States, Mr. Tucker, his wife, and their dog moved to Austin. They enjoyed exploring their new environment; they most recently went to Zilker Park. His hobbies include going outside to immerse themselves in the city, and it's more outdoorsy pastimes, such as ultimate Frisbee. He also said that his job coaching various sports brings him joy. He advocates that everyone to get a physical hobby, not only to better their health but also to release excess stress.
While he enjoyed surveying his new city environment, Mr. Tucker said that once school started, he found the McCallum culture to be very rewarding.
"I really, really like it, and the primary reasoning behind that is because it is just your run-of-the-mill, very average school in a lot of ways, but it [also] has that fine arts magnet aspect, so each class has a little bit of that local cultural element to it, that brings [the] fine arts into play more, and I think it's applied into a lot of different stuff, and it's neglected by the educational system, so having that incorporated into each class makes it a lot more fun."
"
[Somali] kids knew that they had a really cool chance to get out of Somalia, and so they really, really wanted to learn."
— First-year teacher Zach Tucker
Tucker said he much rather teach a curriculum centered on the fine arts than on a more traditional curriculum.
"I also like that, you know, two-thirds of it is just because people live here, in the near area. I think if it were all fine arts, and people from not around here, there wouldn't be enough diversity there for those kids to kinda see people that don't necessarily prioritize that, but at the same time it's nice, certainly nice having their presence in the classroom."
When he started out teaching, he was teaching mainly if not all math classes, all the time, but along his career path, he figured that he should change the subjects he taught in order to be a more genuinely happy person.
"I used to teach a lot of geometry and math classes, but I made it a point to get my certification in something I wanted to teach, which is social studies, so I am teaching classes I really enjoy," Tucker said. "A dream class would be something like human geography, where I get to talk about history, the present day, and the people as a result of the place. Also, my favorite thing to coach would be ultimate Frisbee. It's really fun, and I think McCallum has a good team, too."
So, when Mr.Tucker teaches world history and world geography here, he really is teaching his passion, and he can draw from his personal experience since he's lived and learned in so many different cultures. How he teaches classes, though, is also unique because it requires a giving as much responsibility to the students as they can handle.
He puts his faith into those who may or may not want to learn, mainly to teach them to want to learn and be responsible on their own learning. He said he wants to spread this awareness to as many students and people as he can in order for the world to be a better place.
"I always like to preach to my students to 'take ownership of your education,' Tucker said. "I like to vaguely quote this Swedish lady I saw on TV once. She said that basically at the end of the day, all she wants is an educated neighbor. So, if we all take ownership of our education, then we learn how to fight against violence, and how to fight against racial prejudice, or any kind of prejudice, and then, if we've got that in order, and we're seeking knowledge for ourselves, and for our own personal gain, as opposed to just sitting back and letting people shove whatever information [they want] down our throats, then we're able to make a positive impact in society and be leaders in ways that we can make a good impact."