The light of her life
Senior technical theatre major shares how life behind the curtain has helped her find her way
Hang on for a minute...we're trying to find some more stories you might like.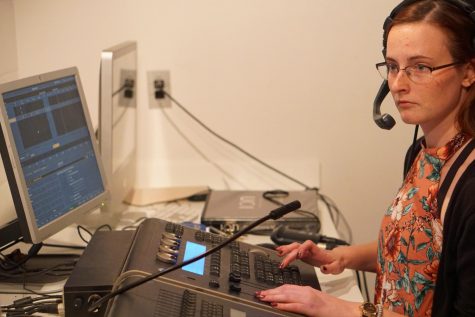 The Shield: How did you get into tech theatre?
Sarah Kay Stephens: In eighth grade, I was building a trebuchet for a physics project, and I got to pick up a drill for the first time. It was a quarter drill so it wasn't anything super special, but the power behind that was awesome. I've also been sewing since fourth grade, so I thought originally I was going into tech theater to do costumes, but shortly after I found the saws I decided [costumes] were not for me.
TS: What does tech theatre encompass?
SS: Tech is all about the elements of a theatre show. There's lights, sound, set, costumes, props makeup and projections. It's everything that goes into a show to make it have that little extra.
TS: What is your specialty within tech?
SS: My specialty is lighting, but I also do set construction. Lighting is my favorite and it's a fun thing that has kind of crossed into my everyday life because I love lights so much. But, I still enjoy and can do any other element of tech.
TS: Why do you like lighting so much?
SS: It's the art that brings out the beauty in other styles. It's in the background, and if you can notice it,  it's not done well, because it's supposed to showcase the talent of others. I think it's beautiful that how turning on certain lights, you can bring out different colors in paintings, or showcase how a dancer's body moves.
TS: Are you going into tech in college?
SS: I would like to go into engineering, but there are some programs I'm looking into where I [could] do lighting as a minor. I think that there will always be a part of me that wants to keep doing tech theater, so I'll probably find small community theaters to volunteer at to because I like building things. I've held two jobs that involve tech theatre. One was the AISD PAC intern, where we did tech theater at the performing arts center for AISD. I'm currently working with a group for conspiracy choir to do production, set up and take down lights. I think a lot of how tech has impacted my decision is that I want to get inside of things and figure out how they work. Especially in lighting, if something's broken, you have to take it apart and reconstruct it to make it work again. I want to become an engineer because I want to see how things work and want to help improve current structures and ways that we create things in our everyday lives.
TS: What is the most difficult show you worked?
SS: The most difficult show was Love's Sacrifice because it was the first show I ever did the lighting design for, and it was hard trying to conceptualize all the different elements of it. I failed horribly on that show because it was a hard show. A lot of time you couldn't see their faces because we were trying to go for such a conceptualized look, that we lost the actors along the way.
TS: What is the most rewarding part of tech?
SS: The most rewarding part of tech is getting to see the show at the end. During Cyrano last year, there was one scene after the main character dies. The lights the backdrop faded to a red, there was this haze everywhere and there was this single beam of light, and I'd be lying if I told you I didn't tear up a little there. There were so many emotions being evoked by this art that these actors were creating, and it was just awesome to be a part of the team that created that.
TS: How does it feel when you strike a show?
SS: Most of the time there's closure when we get to strike everything, so you're mentally shutting the show down in your brain while you're physically taking it down on stage. Fortunately, it's never over, because there's always another show to do.
TS: What advice would you give to anyone starting out in tech?
SS: Tech theatre is awesome. A lot of times, even if you don't know what you're doing,  you just kind gotta go for it, because there's really no right way to do any of it. You can build different kinds of flats, but as long as everything is stable, [it's OK]. Just do your own thing but follow the guidelines.
TS: What is the Texas Thespians Festival?
SS: We've been going for the past three years to the Texas thespian festival, [which] is a three day long [event] where we get to go take workshops, compete and listen to keynote speakers that have had success in theater along with 8,000 other students from Texas that are in theatre. For thespians, it goes state, nationals, then finals. We have about five students that progressed to nationals, so there's still opportunity to compete at the finals level.
TS: What are your main responsibilities in tech?
SS: I do a lot of organizing other technicians, so it's really rewarding when I can see it click in their brain, like 'oh, this is how that works' or 'oh, I understand this now.' The most rewarding part is getting to pass down information that I've learned throughout the years to underclassmen and still learning.
TS: What do you think makes tech a unique major at McCallum?
SS: Tech is the most interactive major that interacts with all the other majors because we're there working their shows and helping them make the best show that they can do, like choir cabaret. We have technicians work [everything] from the dance shows to Mr. McCallum. It's different because you get to have so much more interaction with the other majors versus if you were only a dance major, you might not collaborate as much with the orchestra kids.
TS: What is it like to be a leader within the tech department?
SS: I'm the academy ambassador for technical theater and I'm also the president of the thespians society, [which is] over all the acting and musical theater and tech students. I have that role over leading them so it's very similar in that with the ambassador role it's just a lot of understanding and helping people understand what we're doing in theatre and how we can get as much out of the process as possible. Last year I was selected by the previous officers and technical directors, but the year before I was the only junior officer because I was elected by the students. I love the theater and I love organizing fundraisers and helping people get through theatre because sometimes it can be kind of rough but it's very awesome to see all of the talented people in our program.
TS: How do you think your high school experience would be different if you weren't in tech?
SS: I don't know what I would do if I didn't have tech theatre. It has kind of become who I am.