Would Amazon be an A-plus for Austin?
Shipping giant would bring jobs, revenue but also higher cost of living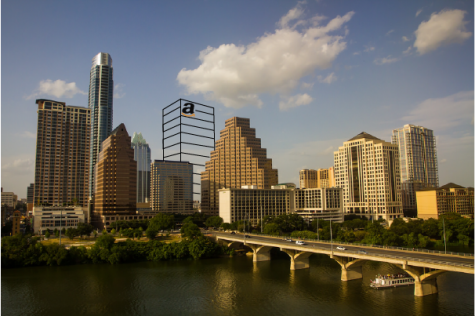 This September, Amazon officials announced they want to build a second headquarters somewhere in North America. The company plans to invest $5 billion in the project and supply the city they choose with up to 50,000 jobs. The headquarters would be equal in size to the current facility in Seattle, and will supposedly bring tens of billions of dollars to the surrounding community.
Different sources have different opinions about which city Amazon might choose, but Austin and Atlanta have consistently been at the top of the list of cities mentioned in media reports on the subject. Some other cities include Boston, Pittsburgh, Toronto and Philadelphia. A total of 238 cities have applied to be considered as a site for the new headquarters.
With all this competition, these cities need a way to stand out. Several cities have offered billions of dollars in tax breaks to entice Amazon to chose their location. Dallas proposed to build a bullet train for Amazon, and Tucson, Ariz., shipped them a saguaro cactus to try and appeal to them.
Stonecrest, Ga., had the most interesting proposal: changing the city's name to Amazon.
Amazon said in a press release on its website that it is looking for a city with at least 8 million square feet of office space, located downtown or within 30 minutes of the population center. The company also wants the headquarters to be located within 45 minutes of an international airport and only a few miles from an interstate highway. In addition, company officials want the city to have a large enough population to support 50,000 potential new jobs.
The criteria could be good news for Austin, as the city fulfills most of these requirements, as well as offering a university that could supply candidates for jobs at the headquarters.
Amazon has some previous encounters with Austin, such as the purchase of Whole Foods, an Austin company last August. Amazon already employs thousands of workers in Central Texas, more than any other city in the state. Some are predicting that because Amazon has already invested so much in the city, they probably have bigger plans here.
Austin mayor, Steve Adler, said in an interview with The Austin American-Statesman that he thinks Amazon could "help the Austin area tackle some of its major issues."
He also said "it could maybe be them being here to help us with new mobility technologies, or maybe them being able to help extend mobility services to parts of the city that don't have that."
When Amazon moves to its chosen city, the effects are expected to be felt widely, according to statistics that Amazon reported on its website. Amazon first set up headquarters in Seattle in 1994. Between 2010 and 2016, the company reported that it brought $34 billion to the city's economy.
According to Amazon's website, every dollar invested by Amazon in Seattle generated an additional $1.40 for the city's economy. In addition, the company added tens of thousands of jobs, as well as millions of dollars to the city's local businesses and public transportation.
There is, however, a downside to the addition of such a large company to an already prosperous city. McCallum world geography and economics teacher Michael Sanabria said that Amazon possibly moving to Austin could be great for the city but not necessary great for all of the city's residents.
If Amazon were to create 50,000 lucrative new jobs, it would make everything more expensive for residents who are paid less than the Amazon employees would be paid.
"These are very high paying jobs, and when people have six-figure jobs [$100,000 or more]and want a nice place to live, or a nice place to eat, that makes those things less affordable," Sanabria said.
The other concern with building the new headquarters is the surplus of unnecessary jobs Amazon would create, which may not be able to be filled: "Amazon would supply the city with jobs, but the unemployment rate of Austin is very low," Sanabria said. "We don't really need all those jobs."
Sanabria thinks that, on the positive side, Amazon moving here would "put Austin on the map," along with the soccer team that has expressed interest in moving to the city.
---