Two new counselors join McCallum staff
Hang on for a minute...we're trying to find some more stories you might like.
As school picks back up and students and teachers are adjusting to their new schedules, McCallum's two newest counselors are adjusting to a change of scenery. Cristela Garcia and Daniela Galvan are both beginning their first year as McCallum counselors.
Both Garcia and Galvan actually aren't new to McCallum High School. Garcia is a former McCallum math teacher, while Galvan worked as an intern at McCallum last year.
"I left here to become an elementary school counselor, but I had always wanted to do high school," Garcia said. "So when the opportunity became available to come [back] to McCallum, I had no problem coming back to the Mac."
Garcia and Galvan say that they feel ready for this new challenge. Garcia believes that her previous experiences as a teacher and an elementary school counselor have prepared her to be a high school counselor, while Galvan believes that her internship helped her get ready for her new job.
"I think it prepared me because I got to work with students," Galvan said. "I taught elementary [school] for three years, and I felt like getting to interact with high school students was way different."
Garcia and Galvan's first few days have been busy due to students needing schedule changes, but they are both happy with the way the school year has started.
"I feel like I jumped right in with both feet," Garcia said. "Jumped right in and everyone's been super welcoming. It's really good to be home."
Garcia and Galvan say that they have already noticed a different culture at McCallum than other schools.
"I think from the very beginning you can tell it's a very friendly school and environment," said Galvan. "It just seems very free-spirited, and I really like that."
Garcia says that the amount of familiar faces she remembers from her teaching days encourages her.
"I think it says a lot that [many] faculty members are still here," Garcia said. "[Michael] Garrison was actually the principal when I left, and the fact that he's still here just says that the teachers are truly invested in this community."
"Mrs. Garcia was an outstanding math teacher at McCallum who really cared about her students," Mr. Garrison said via email. "We are excited to have her back working with our students in another capacity."
Both counselors expect their first year to be a good learning experience. As they move forward in their jobs, however, both have lofty goals.
"I definitely want to be the best counselor I can be," said Galvan. "[I want] to be a resource for families and for students and for other staff members and also just keep making McCallum a wonderful place to learn."
Most importantly, Garcia and Galvan say that they are happy they decided to work as counselors at McCallum.
"I'm super excited to be back to the Mac," said Garcia. "It has been awesome."
About the Writer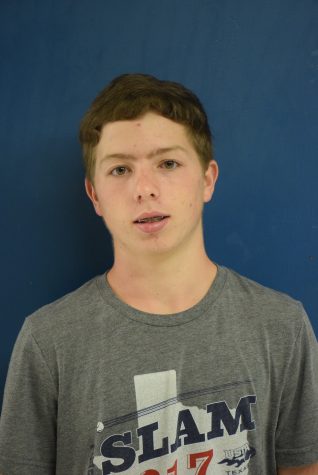 Steven Tibbetts, Staff reporter
Steven Tibbetts is a junior and is in his first year on the Shield staff. He plays tennis both on the McCallum team and outside of school. Steven loves watching sports especially the Dallas Cowboys and the San Antonio Spurs.