Fashion forward
Haley Hegefeld
January 11, 2016
Filed under Features
Hang on for a minute...we're trying to find some more stories you might like.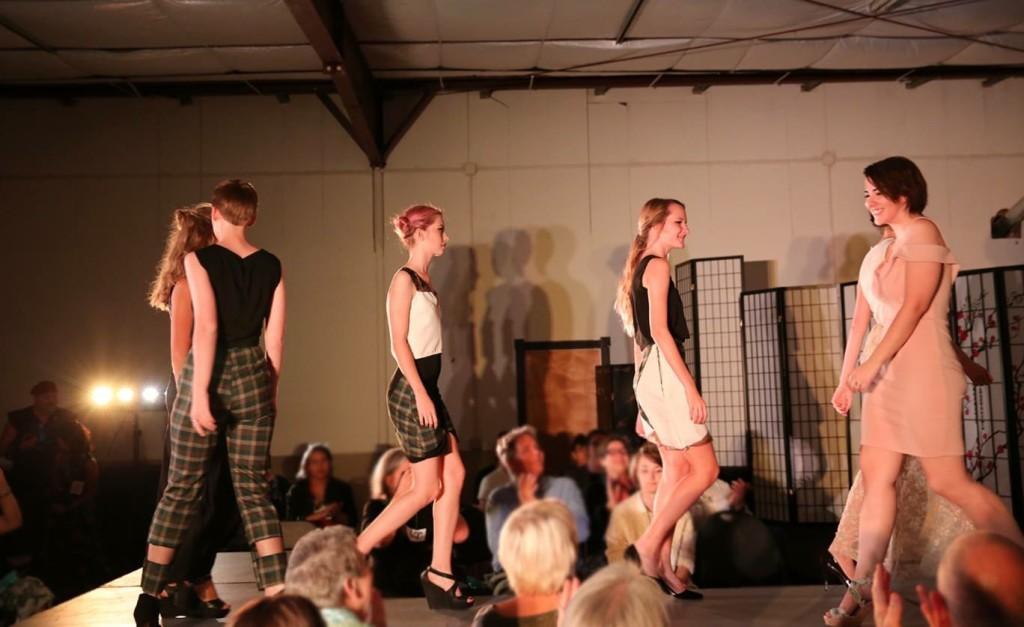 Staffer sits down with sophomore designer Io Hickman before annual benefit show
TS: What is your major?
IH: I am an art major.
TS: Which type of art do you prefer to do?
IH: Visual art or drawing
TS: How did you become interested in this?
IH: Both my parents and my sister are artists, and I'm interested in fashion, so I've always been drawing
TS: Can you tell me about your fashion designs and how you became involved in Fashion Show?
IH: I've been dressing myself since I was little, and I've always loved clothes and think it's really interesting, the culture. And I actually came to McCallum for the Fashion Show, like I decided to come to McCallum.
TS: You mean come to the school?
IH: Yeah. I saw the Fashion Show then decided that I had to come to McCallum so then freshman year I joined the team and ended up winning second runner up. Both people who won runner up and first place were seniors, so they left, so this year I am the head designer person.
TS: What went through your head the first time you saw the fashion show here, when you were in seventh grade?
IH: I saw it in seventh grade, actually. And then I was like, gotta go here. I saw this girl named Ramona Beady who graduated early, I think, and she was a freshman, and it just blew me away that a freshman can do that and so I was like, I can do that.
TS: Can you tell me about the fashion show that you created yourself outside of school?
IH: Yes. It's called "Blue Moon" Volume 1. It was a show that I directed with pieces that I designed. It also featured a woman named Casey Wheatley who is a really amazing designer.
TS: Is she a student here?
IH: No. She is outside of McCallum. But all of the crew and models were 18 and under, and the money all went to Austin Pets Alive and we raised $1,000 for them, and we're having Volume 2 in August.
TS: What was the process that you went through to find the clothes and then get the models and everything?
IH: I basically, for this show, looked through my sketches which are mainly inspired by music that I listen to. Then to get the models I just posted a thing on Facebook on Instagram and all the different medias that people are using, and just said "Hey, if anybody is 18 or under and is looking to be a model for this show, feel free to come audition." People were really interested and we picked six models, and it was awesome.
TS: What art classes are you currently in?
IH: I am in drawing and fibers.
TS: How does your interest in fashion affect your art?
IH: I would say that there is a lot of resemblance between my fashion designs and my art, and I'm actually looking into getting things that I have drawn or designed printed onto fabric to incorporate into my fashion. So there are color schemes and patterns. Last year I used a lot of triangles in both my art and my fashion, so they kind of connect and if you looked at both of them, you would see a resemblance.
TS: What awards have you won?
IH: I have won not a lot of awards, actually.
Or anything, it doesn't have to be a specific award.
Second runner up in Fashion Show. I don't know. I went to VASE and got all 4's, but didn't continue on. I don't know why. In middle school, I got Most Likely to Be a Rock Star.
TS: What would you say your greatest accomplishment is? Art or fashion-related.
IH: My biggest accomplishment is putting on a show that went well. People want to sponsor my next one.
TS: Tell me about that.
IH: We are doing "Blue Moon" Volume 2 in August and a lot of really important fashion people came to the Volume 1 because my mom knows a lot of those people so they were really impressed by it and said that they would be super excited to help us out on Volume 2 by giving us money if we just advertise that they are going to be there and put up posters and stuff. So we are trying to actually pay the models and crew this year. So, it's all thanks to the sponsors because I don't have enough money to pay everybody.