Artistically minded
Haley Hegefeld
May 26, 2015
Filed under Features
Hang on for a minute...we're trying to find some more stories you might like.
Academy allows students to develop creative skills, apply them to other classes
With the arts program at McCallum, department chair Carey West said the school is allowed to have a broader range of courses for the McCallum population as a whole, which is a benefit to the overall campus.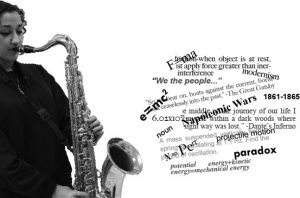 "[We have] things that other schools might not be able to provide their students," West said, "like we have jewelry and drum classes and these [other] specialized classes."
In total, 38 fine arts electives are offered to students, regardless of whether they are a major or not.
Senior dance major Lauren Lym said the school has fewer cliques because of its very relaxed and creative feeling.
"When you dance or when you perform, you get to sort of share whatever your message is with somebody who maybe you wouldn't otherwise talk to, and so really it just makes me happy," Lym said.
Junior Ariana Freitag is also very involved in her strand, visual arts. Freitag agreed the fine arts curriculum increases the diversity of the school. She said people who would not normally take arts are exposed to them on a daily basis, which makes the school unique.
"Students who just came to McCallum who might not have originally [planned to be] in art can find a bug or a passion as well," West said. "I think that by recruiting students to come here, we're overall strengthening the face of McCallum by incorporating the students from around Austin that have special talents and gifts."
Junior John Carson is not a visual arts major, but he is involved with the photography program at the school.
"[Photography is] a hobby that I really enjoy," Carson said. "It's fun and engaging for me, and also I've gotten better at it and learned a lot of things about it."
Lym said being a part of an arts class creates a more well-rounded student because they make students think outside of the box.
"I think in our society, with a lot of industry jobs, a lot of people forget that you need to be innovative to really get somewhere or to be the next big thing," Freitag said. "You need to have innovation, so I think working with a creative medium allows for people to develop themselves and in turn, become more innovative in the future."
In arts, the guidelines for projects are broad, Freitag said. It might just be a medium the student has to work with or a theme. Thus, the student has to brainstorm ideas for themselves, whereas in other classes the student gets a strict set of guidelines and has to follow them exactly.
"Well, often [art projects] make you think more abstractly or think in a different way," Lym said. "Like when you're doing math, it's a lot of the same process, but when somebody says to you, 'Okay, take this story and turn it into a dance,' or 'Take this monologue and read it as a character,' you have to shift the way that you're thinking about something."
Freitag, who plans to pursue a career in STEAM (science, technology, engineering, arts and math), said incorporating creative learning into her school day helps to blend the technical and artistic elements of thinking together.
"I won't be a fact monkey spitting out how to do different math problems," Freitag said. "I can use what I know in a practical way and an innovative way to come up with new things, instead of just using what's already there."
West said the program benefits every kid who takes an art class or a dance class or a theater class.
"The more involved a student is in the fabric of their learning environment, the better they do both academically and investing in their future and finding a passion for lifelong learning and appreciation for arts or sports or whatever it is," West said. "It's that idea of having a place where it feels like home, where your people are. It's providing that home base for kids to find an 'in' that makes them passionate about coming to school."