Math classes compete in kickball games
Haley Hegefeld
November 21, 2013
Filed under Features
Hang on for a minute...we're trying to find some more stories you might like.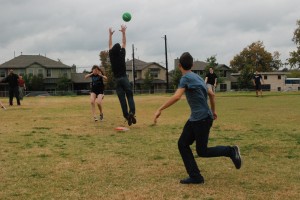 The Pre-AP Pre-Calculus class taught by Paul Schuler and the Pre-AP Algebra II class taught by Keith Marquez competed in a kickball game Thursday. Schuler's class won 11-7 after a hard fought game.
"Our rivalry goes back generations," Schuler said. "In the 1800s, the Marquezes and the Schulers' had a dispute over land bordering Texas and Mexico. They decided the fairest way to see who would own that land was through a kickball game. They gathered dozens of their closest friends and relatives to participate in this historic game. To this day, we commemorate that fateful day with a kickball game to see who is the true champion of McCallum High School."
However, the idea for the kickball game actually began a few weeks ago, when Marquez's class challenged the Advanced Quantitative Reasoning class to a kickball game.
"We challenged AQR first," sophomore Alexia Heinrich said. "It all started one day when Marquez suggested we play kickball one day when we were taking notes. Then I suggested we play AQR, and that's how it started."
In the game against Advanced Quantitative Reasoning, Marquez's class won 6-5. They decided their reign of terror couldn't stop there though.
"A couple weeks back there were some anonymous sheets of notebook paper that were slid under the door of my classroom," Schuler said. "Taunting messages saying that Marquez's first period Algebra 2 class was the greatest kickball champions to ever grace the good earth. So we decided to respond anonymously with our own messages saying their claims were unfounded because they had never challenged our class. It kept going back and forth for a couple of weeks."
The date was decided, and the classes waited anxiously. When the day came, the classes spent 30 minutes in class before heading to the field. The game started with a kick from junior Mary Stites.
"The best play of the game was Mary Stites' home run," Schuler said. "It pumped up the team. It was our first score of the game, and it really got us all motivated to win."
By the end of the game, the Pre-Calculus team had 11 points, and the Algebra II team had 7. The champions had been beaten.
"We still won in our hearts," Heinrich said. "We are still the champions. We beat AQR, therefore we are always winners."
Photos by Haley Hegefeld.