Soup's on!
Hang on for a minute...we're trying to find some more stories you might like.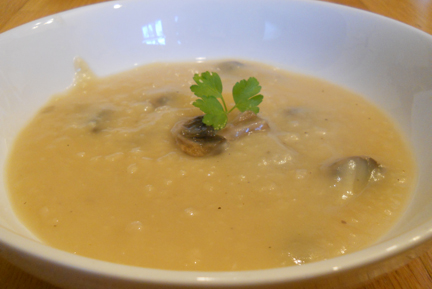 With winter's chill setting in, now is the perfect time to celebrate national soup month with delicious new recipes. I made four different soup recipes this month, each using a variety of different flavors from my recipe books to make some unique soups. The great thing about these recipes is that anybody can easily make a gourmet meal for their whole family with the right ingredients in the kitchen and a wooden spoon on hand.
In part of my cooking exploration this month, I also talked with Taye Cannon, a soup chef in the Central Market kitchen, and learned about how the great soups there became a classic Austin tradition. Enjoy, and happy soup month!
Talk with Taye: A look into the Central Market kitchen
The Shield: How much soup is made daily in the kitchen?
Taye Cannon: We make about 1000 pounds of soup daily. You need really big kettles that stand up from the ground and can hold 100 pounds of soup at a time. There are also lots of different commercial utensils that you need, like spoons, whisks, strainers, and knives.
S: What ingredient is used most often?
TC: We use at least 40 pounds of onion from local purveyors or the market daily in the soup making process.
S: What's the most popular type of soup?
TC: Chicken Tortilla Soup or Gumbo.
S: What is the kitchen atmosphere like?
TC: The atmosphere in a production kitchen is go go go! There is always so much to do that every one is usually focused on the task at hand.
S: What training did you need to work in the kitchen?
TC: I had 12 years of hands-on work history as well as apprenticeships under award-winning chefs. It varies for each position, some have culinary degrees and some have years of work experience.
S: Have you ever had any funny kitchen incidents?
TC: My first day in a kitchen ever, I pulled the wrong lever on a 50 gallon deep fryer and drained all the oil out onto the floor.
S: Where do the soup recipes come from?
TC: The recipes are made by a select group of chefs who have done soup tastings for a board of culinary judges.
S: What do you think has made the Central Market soups so popular?
TC: Those of us who make soup have a passion for it, and enjoy it very much. Central Market employs workers who have that passion for food and their standards are very high.
S: Which kind of soup is your personal favorite, and why?
TC: My favorite is the Green Chile Chicken soup. The flavors compliment each other so well, and it reminds me of the tastes I first encountered when moving to Texas.
Roasted Vegetable Soup with Herb Dumplings
This delicious roasted vegetable soup combines flavorful ingredients for a smooth, comforting winter meal. The herb dumplings add a fragrant and refreshing touch and texture.
Preparation time: 20 minutes
Cooking time:
Serves 6
Ingredients:
3 carrots
Half of a medium butternut squash
1 sweet potato
2 leeks (use only the white and light green parts)
2 medium turnips or parsnips
1 yellow onion
4 or 5 garlic gloves, unpeeled
6 cups vegetable stock
1 bay leaf
1 cup flour
2 tsp baking powder
½ tsp salt
2 tbsp margarine or butter
1 tbsp finely chopped marjoram
2 tbsp finely chopped parsley, plus extra for garnish
1 tbsp finely chopped thyme
½ cup plain soymilk or dairy milk
Salt
Pepper
Preheat the oven to 400° F.
Prepare the vegetables by peeling and chopping the carrots, butternut squash, parsnips, sweet potato, and leeks into 1-inch chunks. Peel and quarter the onion. Spread the vegetables and the unpeeled garlic cloves out on two baking sheets. Spray with cooking oil, turn with a spatula, and spray again to coat the vegetables evenly. Alternately, you can toss with olive oil to coat the vegetables. Sprinkle two pinches of salt and pepper, with chile powder if desired. Roast at 400° F about 40 minutes, until the vegetables are tender. Squeeze the roasted garlic from the skins.
Use a food processor or blender to puree the vegetables in batches. Add some of the vegetable stock when needed to get a smooth consistency. Next, heat the remaining vegetable stock, the puree, and the bay leaf in a large pot over medium-high heat. Bring to a boil and then simmer for 10 minutes, stirring often.
While the soup is simmering, whisk the baking powder, flour, and salt together in a small bowl to prepare the dumplings. Add the margarine and use a fork to mix until the mixture appears crumbly. Stir in the herbs and the milk to create a dough-like consistency. Drop round, bite-sized spoonfuls into the simmering soup, carefully using a spoon to immerse the dough in the soup. Cover and cook for an additional 15 minutes to allow the dumplings to cook through.
Potato Mushroom Soup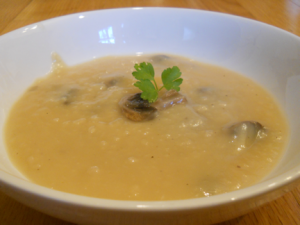 A gourmet vegan variation of cream of mushroom soup, this hearty, healthy soup can be served by itself with bread and salad or used as a base for pot pie recipes or other recipes calling for canned cream of mushroom soup. It has a delicious thick, creamy texture.
Preparation time: 20 minutes
Cooking time: 20-25 minutes
Serves 4
Ingredients:
3 russet potatoes
2 medium onions, sliced
12 mushrooms, sliced or cut into quarters
1/8 cup tamari (1/4 cup soy sauce)
Olive oil
2 tsp salt, or to taste
1 tsp black pepper
Peel and cut the potatoes into 1-inch cubes. Bring 5 cups of water and the potato chunks to a boil. Cook until the potatoes are soft, about 10 minutes. Strain the cooked potatoes and return the water to the pot. Set the potatoes aside.
While the potatoes are cooking, sauté the sliced onions in 1 or 2 tablespoons of oil until the onions are soft and golden, about 5 minutes.
Working in batches, blend the potatoes and onions together in a food processor or with a hand blender. Once the mixture has the consistency of mashed potatoes, return the mixture to the soup pot with the potato water. Stir so that the water and the potato mixture combines. Place over low heat.
Sauté the mushrooms slices or quarters with 2 tablespoons of olive oil for 5 minutes. Then, add the mushrooms, tamari or soy sauce, salt, and pepper into the soup. Stir to combine and heat.
Winter Squash Soup with Maple-Cinnamon Cream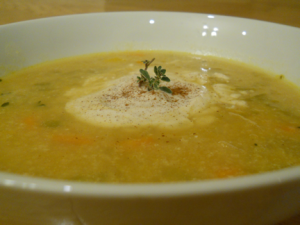 Impress your family by making this gourmet, honey-sweet soup look so easy. With the frozen cubes of squash you can find at Central Market, this soup is a breeze. This soup is perfect for winter with its creamy and sweet flavor. To all the tofu-phobes out there, I dare you to try this one.
Preparation time: 20 minutes
Cooking time: 35 minutes
Serves 4-6
Ingredients:
2 ten-ounce packages of frozen squash (or ½ fresh butternut squash cut into cubes)
6 cups vegetable broth
1 carrot
1 yellow onion
2 chopped celery stocks
Olive oil
1 package soft tofu
2 tsp cinnamon, plus a pinch for each serving
2 tbsp maple syrup
½ tsp chopped thyme
Fresh thyme for garnish
Run the bags of frozen squash under warm water and set aside to thaw. Peel and chop the carrots and celery into small chunks.
Slice and sauté the onion in oil until soft, about 5-7 minutes.
Heat the broth in a soup pot over medium-high heat. Puree the contents of one of the squash packages in a food processor. Add the puree, the other squash package, the carrots, the celery, and the onion. Heat and cook for 20 minutes.
Meanwhile, prepare the tofu cream. Blend the tofu in a food processor until smooth. Add the maple syrup and cinnamon and blend to combine.
Stir ¼ cup of the cream and the thyme directly into the soup.
Swirl the remaining cream on top of each serving, topping with a pinch of cinnamon and thyme garnish if desired.
[qr-code]