Amerika Die Wunderschone
Hang on for a minute...we're trying to find some more stories you might like.
[wzslider]
Over the Summer I traveled to Germany and Austria with my parents and my cousin. I learned from all the people I met that no matter what struggles America is facing, people around the world view the United States as a beacon of hope. We woke up early on the morning of July 14th at 5 a.m. to catch our 6:30 flight. After a long day of travel, we finally landed in Germany's capital city of Berlin at 5 p.m.
The airport was very similar to the ones we have stateside. We had hired a taxi service ahead of our arrival and we were escorted into a taxi. Our driver was a Cuban German who had lived his childhood in Soviet controlled East Berlin after WWII. He was truly multi-cultural, being fluent in Spanish and German, and he was also semi-fluent in English. He told us about how he had known people who risked their lives to get into the ally controlled Western half of the city. Being born into Soviet controlled Berlin, he made it clear how he idolized the free western half of the city controlled by the allied forces of Britain, France, and the United States. He feared for his life the whole time he lived in East Berlin. The tearing down of the Berlin Wall was a significant moment for him and several other Germans who saw U.S. President Ronald Reagan's speech as a symbol of American freedom. While in Berlin we noticed how the wall has had its effect on architecture, food, and people. The Eastern half is very dull and still has the Russian architecture from 50 years ago, while the Western half is more modern and illustrates Germany in the future.
Sitting down at a Hard Rock Café in Berlin we met a Berlin native, who was an American (especially Texan) enthusiast. His name was simply Tex, because he had changed his name for his love of the lone star state. He has an internet radio talk show that talks about western politics. He was wearing a Boston Celtics hat and shirt, jeans, and cowboy boots. He smoked a cigar and had a heavy German accent. He had grown up in West Berlin and absolutely loved America. As an American it was interesting to see how the world views the United States. What we hear on the news about anti-American groups around the world is not the whole story. What Americans should realize is that there are people who idolize America and its ideals. In these times where our president is preaching the idea of "America First" and shutting off America from the world Americans should understand that the world does not want to shut itself off from the United States and instead, respects the American Democratic form.
After our two days in Salzburg we headed to Munich, Germany. We saw the famous Hofbräuhaus München, a beer hall with worldwide renown. From Munich, we traveled to the infamous Dachau concentration camp. The vastness of the camp was shocking. Some of the pictures they were showing were hard to view because of their graphic nature. The camp was right in the center of town, but it felt like we were miles away from the city.
After spending the morning in Dachau we drove on the Autobahn to Rothenburg, a city known for having a medieval wall surrounding it. In Rothenburg, the small town feel was very present. There were German people walking around the streets, living their daily lives. While in Rothenburg we met an old woman who was the owner of a clock shop. Her name was Annalise Frank, and she told me about her life under Nazi rule. "The Nazis were everywhere in our little town. They were positioned at the city gate, the town square, and bakeries, everywhere. I did not understand at first why some of my friends had to leave or go into hiding. It was a dark time in my life, I was only 16 at the time." She also told me about lighter times in her life. She is an avid Harley Davidson rider and still rides to the present.
Every year she flies to America to participate in the Sturgis motorcycle rally in Sturgis, South Dakota. She says she enjoys it so much and she hopes to continue riding. Annalise was another example of a German national who loves the culture of America. People stateside should understand that America has a strong global influence. The world should be united instead of divided, accepting not rejecting, building bridges not walls. American media should show that people around the world idolize America more than it idolizes the world.
About the Writer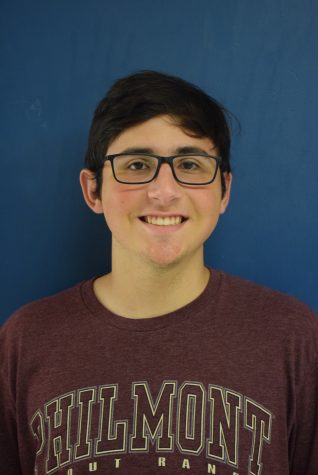 Gregory James, Staff reporter
Gregory James is in 11th Grade at McCallum High School. He plays Lacrosse and Ultimate Frisbee for McCallum. He has been a staff reporter for The Shield for two years.