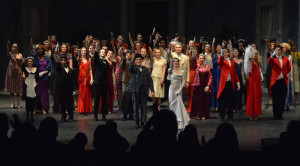 Me and My Girl, McCallum's spring musical, received nine Greater Austin High School Musical Theatre Awards nominations this morning, an all-time record for McCallum's theatre program.
"It's so rewarding," said Tristan Tierney, who received one of the nine nominations for Best Actor in a Leading Role. "My cast mates and I have worked so hard for two long months on this difficult show. It means so much to have the opportunity to perform on the big stage beside them."
The cast will perform a song from "Me and My Girl" on the Long Center stage because it received a nomination for Best Production, the biggest award available at the show. It the first time McCallum has received a Best Production nomination. Other schools nominated for Best Production included Bowie's The Who's Tommy, Hendrickson's In the Heights, and Leander's Pippin.
Five representatives from McCallum attended the annual GAHSMTA nominations ceremony this morning: Tierney, Atley Brown ('17), Anna McGuire ('18), Alana Raper ('17) and theatre teacher Joshua Denning. 
"It feels amazing [to have received nine nominations,]" Brown ('17) said. "After four years and seven main-stage musicals, I finally feel like the city has given us recognition as well as our peers from all the other schools.  While I have always been proud of our work, it feels great to have extra support and to get the chance to perform with my cast mates one last time before I graduate."
"It's really exciting that we got nominated," Hannah Young ('18) said. "We worked really hard, and I'm glad to see that it paid off.  I'm looking forward to the awards and the performance."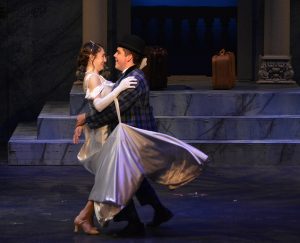 McCallum was also nominated for technical execution, an award honoring the overall technical elements in a show and how they work together in the production.
"We've never been nominated for best technical execution," said Raper ('17), the show's stage manager. "I'm so happy that our technical theatre department has been recognized because it often gets overlooked when there is so much talent on stage."
Another first for McCallum was having five students nominated for acting awards.  Max Corney ('17) and Holden Crocker ('17) were both nominated for Best Actor in a Supporting Role, Sophia Mullican ('19) was nominated for Best Actress in a Supporting Role, Tristan Tierney ('18) was nominated for Best Actor in a Leading Role, and Anna McGuire ('18) was nominated for Best Actress in a Leading Role.  McGuire and Tierney will both perform onstage at the awards show as a part of a Leading Actor and Leading Actress nominees medley.
Bonnie and Clyde, the 2013 fall musical, held the past record, with five nominations.  The nominations were presented by J. Quinton Johnson, who currently plays Hercules Mulligan/James Madison in the Broadway production of Hamilton.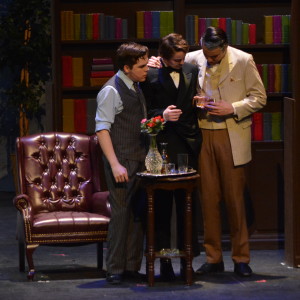 "I'm excited to be able to be a part of the GAHSMTA community with my cast," McGuire said. "I'm looking forward to the actual award night where we all get to perform and celebrate what we have created."
Full List of MacTheatre GAHSMTA nominations:
Best Choreography

Best Direction

Best Technical Execution

Max Corney for Best Actor in a Supporting Role

Holden Crocker for Best Actor in a Supporting Role

Sophia Mullican for Best Actress in a Supporting Role

Tristan Tierney for Best Actor in a Leading Role

Anna McGuire for Best Actress in a Leading Role

Best Production