Student caught in New York during terrorist attack
Editor's Note: Emily's column originally appeared in the Oct. 12, 2001, edition of The Shield. We are posting it here as part of our observance of the 15th anniversary of the Sept. 11 attacks. To read other Shield articles that reported or commented on the 9/11 tragedy, please see the links at the end of this article or click on the MAC Archive tab under News.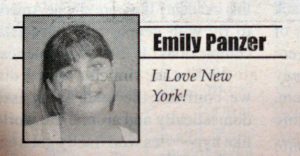 "I got back to my hotel around 1 a.m. from a beautiful wedding for a very happy couple. As soon as I got back, I changed out of my dress, packed a little bit because we were leaving Tuesday afternoon, then fell right to sleep.
I woke up around 9 a.m. on the morning of Sept. 11 and turned on the TV. The first thing I saw, though I didn't know it was at the time, was the second plane hitting the south tower of the World Trade Center. I thought it was a movie, so I changed the channel,but it was on the next channel as well. I started watching and soon found out what happened.
My dad, grandma and I stayed in the hotel all morning watching TV and soon found out about the pentagon and the other plane in Pennsylvania. Call phones didn't work all morning, so my friends and family had a hard time finding out if we were all okay.
At this point everything seemed so unreal to me. I didn't really know how I felt. I guess people assumed I would be scared, but I wasn't really. I just wanted to be at home. On Tuesday I think that everyone just wanted to know that their family, friends and loved ones were safe at home, but we weren't. We were stuck in New York City.
We watched the news all day. Still, I wasn't very scared, just anxious to get home to my friends and family. I think we all had trouble falling asleep Tuesday night.
Wednesday morning we got up, turned on the news and then went down for breakfast. I wanted to see NYU while we were there, so once again my dad and I walked down 8th street. On the way we passed Union square and saw people signing papers and lighting candles. We walked in to Washington Square Park where a student was ranting and raving about everything that that had happened. I realized that everyone had a different way of expressing his or her feelings or emotions about the tragedy of the previous day's events.
By Thursday, we were running out of clothes, so my dad and I walked to Bloomingdales. While we were paying, the saleslady told us that they were evacuating Times Square because of bomb threats. We had left my grandma in the hotel, which was in Times Square, so as fast as we could we got back to the hotel just to find out that Times Square was fine.
I was just scared walking around the city that day. We stayed in the hotel for the rest of the afternoon trying to figure out a way to get home. Finally, we decided we would rent a car in New Jersey and drive to Nashville. There is a direct flight from Nashville to Austin that we could take and get home late Saturday night.
Friday morning we woke up early and met the car service to take us to New Jersey. We got our Volvo station wagon and got on the road. That evening we ended up in Roanoke, VA. We were exhausted and fell right to sleep.
We woke up Saturday morning and started driving. Finally we got to Nashville. The airport was like a ghost town. There was hardly anyone there. After we checked our bags, they took them to a table and searched through all our things. We walked to the security check where they took my grandma's nail clippers from her. This made me feel even safer about getting on a plane. We waited in the airport for hours until it was finally time for our plane to leave. I planned on sleeping, but with a baby behind me and another one in front of me, it was hard to do so. Finally, after the long plane ride was over, we were home. Getting to the car was a whole nother adventure but around midnight I was in my room.
I don't think I'm going to fly for a while. Call me crazy, but I'm going back to New York city during spring break and I hope I'll be there for college in a few years as well.
For more 9/11 stories from the MacJournalism archive, please click the links below:
Becca Eden, "The day America stood still," The Shield (Sept. 14, 2001).
Justin Mitchell, "When the chickens come home to roost …" The Shield (Oct. 12, 2001).
Mitchell Nolen, "Give peace a chance," The Shield (Oct. 12, 2001).
Jena Randall, "A candle in the wind." The 2002 Knight.