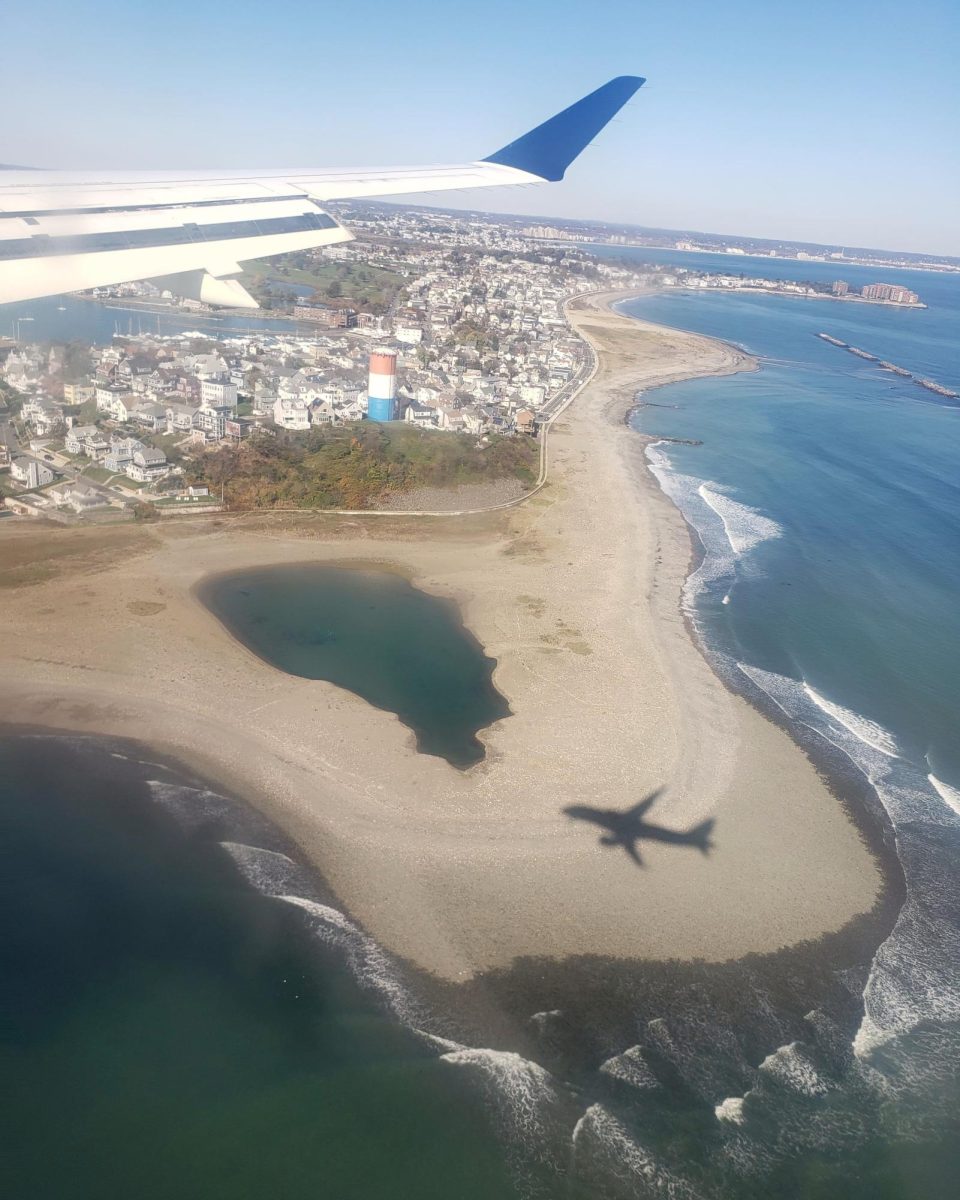 MACJ ARRIVES IN BOSTON: After a three and a half hour flight, starting at 7 in the morning in Austin, the MacJ contingent landed straight in the middle of a gorgeous sunny day with a perfect view of the Boston Harbor, and sneak peak at the amazing city and skyline of downtown Boston, at the Logan International Airport in East Boston. After this picture of the crew's descent into Boston was posted to the MacJ Insta account, the Logan Airport social media team DM'ed MacJ asking if they could repost this image to their Instagram feed. Caption by Josie Mullan. Photo by Dave Winter.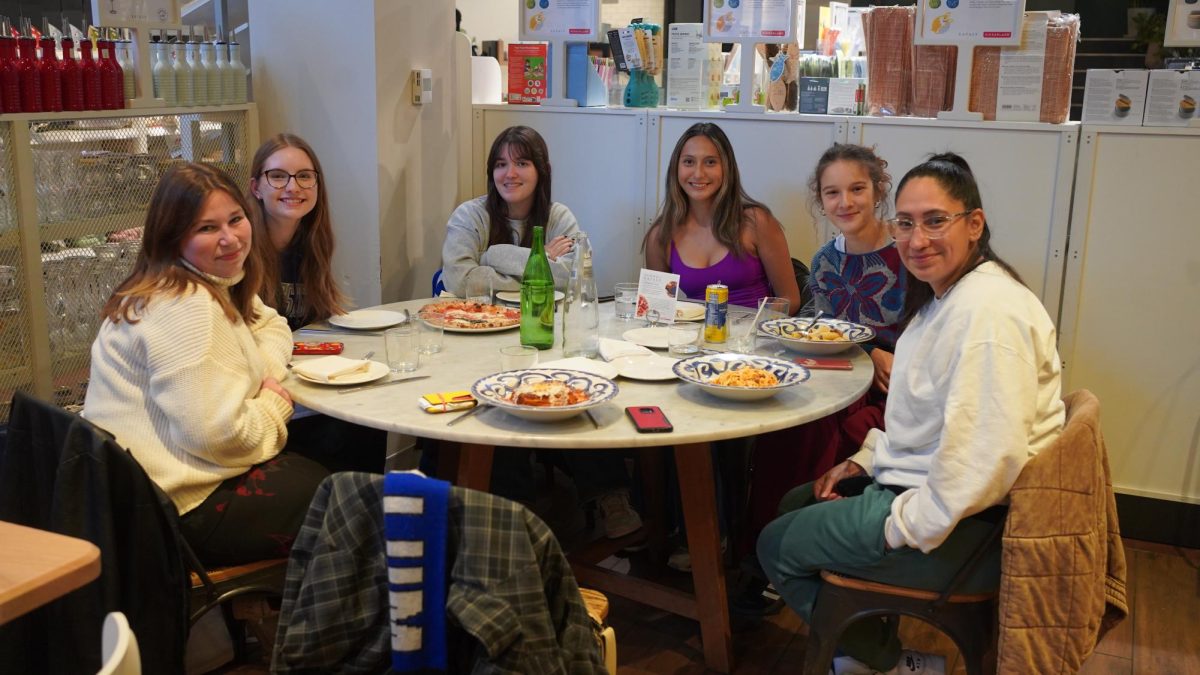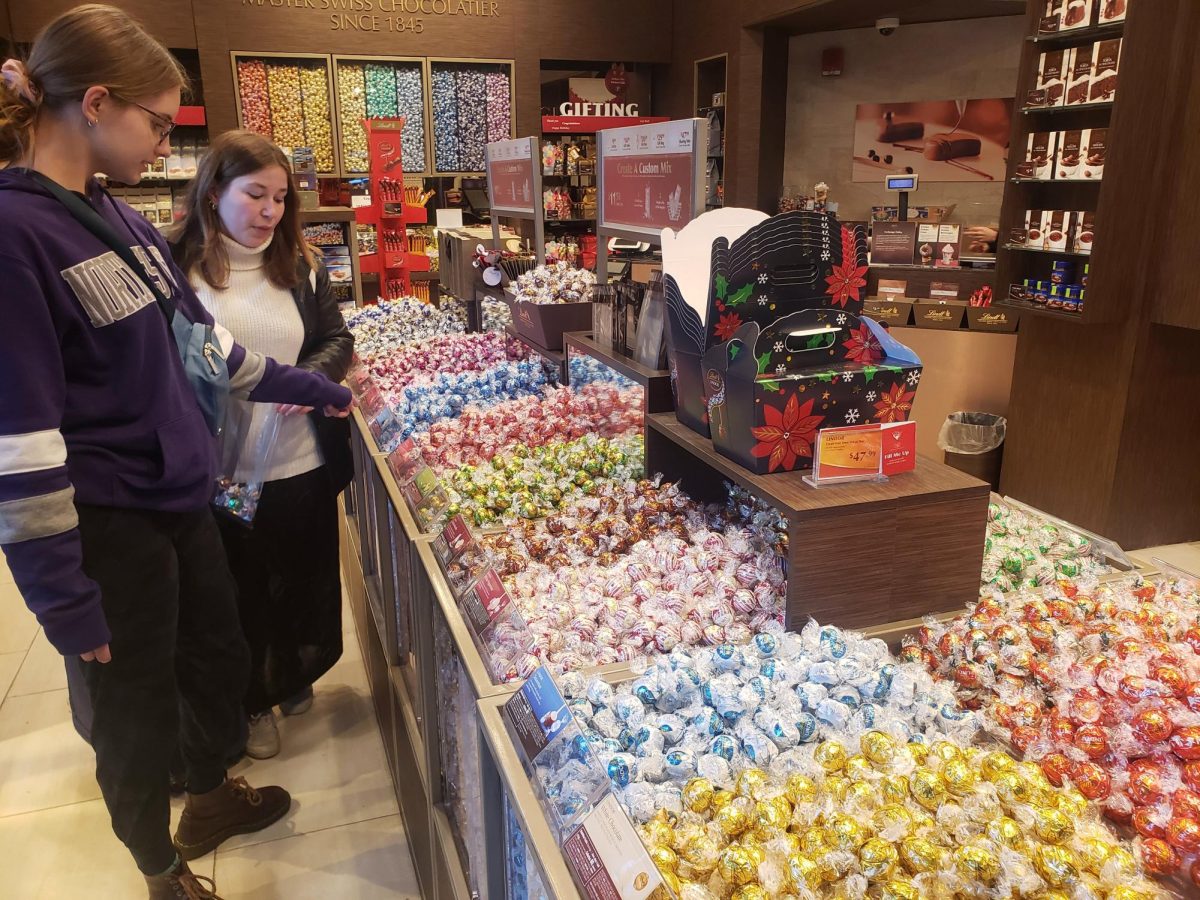 Story continues below advertisement
ALL YOU CAN EAT: During their five-day stay in Boston for the JEA/NSPA National High School Journalism Convention, Shield staffers had the opportunity to explore many different restaurants around the Back Bay area. From Mediterranean food to pasta and pizza to gelato, staffers tasted a variety of different cuisines. Staffers even made a pit stop on Thursday night after a day at the convention at the Lindor chocolate store and purchased a variety of different sweet treats. Caption by Alice Scott. Photos by Dave Winter.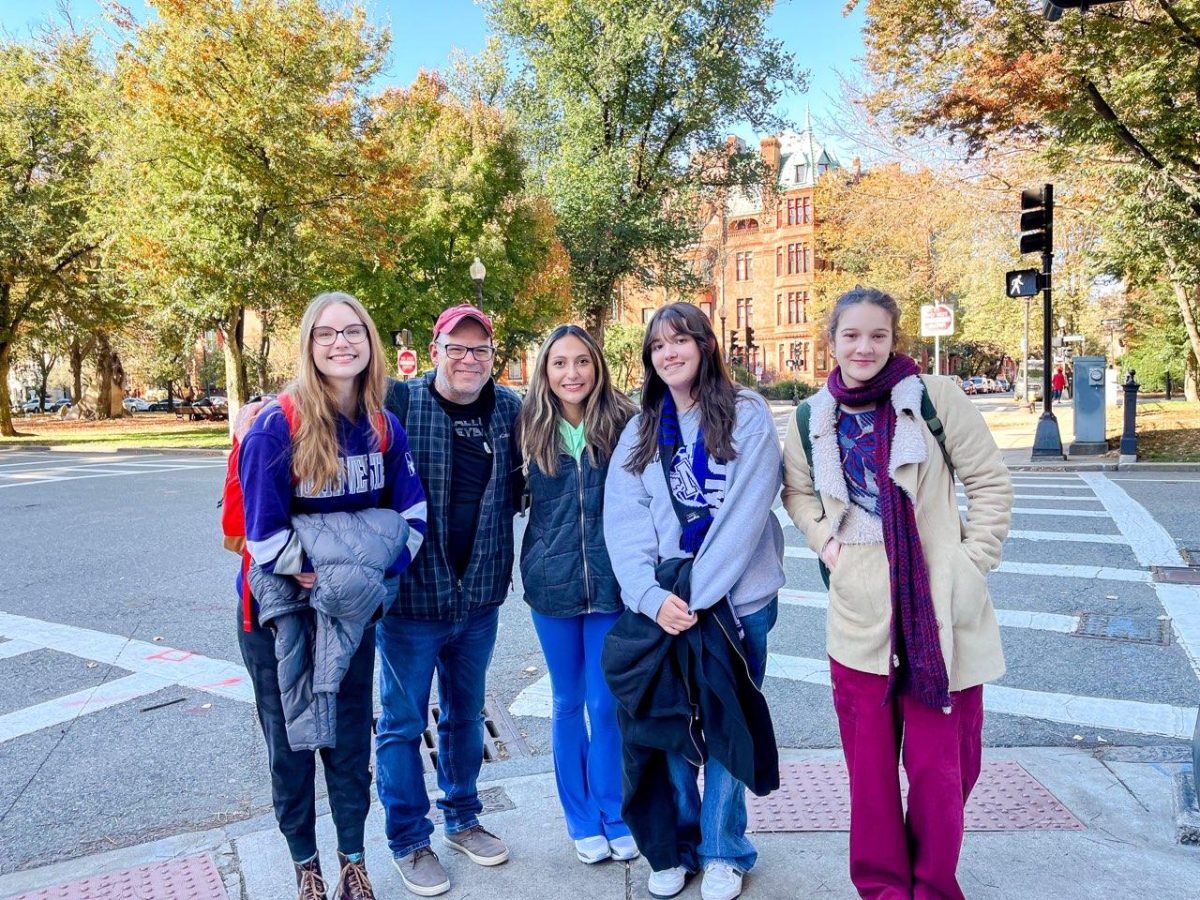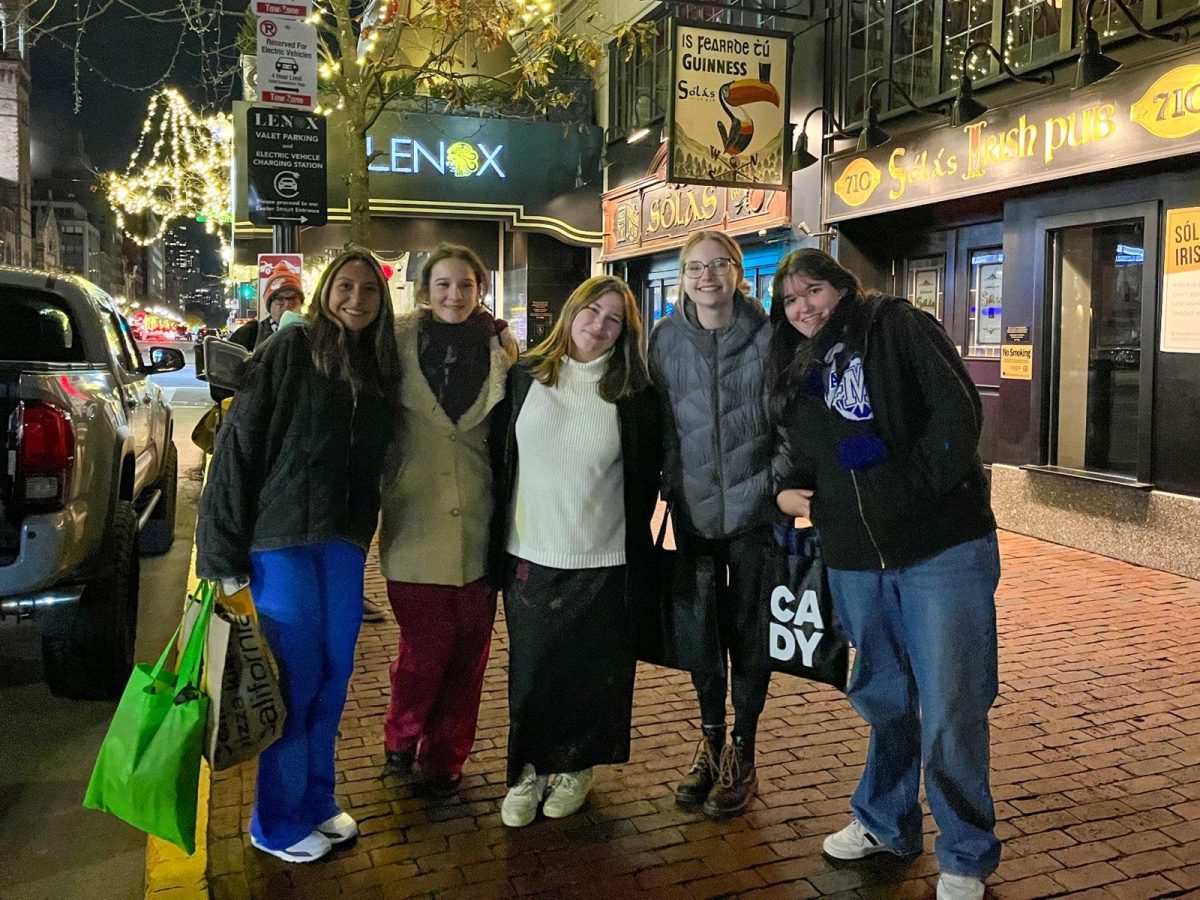 BACK TO BACK BAY: The Shield stayed in Back Bay, a neighborhood surrounded by shops, historic statues and the Boston Public Library. Each morning as MacJ made its way to Hynes Convention Center, staffers suited up in cold weather gear and walked down streets sprinkled with fall leaves. After quick trips to Dunkin Donuts, warming up through East Coast-approved cups of coffee, The Shield joined the parade of happy dogs and student journalists heading down Boylston Street. In between sessions and sightseeing, staffers popped into dozens of Back Bay businesses from the Lindt Chocolate Shop to a Harry Potter store to a local pizzeria. Through appetite-induced adventures and weekend wanderings, Back Bay was MacJ's Boston headquarters. Caption by Ingrid Smith. Photos by Ashley Diaz.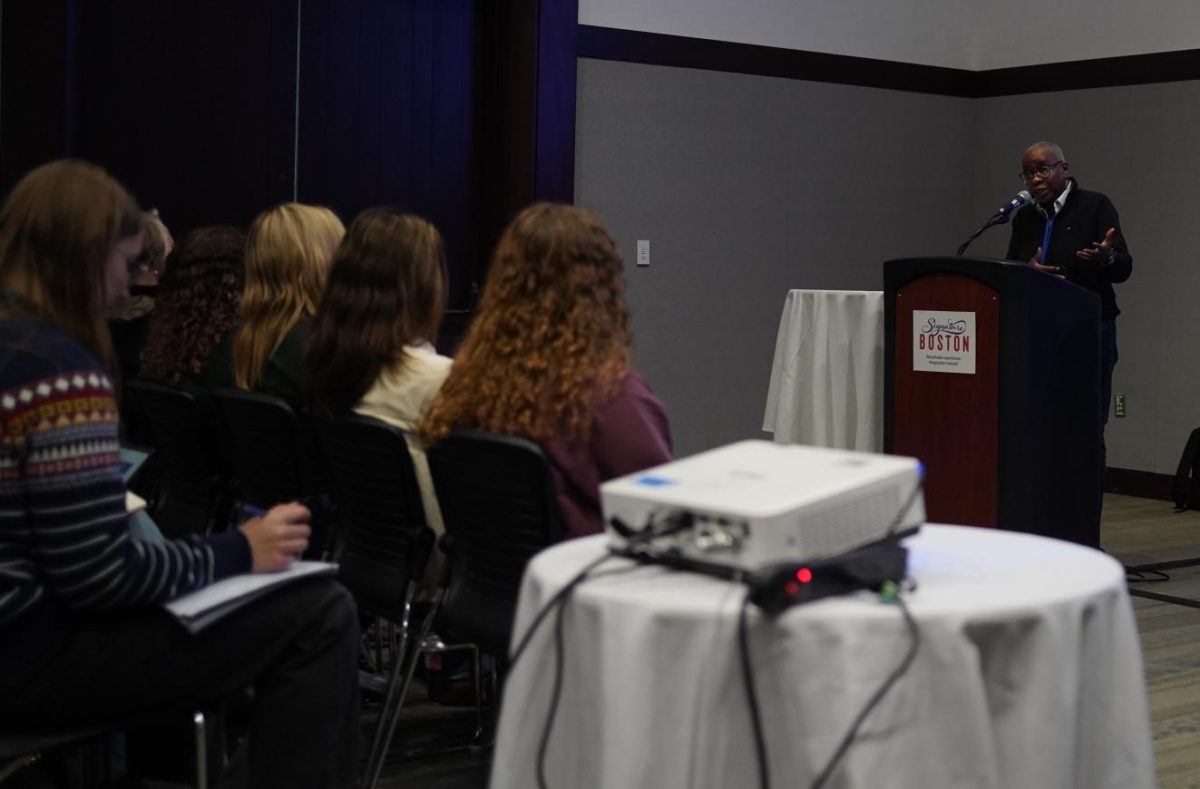 COVERING THE HARD STUFF: Speaking to a packed Hynes Auditorium meeting room, Boston Globe associate editor and opinion columnist Renee Graham captivated the crowd with personal stories from her award-winning career and the lessons she has learned writing news, feature and opinion stories for the Globe. A theme that ran through Graham's presentation is that journalists must care more about the subjects of the story than the byline earned from writing about them.
"You have to put a human face on a story," Graham told the audience. "You have to care about your subject because if you don't it will come through in your story. … You always want to get the story, but there are moments when recognizing and honoring someone's humanity is more important."
Graham confessed that journalism meant so much to her that she felt compelled to return to the Globe after walking away.
"I'm a journalist," she said. "It's one of the more important, identifying parts of who I am."
She added that wisdom and experience have given her the strength to keep writing about the issues that matter most of her as a Black, Queer, woman journalist.
"I know all the different ways that I can be stereotyped and there's nothing new," she said. "I love my job and I don't let knuckleheads get in the way." Caption and photo by Dave Winter.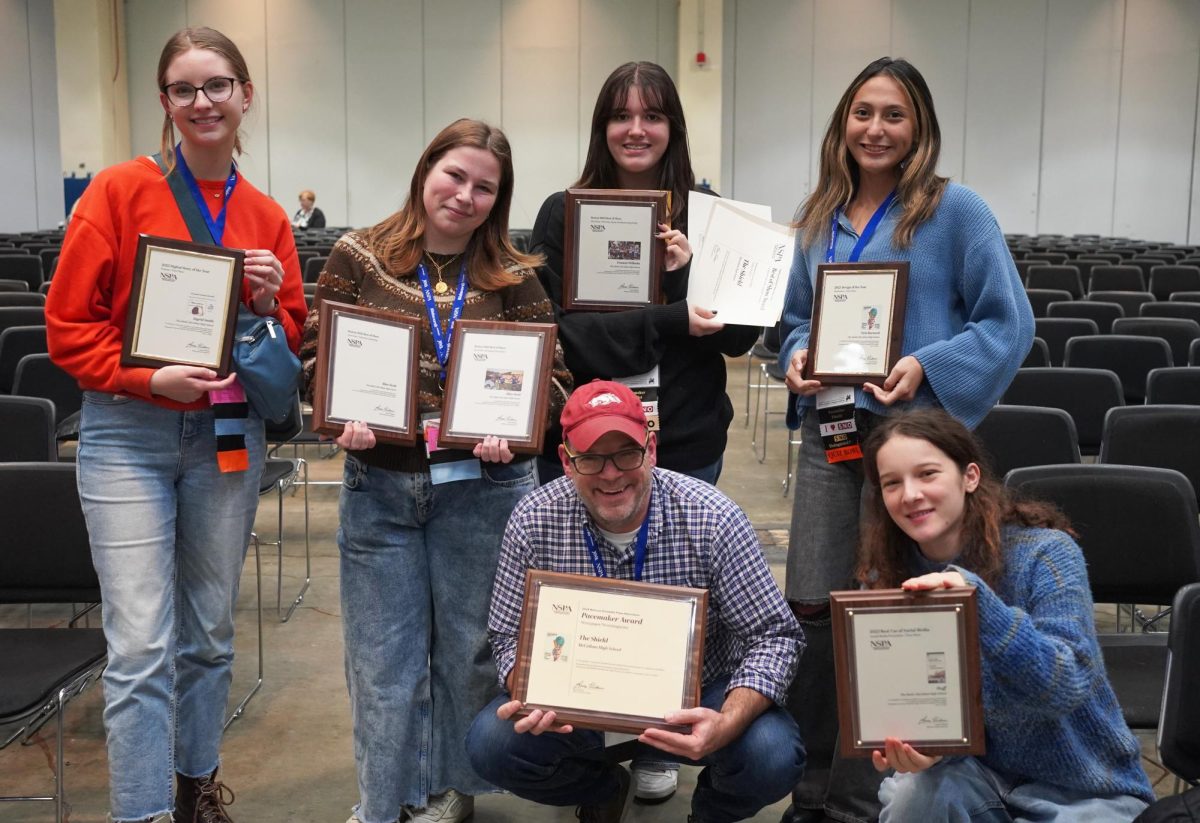 When the National Scholastic Press Association announced in August that the Shield was a finalist for the 2023 Newspaper Pacemaker Award, the staff was elated, but they had good reason to temper their expectations heading into this month's announcement of the Pacemaker winners.
The last time the Shield won a Newspaper Pacemaker Award, the seniors on staff were midway through their first semester of kindergarten.
More recently—four times in the past five years to be exact—the Shield was a Newspaper Pacemaker finalist but not a winner. That all changed on Saturday Nov. 4 when the Shield joined 15 other high school newspapers as 2023 Pacemaker Award winners.
NSPA judges awarded the 2023 Newspaper Pacemaker Awards after evaluating the Shield staff's submission for four issues from the 2022-2023 school year. For 2022-2023 co-editors in chief Evie Barnard and Alice Scott, the path that led to the Pacemaker began with frequent study of Pacemaker-winning publications looking for ways that the Shield could improve.
"We looked at what they were writing about and what design trends they were following and tried to implement what we saw they were doing well. What we found so motivating about it was that these were high school students just like us. If they could do it, why not us?"
For Scott, the announcement of the Shield as a Pacemaker winner in Boston meant that the Shield might become an exemplar for other staffs to follow.
"Words cannot capture how immensely proud I am of the entire Shield staff for putting in the work to attain this status," Scott said. "Although I try not to focus too much on awards, I can't help but emphasize what an honor being a Pacemaker winner is. Last year, The Shield staff worked on weekends, during school breaks and into the late hours of the night to make our print paper the best it could be."
Scott added she was grateful to be able to lead such a dedicated group. Winning NSPA's highest honor was part of a very good day for Scott and the other four MacJ journalists who traveled to Boston for the NSPA/JEA Fall National High School Journalism Conference: co-editor in chief Ingrid Smith and staff members junior Josie Mullan and sophomores Julia Copas and Tristen Diaz.
The complete list of staff and individual honors earned at the convention can be found at the bottom of this post. Caption and photo by Dave Winter.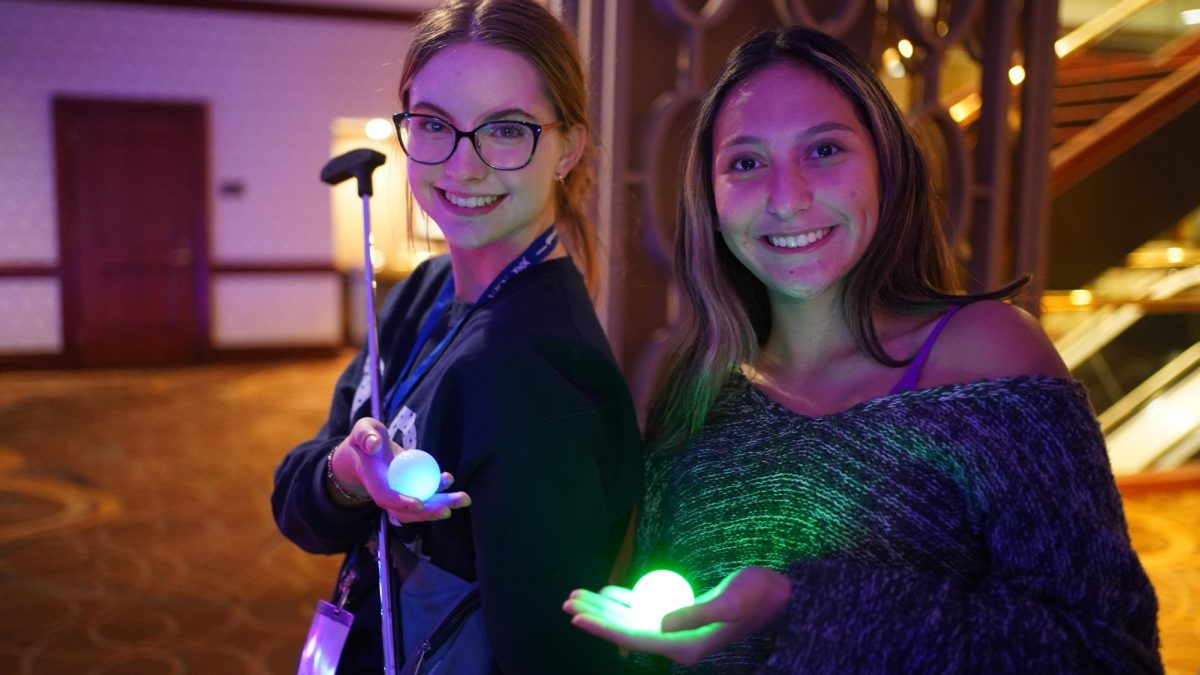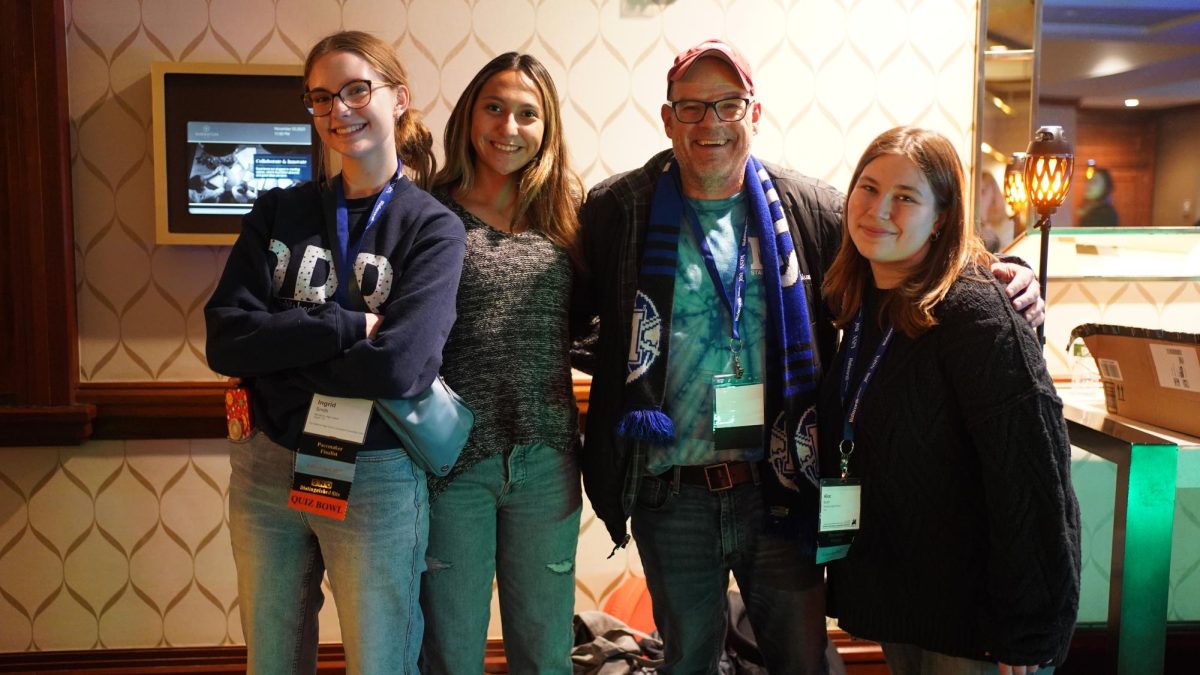 Stomachs full of Mediterranean food and gelato, Shield staffers finished their Friday night with LED mini-golf at Sheraton Boston. Among other opportunities like a video game and virtual reality room, the convention's "student game night" provided LED mini-golf to facilitate staff bonding. Staffers secured their neon putters of choice then bounced LED golf balls against the hotel floor until they flashed with neon lights. Entering the 18-hole color-changing course, staffers took in the range of obstacles from sharp angles and inclines to hanging blocks. The Shield may not have earned a spot on the scholastic journalism golf tour, but it did achieve multiple holes-in-one. On other occasions, staffers' LED golf balls flew off the fairway. MacJ failed to score the round and name its mini-golf champion, but co-editor-in-chief Ingrid Smith obtained more than 3,000 views on an Instagram reel showing her hole-in-one on the first hole of the night. Caption by Ingrid Smith. Photo by David Winter and by an unidentified OneUp Games staff member.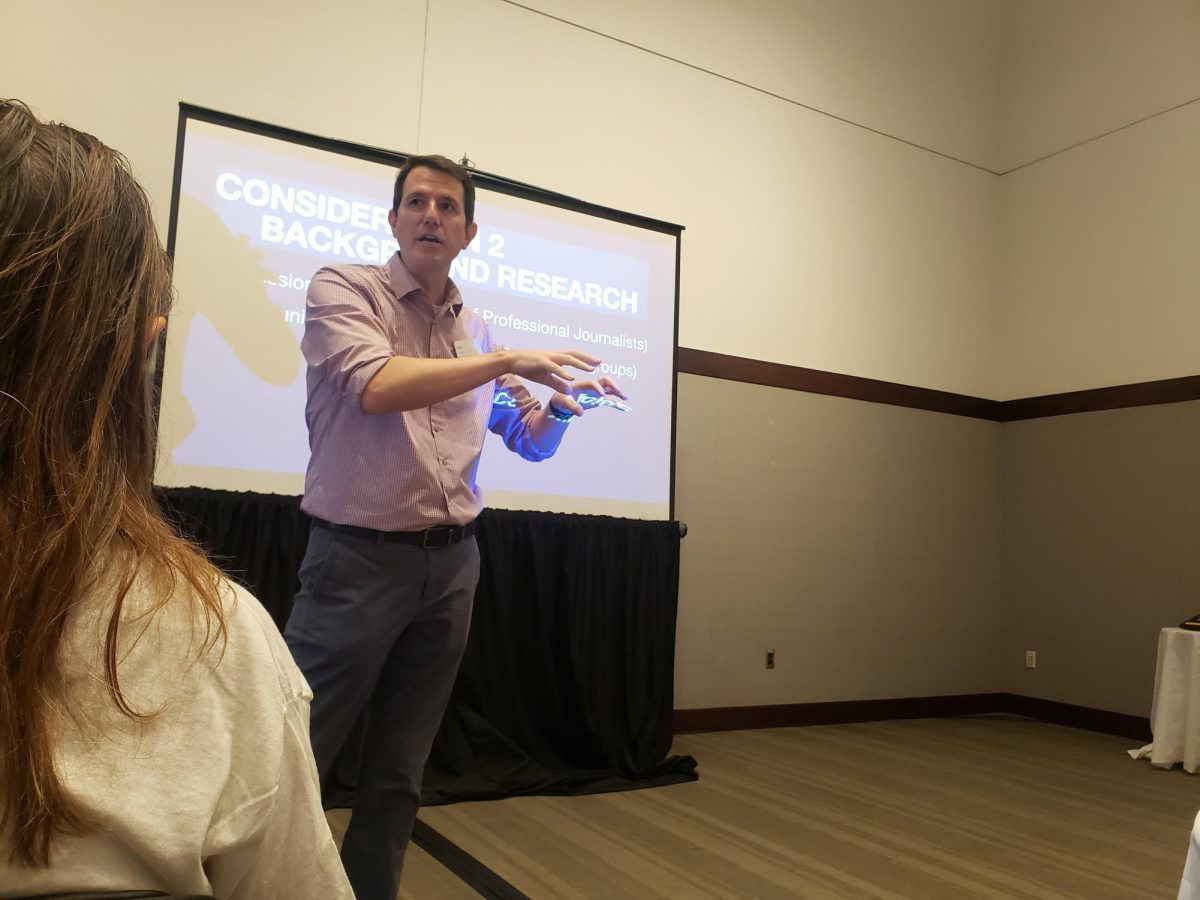 Stressing the importance of the process of making ethical decisions, journalism professor and publication adviser Kelly Furnas illustrated how collegiate journalists at Elon University navigate difficult ethical decisions regarding takedown requests, artificial intelligence and conflicts of interest. He urged the student journalists in the audience not to focus on the policies the staff ultimately created but rather the process of how they arrived at them. Through background research, unemotional analysis and the involvement of a wide range of stakeholders, the Elon News Network staff was able to craft policies that not only provided clear guidance but built reader trust in the publication. Caption and photo by Dave Winter.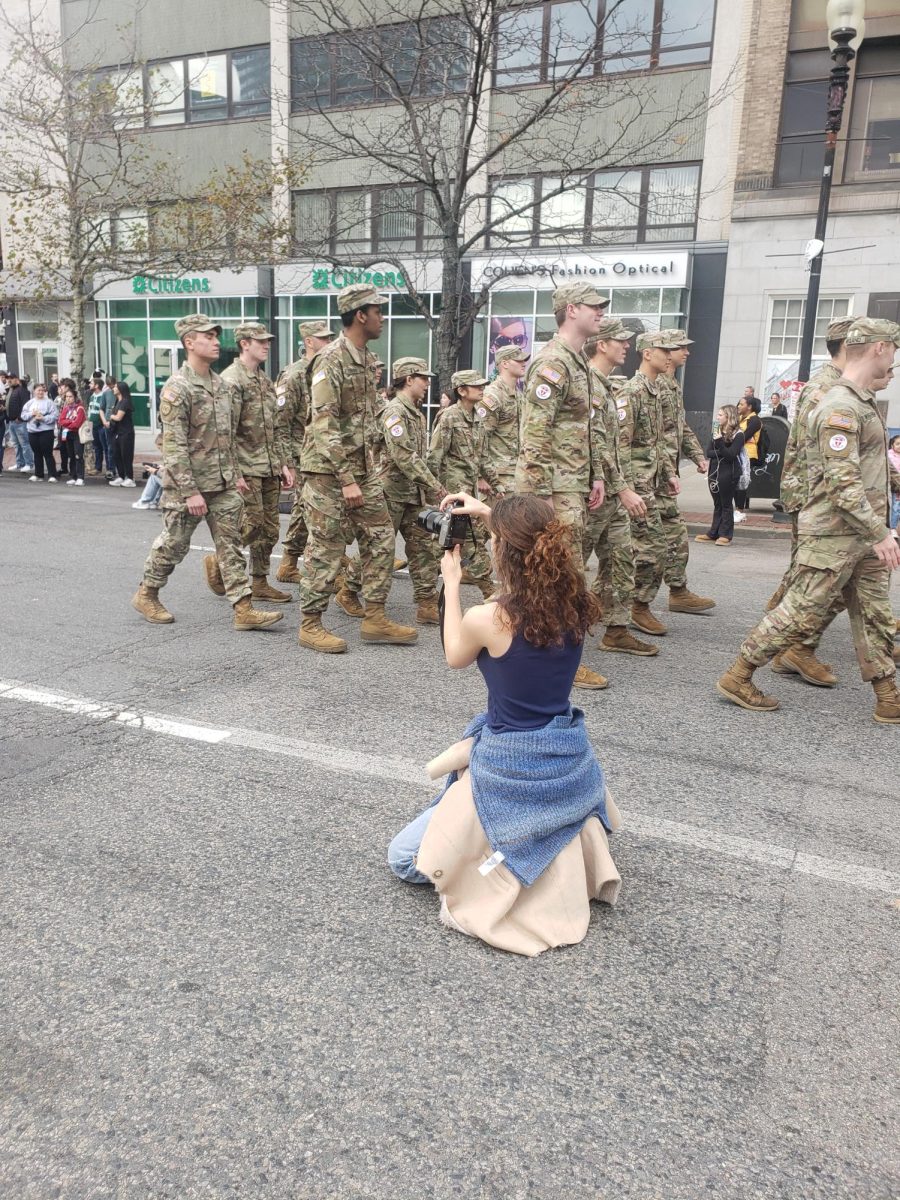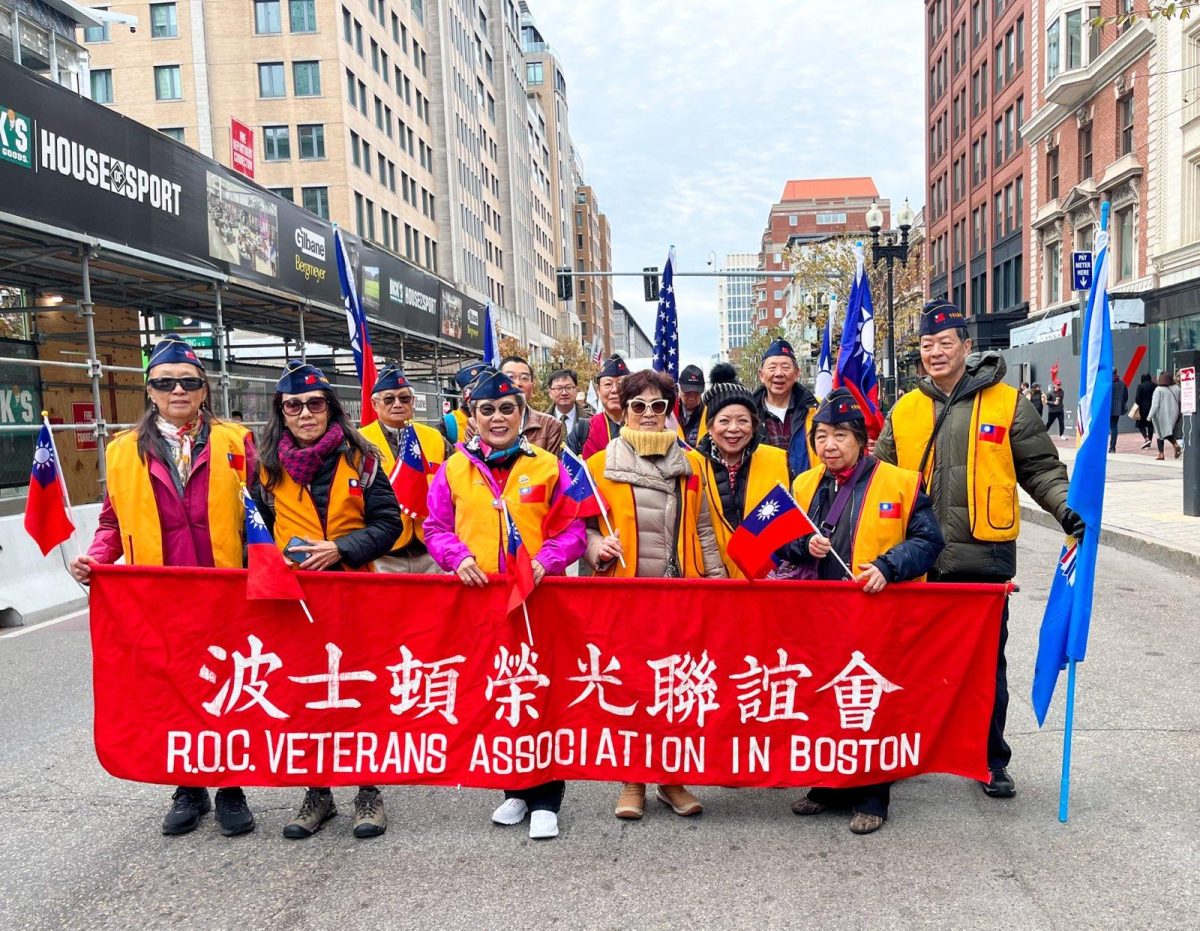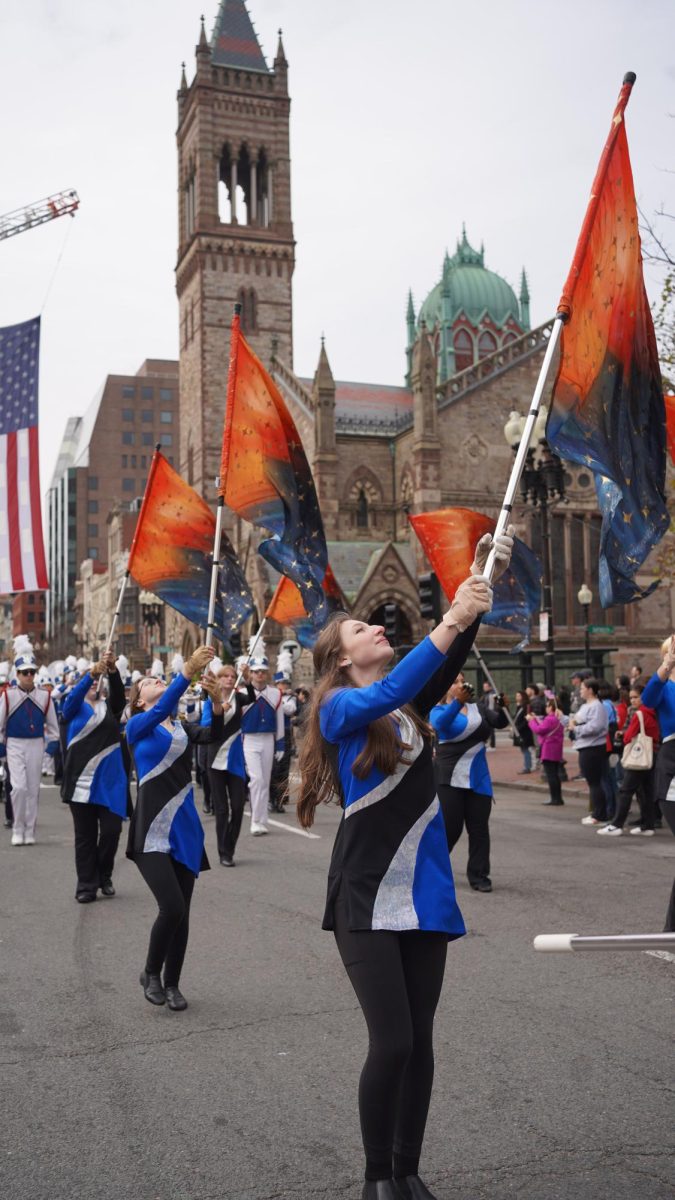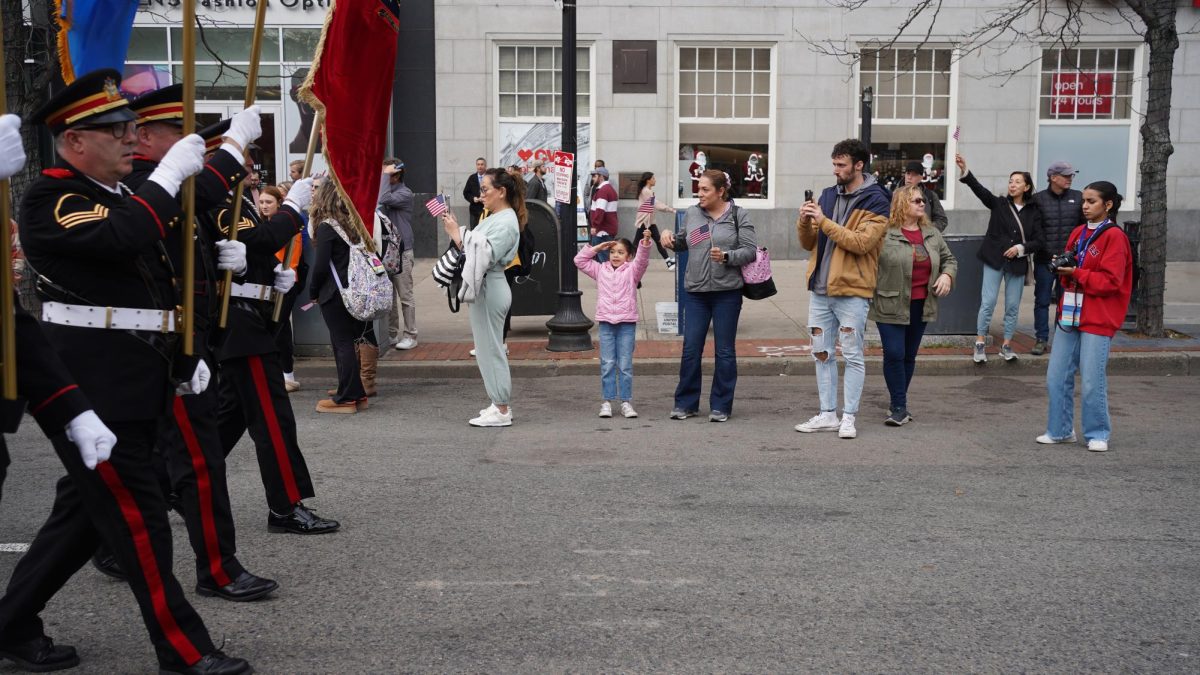 Shield staff member Josie Mullan moves in to get a close-up shot of marchers in Boston's 2023 Veterans Day Parade. The Boston tradition literally fell into the Shield contingent's lap. The parade began at the Boston Public Library near the Hynes Convention center during a lunch break on Saturday. Mullan (color guard photo) and Winter (photo of girl saluting soldiers as they pass by) shared a camera and captured images of the parade on Boylston Street just past its starting point while chaperone Ashley Diaz (Republic of China Veterans Association in Boston) used her trusty iPhone to capture parade participants as they were leaving the street in front of the library. According to the Boston Discovery Guide, this 2023 edition of the parade Boston's Veterans Day Parade was bigger and better than ever, featuring 300-400 marchers including 25-30 military units, high school ROTC groups, honorary militias, marching bands, and veterans' organizations. Caption by Dave Winter. Photos by Ashley Diaz, Josie Mullan and Dave Winter.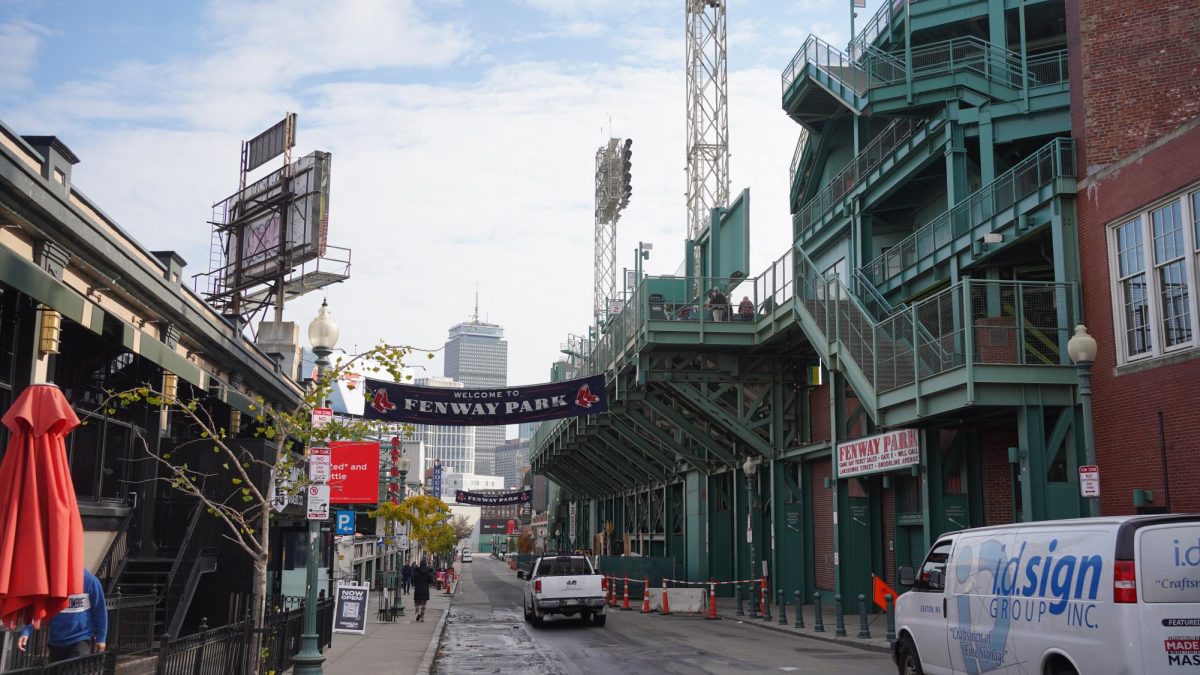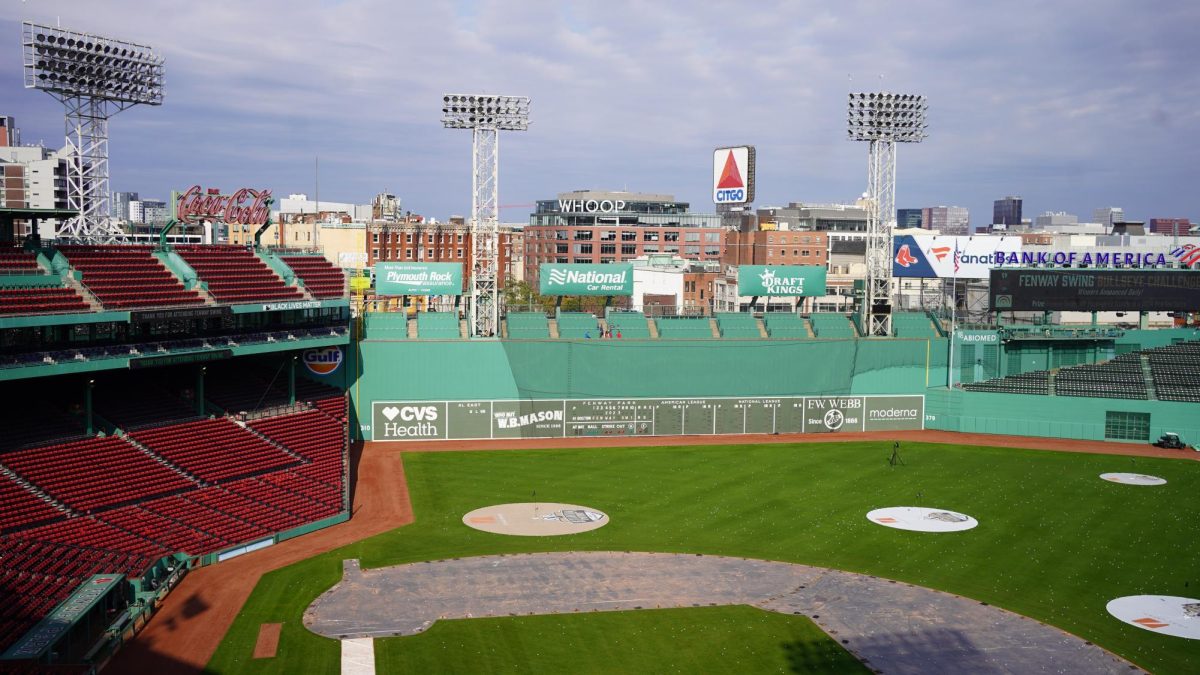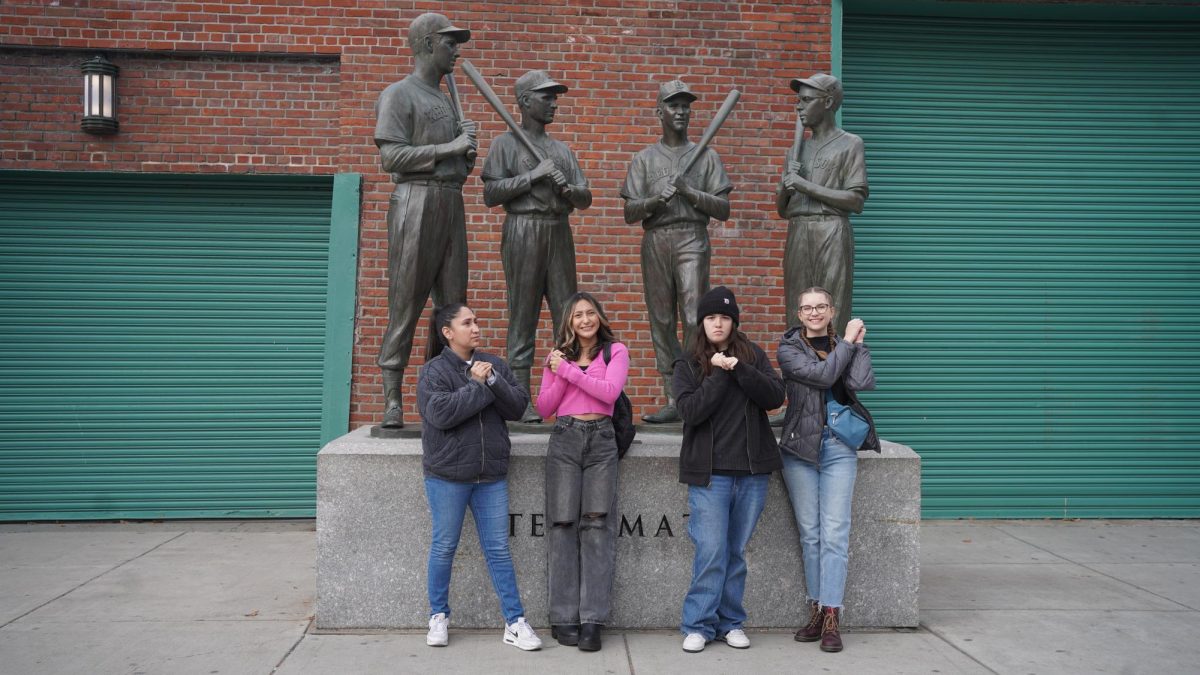 On Sunday morning following the JEA awards assembly, the Shield crew headed on the T to Fenway Park for a tour of the home of the Boston Red Sox, one of the most storied sports franchises in American history. Along the tour, they learned of the Curse of the Bambino, the ill-fated trade of Red Sox pitcher Babe Ruth to the New York Yankees, a trade that transformed the Red Sox from perennial pennant contenders to also-rans and also the history of the famed Green Monster, the 37-foot left-field wall erected in 1914 by Red Sox owner Tom Yawkey to keep people across the street in restaurants and bars from watching the Sox games for free. Between 2002 and 2003 seasons the Red Sox installed seats above the Green Monster to revitalize the park. Twenty years later, the seats are so popular they are only sold on game day and are considered by many to be the best in all of baseball. Caption and photos by Dave Winter.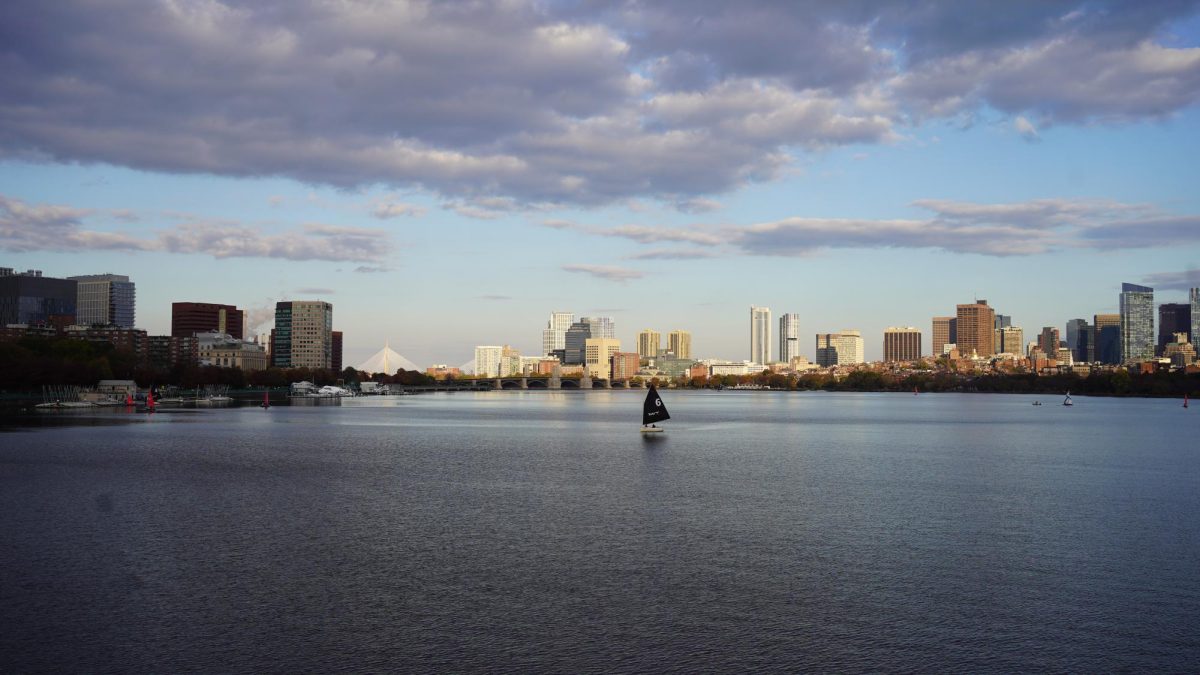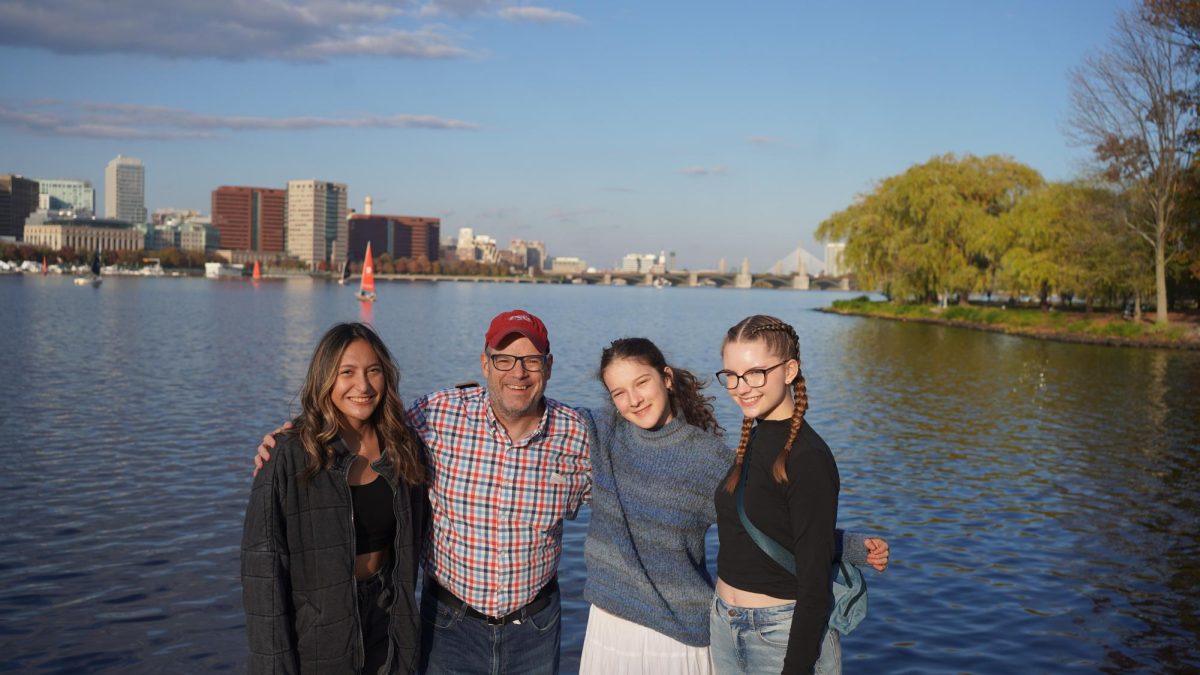 On Mac J's last full trip in Boston, staffers, junior Josie Mullan, sophomore Tristen Diaz, and senior Ingrid Smith with adviser David Winter walked the infamous and gorgeous Charles River Esplanade, and crossed the Harvard Bridge. The staffers got to experience the gorgeous Northeastern fall weather and landscape, and see part of the beautiful Boston skyline, as well as some practicing MIT sailing teams on the water. Caption by Josie Mullan. Photos by Dave Winter and Ashley Diaz.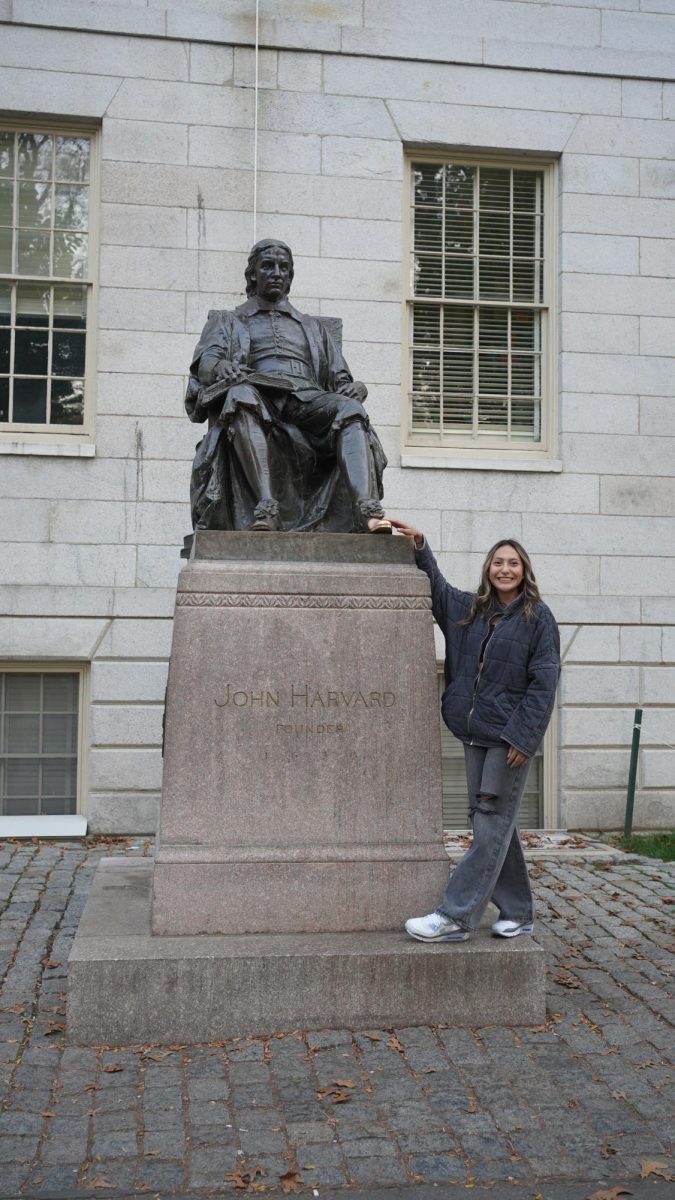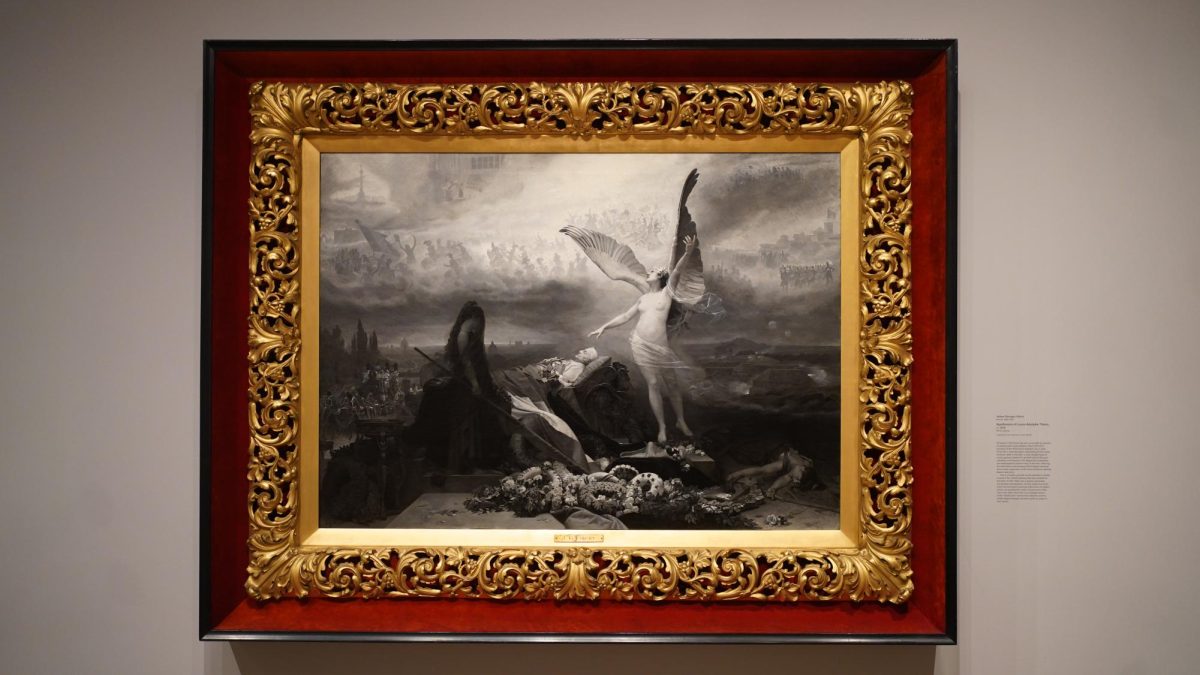 The MacJ crew enjoyed some wonderful discoveries on the Harvard campus including the John Harvard statute (including the lucky toe), wild turkeys on the streets and an art museum full of hidden gems including Jehan Georges Vilbert's "Apotheosis of Louis Adolph Thiers (oil on canvas, c. 1878) shown here. Caption, photos and video by Dave Winter.
Boston NHSJC2023 awards
National Scholastic Press Association (NSPA)
2023 Pacemaker Awards
Newspaper/Newsmagazine
Nov. 4, 2023
MINNEAPOLIS — Honoring the nation's best, National Scholastic Press Association has named 19 newspapers and five specialty magazines as prestigious Pacemaker winners. The 19 newspaper winners included 16 high school publications and three middle school.
These 2023 winners, plus the 2023 Pacemaker Awards in Broadcast, were announced during the JEA/NSPA Spring National High School Journalism Convention, in Boston.
"The Pacemaker is the association's preeminent award," Executive Director Laura Widmer said. "NSPA is honored to recognize the best of the best."
McCallum High School
Austin, Texas
Editors-in-chief: Evie Barnard, Alice Scott
Adviser: Dave Winter
(first NP Pacemaker Award for the Shield since 2011 and first for a staff advised by Mr. Winter since 2014) 
Individual Awards
Cartoon of the Year winners
Editorial Cartoon
Fourth Place
Evie Barnard
A Band-Aid for a bullet wound
Honorable mention
Evie Barnard
All hope is not lost
Honorable mention
JoJo Barnard
Breaking the silence
Honorable mention
Nate Williams
Only vouching for Austin's rich
Design of the Year winners
Newsmagazine Cover
Third Place
Evie Barnard
Facing the fentanyl crisis
Newsmagazine Page/Spread
Honorable mention
Evie Barnard, Alice Scott
What is driving your CO2 emissions?
Digital Story of the Year winners
Photo Slideshow
Fourth Place
Staff
McCallum Quinceañera celebrates comeback
Interactive Graphic
Honorable mention
Alice Scott
Bend and snap
Honorable mention
Ingrid Smith
Pumpkin spice and everything nice
Podcast
First Place
Ingrid Smith
Future teachers face obstacles, follow passion
Photo of the Year winners
Sports Feature Photo
Honorable mention
Charlie Partheymuller
Sanchez, super sophs lead Knights' surge to second in district
Environmental Portrait
Honorable mention
Gergő Major
Cumberbatch wins Black Girl Magic art contest
Story of the Year winner
Editorial
Second
Caroline Owen, Alice Scott
Outdated Mac should be included in bond proposals
Portfolio of the Year winners
Artist of the Year
Honorable mention
Marketer of the Year
Multimedia Journalist of the Year
Third Place
Photojournalist of the Year
Fifth Place
Writer of the Year
Fifth Place
Best Use of Social Media winners
Social Media Reporting
Third Place
The Shield
Social Media Promotion
First Place
Best of Show Awards
Staff Recognition
Newspaper
High school / enrollment of 1,800 or more
Third Place
The Shield
Individual Recognition
Broadcast News Story
First Place
Alice Scott
The key equals confidence
Editorial Leadership
First Place
Alice Scott
Newspaper/Newsmagazine Design
Third Place
Alice Scott
Baxa's first 100 days
Feature Photo
Fourth Place
Beatrix Lozach
Diversity, Equity & Inclusion Reporting
First Place
Francie Wilhelm
Mac community takes a stand against hate group agitators
Journalism Education Association (JEA)
Junior High/Middle School National Media Contest
Newswriting
Honorable mention
Ingrid Smith
Editorial writing
Honorable mention
Alice Scott