On Oct. 31, students came dressed to impress, but the pageantry of costumed Knights extended far beyond a single day. For more than week, from the Battle of the Bell to the celebration of Day of the Dead, McCallum embraced the spirit of the season by coming to school dressed to impress. 
The first part of the Halloweek began on Thursday where sports took the seasonal center stage. At volleyball practice, athletes took to the court not in regular practice attire but rather in Halloween costumes. That evening at the Battle of the Bell football game, the Blue Brigade and cheerleaders came to the field dressed in their costumes to celebrate Halloween as they cheered on the football team to a 35-24 victory over the rivals to the South, the Travis Rebels. 
On Saturday, MacTheatre's Princess Tea Party turned the cafeteria into a theme park as McCallum actors dressed up as beloved characters for kids and families in another uniquely McCallum Halloween tradition. 
When the calendar finally rolled to Halloween itself on Tuesday, the hallways were full of costumed students. The Art Society's annual costume contest was moved to the MAC to minimize the effect of the cold weather, but student stills congregated in large numbers to show off their costumes in hopes of winning one of the contest categories. Out of the numerous contestants, the winners were Zane Jolly dressed as Barbie for Funniest, Isa Perez as Soap and William Viner as Loofah for Best Group Costume, Sydney Beacham as Cassandra Dimitrescu as Scariest Costume, Gabriel Murphy Alcaine as Minecraft was awarded Most Creative and Isa Pirkey as Stocking awarded the Best Overall Costume. In the afternoon, the softball and baseball teams took a cue from their volleyball counterparts and took to their respective diamonds in costume, continuing an established tradition.
Story continues below advertisement
Speaking of traditions, the art society set up the Día de los Muertos altar in the main hallway. From Oct. 24 to Nov. 1, the altar honored deceased loved ones in the Mac community and in the lives of Mac students and teachers.
We are pleased to present our spooky and sweet Halloween and Day of the Dead gallery as this week's Tuesday Top 10.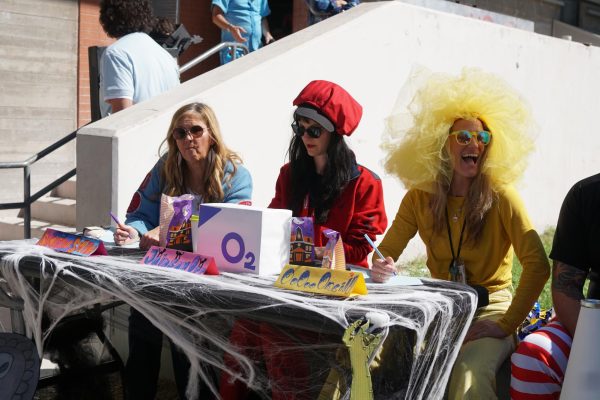 HERE COMES THE SUN: History teacher Catherine O'Neal breaks into a smile while judging the annual costume competition that occurred during lunch on Halloween. O'Neal, dressed as the sun from "Teletubbies," judged the contest alongside librarian Jane Orr and English teacher Amy Smith. 
"I really enjoyed the energy the contest brought," O'Neal said. "It's always fun to just do something other than school."
O'Neal also loved seeing student's talents showcased in a unique way.
"I was really impressed by the students who handmade their costumes," O'Neal said. "It was really just a testament to how creative students are at McCallum."
To O'Neal, creativity is an important asset, thus she is always ecstatic to see it flaunted.
"I love seeing the creativity at McCallum expressed like that. It [the costume contest] was just a really cool avenue to witness it," O'Neal said. 
Caption by JoJo Barnard. Photo by Dave Winter.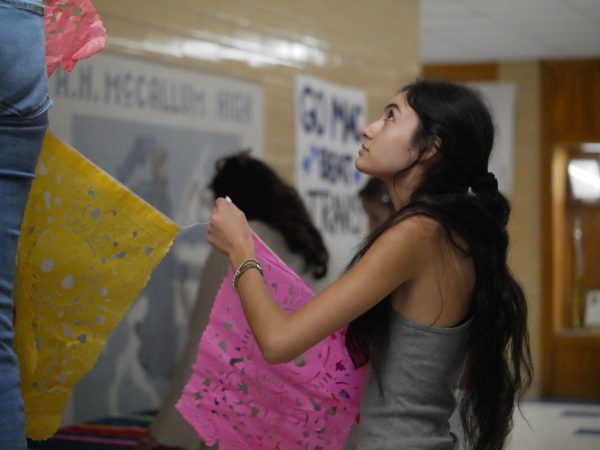 SETTING UP THE ALTAR: As part of Day of the Dead preparations, the National Art Society set up an altar for all to see near the front office on Oct. 24. Volunteers accompanied by Spanish teacher Graciela Rios-Tiessen created paper flowers and Picado banners, as well as set up the tables the altar would be placed on with candles, pictures and decorations. 
For junior and art society officer Jackie Chalon, helping set up the altar was both rewarding and sentimental.
"I like that by helping set up the altar I am contributing to my community and my culture," Chalon said. 
Caption and photo by Chloe Lewcock.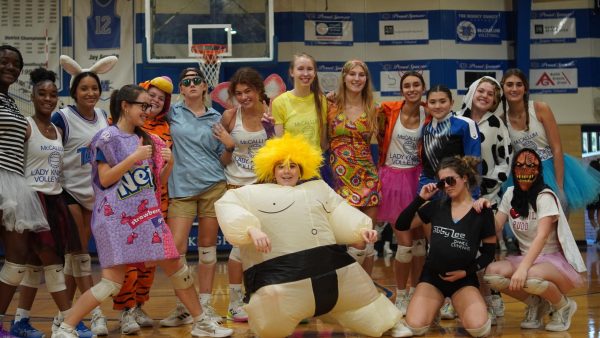 BLOWING OFF SOME PRE-PLAYOFF STEAM: If you thought that the volleyball team was too focused on its upcoming playoff game against Cedar Creek to have any fun at practice, they you thought wrong. On Thursday Oct. 23 just four days before these same Knights would clip the Eagles in four sets, the Knights practiced while wearing full (and occasionally movement-inhibiting) costumes. Freshman hitter Sienna Martens told MacJ that she dug junior Satya Russ's inflatable sumo wrestler costume the most. Photo by Winnie Roberts.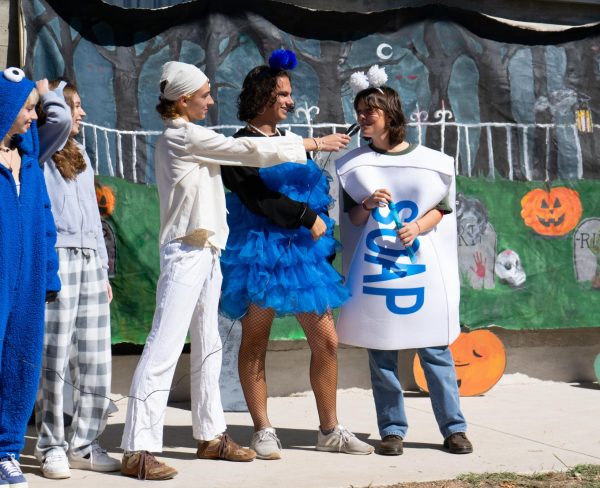 CLEAN WINNERS: For senior William Viner and junior Isa Perez, finding the perfect group costume was an important feat. The duo contemplated a few different options for costumes until finally landing on soap and loofah. 
Viner took on the loofah role, while Perez dressed as soap, creating the duo costume. 
"We went to Spirit Halloween to find inspiration for our costume," Viner said. "We fell in love with soap and loofah instantly." 
The two dominated the hallways taking the opportunity to show off their costume to passersby. 
"We got bubbles to blow while we walked around," Viner said. "And that tied it all together."
While it wasn't the original intent to join the costume contest, Viner decided it was a no-brainer to enter. 
"I loved getting together the little accessories to go along with the costume," Viner said. "We got matching earrings and headbands." 
By entering the contest, the two not only got to show off their custom costumes, but won the award for best group costume.
Caption by Chloe Lewcock. Photo by Mitchell Butler.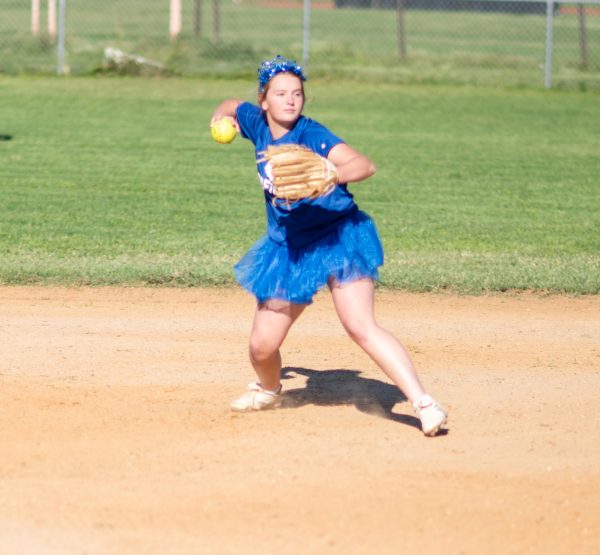 PRINCESS PLAYING BALL: In her best princess attire, freshman Natalie Myrick winds up to throw the ball at softball practice. Myrick's costume was both fashionable and functional. 
"I chose to be a princess because I thought it would be cute, and I'd be able to do it in a way that still allowed me to play well," Myrick said. 
Myrick wasn't alone in the Halloween spirit, as other softball players opted for costumes or eye black in the design of cat whiskers and masks. She felt that spending the practice out of uniform exemplified how supportive the McCallum softball program is. 
"It just made the practice super fun and reminded everyone that playing softball should be stress-free," Myrick said. "The whole reason we play it is because we love it, and it's fun." 
Caption by Francie Wilhelm. Photo by J. Frank Webster.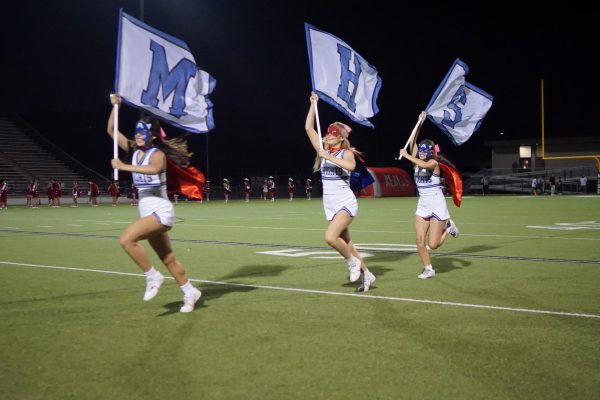 COMPELLING CAPTAIN AMERICA: Sophomore Julia Ross, wearing her Captain America mask and cape, runs alongside sophomore Selene Medina and freshman Estella McCloskey  while holding the 'S' flag in front of the football Knights storming the field prior to kickoff. When the varsity football team played against the Travis Rebels on Oct. 26, the cheer team showed their Halloween spirit by wearing their costumes during the game.
As decided by the cheer social officers, all cheerleaders were Avengers. Ross decided to be Captain America.
"I love the Halloween game because of cheer and Blue Brigade's costumes," Ross said. "It added another level of excitement to the game."
Cheering in costumes only added to the excitement that Ross also felt during the Battle of the Bell game. 
"I was excited to see this game and curious if we were going to be able to keep the bell," Ross said. "This game was sort of a bigger deal and had us scared for a second when we were behind, but we made a comeback."
Caption by Maya Tackett. Photo by Dave Winter.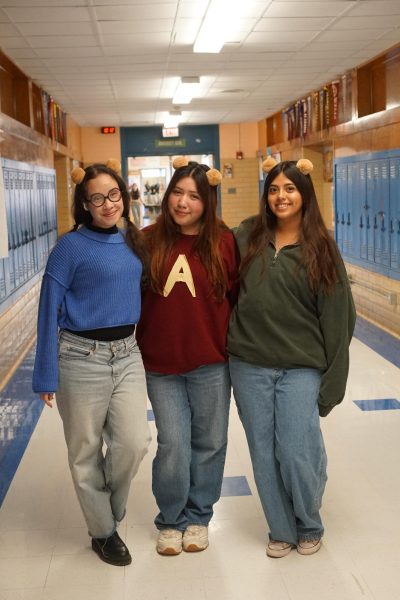 TRICK OR TREAT TRIO: Juniors Elenamaria Gómez, Alexandra Elizondo and Amy Love Muñoz show off their Halloween spirit with their Chipmunks costumes. The trio wanted to do a group costume that all three students could be involved in, and landed on dressing up as Alvin, Theodore and Simon from the "Alvin and the Chipmunks" movies and books.
"We wanted to do something that could include all of us, so we decided to dress up as the popular trio Alvin and the Chipmunks," Gómez said.
Each group member picked one of the three Chipmunk brothers to dress up as and gathered the materials for their costumes.  Gómez, who dressed up as Simon, provided the ears for everyone's costume. This is the group's first year dressing up together, but they are already thinking about doing it again in the future.
"Dressing up has always been fun,"  Gómez said. "It's so much fun coming up with creative costumes and showing them off."
Caption by Evelyn Jenkins. Photo by Dave Winter.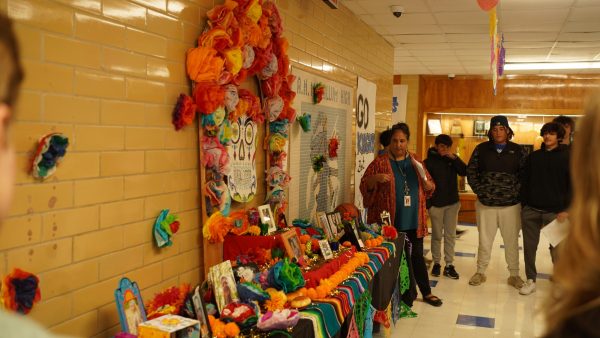 STICKN' WITH TRADITION: Spanish teacher Graciela Rios-Tiessen shows off the school-wide Dia los Muertos altar to her second-period class. Rios-Tiessen used the opportunity not only to explain the cultural significance of the holiday to her students but also to tell them about the people honored on the altar.
"She showed us her grandpa," senior Ellie Loudermilk, who was in Rios-Tiessen's class, said. "She had a bunch of little reminders of him like a hummingbird and a couple other things with his name on them that were really sweet, as well as one of her college roommates who passed away. I think it's really sweet that she put her roommate's picture up."
Dia de los Muertos is a holiday that originated in Mexico and honors the deceased by decorating an alter with their picture and leaving out items and food as offerings to their souls. Each year, students and staff celebrate the tradition by leaving out items on an altar in the main hallway for their loved ones who have passed away.
"I didn't know that everybody could put pictures up," Loudermilk said. "Anyone at the school can put their pictures up if they want. It honors the people's family, but also there's a lot of Mac faculty that are up there. An old basketball coach, who worked here for 30 years and died shortly after retiring is up there. So I think it really shows how connected we are with our faculty and alums and just the community in general."
For Loudermilk, learning about how her teacher valued the holiday helped her gain a greater appreciation for the tradition. 
"My favorite part was how connected Sra. Rios was with her own family and friends," Loudermilk said. "And how personal this was for her. I think it's really powerful because I've walked by this every morning, but I haven't really understood how much it meant to a bunch of people and how important it is for a lot of the staff at McCallum."
Caption by Alice Scott. Photo by Dave Winter.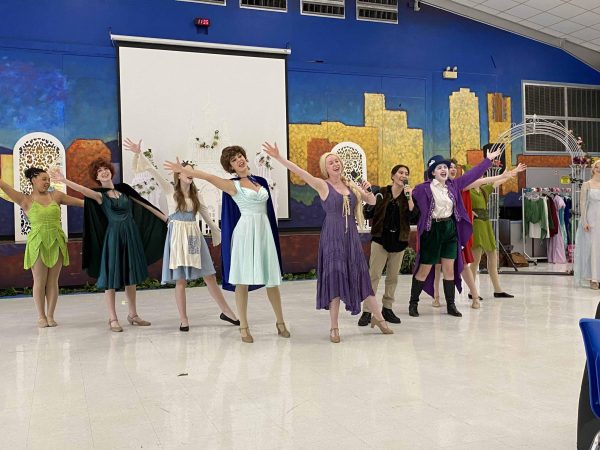 FINAL YEAR FIRST PRINCESS: Joined by other MacTheatre members, senior Sydney Safarik (middle) sings "I Have a Dream" for McCallum Theatre's annual fundraiser: the Princess Tea Party. 
"For the event, we sing Disney songs as the characters from the movies," Safarik said. "And then [we] sign autographs for the kids who came to the show."
For the past two years, Safarik has participated in the Princess Tea Party. She first played one of the narrators in her sophomore year and Cruella de Vil in her junior year. This year, Safarik played the curious and determined Rapunzel from Disney's Tangled.
Playing Rapunzel was one of Safarik's favorite roles to play.
"The way that the kids interacted with me was so sweet," Safarik said. "I love making them so excited and happy and helping share the magic."
Safarik loved singing Rapunzel's song "When Will My Life Begin" and having so many kids recognize and get excited to meet her. 
"Several kids were dressed up as me, which is such a wild experience," Safarik said. "And I was thrilled to meet them and make their day special."
For Safarik, playing the character was pretty easy, but she loved getting to greet kids and make their day.
"[Rapunzel] doesn't entail much more than performing the songs and then greeting the kids, but I loved every minute," Safarik said. 
The dance party to "Under the Sea" was one of Safarik's favorite part about being in the Princess Tea Party.
"They were ecstatic to dance alongside their favorite characters brought to life," Safarik said. "And I was grateful to share that experience with them!"
Caption by Eliza Jensen. Photo by Frances Deviney.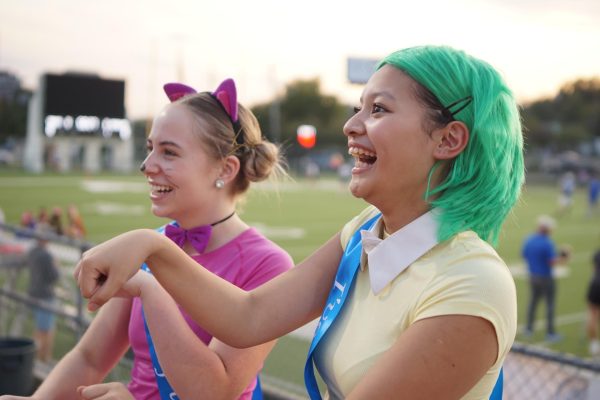 KITTY CAT DANCER: Sophomore Olivia Pittman (Cheshire Cat) and junior Kiki Baker (Ferb) dawn their Dancer of the Week and Spirit of the Week sashes at the Halloween football game on Oct. 26. Pittman is a member of senior Blue Brigade captain Kylie Reeves' squad, which coordinated Alice in Wonderland-themed costumes. All of the other squads dressed up in unique themes as well. 
"It's a really fun tradition that we get to do in Blue Brigade because it helps you bond with your squad over your shared costume," Pittman said. "Also very few other drill teams do it, so it's fun to do something so unique to our team." 
Other than the Halloween festivities, Pittman found the game special as she was honored as Dancer of the Week. 
"Being named Dancer of the Week makes you feel recognized for your hard work and contributions to the team," Pittman said. 
Caption by Francie Wilhelm. Photo by Dave Winter.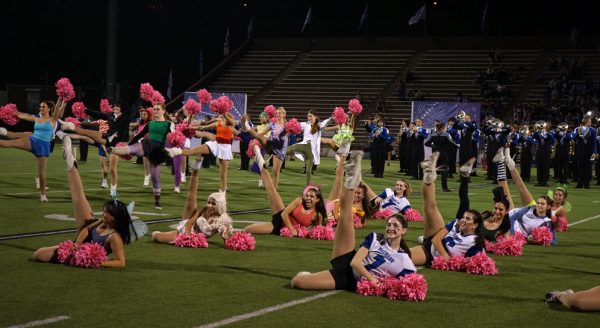 A NEW UNIFORM: Members of the Blue Brigade throw their legs in the air while performing during halftime at the annual Battle of the Bell. Senior team member Olivia Hexsel, the second dancer in the row on the right, said that while the game was memorable for its close score and the nerves she felt for her team, it was also fun to perform out of her typical game-day uniform. Since the game was the last one before Halloween, members of both cheer and Blue Brigade dressed up in costumes. Hexsel, a social officer, and the rest of her squad dressed up as football players.
"[My squad leader] and I thought about doing football players because one: we wouldn't have to spend money on a costume, two: it was comfortable, and three: we just liked the idea of being a football player for the night," Hexsel said.
Hexsel felt that performing out of her uniform was beneficial to not only her dancing but also the general atmosphere of the game.
"[Wearing a costume] wasn't as hot and felt more comfortable to dance on the field," Hexsel said. "I loved having to take pictures before the game in our costumes. It was my favorite part."
While taking pictures in her costume may take the cake as Hexsel's favorite part of the game, she also noted getting to ring the traditional bell to celebrate the Knights' victory as a highlight.
"For a moment there, I thought we would lose, but I'm glad the football team came out with a win," Hexsel said.
Caption by Lanie Sepehri. Photo by Josie Linton.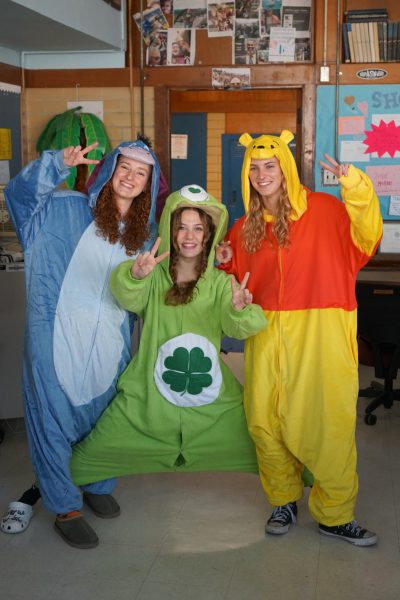 TRIPLE ONESIES: Juniors Liliana Hollinger, Julia Rasp and Mallory Beckham dressed up for school in their best onesies as Winnie the Pooh, the green Care Bear and Eeyore. Despite all wearing onesies, the planned costume was actually a last-minute affair.
"I didn't really plan this costume out," Rasp said. "Mallory and Liliana were planning on matching, and Mallory gave me the onesie the morning of halloween. When I put it on, I knew it was the right move." 
According to Rasp, the best part about dressing up was getting ready. 
"The best part of dressing up was just seeing all of our costumes come together and spending time together," Rasp said. 
Halloween isn't the only day Rasp dresses up, however, as Rasp frequently dresses up for spirit days, it is one of her favorite things. 
"It's just so fun to dress up and take pictures," Rasp said. "I love planning the outfits." 
Caption by Naomi Di-Capua. Photo by Dave Winter.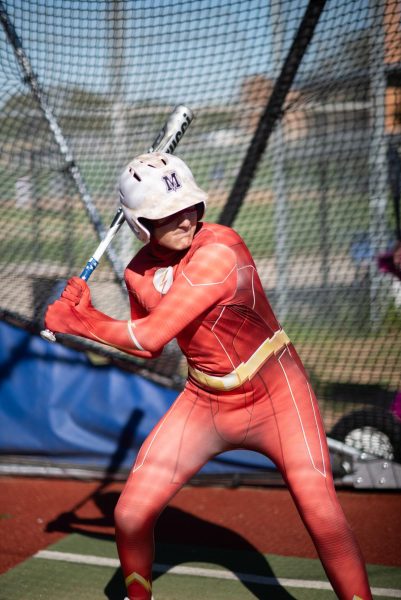 FLASH ON THE FIELD:  Senior Henry Zabala takes a swing at being the Flash for a very special Halloween-themed baseball practice. The holiday not only took place in the halls of McCallum, but also in the dugout and field. 
Zabala's costume inspiration stems from an admiration for the Flash TV show, which has been on Henry's mind since he started watching it.
"I got really into the show, so I decided to dress up as him [Flash]," Zabala said.
The annual baseball tradition is a favorite of the team, but it also causes some  technical difficulties with costumes.
"Some teammates' costumes interfered with our throwing and hitting," Zabala said. "But we still had a lot of fun."
The scrimmage allowed the team to develop chemistry and camaraderie in a less pressured environment.
"We all pretty much just enjoyed each other's company and had fun whether we won or lost," Zabala said.
Caption by Maggie Mass. Photo by J. Frank Webster.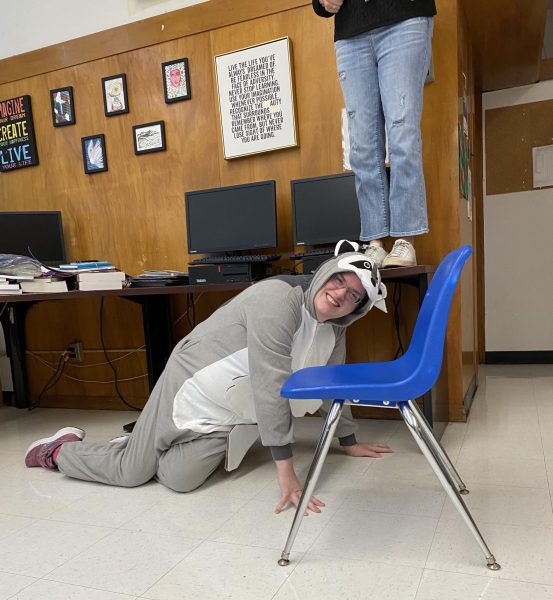 RACCOONS RECREATED: In a vivid reenactment of an iconic incident, SCORES teacher Amanda Day dons a full-body raccoon outfit and stalks the floors of Camille Nix's classroom. 
The idea was pitched to Day by her teaching assistant, Scott Doyle, much to her amusement. Inspired by the uniquely McCallum aspect of the opportunity, Day decided to take a try in uncharted territory.
"This is the first time I've really gone all-in on a McCallum costume," Day said, "It was the McCallum-iest costume I could've had."
Day joked about the gag having been opportune in more ways, outside of Nix's room.
"It was a perfect opportunity to try and get [Principal Baxa] to push me out the door," Day said. "[Like] that photo of Officer Riley and Mr. Baxa trying to [push out the raccoon]."
Caption by Noah Braun. Photo courtesy of Day.