Karacostas: It's essential to build relationships
Summer journalism students learn importance of maintaining connections, from UT alum, KUT journalist
At the lowest point in his career, Chase Karacostas had just been fired from his editor position at a for-profit media center.
"It was one of those moments where you have to reset and figure out what's next, how do you manage and where do you go," Karacostas said. "That night I was at my favorite bar, and I called the general manager at KUT. … She was someone I reached out to and had coffee with a couple of times when I was at [the University of Texas]."
"
We expect readers to come to us, but the newsletter is a way for us to bring the news to them.
— KUT's Chase Karacostas
Karacostas told her about "the disaster" that he had been through and asked if they were hiring anyone. Two months later Karacostas found himself as the email campaign developer at KUT.
On Saturday, Karacostas joined ILPC students at the Burdine Auditorium at UT to inform them about journalism as a career and to share his personal experience in the line of work. Karacostas also introduced students to his workspace at KUT by giving them a tour of the KUT facilities inside the Dealey Center for New Media.
In his role with KUT, Karacostas is responsible for the various newsletters that KUT sends out to listeners who sign up to receive them. The goal of these newsletters is to reach as many people as possible and provide them with news stories that they may have otherwise not seen.
Karacostas says that newsletters are one of his favorite forms of news and one that he specialized in throughout his career because it is "more intimate" and allows for a more personal connection to readers.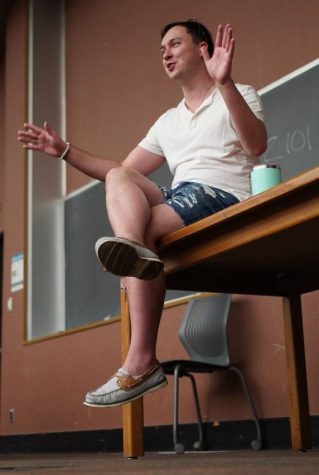 "We expect readers to come to us, but the newsletter is a way for us to bring the news to them," Karacostas said.
Karacostas told students during his address that even after a distinguished run at The Daily Texan and five journalism internships, he still struggled to find a job after graduating from UT in 2020 during the COVID-19 pandemic due to the state of the journalism job market. To overcome the hiring freezes that he encountered everywhere he looked, he reached out to McClatchy executive Robyn Tomlin, for whom Karacostas worked when she was managing editor and he was an intern at The Dallas Morning News, four years prior.
Karacostas sent Tomlin an email and soon he was offered an interview with the company.
"I wasn't necessarily going in blind," Karacostas said. "I had made that connection with the people I knew, and it just made the whole thing a lot less scary."
Through that successful interview, he landed his first professional journalism job as a tourism reporter for The Myrtle Beach Sun News.
"[It was] one of the coolest jobs to have straight out of college because it meant I could travel all over the state, a place I didn't know at all, on somebody else's dime."
After a year at the paper, however, Karacostas decided it was time to return to Austin, which set in motion the series of experiences by which he landed at KUT.
After speaking, Karacostas opened the floor for any student reporters to ask him questions about his career or his experience in journalism.
"
The thing that I cannot stress enough is [to] build connections and talk to people.
— Chase Karacostas
Most of the group of about 75 students later got up and followed him to the KUT offices and studios in the [building], where he took students on a tour of the KUT meeting rooms and offices and the KUTX 98.9 music entertainment center.
During the group's time in Studio 1, Karacostas introduced the students to Aaron "Fresh" Knight, who talked about his own path to public radio. Asked what the hardest part of his job was, Knight replied "the fundraising part." After answering a few more student questions, Knight excused himself to dash back to the studio and the show he was hosting live.
Throughout his presentation, his interview and his tour, Karacostas emphasized how maintaining and building lasting connections throughout his life have been essential to his successful career in journalism.
"The thing that I cannot stress enough is [to] build connections and talk to people," he said. "One of the greatest things you can ever learn… [is] maintaining those connections."
Hernandez is a first-year staff reporter at The Panther Press, the student newspaper at Klein Oak High School in Spring. She wrote this article as part of the newspaper essential class at the ILPC summer journalism workshop under the instruction of Shield adviser Dave Winter. Parts of this story contain reporting by Kaiden Keeler and Anna Overstreet of the Panther Press, Peyton Promubol and Joy Xia of the Three Penny Press at Bellaire High School, and Anna Smith of The Talon at Atascocita High School.