Lillian Gray: NSPA Photojournalist of the Year Portfolio
When I came into McCallum High School as a freshman in the fall of 2021, I had no idea what to expect. I hadn't spent much time inside a school building since the spring of seventh grade when Covid-19 moved my peers and I into online school. I was trying to get to know the school community and find my place in it, and I quickly discovered that the journalism department played a big role in uniting the student body. "MacJ," as it's known. covered almost every school event including cross country, basketball, and track, teams I was part of. It was amazing to see how quickly they'd cover an event and get action photos of my teammates and I onto Instagram. By the end of the year, I knew I wanted to be a part of it.
I signed up for Digital Media in 10th grade hoping I'd have a chance to learn more about photography and maybe get a post or two on Instagram. But, on the first day I was excited to learn from our teacher, Mr. Winter, that there would be lots of opportunities to get involved immediately in covering McCallum's events and stories. I jumped at the chance to start taking pictures at our cross country races.
"
I've seen how much it matters to people to have their stories told. Journalism doesn't only inform groups of people. It connects them. Our school, like many others, wouldn't be the same without its journalism program, and I am happy to have started my journey contributing to mine.
A few weeks later, I covered a wrestling match – even though I'd never seen a wrestling match in my life! The coaches and team were thrilled to see Mac J showing up and covering them. That was my first experience of how rewarding it is to tell a story that otherwise might not be told.
About that time, my next door neighbor passed away. When the house he'd grown up in was sold, the new owners decided to tear it down. I brought a camera home from school and took as many pictures as I could. When I showed them to Mr. Winter, he encouraged me to use the images for a photo essay about the house and the family. It was a powerful opportunity to share the story of the house, which was the first house built on my street, and the first to be torn down, and to share the story of the family who lived there the entire time.
This experience built my confidence, so when an upperclasman on Mac J's staff invited me to cover a band competition an hour and a half away. I went to Baylor University on my own to take pictures and do interviews … even though I still didn't even know how to use all the camera's settings and I'd never done an in-person interview before. That led me to join them for the next big band competition at the AlamoDome to take pictures alongside them. In covering more and more events, I continued to see the impact journalism can have and to build my skills as a journalist..
I went on to cover almost every girls' basketball game. almost always the only reporter on the court. They ended up having an undefeated season and being district champions, and I felt proud to have covered their story every step of the way. As a former member of the team, it gave me a way to stay involved and connected while making sure that their efforts and achievements were recognized by the whole community.
By the end of the year, I had written more than 70 captions and gotten more than 700 photo credits for Mac J's Instagram. Seven articles I wrote on my own were published, and I contributed to 12 more. Journalism has helped me step out of my comfort zone and do things I never thought I would be doing, especially since this year I wasn't even officially on staff! If you'd have told me a year ago that I would have had the chance to contribute to Mac J this much, I wouldn't have believed it. Journalism has given me the chance to get to know my school community better and to meet diverse individuals with different interests and hobbies. I've seen how much it matters to people to have their stories told. Journalism doesn't only inform groups of people. It connects them. Our school, like many others, wouldn't be the same without its journalism program, and I am happy to have started my journey contributing to mine.
No. 1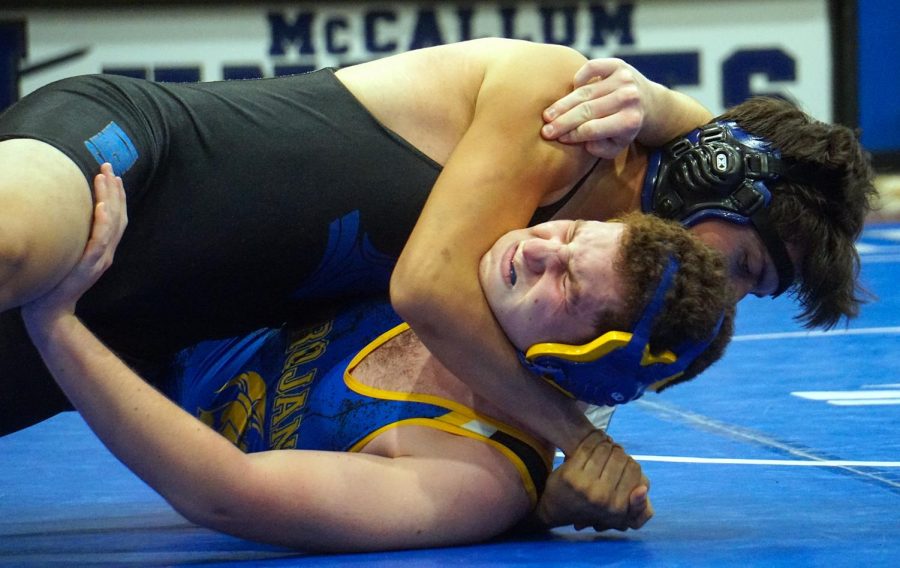 When I took this picture it was one of those times where you see the action unfolding in front of you and you realize that this is the picture. This picture is why you came to this event. When I saw the expression on the Anderson wrestler's face I knew I wanted to capture that, so I made sure to get a lower angle to try and get that expression. I'm really happy with how the picture turned out and that its won a lot of awards because in that moment I could tell that this was an important shot to get. I really don't think that there is anything different I would change about this and the coverage on this event. I believe that this was the first, or one of the first wrestling matches I had ever been to, and I had no idea what was going on, but I think that our coverage of this event was really well done, and we got the posts out really quick, which I am proud of. I think this picture is a really good balance of action and reaction because you can clearly see how the Anderson wrestler is feeling at this moment, and you can also see why he is feeling that. I think that it combines the two aspects of sports photography (action and reaction) that I have been trying to find a good balance of.
No. 2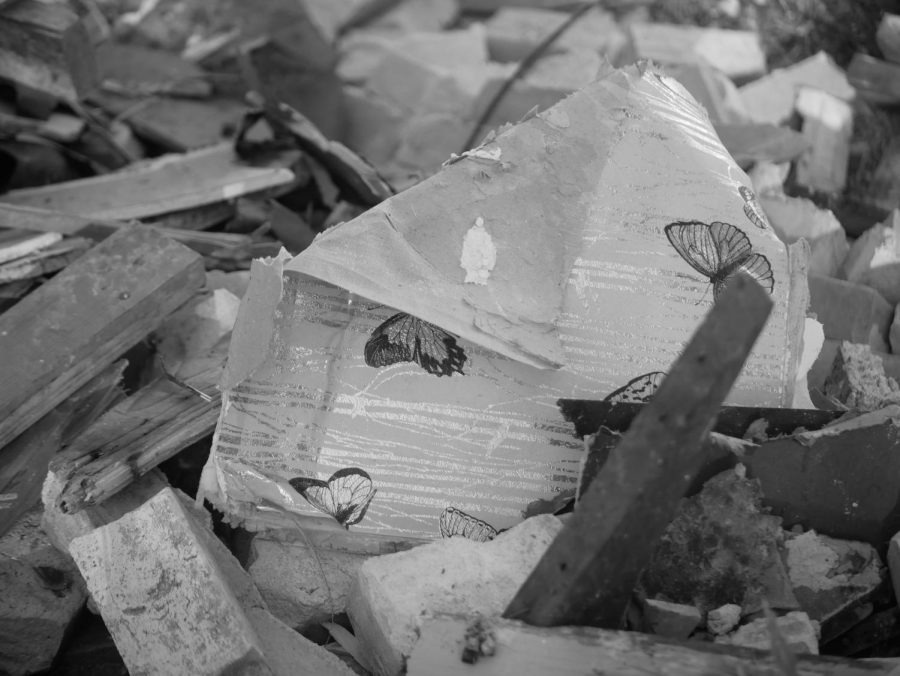 The photo essay that contains this image is one of my favorite things I have made because I specifically remember the moment when I realized I could do something to share my neighbor's story instead of having their family's story and house disappear forever. I was inspired to do this because of the photo stories we were learning about in class and realized the difference that I could make. I am really happy that I took the chance to take these pictures and then show them to Mr. Winter to see how I could get them published. Seeing it win awards and get attention from people who never met the family, and people who knew the family since when they first bought the house makes me really happy. I think writing this story helped lead me to want to cover events that aren't usually covered like robotics, wrestling, chess club because I saw what telling an untold story could do. If I could write this story again I would focus more on the captions. When I wrote this I was confused on how to write captions, and I just wasn't very used to it yet, so I think if I wrote them now they would be much better and easier to write.
No. 3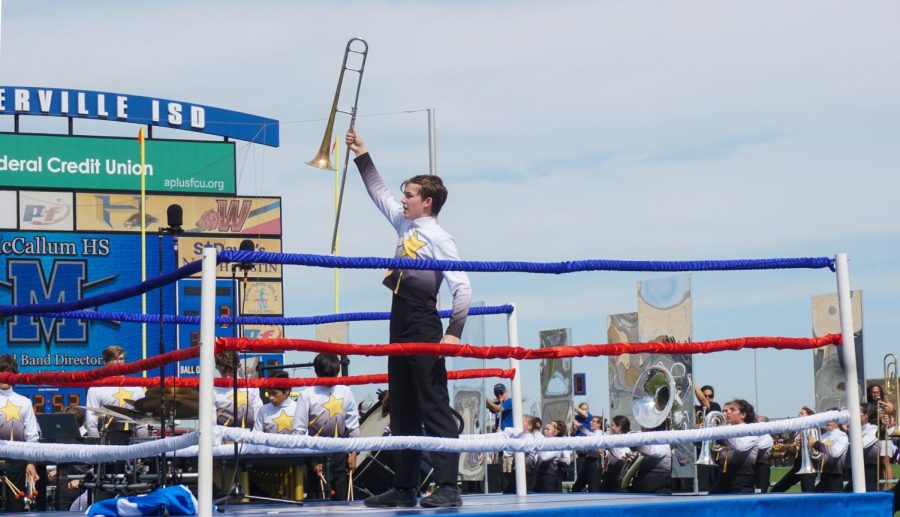 To be honest I always forget that I covered band because it happened all the way back at the beginning of the year but when I remember it I realize that it was one of the most important events I have covered that has gotten me to where I am today. Not only was I able to connect with Morgan who helped me learn valuable camera settings through FaceTime and also helped me gain the confidence of covering events, but I got the chance to do something totally out of my comfort zone that I wouldn't have found if I hadn't filled in for Morgan when they couldn't cover it. I never expected to cover band since I focused more on sports, but it really helped me branch out and do scary things. Covering band was also the first time I did a in-person interview, which I was scared for, but it showed me how easy it is, and now I have no problem doing it. I don't think that there is anything I would have changed about covering band. All the mistakes that happened just helped me get better.
No. 4
View this post on Instagram
Creating this video reminded me a lot of when I wrote the photo essay about my neighbors. I think I had a vision and wanted to execute it. This project showed me to just go with my gut because the video ended up being a big hit and the basketball girls really liked it as well. With over 7,000 views as an Instagram reel, it was the most viewed reel on the MacJ acccount for the school year. At first, I was hesitant to make it since MacJ produces more news type videos and not so much edits, but I am really happy with the outcome and the response to the video. If I were to shoot it again I would want to try out a different camera since for some reason my camera gave off a yellow glow to the video, which probably could have been fixed in color correction, but I wanted to get the video out in a timely manner. I am happy about the way I edited it though because I feel that the slow motion aspects of it work really well especially with the original music we had on it. I think this piece helps show my development as a journalist in that I am finding my own style and ways of how I want to do things. I could have made it into a broadcast video, but I feel like for me I was more passionate and excited to make a hype video, and I am glad I went with what I am best at.
No. 5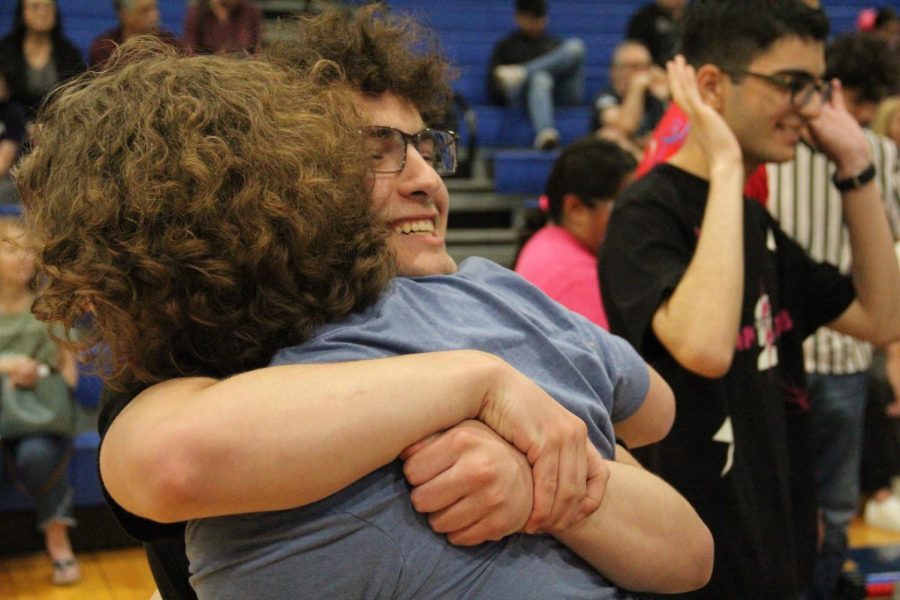 I am really proud of the coverage that included this image because the event wouldn't have been covered if I hadn't covered it. At first I didn't understand the event, but as it progressed I got really into the competitions and was really rooting for Mac's teams. I think that me being able to spend a lot of time with the robotics competitors at this event helped me write the story easily. This is one of my favorite articles that I wrote this year and I remember being really excited when it got published and proud of myself for attending and covering the event. If I could do it again I would try and stay at the event later/cover the other team a bit more because I primarily stayed with the team that didn't make it to worlds because I thought they had a better shot and knew the people better, but in the end they got eliminated and the other team made it, so I just wish I had paid more attention to them. I feel like this piece helped show the growth that I had as a journalist this year because I was quickly able to cover the event and get a story out with some pretty good pictures in my opinion. This particular image—of Zane and his teammate hugging—I think shows how comfortable I have become as a journalist and how I am able to capture the moment better than I was when I first started. Making this piece taught me to cover events that aren't covered because it pays off, and also that events you don't know much about can be fun to cover because you have to take the time to have thorough conversations with the people so that you know what's going on which helps you write the story better because you know the full story.
Leave a Comment