At least 100 Knights walk out for gun control
Coinciding with statewide movement, student-organized protest inspires some participants, disappoints others
At least 100 students walked out of class last Thursday to protest gun control inaction as part of a statewide Students Demand Action campaign. According to the campaign's website, homicide rate in Texas has increased 91% from 2012 to 2021. and during that time Texas lawmakers have weakened  its gun laws not strengthened them, most recently passing legislating permitless carry in 2021. The campaign further reports that the 2021-22 is the deadliest on record in Texas with the highest number of incidents since Everytown began tracking, and nearly quadruple the average number of incidents in an average year.
The coordinated march came just five days after the latest Texas mass shooting at an outlet mall in Allen on May 6 that left eight innocent people and the shooter dead.
The McCallum protest was organized last-minute by junior Teddy Ibsen, who wished to put pressure on lawmakers by taking action in the state capital. Ibsen also wanted to show unity in the fight for gun control.
"We can't just let this opportunity to help and demand action slip away," Ibsen said. It was to show solidarity in the fight for gun control and regulation. It was important because we need to demand action from our state representative, especially because of the House Bill 2744 which raised the age of buying a semiautomatic weapon."

We are proud to present photos from the walkout in this week's Tuesday Top 10.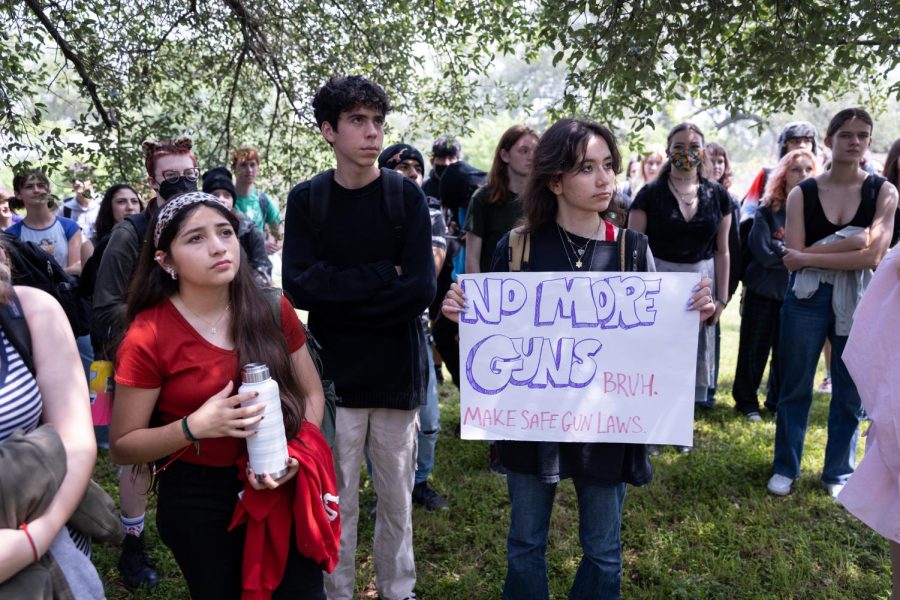 ENOUGH IS ENOUGH: Freshman Sophia Arredondo, pictured above in red, attended the walkout protest after first hearing about it from a friend. She supported the ideas but wasn't exactly sure what to expect.
 "I have to admit I was pretty nervous because it was my first time going to a walkout, but at the same time I was excited seeing people getting together. It was really amazing."
Arredondo appreciated the symbolic significance of the actions at the walkout.
"One of the things that I did during the walkout was lay on my back," she said. "We all lied down to show our respect to the people that have died due to gun violence. We also listened to Teddy Ibsen explain why we were there and why guns are a continuing problem in our area. I remember them saying 'Enough is enough. We need to end this now,' and 'Am I next?' It was really powerful to hear."
Arredondo thought that the walkout was positive and effective in sharing a message.
"I wish other people could see and hear that the use of guns are so bad. They are affecting us to the point where we had to get together as a community and speak up." 
Caption by Lucas Walker. Photo by Gergő Major.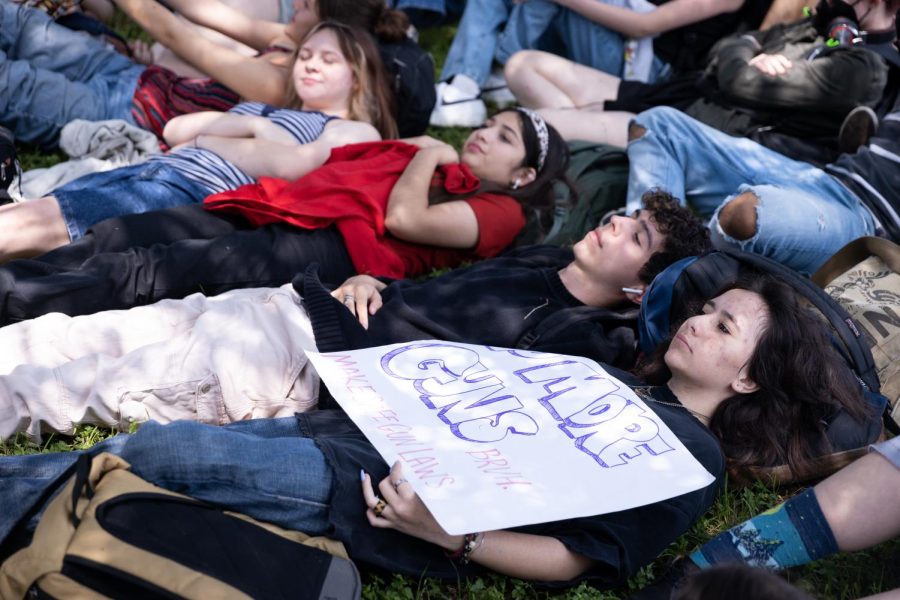 KEEPING THE ATTENTION ALIVE: Sophomore Scarlet Logue and Junior Miles Milwee stay side by side during most of the walkout. They shared a sign and although they have similar opinions on gun control they have different opinions of the effectiveness of the protest. 
"I don't think it was effective at all," Logue said. "I think there were many flaws in the planning mainly because it was last-minute. So many people who would've participated couldn't because of the AP testing, so it wasn't nearly as impactful as it could have been. Not many people knew about it, so it'll be swept beneath the rug."
Logue wants to keep the passion that many people had at the walkout flowing. 
"I'd really like to keep the attention toward this alive and direct it toward a protest that could really make an impact," Logue said. "I'm thinking about organizing something downtown near the Capitol, so we can actually get people's attention."
Reporting by Noah Braun. Caption by Kate Boyle. Photo by Gergő Major.
TIME FOR CHANGE: Freshman Chim Becker listens as junior Teddy Ibsen speaks on gun violence. Although Ibsen had a short speech, Becker still claimed it to be powerful.
"I found it moving that all these kids were coming together to talk about it [gun violence]," Becker said. "The walkout had a good sense of community because a lot of the people there had the same beliefs and supported similar things."
Although Becker found most of the people at the walkout to be supportive of one another, she still noticed some disagreements.
"I thought it was kind of stupid that people started arguing because in order to actually achieve something, we really need to find a way to accept our differences and keep moving forward," Becker said. 
Becker hopes that progress is made soon. She is ready for change.
"It's surreal to me that I have to fear getting shot in my own school," Becker said. "Nobody thinks that a shooting will happen to them until it does. It makes me scared to go to school every day."
Reporting by JoJo Barnard. Photo by Gergő Major.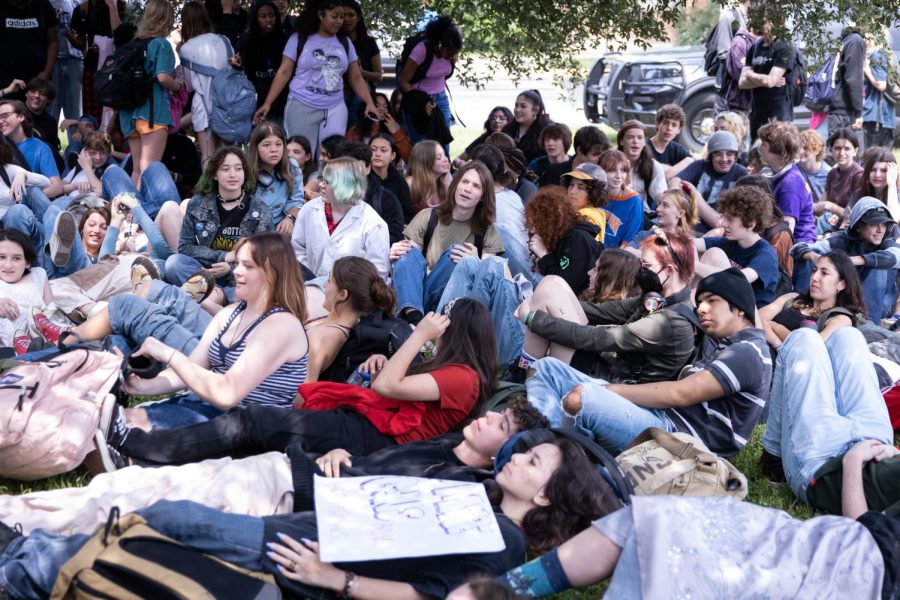 IN MEMORY OF EVERYONE LOST: Freshman Nayeli Azul is part of the crowd during the walkout. 
"We were asked to lay down in memory of everyone lost to school shootings recently," Azul said when reflecting on this moment in the walkout.
This was Azul's first time being part of a school walkout.
"I've been to lots of protests and rallies but this is my first year at a large public school, so I have never been in a walkout," Azul said. "For me I wanted to support student organizers, especially because this was a Texas-wide walkout and in general people across Texas don't always agree politically. It was important to support me in order to make change."
The next steps for Azul include advocating for more gun control. 
"Right now the first step is to create less easy access to guns in general, especially the types that we've seen most used and most easily capable of killing people in mass shootings and school shootings," Azul said. 
Reporting by Kate Boyle. Photo by Gergő Major.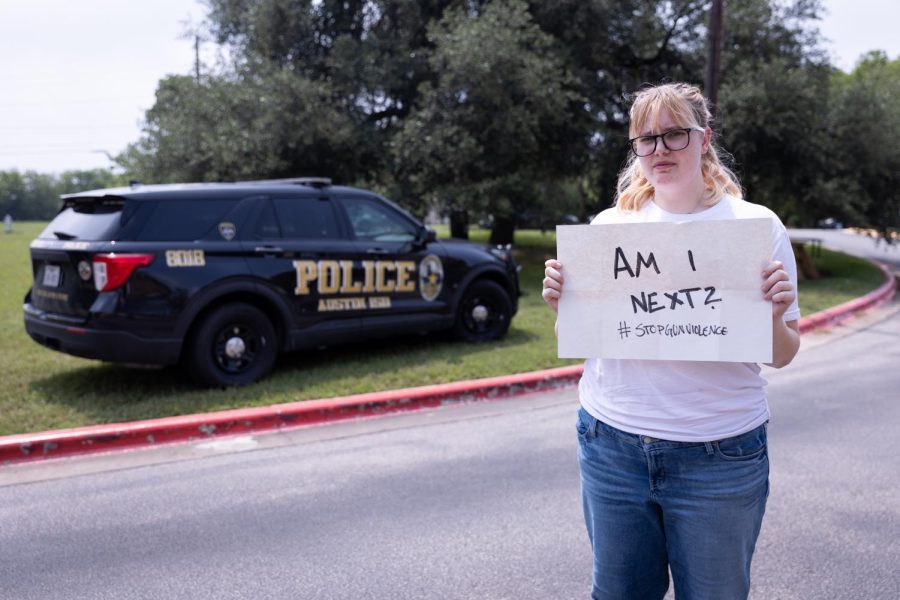 NO VOICE IS TOO SMALL: Junior Teddy Ibsen, the McCallum-specific walkout organizer poses with one of their signs reading "Am I next?" 
"Organizing the walkout, it was kind of last-minute," Ibsen said. "I had only decided to do this yesterday, and this morning I put up flyers."
Ibsen said the purpose of the walkout was to demand action and show solidarity. 
"We're in the state capital," Ibsen said. "We can't just let this opportunity to help and demand action slip away. It was to show solidarity in the fight for gun control and regulation. It was important because we need to demand action from our state representative, especially because of the House Bill 2744 which raised the age of buying a semiautomatic weapon."
Due to rumors about AP test scores might be canceled if the walkout was too loud, students protested quietly.
"I felt empowered, like we as youth can make actual change in our community," Ibsen said. "That our voices matter, even with the semi-quiet protesting we did."
To continue their activism, Ibsen wants to start a club that focuses on current issues and civil disobedience. They saw the walkout as a call to action for many. 
"Youth voices can be heard," Ibsen said. "You can look up what state district you're in, and email or call your official and urge them to vote the way you want. You can also join protests at the capital, demanding action. No voice is too small to be heard."
Reporting by Kate Boyle. Photo by Gergő Major.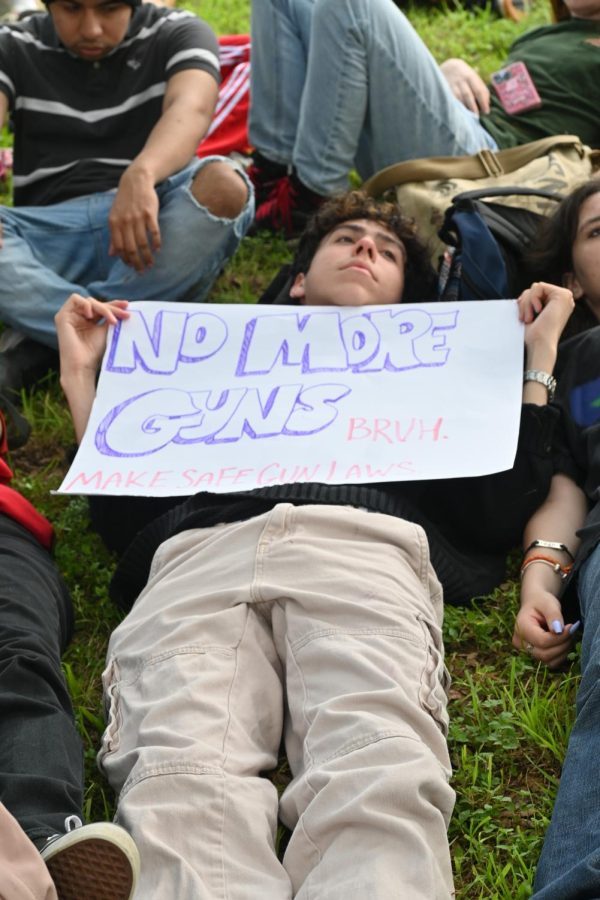 NO MORE GUNS: Junior Miles Milwee and sophomore Scarlet Logue lie together during the walkout. Their sign, which was passed back and forth between the two of them during the walkout, reads, "No more guns. Bruh make safe gun laws."
"I walked into my sixth-period class and saw a sign posted on the wall saying there was a walkout today at noon," Milwee said.
Milwee was in U.S. history and had a substitute, so the whole class walked out at noon. Milwee and Logue stayed for the entire walkout, 45 minutes, and left at lunch. 
Overall, Milwee felt like the walkout was effective. 
"The walkout helped students at Mac understand the severity of the situation across the country," Milwee said. "The organizers made very good demonstrations and gave great points."
Reporting by Noah Braun. Caption by Kate Boyle. Photo by Morgan Eye.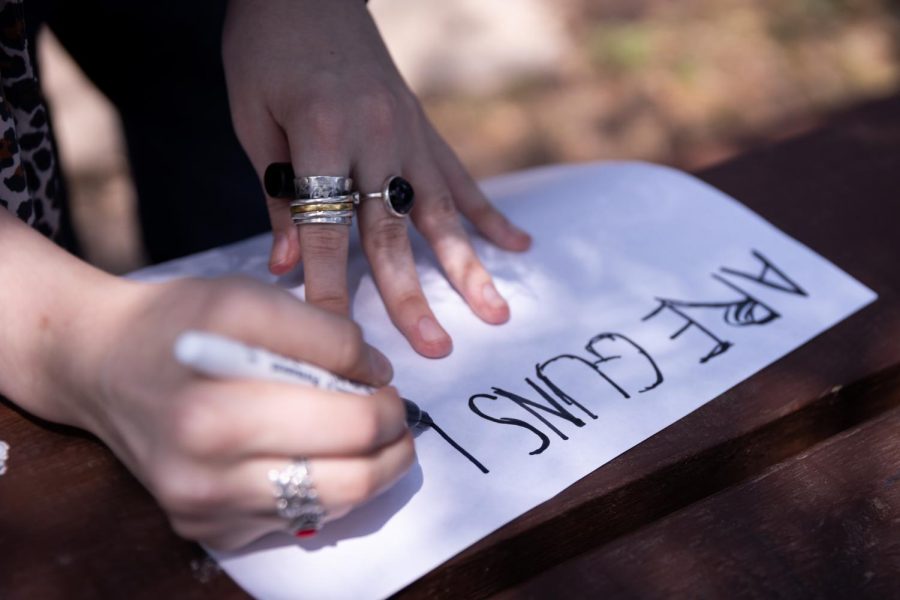 ALL QUIET ON THE WALKOUT FRONT: Principal Nicole Griffith said that Thursday's walkout did not disrupt instruction because the students walked directly out of the building and not through the school to the main entrance.
"The kids were asked to go directly out [of the building]," Griffith said. "That is normal walkout procedure."
She said that she did not instruct the students to be quiet to avoid disrupting the AP test. It was students, who urged for a quiet protest in deference to students taking the AP Biology test. Griffith disputed student reports that AP tests had to be canceled due to the abortion rights protest a year ago that coincided with the AP Physics test. AP test coordinator Camille Nix confirmed that no tests were canceled by the school or the College Board as a result of last year's walkout.
"No children have been harmed from walkout," Griffith said.
Caption by Dave Winter. Photo by Gergő Major.
TAKING ACTION: Junior Zephan Mayeda leans against a tree during the walkout holding a sign reading "Bullets aren't school supplies." He participated in the walkout to protest against the lack of gun protection in the U.S. and to draw attention to the statewide protest. 
"Children are dying due to government's apathy and corporate lobbying against any action of any kind," Mayeda said. 
Mayeda was disappointed in the lack of organization that came with the protest but still participated. 
"Better something than nothing," he said. 
Mayeda offered what he would love to see at the walkout.  
"I would have loved to see marching, chants, speeches, lists of phone numbers to call senators, names pictures and birthdays of the victims, flyers promoting the protest days weeks or months even in advance, mass absences, an actual walkout for those who can't not go to school that isn't just 20 minutes of sitting," Mayeda said.
Although he was underwhelmed, Mayeda appreciated the symbolism. 
"I think it held some importance in regards to symbolic gestures," Mayeda said. 
Reporting by Kate Boyle. Photo by Gergő Major.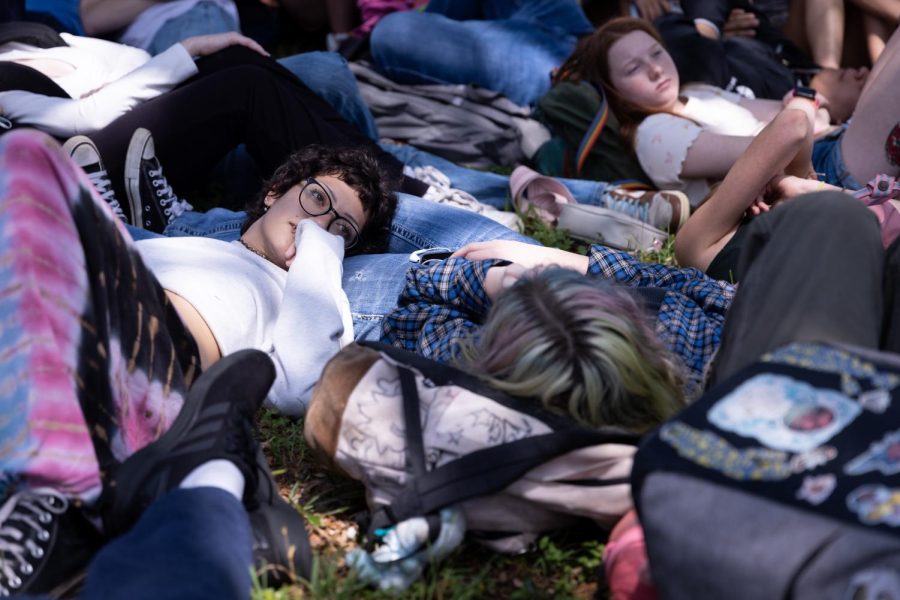 WE COULD BE NEXT: Sophomore Eden Acosta lies with friends during the walkout. They remember a moment in which organizer junior Teddy Ibsen said "we could be next."
"Not that long ago I was in class and I got a random wave of anxiety," Acosta said. "I thought someone could come right now. I was freaking out. Then I was like, 'Oh, let's calm down. It's fine.' I was just sitting there and I was thinking about how, I think I was like the 23rd day of 2023. There were already like, 40 mass shootings, like really? Twice the number of days. That's insane. It is crazy."
Acosta had seen a post about the walkout but was unsure about the participation rate. 
"I didn't know how many people were going in and how many people were going to take it seriously," Acosta said. "I had just come from a school where they were not on that side. I was in art class. The girl next to me was like 'Are you going to walk out?' and I was like 'Yeah.'"
At first, Acosta thought the turnout of the walkout would be similar to their old school. 
"We were the first ones out," Acosta said. "Then there was a massive wave of people and I just felt overwhelming support." 
Acosta thinks one action that needs to be taken in terms of gun control is to take away assault rifles.
"That thing, assault rifles, it's not a bullet," Acosta said. "It destroys whatever it's hitting. That's meant for killing. Why do you need that in your house? What are you hunting with that? There's no reason to have it." 
Reporting by Kate Boyle. Photo by Gergő Major.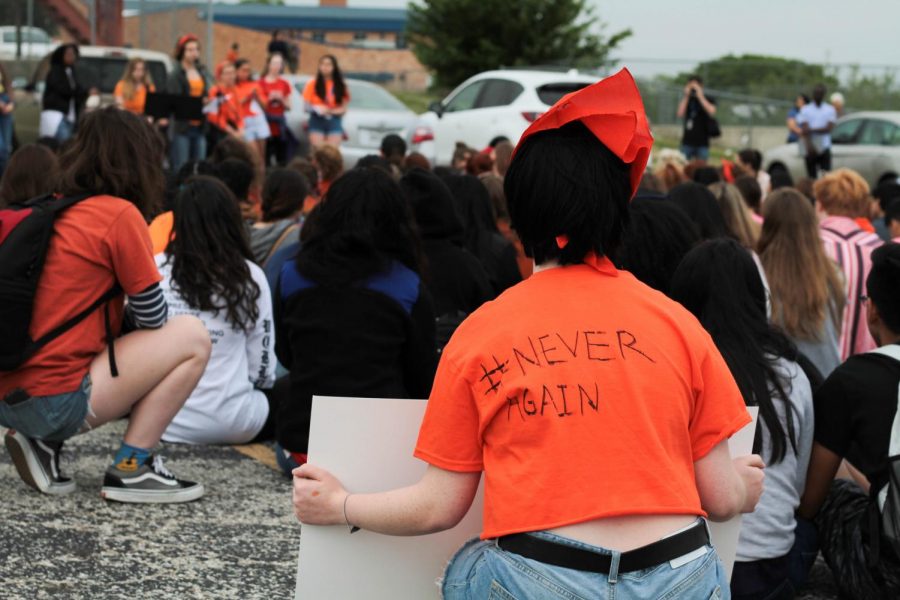 FIVE YEARS LATER: At a McCallum gun control protest walkout on April 20 2018, students listen as senior Isabel Lerman reads a list of student demands to make schools safer. Between 300 and 400 students walked out of first period at 10 a.m. to participate in a McCallum walkout, part of the National Student Walkout to advocate for tighter gun control laws. The walkout was a direct response to the mass shooting at Marjory Stoneman Douglas High School in Parkland, Fla., on Feb. 14, 2018. In an Instagram comment to MacJournalism's coverage of Thursday's walkout, Ari Miller-Fortman, an organizer for the 2018 walkout, expressed frustration at the lack of progress made since that walkout. "It's sad to see that people still have to organize events like this."
Caption by Dave Winter. Photo by Ian Clennan.