Knights start new year by caging Cougars at home
Clicking on all cylinders on both ends of the court, girls varsity basketball team runs district record to perfect 7-0 on Youth Appreciation Knight, Crazy Sock Day
The varsity girls basketball team bested Crockett 66-18 Tuesday afternoon, leaving the court with their seventh consecutive district win. Junior guard Lily Hobbs attributed the victory to a strong offensive force.
"We executed our offense a lot more," Hobbs said. "And we were able to hit a lot of good looks that led to shots. We were also shooting pretty well."
Are you a Crazy Sock Day sage or simpleton?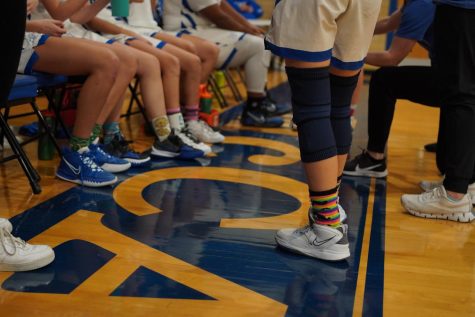 Loading...
There was an error. Please try again.
Coming into the district season, the team had the goal to remain undefeated and win a district title, something that, according to Hobbs, is definitely in sight.
"We hope to continue to execute and play to the best of our abilities," Hobbs said.
The Knights certainly appeared to do that, playing a smothering defense that created multiple fast-break scoring opportunities from the opening jump. The Knights scored 23 first-quarter points before the Cougars scored their first point with just over a minute remaining in the quarter. For the game, the Knights was a team of opportunistic burglars with 20 steals. The team also doled out 14 assists and shot 43 percent from the field, 42 percent from beyond the arc, and 89 percent from the free-throw line.
But it wasn't just a good day on the scoreboard: it was also "Crazy Sock Day" for varsity players (which the team organized themselves at the beginning of the season) and Youth Appreciation Knight.
"[Crazy Sock Day] was a lot of fun," Hobbs said.
McCallum students and NWAYBA players got in for free, and during halftime, subvarsity players and parents organized dribbling and shooting drills for the kids in the crowd.
The Knights will hit the road today as they face off against the Ann Richards Stars at 1:30 p.m.