2022: A year In review in photos
As the world recovered from two years of COVID and quarantine, 2022 brought new struggles, triumphs and hope
On the last Tuesday of 2022, we are proud to present our Tuesday Top 10 year-in-review photo essay, depicting in some of our best photos the most notable, significant, and powerful moments that defined this past year.
January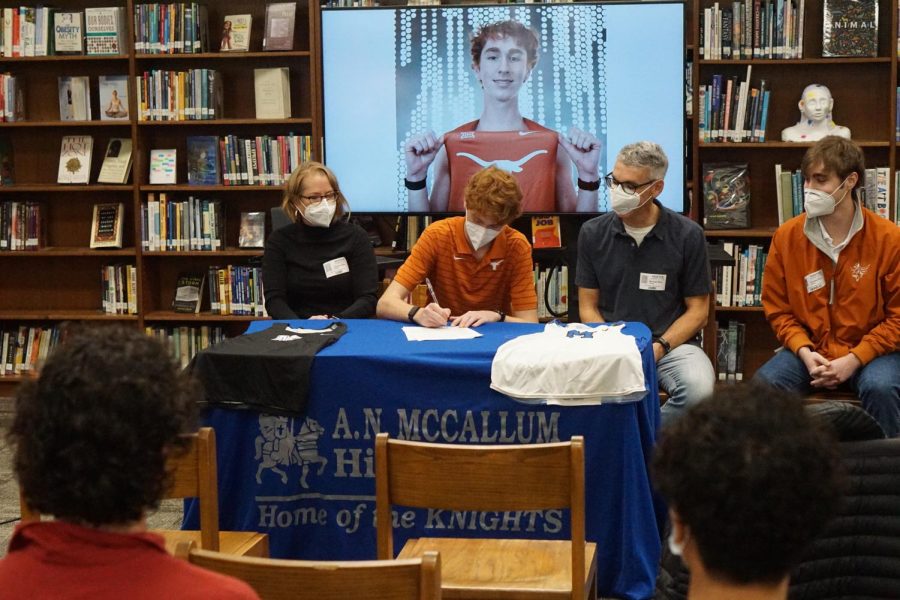 GINGER LIGHTING TURNS BURNT ORANGE: It was officially official on Jan. 24, Chris Riley became a Longhorn when he signed his National Letter of Intent to attend the University of Texas surrounded by friends and family.
For the next four years, Riley hopes to make his school, his coaches, his peers and his family proud as he runs with the burnt orange on his chest.
As Coach Houston put it on National Signing Day, "This is a special day for athletes all around the country."
For Riley, it certainly has.
Coach Houston, Coach Gammerdinger, and even Coach Ashton were there to support him as he took the next step in his athletic and academic career.
Once pen was put to paper, Riley was quick to thank McCallum for his time here, saying
"If I didn't go to McCallum, I don't think I would have been as interested in running as I am today."
He then thanked his club coach Paul Carrozza, who he said has played a huge part in his training over the years. After some reluctance, to which he attributed to having thanked them every day, he finally thanked his parents sitting beside him.
Coach Ashton, Riley's cross country coach for three years, closed out the day with some encouraging words from the past and for the future.
"The first day I saw you I knew you were going to do big things," Ashton said.
After four years, it's pretty safe to say Riley has.
Photo and caption by Thomas Melina-Raab.
February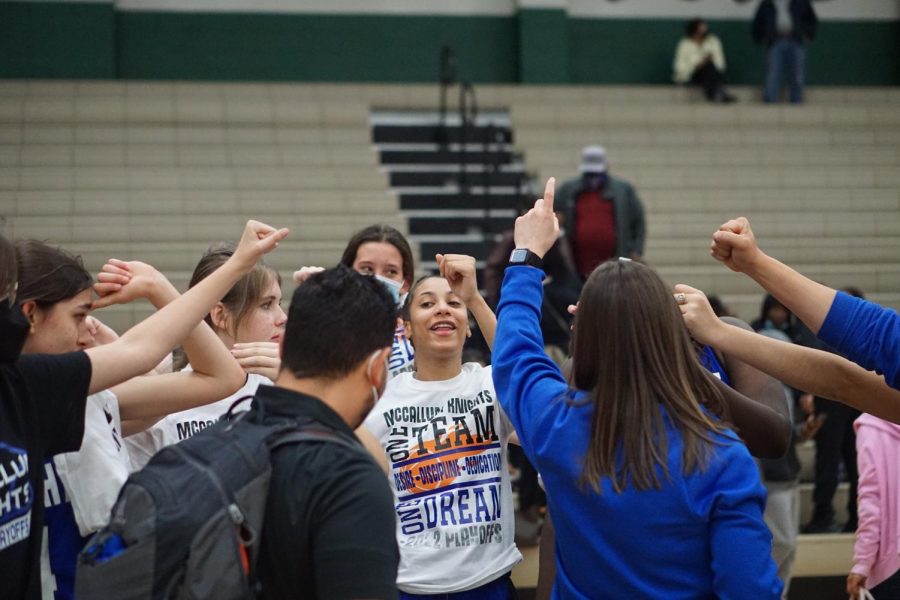 KNIGHT END SEASON WITH FIRST-ROUND PLAYOFF LOSS: The girls varsity basketball team faced a tall order in their first foray into the 5A state playoffs in eight years.
The Pflugerville Panthers, ranked No. 14 in Texas among 5A teams according to Max Preps, came into its game against Mac with a 30-6 record for the season, their only district losses to Pflugerville Hendrickson, which was undefeated in District 18-5A and entered the state tournament ranked No. 11 at 30-2 on the season.
Before the Knights even got out of the gate, the Panthers had scored the first 15 points of the game. By the time the Knights found their footing in the game, the outcome was pretty much in hand. The Knights rallied in the second half to put 18 points on the scoreboard for a 73-24 final score.
The loss to a tough opponent does not diminish what was a remarkable season for these Knights, who rallied in the final week of the season to finish third in District 17-5A.
"We still have lots of work to do, but we are so happy how the beginning of this journey went," head coach Carly Kehn told MacJ today. "We talked about how preparation for those types of games starts well beyond the practices leading up to the game and discussed the mindset we have to have going into the off-season. They've started to see the benefits of hard work. We're are a young team so there's been a lot of lessons learned this year that will be beneficial for the future."
The team graduated four seniors but returned many key components to the playoff qualifying team.
With Anderson and Lockhart (the No. 1 and No. 2 teams in this year's final standings) gone from Mac's district due to UIL district realignment, the Knights have become the favorite to win a district championship in 2023. They have played thus far like the favorites they are, entering the new year undefeated in district play at 6-0. Photo by Lexi Ramos.
March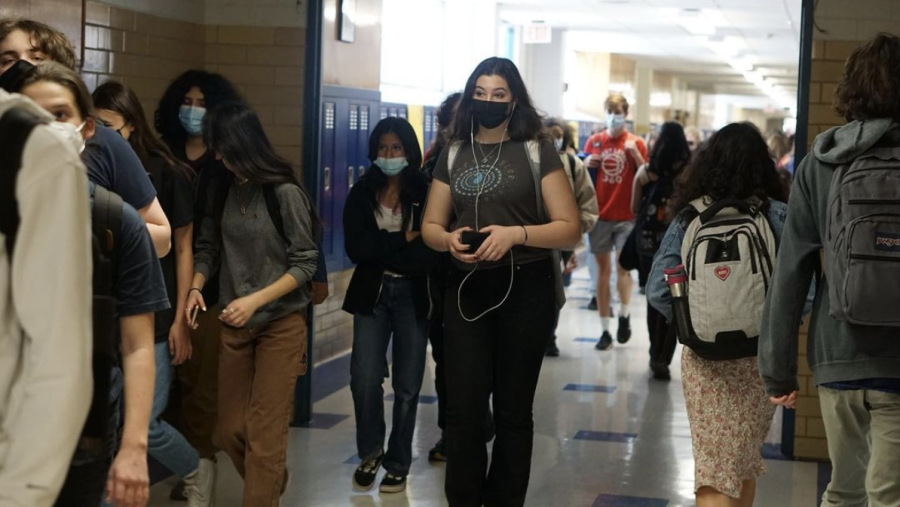 AISD MAKES MASKS OPTIONAL: Superintendent Stephanie Elizalde on March 2 at a special Board of Trustees meeting that AISD would move to a masks optional policy on its campuses starting the following Monday.
"We will abide by the CDC's recommendations starting Monday, March 7," Elizalde said. "As always, please keep in mind that the fluidity of this pandemic may require that we reinstate a masking mandate (…) we are Austin, we respect each other's differences. Let us all support each other masked or unmasked."
Photo by Dave Winter.
April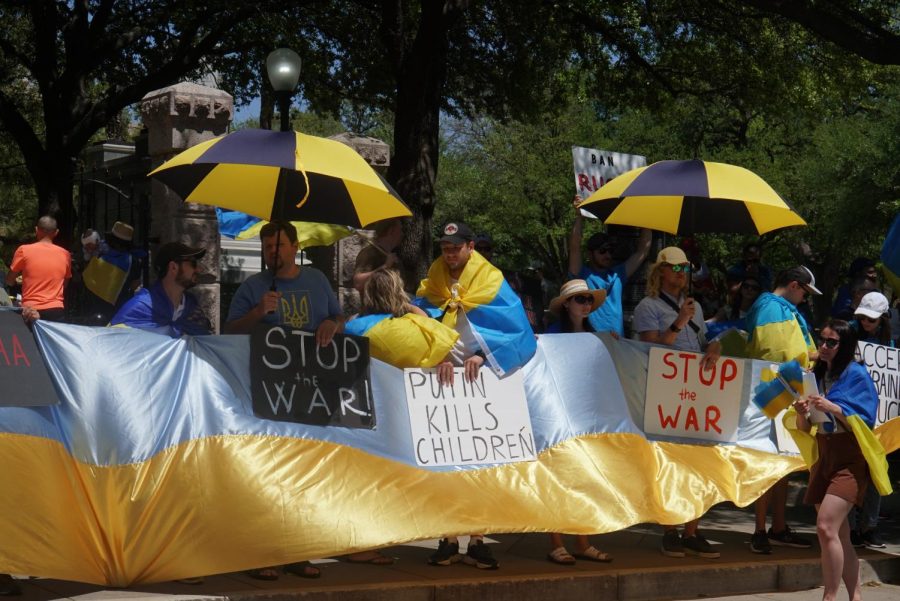 DON'T MESS WITH TEXAS UKRAINIANS: Protestors gathered at the Texas State Capitol today to show support and lobby for increased aid to Ukraine in its war against Russia. The scene is nothing new, however; the protestors have rallied every day without fail since Feb. 24, the day the war began.
Although the protests were begun locally by members of the Ukrainian community in Austin like Darya Ledesma, an organizer and speaker at the rallies, they are an invaluable way to remind Americans of a war more than 6,000 miles away.
"I know that it's easy to move on and forget," Ledesma said. "I just spoke to a journalist from one of the newspapers last week, and he told me that his editors do not allow him to write news about Ukraine every day because they're saying, 'No, we got to find new angles to the story.' So casual things like people dying, cities being bombed, sanctions on Russia. They don't allow those stories. It's like, 'Oh, it's not new anymore.' Well, what 'new' do you want?"
The protests are one way to help keep the situation in Ukraine in on the front page in people's minds.
"That's why we're protesting every day: to make sure people don't forget about Ukraine," Ledesma said.
The protests are only one way Ukrainians are helping their home country from afar. They are also organizing medical aid drives and fundraising events to provide material assistance to Ukraine.
"We're like ants," Ledesma said. "Everybody's doing their little bit. And we don't sleep. We're doing so much, but it just feels like we're not doing enough."
The best way for Americans to help Ukraine is to join their protests, spread information about the war on social media, and urge representatives in the local and federal governments to increase aid toward Ukraine. Those who want to help can also look to the Austin TX Ukrainians Facebook group and txukrainians.com for information on when protests are happening, where to donate, and reliable sources of information about the war. Ledesma is grateful to Americans who have supported Ukraine. But to be Ukrainian in a time of war means continuing to take up arms for their country, no matter how far away it is.
"We will not stop the fight until Ukraine wins," Ledesma said. "We are fighting for existence and we're fighting for the future."
Caption and photo by Lanie Sepehri.
May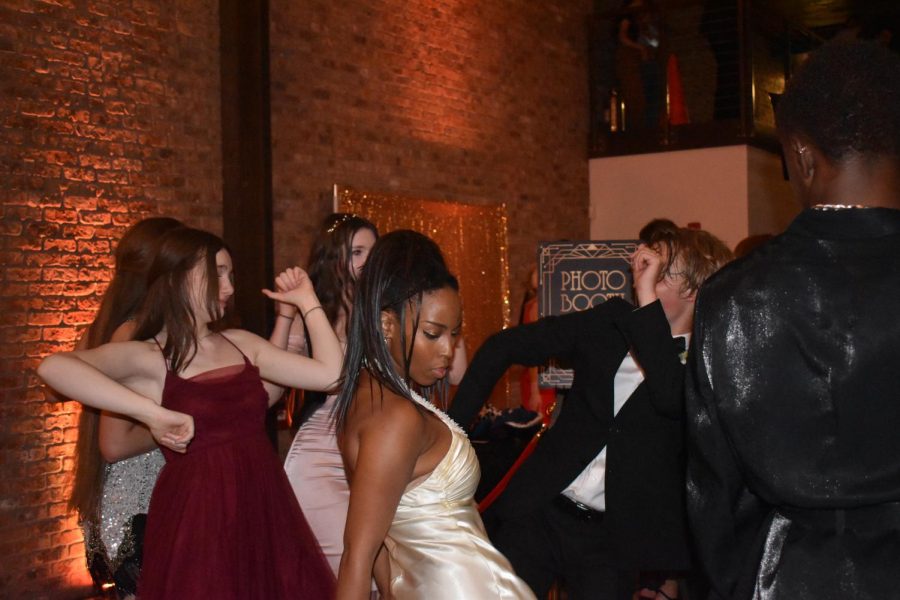 PROM IS A PERFORMANCE: For senior Princess Gant, years of rehearsal and theatre performances only made her prom night dance moves sharper. Surrounded by fellow performers Ava LaWare, Katherine Dooley, and Anderson Zoll, Gant recognized stamina and versatility.
"Anderson literally never stopped dancing once. I had to take two breaks and he just kept going," Gant said. "We party danced, we salsa-ed, we did every dance in the book! Performing definitely gives you the groovy edge."
Not only did prom, which took place at 800 Congress on May 1, give her an opportunity to show off her dance moves, but it also opened Gant's eyes to the number of people she has crossed paths with throughout her childhood.
"Seeing everyone made me realize how many people I've met and had class with throughout the years. People who I didn't think would remember me after COVID came up to say hi and ask how I was," Gant said. "It was very full circle for me."
Photo and caption by Caroline Owen.
June
CLASS OF '22 BIDS ADIEU TO HIGH SCHOOL: The Class of 2022 graduated on June 2 during a commencement ceremony at the Burger Activity Center.
The ceremony was replete with the traditional moments of a graduation ceremony. Principal Nicole Griffith welcomed those in attendance and introduced the school and district leaders who gathered on the dais. Class president Naya Domingo and student council president Anna McClellan led those in attendance in the Pledge of Allegiance and the Pledge to the Texas Flag. Members of the choir performed the Mac commencement ceremony staple, "In My Life."
The resilience of students and the pivotal role of teachers were two themes that emerged from Thursday's ceremony. AISD District 4 Trustee Kristin Ashy stressed the latter in an address in which he fought back tears in honoring the memory of Robb Elementary teachers Eva Mireles and Irma Garcia in order to illustrate the selfless heroism of teachers.
The selfless and essential role of teachers was an idea that was later amplified in the salutatory address of Samantha Powers and the valedictory address of Alysa Spiro.
In her address to the Class of 2022, outgoing superintendent Dr. Stephanie Elizalde praised graduates for overcoming a litany of unannounced challenges, everything from the pandemic, to the debate over masks, from the winter storm to the boil water notice, joking that she had never heard of such a thing before moving to Austin.
Principal Nicole Griffith echoed that theme in her address to the class.
"Your high school experience has been different than anyone could have predicted," Griffith said. "Your sophomore year was cut short as we all went home for what we thought would be a quick little pandemic. You spent your junior year staring at little black boxes on Zoom, sometimes forgetting to mute. Then came senior year. With a mask on your face and a heart full of hope you led the charge to breathe life back into our school. When ninth graders didn't know what they were supposed to do, you showed them. Thank you for your leadership during this trying time. Through everything you have endured, the McCallum Knights Class of 2022 has risen to the occasion. Being here today tells us all that you made it work. That you are more resilient than you ever thought. Your strength to overcome gives us all hope for the future."
Griffith went on to review the long list of stellar achievements of the Class of 2022, academic, athletic, fine arts and extracurricular. She closed with a poignant shout out to the students who balanced their school work with essential work doing in the service of their family.
"During this challenging time, many of our seniors stepped up to help care for younger siblings and family members so their parents could continue to work," Griffith said. "Others worked jobs to help their family make ends meet while attending school full time. We are proud of you for stepping up for family while you continued to manage your obligations at school."
The addresses were followed by the distribution of diplomas and a final singing of the alma mater. Caption and photo by Dave Winter.
July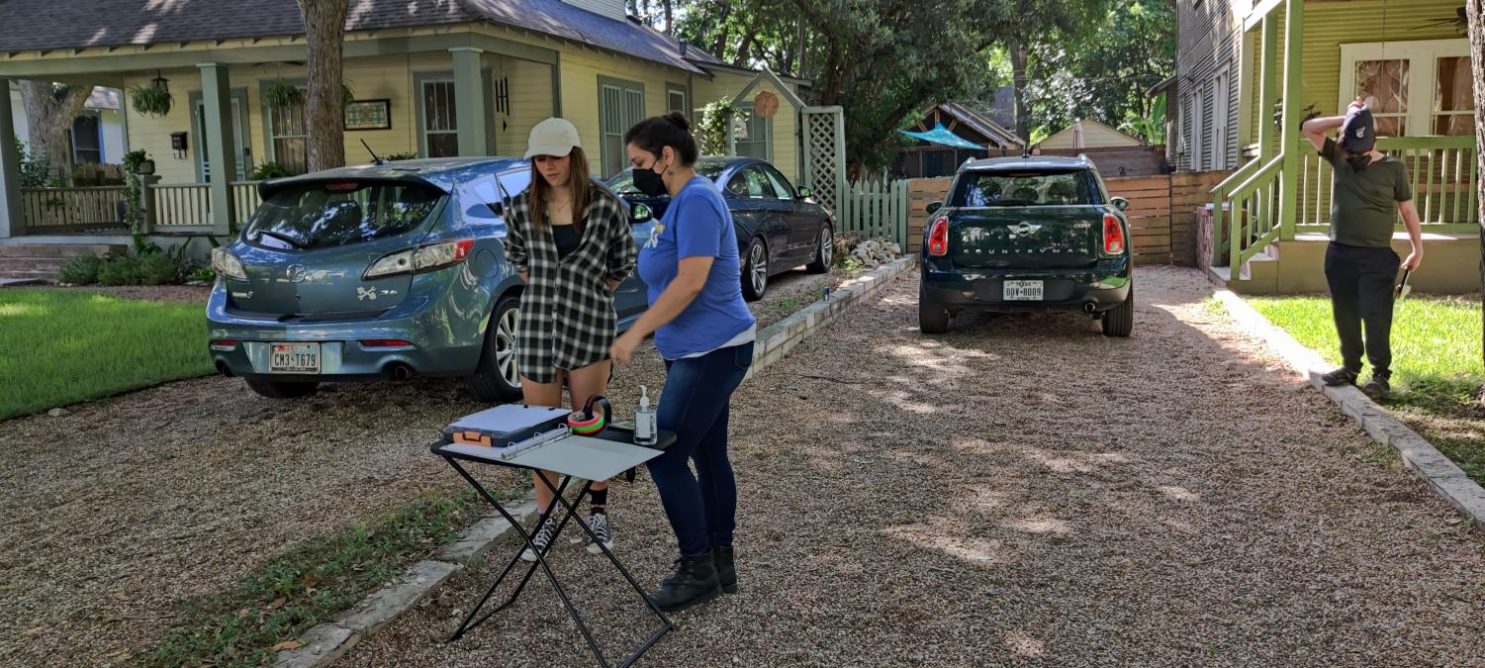 FROM DREAMS TO THE BIG SCREEN: "I think the most essential thing the money is being raised for is paying and feeding actors and crew," rising sophomore and second assistant director Max Davis said. "Without that money, Mr. Rogers will end up having to pay for all of that out of his own pocket."
One Summer, written and directed by Rogers, is a coming-of-age story centered around 17-year-old Julian. In his first summer after graduating high school, Julian must navigate complex romantic relationships and face his identity as a mixed-race Latino and White artist in a culture that "values conformity over authenticity to one's true feelings and identity," as the plot synopsis of the fundraiser's website states. For Rogers, the film is a passion project that has been in the works for years.
"One Summer is a film that I've felt I needed to make for a long time," the director's statement on the fundraiser website reads. "Over the years, I've been writing and rewriting this story, sometimes putting it away for years."
Rogers's chance to tell this story has come at long last. In addition to McCallum alumni and former Anderson High School AV teacher Tania Romero, the film's crew is largely made up of Rogers's students, like Davis. For rising junior and assistant script supervisor Mikaela Washlesky, working on One Summer is an invaluable experience.
"I'm getting exposed to how a real film set would work with other crew members," Washlesky said. "This whole experience is also really good for me overall. I'm able to learn quickly from mistakes so that when I'm able to work on a professional set, I'm more prepared for what to expect."
For Davis, working under Rogers is one of the most special parts of the project.
"[Rogers] really enjoys what he's doing, so it makes being on set for 12 hours a day go by way quicker," Davis said. "The way he runs things is really fun and enjoyable for everyone involved."
Washlesky shares Davis's sentiment.
"Seeing the process of Rogers's ideas and script come to life is so fascinating," Washlesky said. "He's really funny and very easy to work with. I feel really honored to be able to make the idea that he's had for so long come true. Just being able to see that happen, step by step, is incredibly exciting.
In the photo Washlesky stands with Romero. For Washlesky, working on the film has provided an incredible learning experience and insight into the process of filmmaking. "Romero is one of the best people to learn from," Washlesky said. "She is really helpful and I admire her a lot."
Caption by Lanie Sepehri. Photo courtesy of Ken Rogers.
August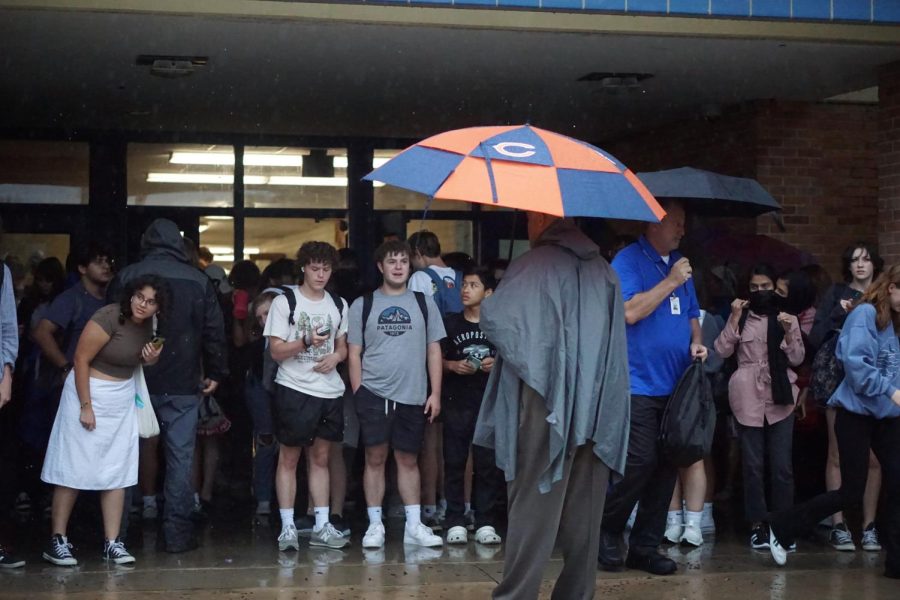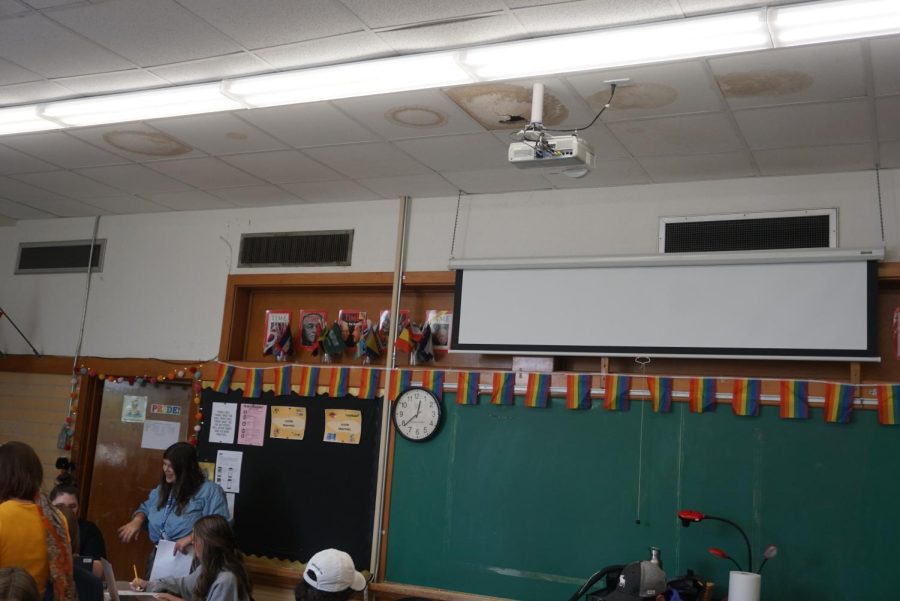 FLASH FLOOD STRIKES AUSTIN AS SCHOOL DISMISSES, CAUSING CEILING LEAKS AND WATER DAMAGE: After more than 50 days without rain in the metro Austin area, heavy rain coincided with student dismissal for the third consecutive school day on Monday Aug. 22. The torrential rain was more severe than it was on the previous Thursday and Friday.
With Travis County under a flash flood warning, the administration held students in their fourth-period classrooms for an extra eight minutes until the rains let up. Austin ISD issued a statement via Twitter at 4:32 p.m. that district schools were going to delay bus transportation until the rains abated but allow parents to pick up their children.
Just as it did for many, the rain derailed junior Chris Ferina's ability to go home, allowing him to not arrive back till over an hour after school got out. When the AISD central office understood the weather had become too dangerous for anyone to leave, announcements went out to keep children in classes until buses were able to arrive and the weather became less dangerous. "I was kind of annoyed at first," Ferina said, "but the rain was so bad it would've been too dangerous to let people out." Eventually students were let out of classes eight minutes later than usual.
The effect of Monday's rain was profound: the water caused leaks and flooding and impeded teacher instruction, student learning and safety. In one of the band storage rooms, ceiling tiles caved in on several steel drums, and leaks in the fine arts hallway damaged woodwind instruments. Other water-damaged instruments took up classroom space while they dried out.
The second photo shows a leak causing ceiling panels to bloat and sink, forming brown rings due to water damage in room 113 as Ashley Friedman teaches her AP World History class during sixth period on the Tuesday following the torrential rain.
In room 153, several iMacs were damaged, derailing lesson plans for graphic design students. The leaks occurred around wires, presenting a serious danger to student safety.
Safety was also a concern of science teacher Sarah Noack, who thinks the possibility of mold is a major issue.
"One of the things that concerns me is the microorganisms that are growing in our walls and ceiling as a result of so many leaks," she said. "There's no way it's healthy and safe to grow in this mold-filled air."
More instances of leaks and flooding were found in room 128, 135, 113, 152, 143 and the guitar portable.
Fine Arts Academy director Gabe Reyes said that responding to rain damage is a team effort. According to him, the administrators are trying to be proactive about putting in work orders to improve the structure of the building and resolve leakage issues, but getting to the end result takes time. Reyes said he appreciates the custodians who work hard to respond to the aftermath of rain as well as teachers and students who are not necessarily OK with what happened but understanding of it.
"It matters because it's [damaging] instructional tools for our kids and we take that really seriously," Reyes said. "When stuff like that happens across the campus, there are leaks and things like that, the custodians jump on it. As admin, we try to put in work orders as quickly as we can, because that's our school environment. And it's important for kids to have a safe, healthy school environment."
Caption by Naomi Di-Capua, Ingrid Smith and Francie Wilhelm. Photos by Tristen Diaz and Dave Winter.
September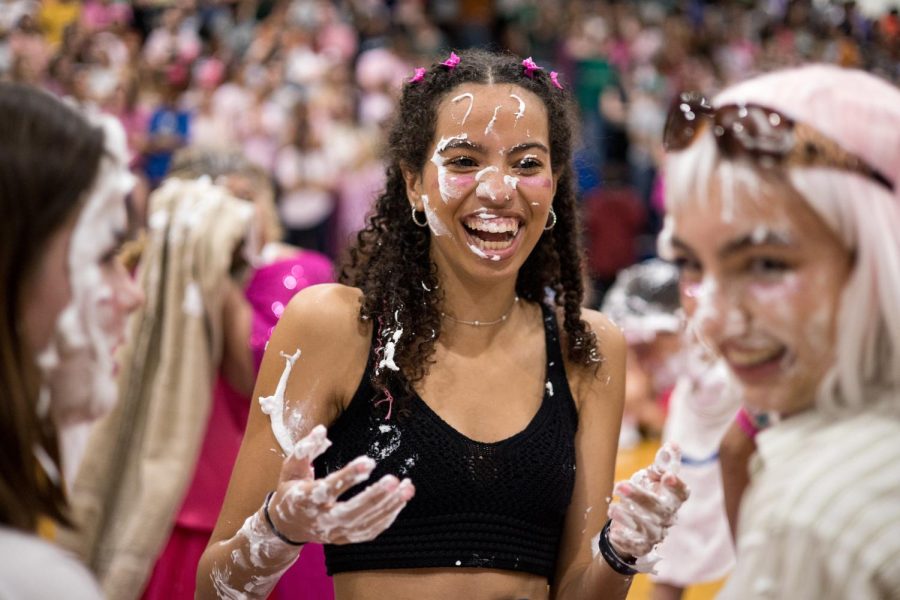 PINK WEEK 2022 SETS STANDARD FOR FUN, FUNDRAISING: During the last week of September, McCallum celebrated Pink Week, its annual fundraiser for Breast Cancer Research Center, filling the halls with pink streamers, wearing as much pink as possible, pelting PALs with water balloons during lunch festivities and pieing teachers in the face during the pep rally. This was the highest-earning Pink Week ever as the PALs raised almost $3,000, raised awareness about breast cancer and raised enthusiasm in the Knight community.
Each day of the week brought different fundraising activities including the Pink "Salon," shooting PAL-ery, plank and push-up contests, a hula hoop battle, tug-of-war and snowcones. On Tuesday and Thursday, students could even pay to dump a bucket of water on a PAL of their choosing or throw a water balloon.
The school's enthusiasm carried on throughout the week, culminating at the Pink Week pep rally on Friday when PALs pied selected teachers in the face and the school built up excitement for the evening's football game. Despite losing the game, students filled the stands decked out in pink and the cheerleaders and Blue Brigade carried pink poms.
In the above photo, senior PALs Jolie Gabriel and Amaya Collier laugh in the aftermath of an impromptu shaving cream fight during the Pink Week pep rally on Friday. After pieing English teacher Diana Adamson, Gabriel chose Collier as her next target. In the process of trying to get her, Collier retaliated, resulting in Gabriel taking a face full of pie. As the last event of the last day of Pink Week, Gabriel took the time to enjoy the moment. "It was a great way to end," Gabriel said. "Having the shaving cream fight with my friends in front of everyone at the pep rally was very fun."
Photo by Gergő Major. Caption by Evie Barnard.
October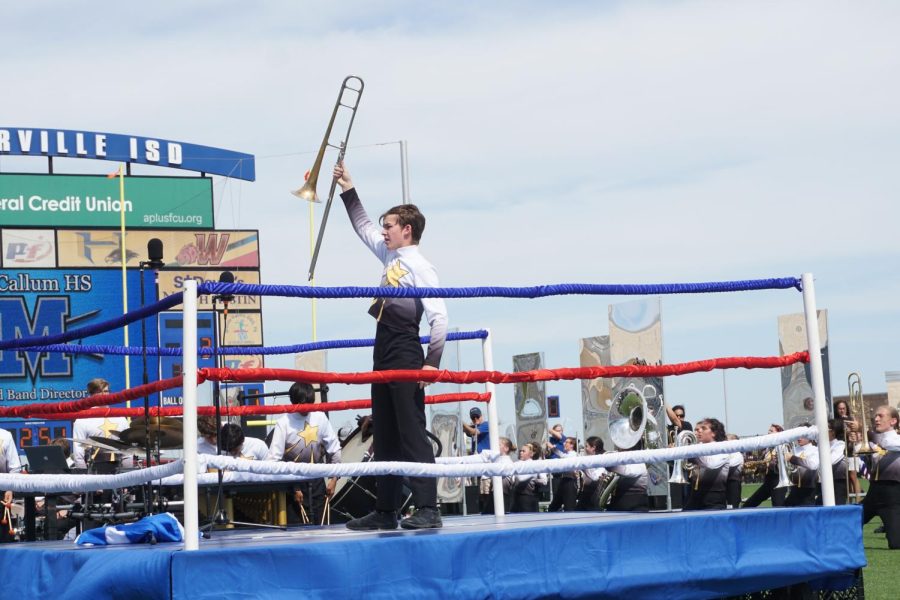 BAND 1, WIND 0: Almost as if to participate in the pugilistic theme of this year's @macbandofficial show, "Seeing Stars," the winds in Pflugerville fought against the marching band during its prelims performance at UIL Area at 1:30 p.m. today, but the band stood its ground and ultimately knocked out the inclement weather, advancing to the final round of the competition.
The 31 mph gusts pushed props on the field, but the @macbandboosters joined the fight and stepped on the field to hold mirrors in place. Band parent Scott Hendrix described his experience on the field.
"[We found out we were going to be on the field] about an hour before showtime," Hendrix said. "We chose mirrors randomly so we had no way to know where we would be on the field or when and where we'd move during the show."
This unexpected change was unrehearsed, causing some uncertainty for parents.
"Many of us worried about tripping when the mirrors moved and possibly causing a band member to fall or get out of the drill sequence," Hendrix said.
Despite the wind, junior band member Malena Linse believed the run went "pretty well."
"I think we did our best to overcome the wind, but it definitely added a stressful factor to the show," Linse said. "We had some band parents on the field holding up the mirrors to make sure they didn't fall over, but it was difficult to coordinate all of the fast-paced mirror movements with them on the spot."
During the show, band members are responsible for moving mirrors as part of the visual aspect. This proved a struggle with the addition of band parents on the field.
"Pushing [the mirrors] was more difficult than usual and there were a few mistakes with them, but it didn't affect our overall performance too much," Linse said. "I'm taking it as a practice run for a possibly windy finals."
When on the field, the band parents got to see a whole new side to the show.
"[It was] very interesting to see and hear the show from that perspective," Hendrix said. "It really takes a tremendous amount of coordination and teamwork. I guess we parents became more a part of the band today!"
The band went on to win third place at the UIL Level 5A Area D marching band competition. As 2022 was not a UIL state competition year for 5A bands, the third-place prize at area marked the end of the road for UIL competition for the band and color guard in 2022.
Reporting by Morgan Eye. Photo by Lillian Gray.
November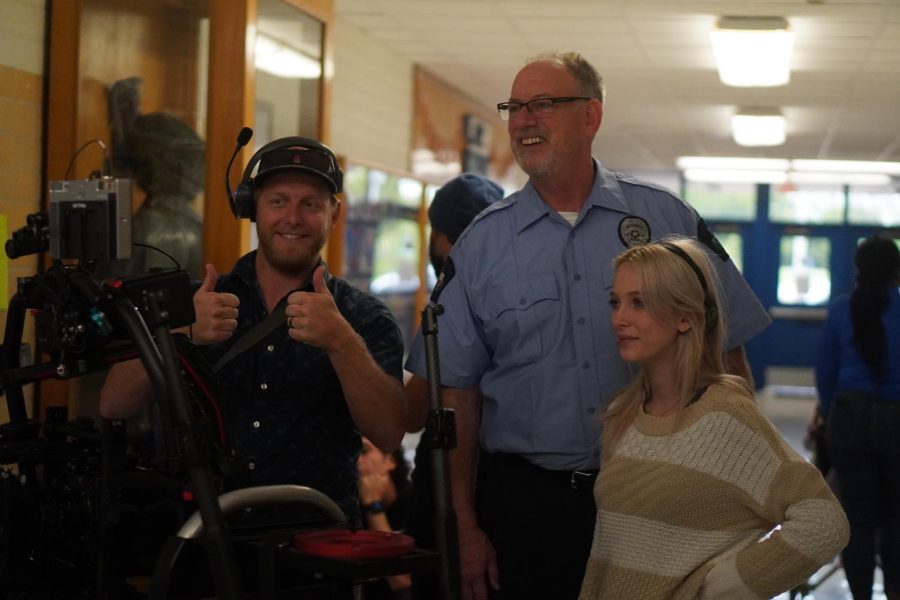 BOB TO HIT THE BIG SCREEN: Director Carrie Stett and her production team visited the McCallum campus on Thursday Nov. 17 to film a commercial for The Hershey Company, featuring officer Bob Bedard. The commercial is one of a series of films, all centering around genuine stories about positivity that are just as sweet as a Hershey's chocolate bar.
Last year, current Shield editors Sophie Leung-Lieu and Naomi Di-Capua published a story centered around Bedard, discussing his impact on the McCallum community and his small acts of kindness: passing out a signature Hershey's chocolate kiss to students during passing periods.
Not long after the publication of the article to The Shield Online, Hershey contacted Bedard.
Hershey Company head of earned media and storytelling Anna Lingeris was one of the Hershey employees that first laid eyes on the article. Lingeris works with journalists and the press, also bringing real happenings to life in advertisements.
"Part of what we're doing is canvassing America to find stories about real people that use are Hershey's bar as a connection," Lingeris said. "We saw Bob's story and we immediately knew we had to come to Texas, to McCallum to meet him and the students."
Lingeris and Stett have traveled to Missouri, Indiana and other states filming commercials about similar acts of kindness.
"Any time there is something positive going on, I like to tell the story," Stett said. "I take the idea, see what the film is, and think about how I can turn that into an interesting video."
On the filming day, Bedard brought smiles to many Knights, as many classes were paused to play extras in the commercial. Alongside Leung-Lieu and Di-Capua, Bedard also selected students that he has created special relationships with to be interviewed for the film.
As director Stett called it a wrap, Hersheys ended the filming day with celebration of Bedard's success.
"Bob's a star," Lingeris said.
Many students involved with the film had to undergo the process of a permission form, cooperating with the producers and representing the school with respect.
"It's been a wonderful experience here at McCallum," Lingeris said. "The students, the faculty, everyone on campus has been willing to help. I can really see the warmth from everybody."
Having finished shooting at McCallum, the Hershey Company will now take on the next step of editing the commercial. We will know more about the final commercial timeline sometime in 2023.
Caption by Sophie Leung-Lieu. Photo by Dave Winter.
December

DART BOWL DEMOLISHED: Two years following its closure, a demolition crew has begun tearing down the historic building on 5700 Grover Ave, the site of Dart Bowl Bowling Alley.
After struggling to keep the business afloat amidst the COVID-19 pandemic, property owner John Donovan decided to permanently close the location after a 62-year-long run on July 16, 2020.
The property was approved for demolition in early November by Austin's Historic Landmark Commission.
On Nov. 16, not long after a welding crew came to reseal the doors of Dart Bowl, the location was broken into and a trash can set ablaze around 1 p.m.. Smoke emitting from the roof was reported to the Austin Fire Department at 4:41 p.m. and under control by 5:34 p.m..
The fire did not affect the demolition process, and OHT Partners began work tearing down the main building on the estimated two-year-long project earlier today. Neighboring the Dart Bowl, another property is set to be involved in demolition and apartment building.
Caption and photo by Morgan Eye.