Artistry on the pitch, hard work in the studio
In the Savannah College of Art and Design, Mia Gomez finds perfect fit for next chapter of her soccer, artistic life
When Mia Gomez began playing soccer at 3, her talent was quickly noticed.
Her dad, Arthur Gomez, recalls a conversation with the owner of the first soccer program his daughter ever participated in.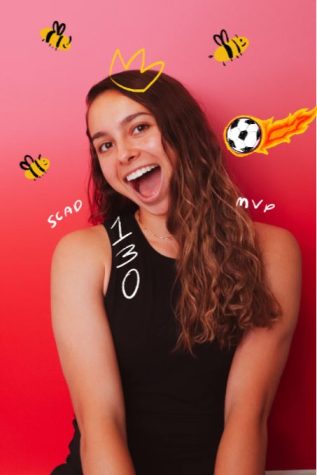 "You have a very special player here," the head of Soccer Shots told him. "Get her on a team ASAP."
Throughout her childhood, Mia trained with seven different clubs and turned raw talent into developed skill.
"I pretty much played at every single club you can think of," she said. "It's been a long journey."
However, athleticism isn't her only gift. Mia has been using art as an outlet since she was a toddler.
"I was always doodling, always just putting stuff down on paper," she said. "We'd always have random stuff hanging around the house, like my little hand print, or my little fingerprints in the shape of a flower."
When Mia started middle school as a visual arts major at Lamar, she found her personal niche as an artist: creating light sculptures.
"That's become my thing," she said. "The pieces all kind of have a similar look to them."
When Mia's freshman year came around, not only did she excel as a visual arts major, but she also became an integral part of the soccer program.
"My first impression was that Mia was a hard worker, leader, and had high expectations, even as an incoming freshman," head coach Stephanie Watson said. "Her work ethic and high expectations for herself positively influences her team. She just leads by example."
Mia has been a varsity starter, member of all-district first team, and recipient of the Golden Boot award four years in a row—but there's more. Mia found the back of the net 130 times throughout her high school career, more than any player in McCallum history.
Her Mac soccer career came to a close in March, but she continues to reflect on the memories of her tenure. The first playoff game of her senior year is part of her highlight reel.
"There were a lot of lasts that happened in the Pflugerville game," Mia said. "That was our last win, our last game at House Park. I also scored my final goal that game."
Her senior year not only brought her new experiences on the pitch, but also in the art studio.
"This year, I did a lot more meaningful artwork," Mia said. "I appreciate Mr. Martinez for making all of our prompts a lot more personal, and giving us freedom."
Mia has also honed her digital art skills.
"I have an Apple Pen and an iPad now, so I've been practicing digital drawings and stuff like that," she said. "Being super creative and making posters and graphics has been super enjoyable."
Mia plans to continue her art and soccer careers at the Savannah College of Art and Design, where she will major in graphic design.
"Going into college, I've kind of decided that I want to switch to more digital work, and I feel like I'm gonna go into a more digital career," Mia said.
Before getting career ready, however, Mia has to focus on parting from McCallum and, more importantly, moving away from her family.
"All good things must come to an end," Arthur said. "Her pending exit has made our time precious, deliberate and always filled with laughter. It has been a blessing raising this kid. The daily contact will be missed, but the good news is that I have a lot of photographs for those days when I need them."
View this post on Instagram