Celebrated senior about to be a 'Fish' again
From collector to creator, critically acclaimed cartoonist Kai Kirkham Macias constantly evolving his craft
For Kai Kirkham, Garfield started it all.
Kirkham's love of comics began when his father gave him a copy of Garfield Loses His Feet, and, instantly, he was hooked. The simple humor of the strip had connected with him and given him a new lens through which to view the world.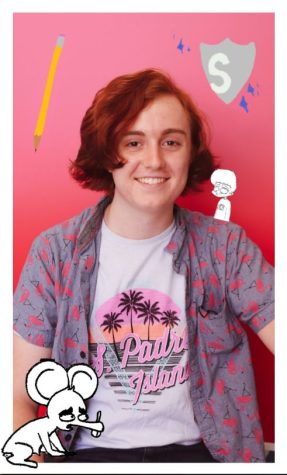 "When I would get home from school and was feeling upset about something, I would read strips to calm me down or draw a comic of the thing that made me mad that day," Kirkham said.
As he got older, his love for comics only grew. He collected every Garfield comic book he could find (he currently has at least 50) and eventually expanded to include other books. For the past two years, Kirkham has been a strip cartoonist for The Shield, and has won numerous awards in his time on staff. Kirkham's cartoon "Fish" has been on the back page of The Shield for two years, and it has been a hit across McCallum as well as at a plethora of national competitions.
"'Fish' is essentially about overcoming the hardships of high school with friends and good experiences," he said.
According to Kirkham, the inspiration for "Fish" derived from the people in his life and their experiences. Although the story line of the strip changed over Kirkham's two years of drafting, the general premise remained the same.
"Originally, it was going to be centered around being in choir and that experience," Kirkham said. "And then I realized that wasn't a universal experience and that wouldn't be engaging for everyone."
During his freshman year, Kirkham picked up an issue of The Shield he found in his English classroom and turned it over to read the comic section. To his surprise, there was none.
"I thought, 'There has to be a comic,'" Kirkham said.
While Shield adviser David Winter had no idea if Kirkham could draw when he was first approached, the thing that impressed Winter the most was how Kirkham presented himself during his pitch—his enthusiastic devotion to his art.
"It takes a lot of guts to come up to somebody that you don't even know and pitch something that matters to you a lot," Winter said.
Over the two years, Kirkham's characters have grown and developed, not just in terms of the storyline, but in the way they are drawn.
"There's so much more to the way he draws the characters now than in the beginning, Winter said. "I never would have thought when I saw the first one that he was going to see as much improvement as he has. One of the things that is really impressive about him is that he isn't static with it; he didn't do the same thing over and over. He is always pushing himself to be better and produce something different than he did before and that's the sign of someone who is really going to be good at what they do."
Kirkham brought more than just art skills to his role as staff cartoonist.
"I have never met anyone like him in my seven years of doing this," Winter said. "What was entirely great about this was that he was motivated, and it was his initiation that made it happen."
With graduation approaching, "Fish" will conclude as Kirkham goes to UT Tyler to pursue his passion for design. The last issue of "Fish" will be concluding his career at MacJournalism, a bittersweet ending for an iconic strip.