For Leilah Ramos, dance is the past, present and future
Senior aims to join touring company, practice dance therapy
Beginning at a young age, Leilah Ramos has aspired to move through life by gliding, skipping, and dancing. Her high energy for life influenced her parents to enroll her in dance classes, allowing her to learn tap, jazz, ballet, and modern dance. She explored each of these styles with excitement and determination. The nearly 11 years Ramos has competed and performed in dance has led her to pursue a dance major in college.
"
Dance is the only thing that I'm really passionate about. … It was what I was called to [do]."
— senior Leilah Ramos
"I would dance everywhere when I was young, from the airport to school," Ramos said.. "My teachers used to think I was a little crazy, which is what pushed my parents to put me into dance. I was very hyperactive, so I really liked it."
Ramos has been a part of a company throughout her entire dancing career, which has helped her compete and assist in conventions that are nationwide. It's very rare to see students assist in national conventions, but Ramos has managed to prove herself to her teachers. She is called on to teach the students specific dance moves or techniques during those conventions then processed to compete that same day.
"I joined a company and I just remember that one time where I just really felt like I was a part of something new," Ramos said, "and what was really exciting was when I first joined my first competition company, and that's when I really found out it was for me. I was just 7 years old at the time. Being able to attend master classes at the conventions, where world renowned choreographers, teachers, and instructors teach me and also judge me is very helpful as it helps me gain new insight."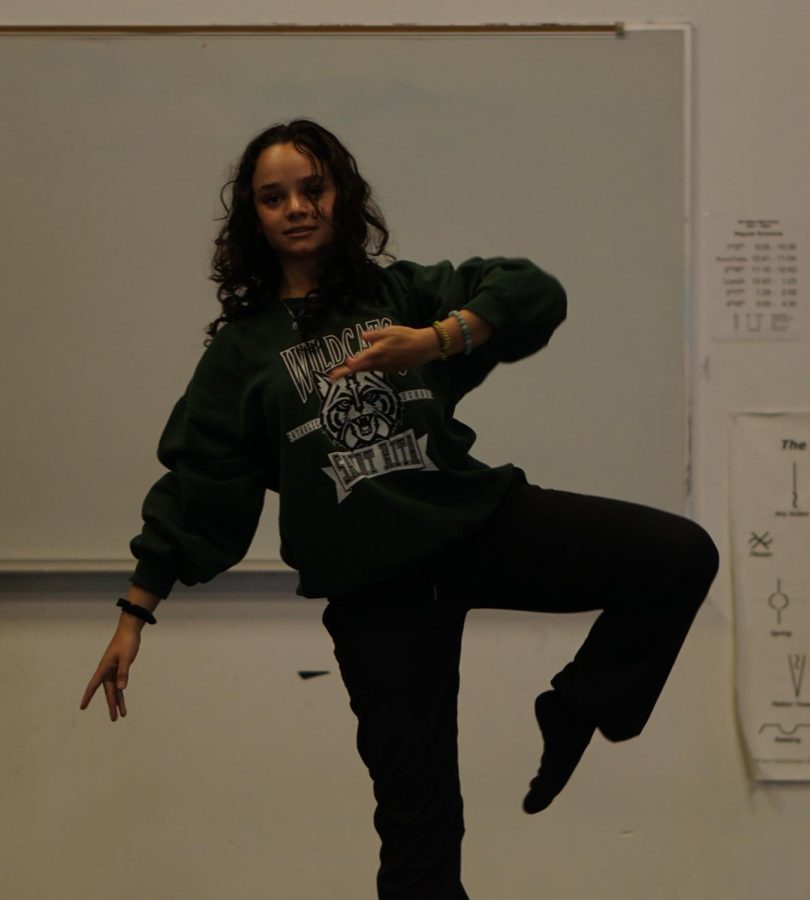 Unlike many seniors, Ramos knew dance was the future she wanted to pursue at a very young age. Ever since she started dancing, she found a community that has always supported her and pushed her to succeed. From her dancing company to the McCallum dance program, they all continued to push her drive to learn more and more everyday about the art.
"Dance is the only thing that I'm really passionate about," she said. "I find a good sense of community within dance like people are just very similar to me and they like the same things, which helps bring on some really good creative energy. It was what I was called to."
Many people that pursue dance as a career tend to take the route of signing up with a company after graduating high school or moving to Los Angeles to sign up with commercials or to tour either nation wide or globally. Ramos, however, is choosing to go to college for dance to hone her skills and continue to strengthen her techniques. She also believes that college might be a way to help her further tap into her creativity.
"
Later on in life, I'm really interested in doing dance therapy. … Dance is healing, but it has been stigmatized lately as being tiring and straining."
— Ramos
"Dance in college sometimes is not the right way to go if you want to be a professional dancer," she said. "However, I think that college is a good place for me to get a good base of techniques and also explore my own artistry."
After college, Ramos plans on touring and dancing. She wants to see the world and explore new things while still performing. She also hopes to practice dance healing in the far future. Ramos believes that there has been a stigma surrounding dance being stressful, tiring, and exhausting overall, but she believes that dance was created to help the person practicing it, not damage them. She wants to assist dancers that haven been damaged by the industry and help them with their healing journey.
"I definitely want to be a part of a company and tour," she said. "I also want to do choreography because I'm currently really enjoying the process of being an artistic director for our student-directed show and it has helped me take on a leadership role. Later on in life, I'm really interested in doing dance therapy; I think it's important since a lot of people don't take care of their bodies well. Dance is healing, but it has been stigmatized lately as being tiring and straining." Ramos said.
Ramos sits for a photo shoot for the senior issue of The Shield, which will be distributed on campus on Monday (fingers crossed). Photos by Risa Darlington-Horta.