'One last Knight' to remember
The Class of 2022 filled 800 Congress to the brim creating the look and feel of a pre-pandemic prom experience
At Prom 2022, the theme, the venue and the fashion did not disappoint. Seniors arrived at 800 Congress on the evening of April 30 for a night of Old Hollywood Glamour. From strutting down the red carpet, to greeting friends and classmates, to taking photos, to dancing the night away, many of those in attendance made memories that will last far longer than their fleeting high school years.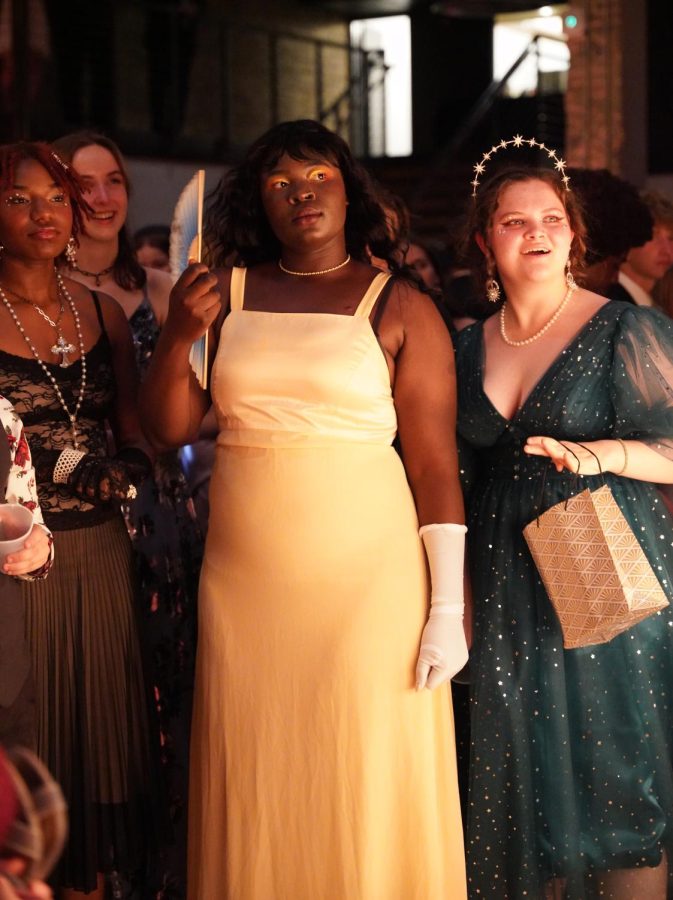 FIT FOR ROYALTY: Senior Tracy Atoo awaits her announcement as 2022 prom queen. For Atoo, this was an unexpected yet glorious moment. "I was kinda surprised when I got prom queen, but it felt good," Atoo said. Having the prom king, Bobbie, by her side for the second time sweetened the victory. "It was even better since Bobbie and I were Homecoming Baron and Baroness freshman year." Caption by Helen Martin. Photo by Julia Husted.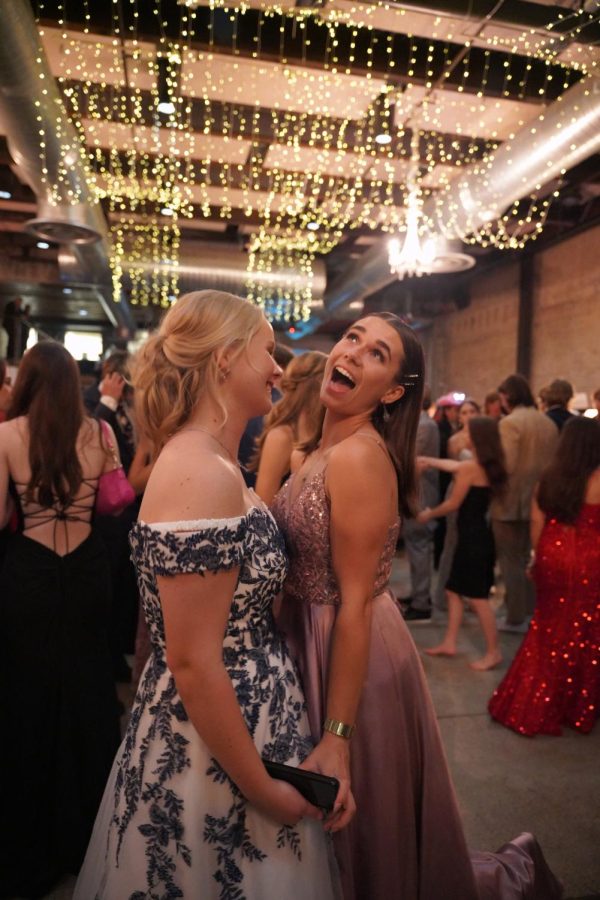 DRESSED TO THE NINES: Seniors Emma Mattie and Robin Loessin pose on the dance floor. For Mattie, who's normally wearing a soccer uniform, getting ready was a highlight of her night. "Getting to dress up like this was a whole new world for me," she said. Mattie tried not to set any expectations prior to the dance, wanting to keep an open mind no matter what happened. "I just had more fun without the expectations!" This final dance of their high school careers proved a success for Emma and her friends, allowing them to leave high school on a good note. "Just going with them made it way more fun," Mattie said. "We were all in it together." Caption by Julia Husted. Photo by Helen Martin.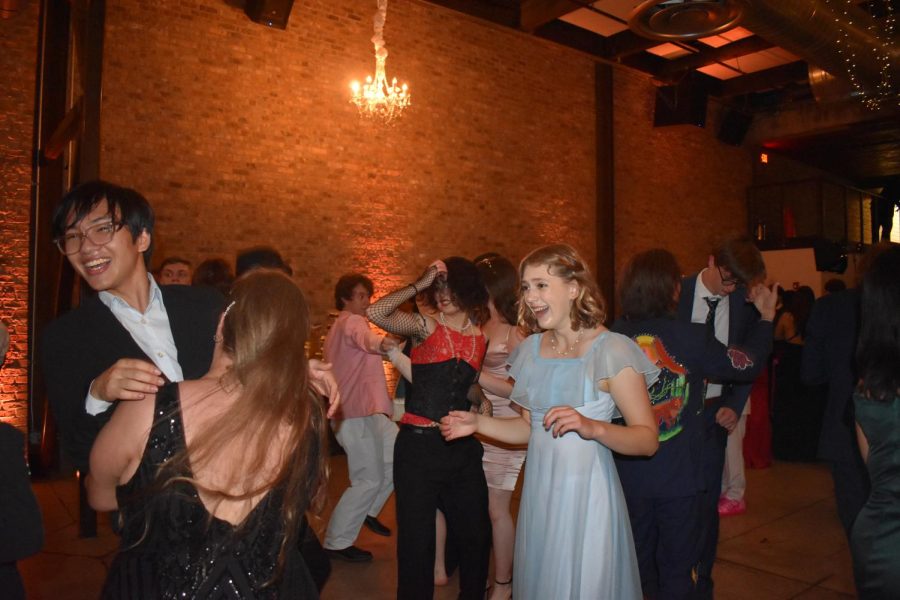 NO REGRETS: Senior Alex Kim is lifted and spun on the dance floor as senior Jordan Akuzmich watches. Despite the joy he displays, Kim wasn't always sure he wanted to go to prom. "I was kind of on the fence back in March," Kim said. His hesitance to attend stemmed from a concern that the event would be overcrowded. However, after lots of consideration, Kim decided that making an appearance wouldn't be all that bad. "I'm really happy I decided to go," Kim said. "I think prom served as one of my final big memories of high school." Caption by Naomi Di-Capua. Photo by Caroline Owen.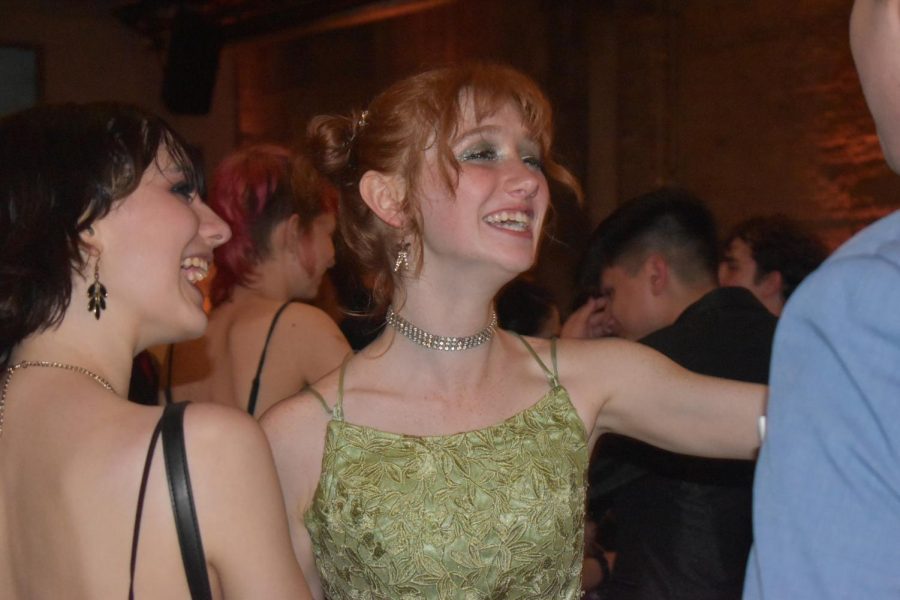 GOING OUT IN STYLE: Senior Lucy Nichols socializes on the dance floor. Fittingly for the theme of 'old hollywood,' Nichols' dress was vintage. "Prom was really incredible for me," Nichols said. "At first it was really loud and intimidating, but pretty quickly I was able to loosen up and just focus on having a good time." Nichols also enjoyed how prom brought the class of 2022 together. "Everyone looked really beautiful and it was so nice to just see everyone have a good time all together for once." Caption by Grace Vitale. Photo by Caroline Owen.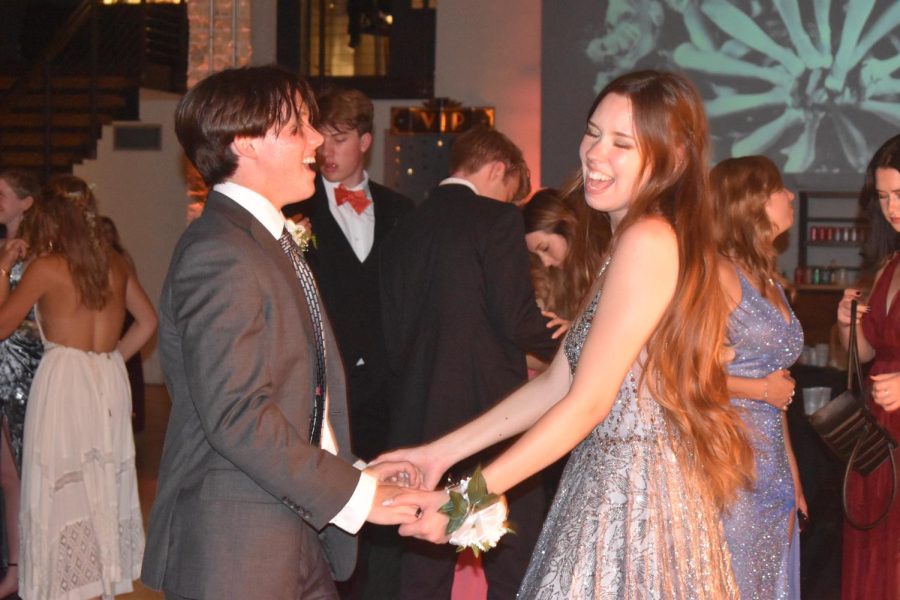 LOOK ON THE BRIGHTSIDE: Towards the end of their unforgettable evening on the red carpet, senior Caleb Andrews and Emily Spradlin share a dance. "Seeing all my friends and people I've grown up with being in one place outside of school was a surreal moment," Andrews said. "I mainly felt that when I walked in and met up with friends on the dance floor." Although seeing his classmates and childhood peers altogether was memorable, the highlight of his prom night was when Mr. Brightside by The Killers started playing. "Everyone was screaming and singing along to it and jumping," Andrews said. "Halfway through the song, my friends joined in so it was a group of like ten people just screaming and dancing together." Caption and photo by Caroline Owen.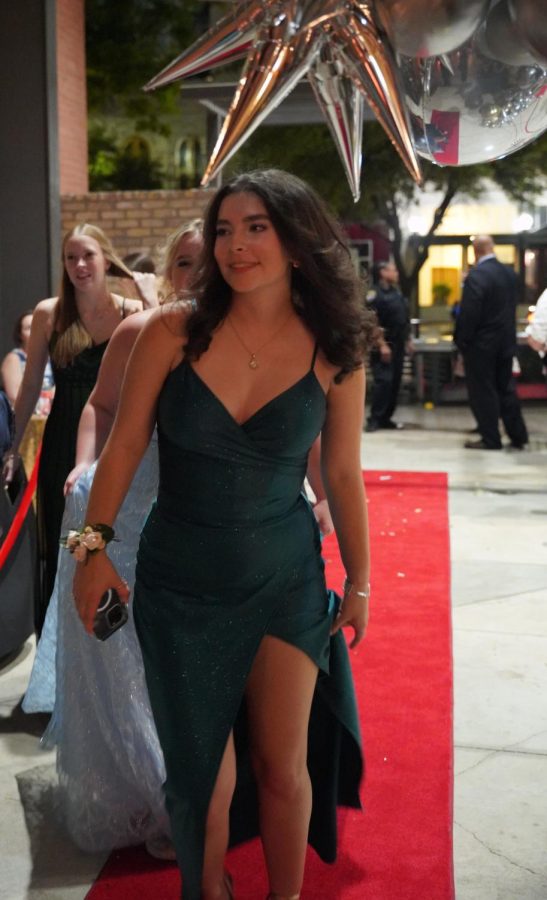 FIRST IMPRESSION: Upon reaching the end of the red carpet, senior Grace Nugent was impressed by the carefully selected destination and glamorous atmosphere. "I was excited about the whole old hollywood vibe, and the red carpet was a great first look," Nugent said. "Downtown Austin is also so unique and beautiful, and having a venue on South Congress with a nice outdoor and indoor space full of windows was pretty swanky." Caption by Caroline Owen. Photo by Julia Husted.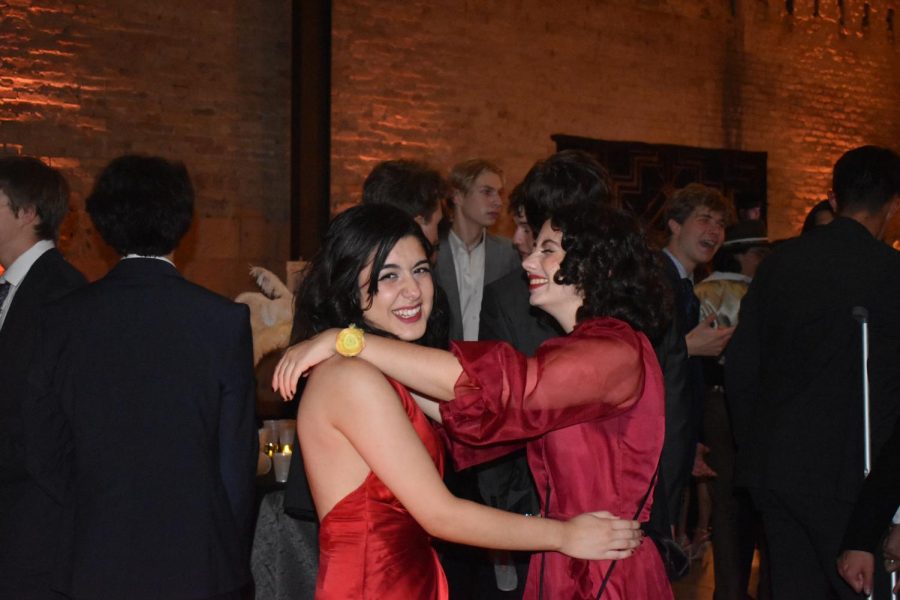 POST PANDEMIC PARTY SPIRIT: Seniors Sarah Reyes and Zoe Rabinowitz share a slow dance. Reyes described this year's Prom as "a bit sweaty, a little tiring, but overall great." Reyes believes the "post-pandemic party spirit" had a large role to play in the energy and liveliness of the attendees. "There's not a lot of chances in life where you get to be in a room with pretty much all your friends, new and old," Reyes said. "I hope years from now I only grow to appreciate that type of community more." Caption by Elena Ulack. Photo by Julia Husted.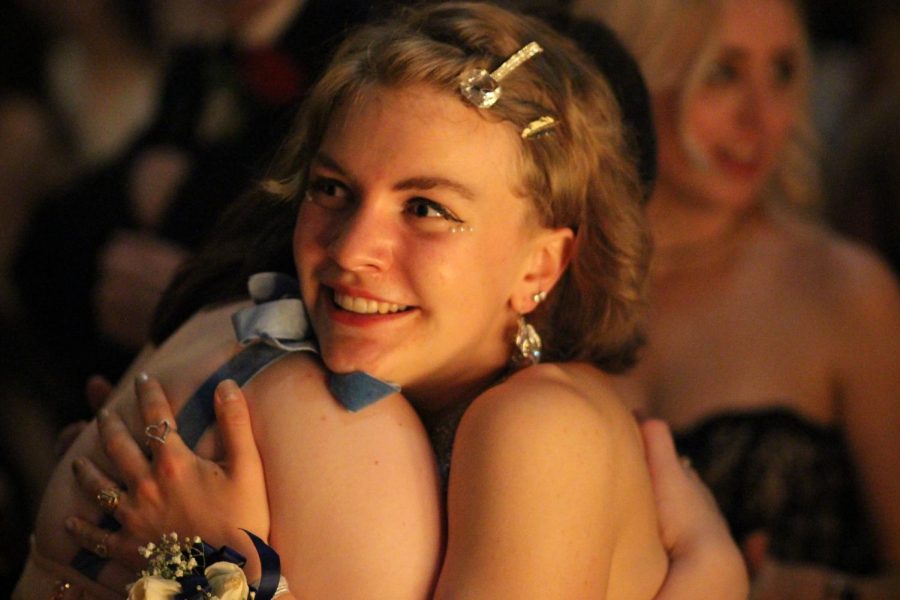 FIRST TIME FOR EVERYTHING: Senior Jessie Lucas embraces senior Anya Nagle. This year was Lucas' first time attending prom, since she didn't get the chance last year. "I tried to have little to no expectations," they said. "All I hoped for was fun and dancing with my friends, which prom definitely lived up to!" Caption by Francie Wilhelm. Photo by Helen Martin.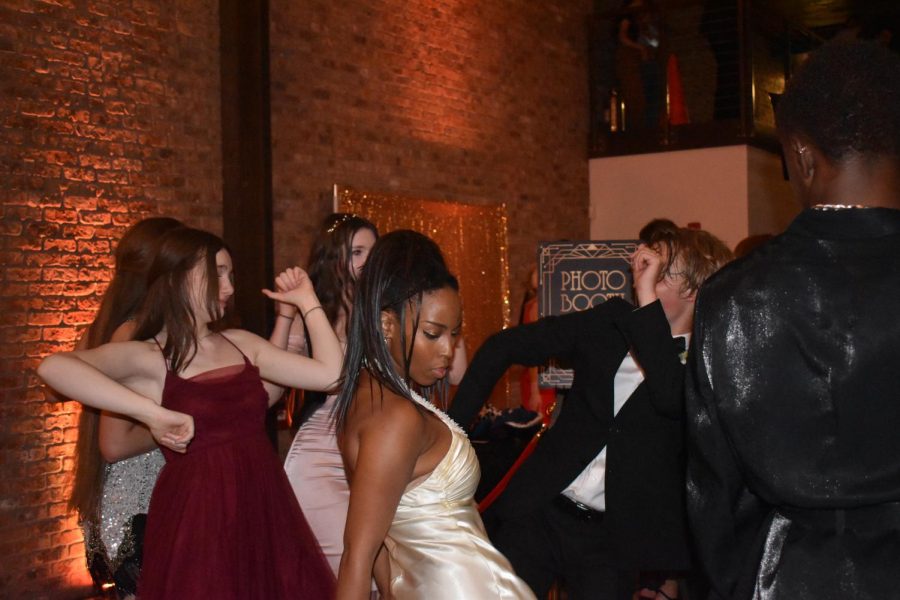 PROM IS A PERFORMANCE: For senior Princess Gant, years of rehearsal and theatre performances only made her prom night dance moves sharper. Surrounded by fellow performers Ava LaWare, Katherine Dooley, and Anderson Zoll, Gant recognized stamina and versatility. "Anderson literally never stopped dancing once. I had to take two breaks and he just kept going," Gant said. "We party danced, we salsa-ed, we did every dance in the book! Performing definitely gives you the groovy edge." Not only did Prom give her an opportunity to show off her dance moves, but it also opened Gant's eyes to the amount of people she has crossed paths with throughout her childhood. "Seeing everyone made me realize how many people I've met and had class with throughout the years. People who I didn't think would remember me after COVID came up to say hi and ask how I was," Gant said. "It was very full circle for me." Caption and photo by Caroline Owen.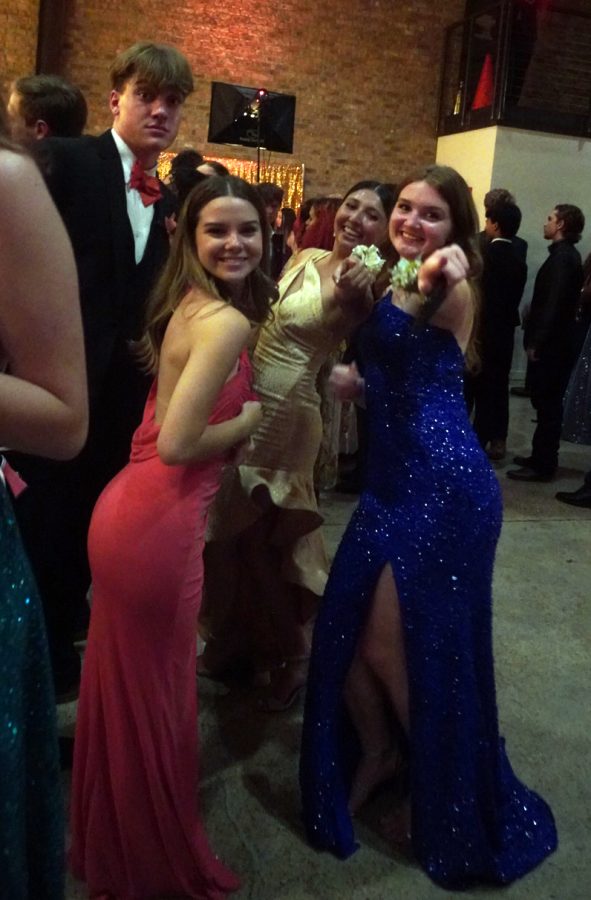 NOT CANDID CAMERA: While tearing up the dance floor with their friends, seniors Emily Garza and Annabel Winter point directly at MacJ photographer Jolie Gabriel in an attempt to ruin her candid photo by looking directly into her camera lens. Clearly, their evil plan did not work as the photo appears in this essay. Winter said the best part of prom was seeing people all dressed up. "It was fun to see how different people are when they get dressed up and how different they are from each other." She said. Many of the most memorable looks were artistic and unique. "It was fun to see that side of people." She also said the venue, 800 Congress, was the perfect blend of formal and relaxed. Caption by Dave Winter. Photo by Jolie Gabriel.