If you don't love Juana Gun already, read this and you will.
For fun-loving Spanish teacher, family, wherever she finds it, is everything
The Proust Questionnaire, named after French writer Marcel Proust, is a series of 35 questions designed to gauge the personality and values of the answerer. Shield staffers Sofia Ramon and Kate Boyle sit down with Spanish teacher Juana Gun. 
The Shield: What is your idea of perfect happiness? 
Well, I'm in a comfortable house. I know that my family's all comfortable too, I'm able to watch Netflix and not worry about grading. I love to see my nieces and nephews having a good time. Going out either every Friday night or every Saturday night and singing and dancing. And, you know, just feeling secure and knowing my family and my friends are all secure. 
TS: What living person do you most admire?
Wow, that's a good one right now. The living person that I most admire. I would say our scientists that helped us with COVID. Because without them, where would we be? The scientists, the nurses, and the doctors, those people.
TS: What do you consider the most overrated? 
The Kardashians.
TS: What is your greatest extravagance?
My greatest extravagance, probably, is that I like to party on weekends, and I need to stop. But you know, like I said, I'm on the way out, so I want to die happy. I frequently celebrate, and celebrating is expensive. And that's where I'm spending my silly money. It used to be movies and popcorn; now it's dancing and singing and making friends happy and spending money. Ridiculously silly.
TS: On what occasion do you lie?
Good one. What occasion do I lie? When I don't want to see family because of their spouses. And it's usually revolving around politics. It all started when it got ugly a few years back, and we haven't recovered. So sometimes, when certain family wants to hang out with me, they want to come to Austin or they want me to go to their place—then I find myself lying and saying that I have stuff to grade, and I'm too busy at school and I just can't.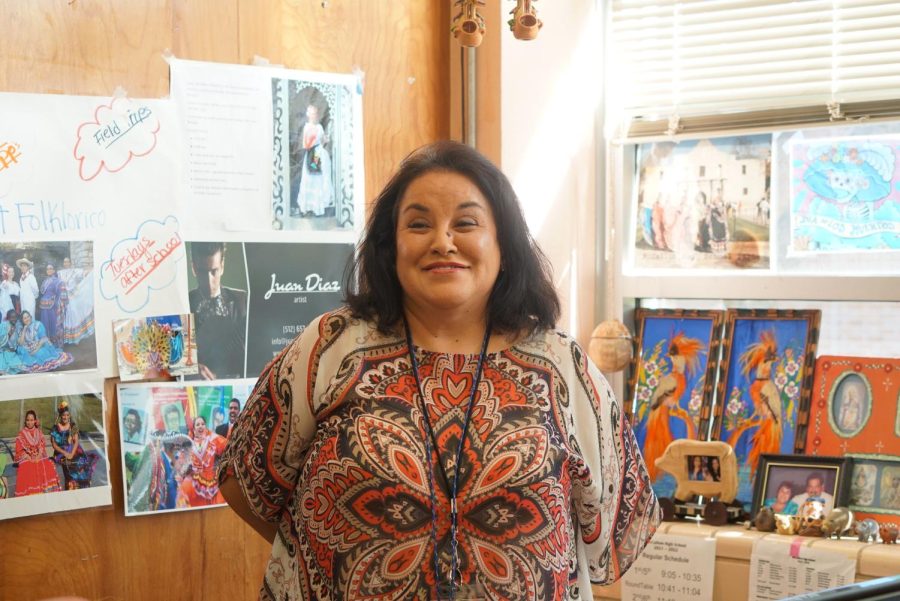 TS: What words or phrases do you most overuse? 
Ay Dios Mio. Oh my God.
TS: What or who is the greatest love of your life?
Probably my grandmother that raised me. I was just looking at her picture before you guys walked in. I look at her every day and she's been gone over 30 years. But I aspire to be as kind as she was. I'm nowhere near there because there's a mean streak in me that I can't seem to permanently keep down. It pops up. And she—I never saw a mean streak in her. She had patience for all of us. And she raised two grandbabies, I'm the last one she raised. She was in her 50s, I think, when I became her daughter, and I was nothing but loved. And so I look at her every day because I miss her very much still.
TS: When and where do you feel the happiest?
For the past two years, onstage, holding a mic and singing, and, even though I have no training, I think my teacher skills helped me get the crowd riled up. And when they get up and dance to my songs (because I always do dance numbers), like, you know, Carlos Santana, "Corazon Espinado," or "Enrique Iglesias' Bailando," or "Vivir mi Vida" by Marc Anthony, I can get a crowd up and dancing. Keep in mind that they're inebriated, but we're all having fun.
TS: What do you consider your greatest achievement?
I'm the first one in my family to graduate from college and have, I guess, a professional career. Everybody that I grew up with, my family that raised me, were farmworkers, field workers, custodians, which, there's nothing wrong with that. But I know that I am my family's pride and joy. You know, two generations after me that's like, you guys, it's normal. But for my time in the '70s, as a Hispanic female, it was … I had to fight. I had to fight, not physically fight. But it was emotional and very, very stressful because I had no one in my background to get help from.
I was really lucky that I had a mentor teacher. And my high school teacher, in fact, was my mentor. I didn't know it at the time. And here I am, 63 and she's nearing her 80s. She's retired to Canyon Lake, so I visit her. She's almost like a mom if you want to call it that. We've now developed into, you know. She introduces me, I know her family, I know a lot of her friends. And she says this is my other daughter by another mother. She goes "We go way back." I got lucky there. Really lucky. 
"
I picked the perfect profession, because I've been surrounded by beautiful kids for close to 30 years now."
— Juana Gun
TS: What talent would you most like to have?
I wish I had a voice. Now that I've discovered that singing makes your heart happy and that when you sing for three or four minutes, people sing with you. And maybe for those three or four minutes, they forget what made them sad or whatever. And so, dancing has always made me happy. But now singing to people does, probably more, you know. 
TS: Where would you most like to live? 
Anywhere where there's a beach, even though I don't know how to swim. I love the sound of the ocean. I love the warm, salty air. I like to see families playing on the beach. I can just sit there for hours and go into the water and get wet to cool off and then come back under my umbrella. Read a book, take a nap, open my eyes and hear giggling and laughing. 
TS: If you could change one thing about yourself, what would it be? 
I've always struggled with weight. And I realize that that's all self-inflicted maybe, but I would like to know what it feels like to be slender for years, you know, and not have to work at it. And I realize that some slender people work at it, and they go to the gym but I just want to wake up slender. And just wonder how that feels. You know? All I can say is thank God for stretchy pants.
TS: What do you most value in your friends?
I went through a rough time in my marriage. My friends held me up and let me cry all the times I needed to cry. … So I guess their patience and their kindness. Patience and kindness. You know? 
TS: Who are your favorite writers? 
Probably lately it's been Gabriel Garcia Marquez and Isabel Allende. I love magical realism and any author that can, upon opening the book, immediately fill it with the vivid images that drag me into their world where I can see it, as I'm reading it, I see it in my head. To me, that's talent. And those two can make me do that.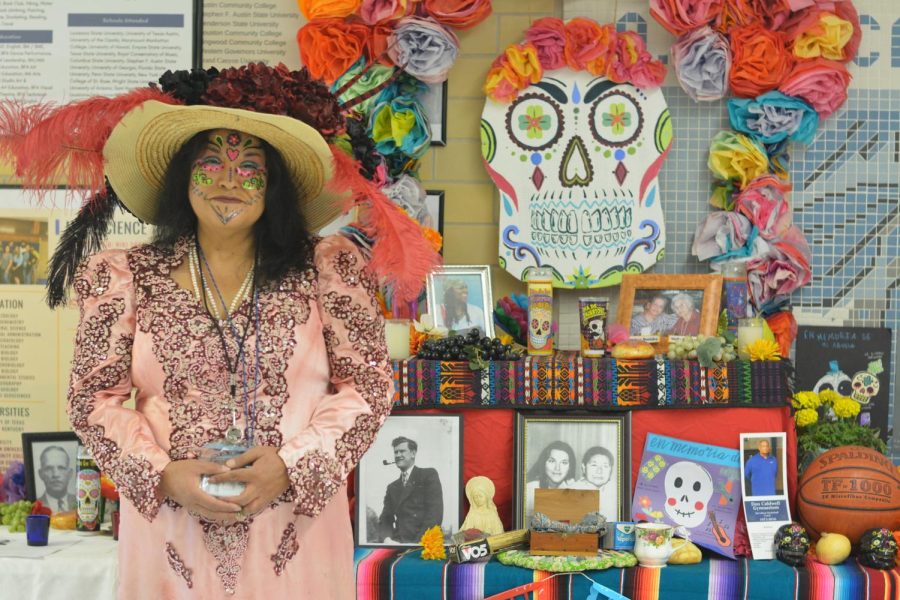 TS: What is your greatest regret?
Well, that my body didn't allow me to have children. I had two miscarriages, and that was super hard to deal with. Because I'm coming from a heavily populated Hispanic family where it's an expectation that you get married, you have babies. And so to have to deal with relatives that would question you, you know, at parties—that was so hurtful. It created a lot of stress and tears, until finally everybody figured out 'Oh, that couple can't have babies.' Or to have to even say it out loud: I can't. And so you kind of feel like, what's wrong with my body? And in the end, now that I'm in my 60s, I picked the perfect profession, because I've been surrounded by beautiful kids for close to 30 years now. So I love other people's children. And I have loved so many kids. It's not a joke when a teacher tells you they love you. You know, some children are harder to love. But most of you are so easy to love and it's like, okay, I missed out on the birthing part, but I didn't miss out on the giving and receiving love. And so that's my greatest sadness is not having my own. I'm everybody's tía, I'm everybody's cousin. But I'm never anybody's mom or grandma, and it still hurts a little but I don't cry about it anymore. I accept it because there's nothing but accepting.
TS: Who are your heroes in real life? 
The people that raised me, because they could have easily handed me back to my biological mother and said figure it out. These three adults raised me. My grandfather died when I was 3, and so it was just my grandmother, my cousin Josie, older than me by 12 years, and my Uncle Felix, older than me by 15 years. My Uncle Felix had just lost his dad, and then suddenly he became a semi-dad to me. That uncle and cousin were in their teens, and they became responsible for me and my grandma. They had to work, they had to drop out of school. So to me, they're always going to be my heroes, because I don't know that even I have the fortitude to do that, you know, take on a child that's not mine. I mean there's all kinds of beautiful families out there, and we're made up of bits and pieces. But it's still family, you know, thank God, thank God for them. They saved my life. 
"
I mean there's all kinds of beautiful families out there and we're made up of bits and pieces. But it's still family, you know, thank God, thank God for them. They saved my life."
— Juana Gun
TS: What's the trait you most like about yourself? 
My sense of humor. You know that I'm snarky and I try to make y'all laugh. I've been told by kids that I'm silly and I'm like, I know. But it comes from a good place, you know. I want you to walk in my door and feel no stress knowing that we're gonna have a good time. We might do something challenging but throughout the period you guys are always laughing so I know you're OK.
TS: How would you like to die? 
Oh, definitely in my sleep, like lights out. I don't want to know what's coming. I always tell God, gosh, I know I'm messing up many times but don't let me know what's about to happen. I'm so chicken-hearted, I just want it to be like, flip the switch. 
TS: What's your motto? 
I don't know that I have a motto. But I know that every morning on my way to work when I say my handful of Our Fathers I always say I just want to have fun with the kids today, you know. Help us get through whatever challenges we have to do because sometimes there are essays and sometimes there are phone calls, and I hear kids groaning, "Oh, no, not another cultural comparison." So probably it's like, let's just go to work and have fun.
TS: Is there anything else you want to add?
I'm getting really close to retirement. And these past, I guess, almost 20 years here at McCallum—the building is so ugly but the people walking these halls are some of the greatest kids and teachers I've ever known. And everywhere I go, I bump into McCallum Knights. I just bumped into one last night at a birthday party. And he's on my wall and he graduated like, I don't know 10 or 15 years ago. So whenever a former student sees you, on stage at the karaoke bar singing or at a random party in another town, and they look at you and they're like, 'Señora Gun!' and they smile, then I know that that child has good memories of McCallum High. And that I was a little part of that. That's all I want to do is, when people think of me later on, it's like, 'Oh, she was fun to be around.' That's it. You know, I want to love kids, and I want them to love each other. And I want things to be peaceful again. And, I don't know, I'm kind of scared of the politics right now. We haven't had peace, like total and complete peace. It's been health issues around the world. And now it's ugly politics and money and oil. And—God only knows it's so complex. I can't even understand it. I just want it to stop and everybody settle down and go back to being semi-nice, even semi-nice. I'll take that.
View Comments (3)