Knight Time at the Texas Relays
With three relay teams following headliner Chris Riley who won his event, Mac Track made a big splash at one of the biggest track-and-field events in the nation
When at Texas Relays, run really fast. That was the motto for the Knights runners that took on the Mike A. Myers Stadium track on March 25 and 26. Records were broken, personal bests were set, emotions were high, and of course, fun was had.
Chris Riley started off the action with a blisteringly fast 1,600 meters, finishing in 4:05.78, a new Texas  No. 1 and meet record.
The girls 4x400m relay team kept the ball rolling later that afternoon, coming through in 4:43.91, within only a few seconds of their season best time.
The boys Distance Medley Relay continued the action late that night under the stadium lights, and with a time of 10:16.71, became owners of the second best time in the nation.
The next morning, the girls 4x100m relay capped off the festivities with a time of 54.41, only a step behind their best time from earlier this season.
For a more in depth look at what went on at the 2022 Texas Relays for the McCallum Knights, check out this week's Tuesday Top 10.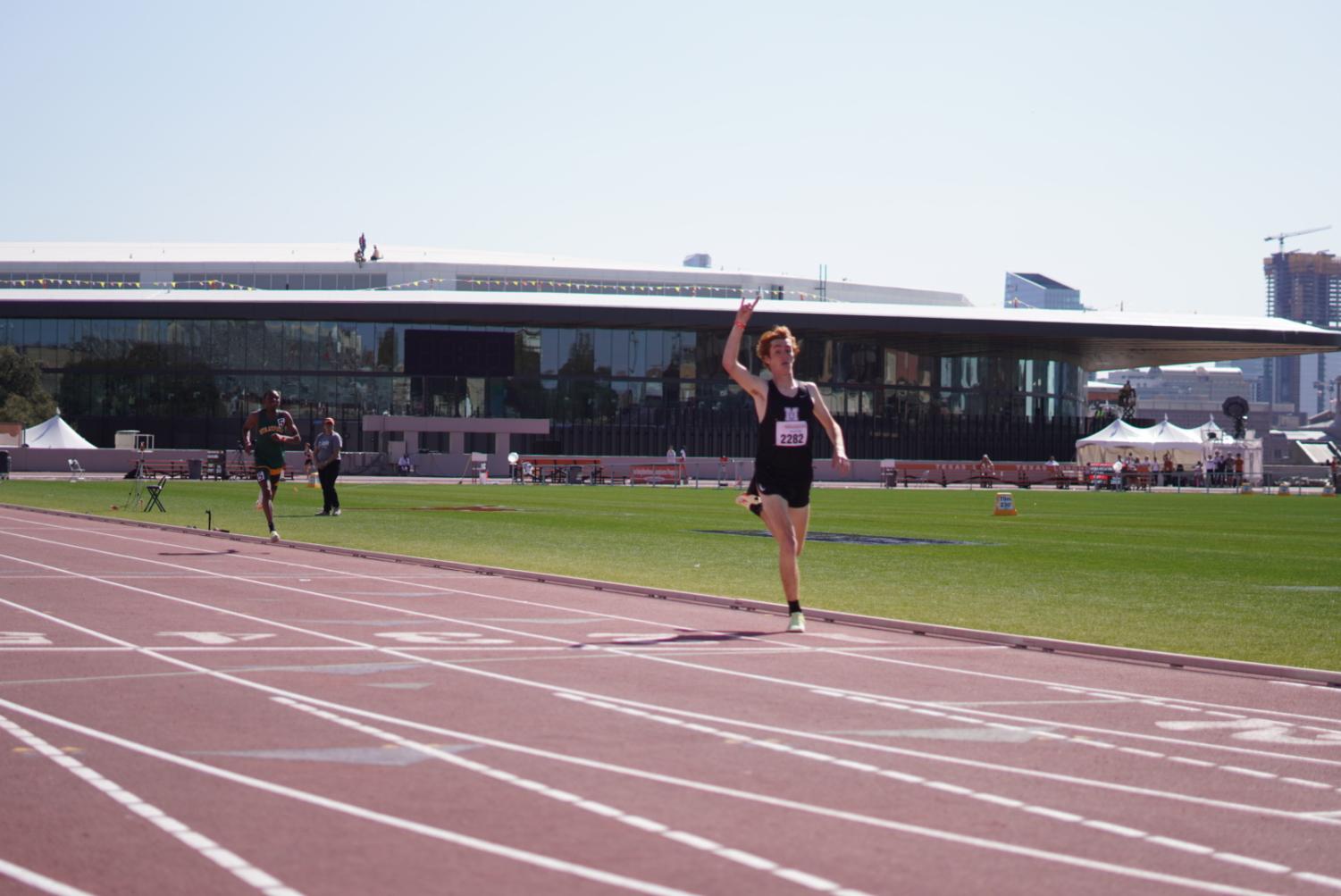 UNBELIEVABLE: As Chris Riley sprinted through the line at the end of the 1600m at Texas Relays, there was nothing but empty space in front of him. As he put up the Hook 'em Horns sign in victory, he couldn't believe what was happening.
"I always wanted to run at Texas Relays, but I never thought I would have the chance to win it."
Still in disbelief, that's when Riley looked up at the scoreboard and his winning time.
At the top of the scoreboard, it read 4:05.78 right next to his name for all the world to see.
And yet still, Riley couldn't believe it. It felt like he was in a dream.
"I didn't think it was real. I was expecting to go sub 4:10 but I wasn't expecting to get the record."
That time put him in a league of his own. The man for whom the mile he had raced, the legendary Leo Manzano, had just had his meet record broken. No other runner in the state of Texas had run faster since 2017. He was now a part of the fastest 10 runners in Texas running history.
For Riley and anyone watching, what he had just done was unbelievable. But you better believe it, because his name will be etched in Texas Relays history forever.
Caption by Thomas Melina Raab. Photo by Charlie Partheymuller.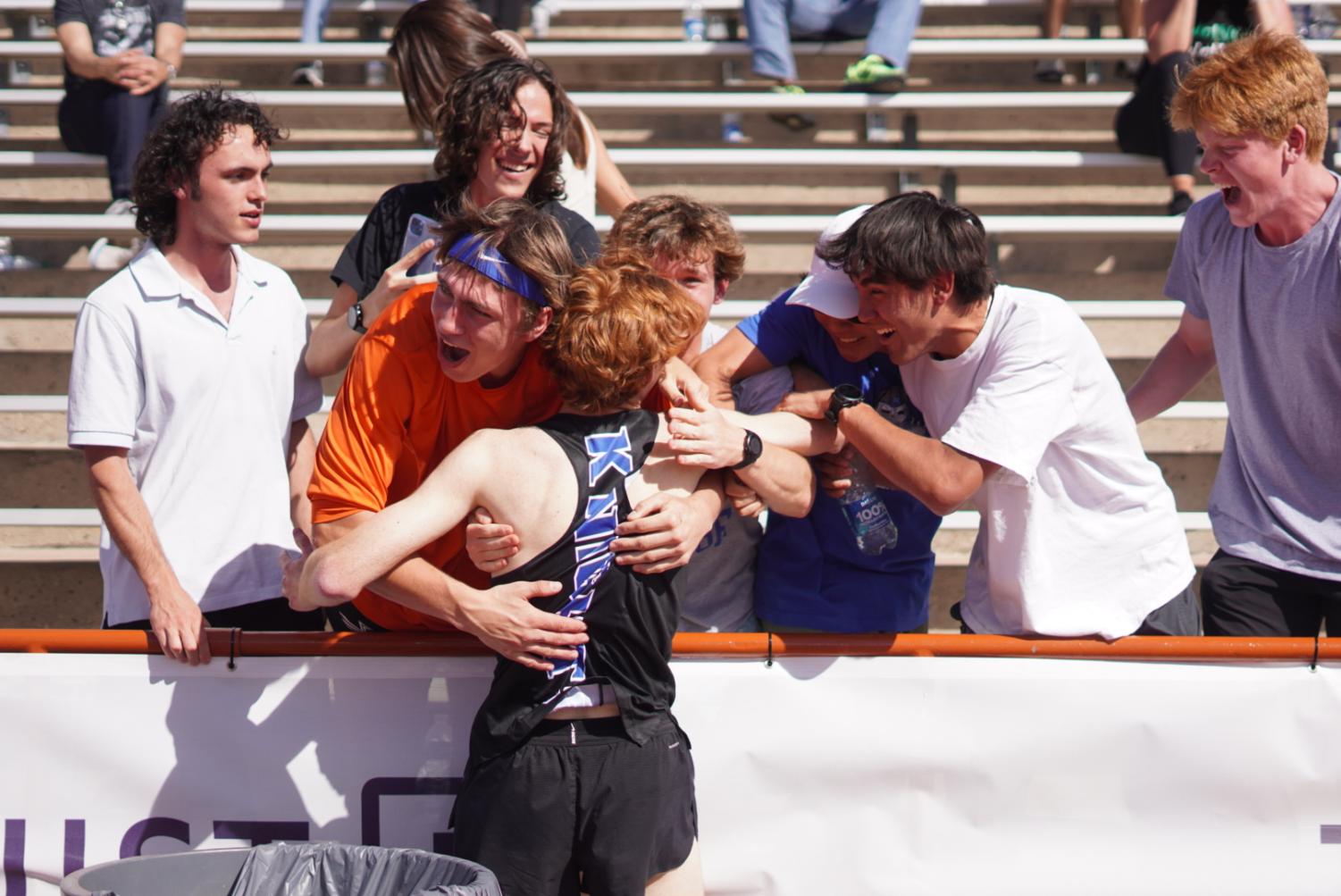 MAKE THE FAMILY PROUD: Chris Riley was met with a swarm of overjoyed friends in the stands after his record 1600m run.
One of those friends, Alex Tita, experienced firsthand how much Riley had trained for moments like these, and couldn't be more proud of him.
"I was so proud of him. Watching him cross the finish line with not only a personal record, but a school, and meet record was very special. His dedication to running is unmatched, and I hope to see him cross the finish line with even more record breaking times in the future."
After missing the entirety of his cross country season with a stress fracture, the dedication that Tita mentioned has become Riley's greatest weapon. Through 60 mile weeks and hours upon hours of training, he's been able to propel himself, not just back to where he was pre-injury, but much, much, faster.
With the way he's been running this season, it will be no surprise to anyone when there are many more moments like these. Riley will only run faster, and the stands will once again fill with crowds of people ready to watch the show. Caption by Thomas Melina Raab. Photo by Charlie Partheymuller.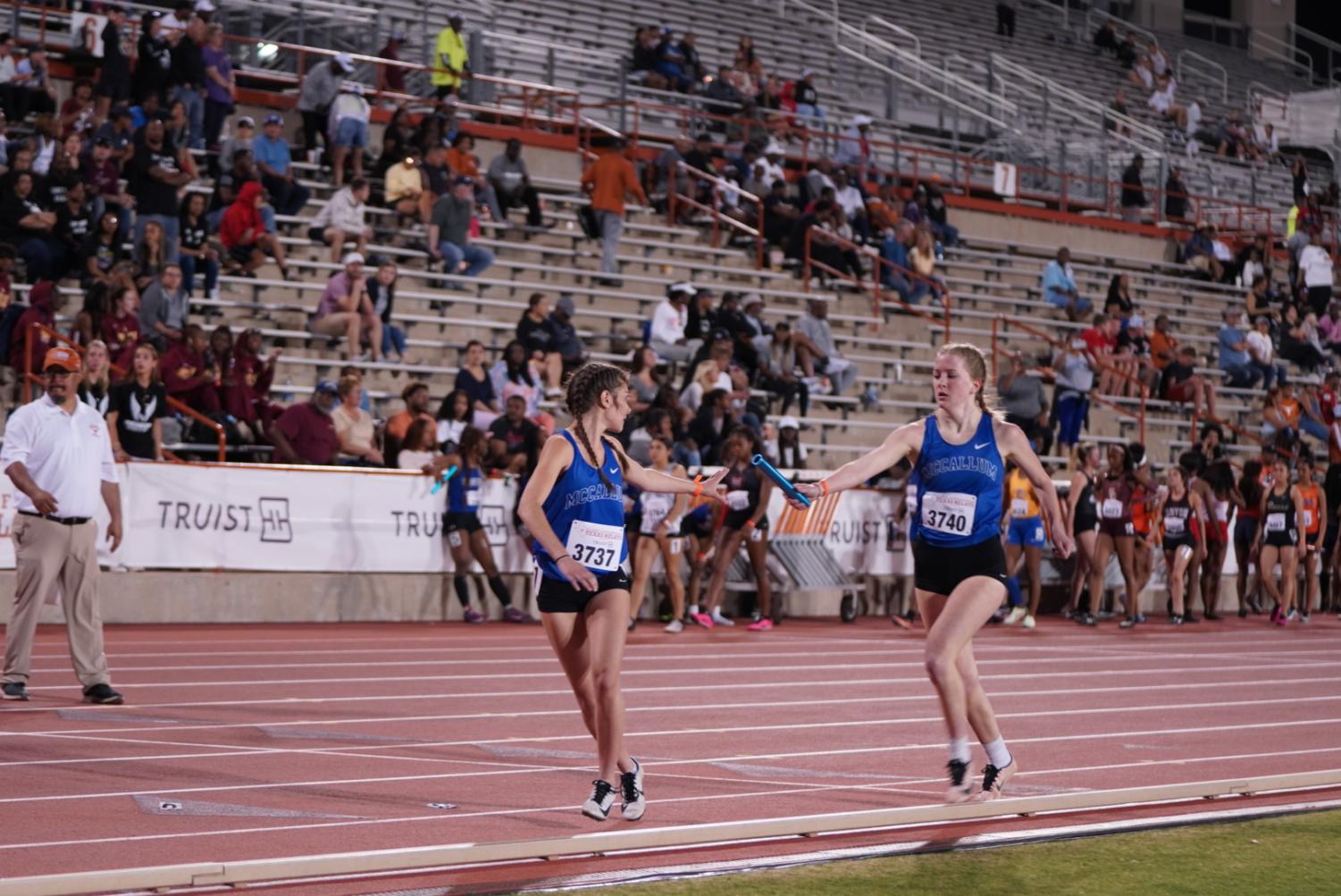 The girls 4x400m relay quartet of Stella Davidson, Olivia Escalante, Charlotte Stevens and Esme Barraz also competed for Mac track under the Friday night lights at the Texas Relays at Mike Myers Stadium. In this photo, Barraz receives the baton from Davidson. While the team didn't place well in their heat, just qualifying for the event, which  brings together the top high school and college track-and-field athletes, was an accomplishment, and the team ran a 4:43, close to their season best relay time for the year. "It was cool watching college athletes and professionals run at the same meet as us," sophomore Esme Barraz said. Barraz is grateful for the experience. "While our results were rough," Barraz said, "it was a special experience." Caption by Cassidy Levin and Charlie Partheymuller. Photo by Charlie Partheymuller.
In the Knight's first ever Medley Relay, the team was flying with Thomas Melina Raab setting the tone with his quick 1200m. The team ran a 10:16, running themselves into second place for the race and also posting the second-fastest time in the even in the whole country. "It was a new experience for most of us," Melina Raab said. "The crowd of runners was crazy and the fact that the 1200m is only in this relay, it was a tough race to pace." Caption and photo by Charlie Partheymuller.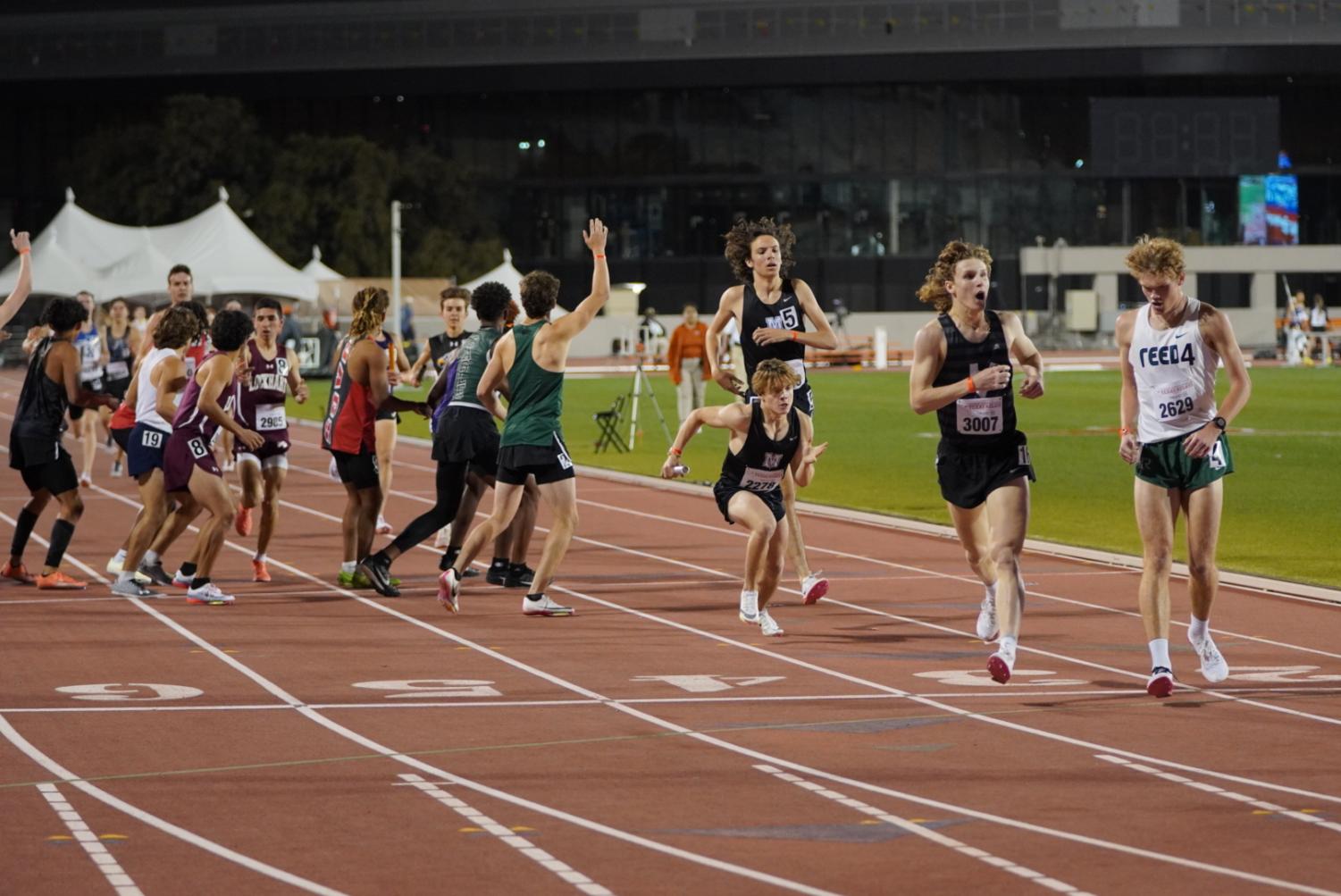 Handoffs can make or break relays, and Major Faught saved the Knights distance Medley Relay early on, having to juke two runners who crossed his path after the first handoff. Faught kept the good position the Knights had, splitting a :55 for his 400m leg. "I was anxious before the race knowing handoffs are where we hadn't practiced much," Thomas Melina Raab said. "I had a tough time finding Major through the crowd, but once I found him, he flew." Caption and photo by Charlie Partheymuller.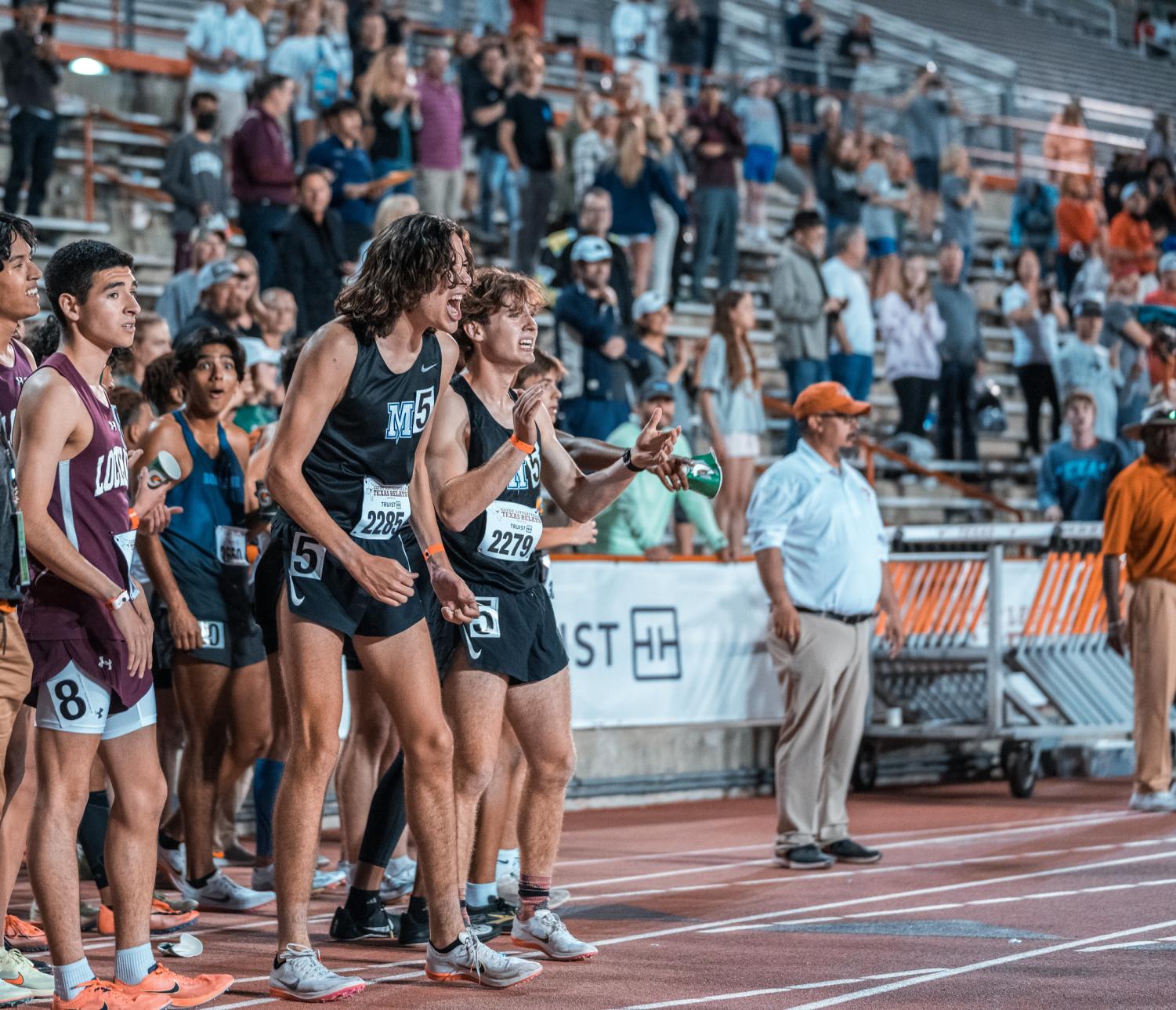 A MIX OF EMOTIONS: Watching from the sideline as fellow runners Major Faught and Chris Riley sped around the track, the emotion going through Robert Krajicek's head was tremendous.
"It was so exciting and thrilling watching Chris and Major run."
With adrenaline rushing through his head, the five minutes he was watching from the sidelines, screaming at his teammates, was nothing more than a blur.
But when Riley came through the line, securing a 2nd place finish, all that emotion turned into one: joy.
"I was just completely overjoyed when it was finished."
Under the bright lights of Mike A. Myers Stadium, Krajicek celebrated with his teammates, now holders of the No. 2 DMR time in the nation.
Caption by Thomas Melina Raab. Photo by Jamison Micheal.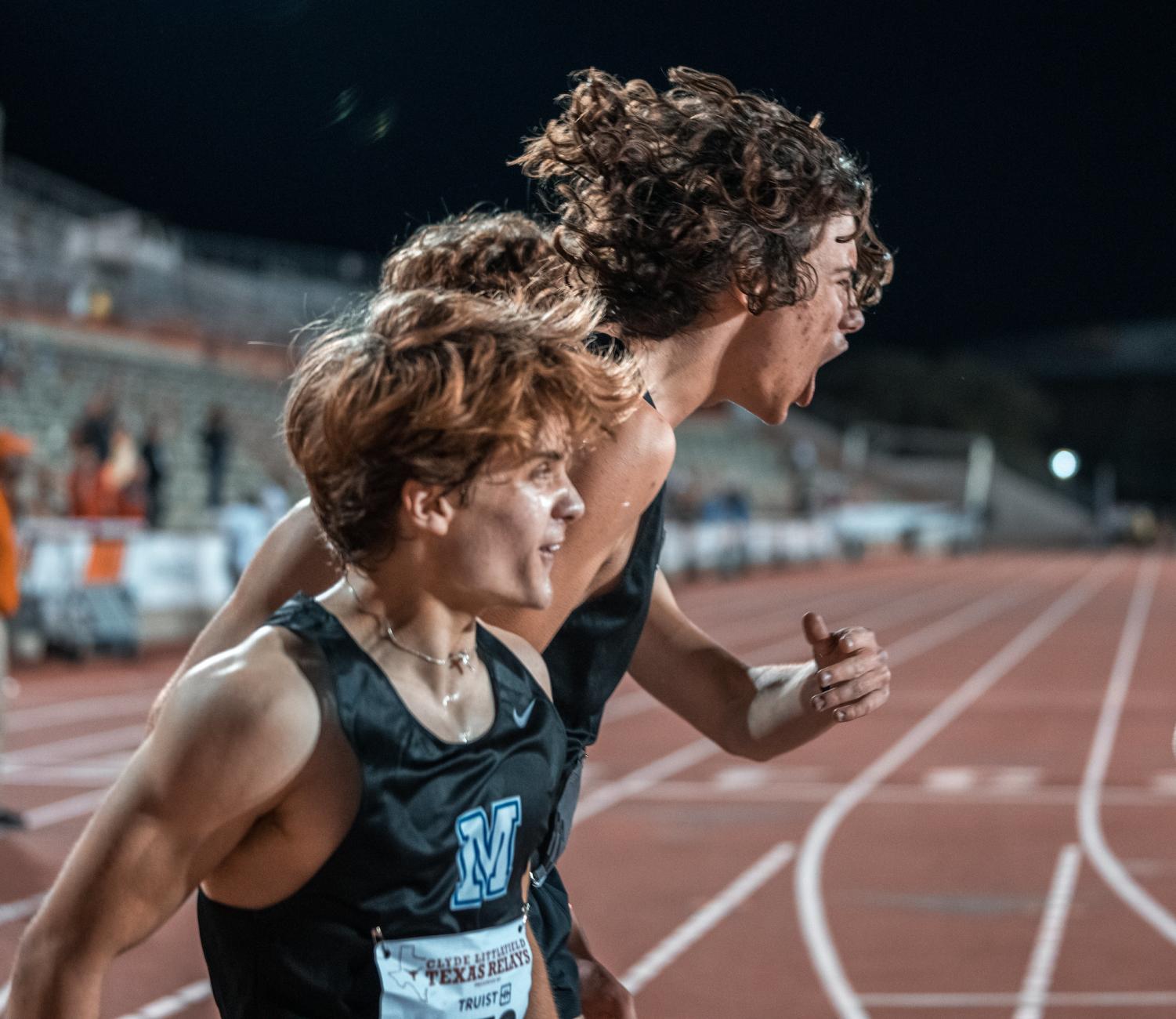 Despite the race officials best attempts at holding them back, seniors Thomas Melina Raab, Major Faught and Robert Krajicek rush onto the track as senior Chris Riley crossed the final leg of the relay. "There was so much emotion," Melina Raab said. "We were all screaming and jumping up and down." For Melina Raab, part of what made the victory so sweet was who he was sharing it with. "Chris, Robert and I are all really close," Melina Raab said. "Not only are we good friends, but we train together every single day and it just adds in another factor to the excitement. We also even got to know Major a lot more during this process too." Looking back at the "exhilaration" that came from beating some of the fastest kids across Texas, Melina Raab knows he won't be forgetting this experience anytime soon. "It was probably one of the best nights of my life," Melina Raab said. Caption by Alysa Bijl-Spiro. Photo by Jamison Micheal.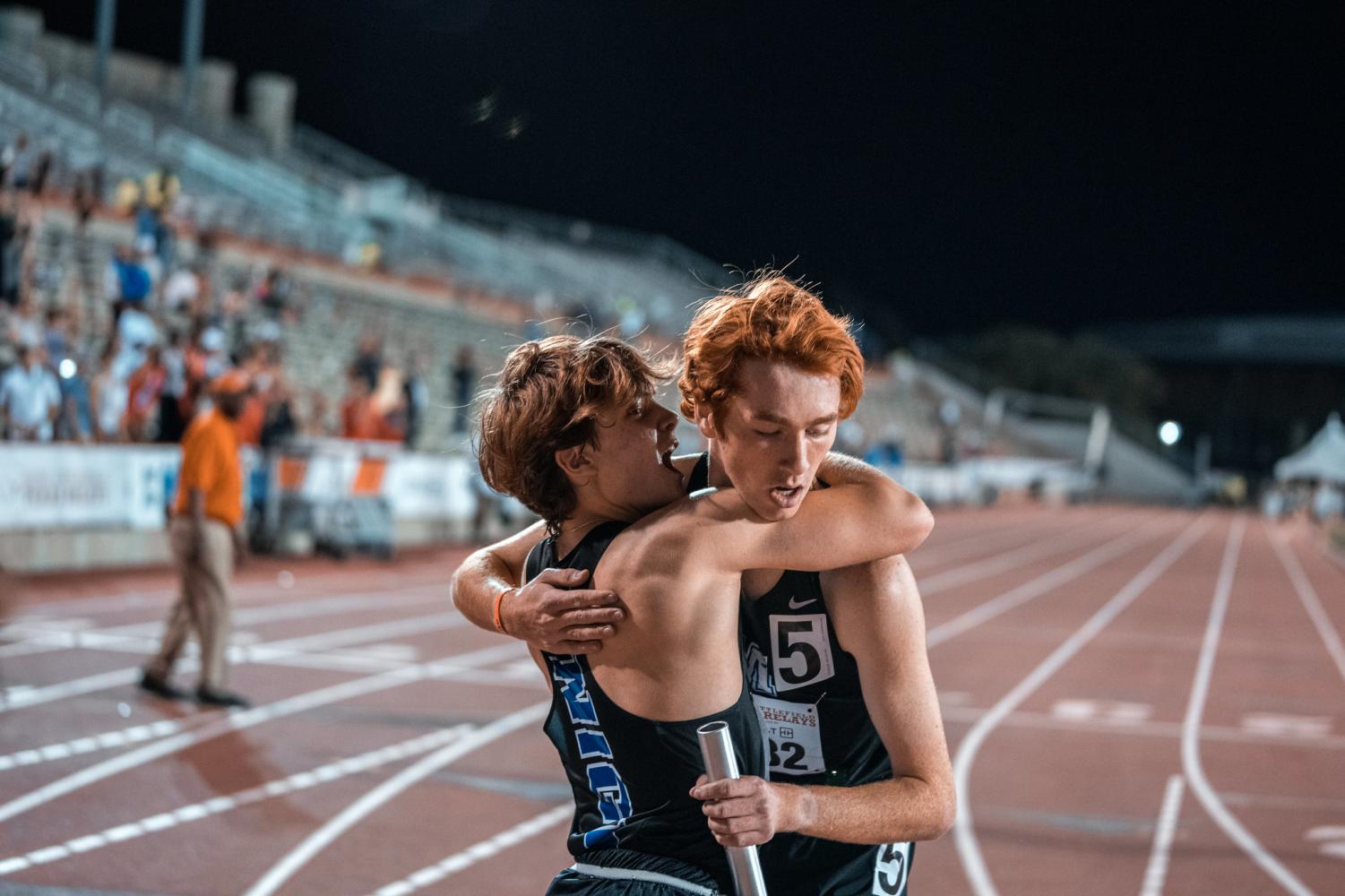 PROUD PAT ON THE BACK: Senior Major Faught goes in for a celebratory hug after senior Chris Riley crossed the line in the Distance Medley Relay. Faught was bursting with energy while Riley recuperated from his blazing 4:08 1600m split. "Chris [had just] crossed the line, and I ran out of the holding area to yell at him," Faught said. Faught felt "proud and pumped" for Riley and the rest of the DMR crew. Caption by Lucy Marco. Photo by Jamison Michael.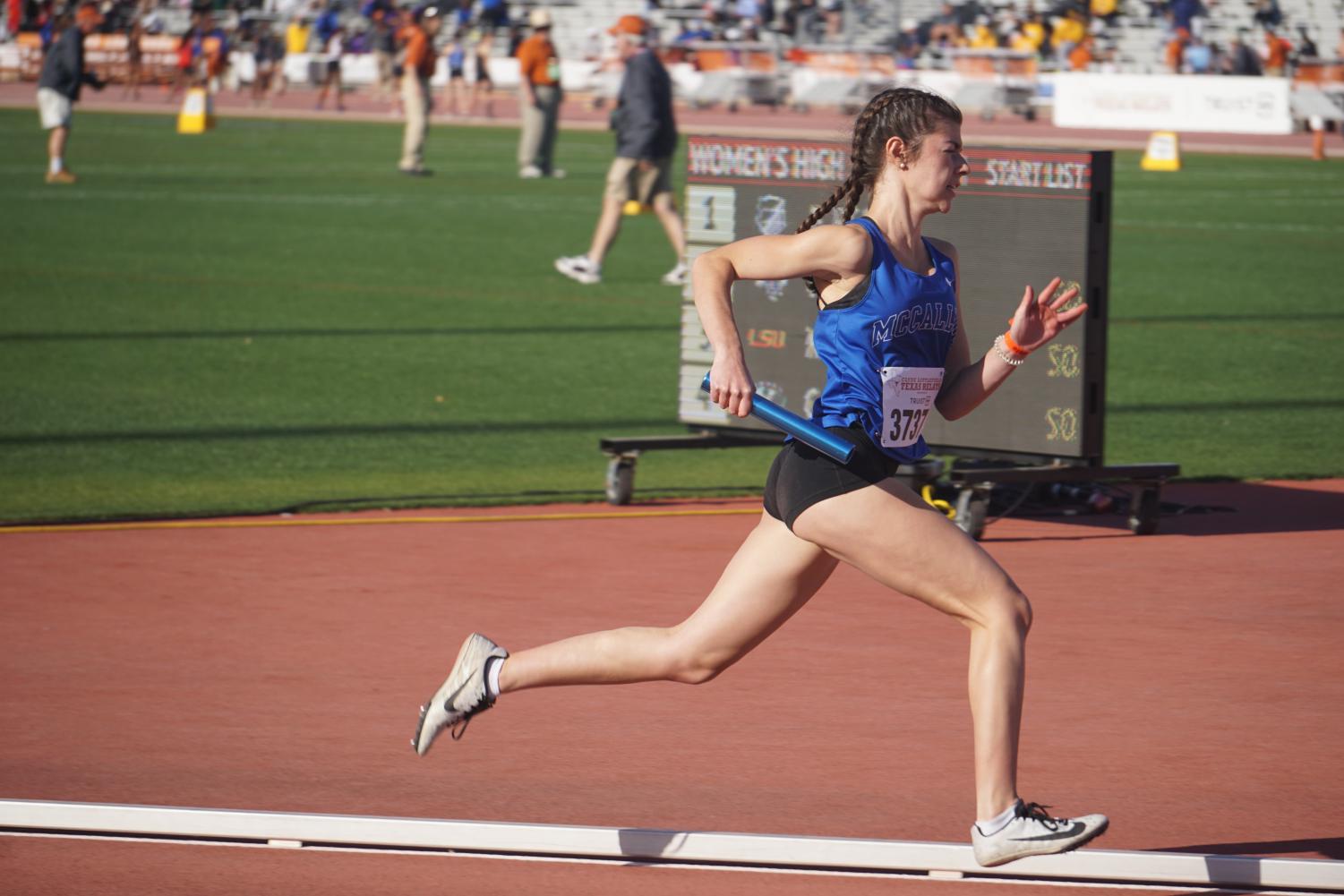 STEP UP TO THE CHALLENGE: Olivia Escalante, with thousands of eyes looking down on her, led off the girls 4x100m at Texas Relays early on Saturday morning.
Being able to start everything off at the sound of the starting gun, looking out at the packed stands, watching as the rest of her teammates flew around the track, the experience was Escalante's favorite part.
"It was a really fun experience. Even though the people we were racing were definitely above our level, it was cool to be able to compete on the UT track."
Caption by Grace Vitale. Photo by Kennedy Weatherby.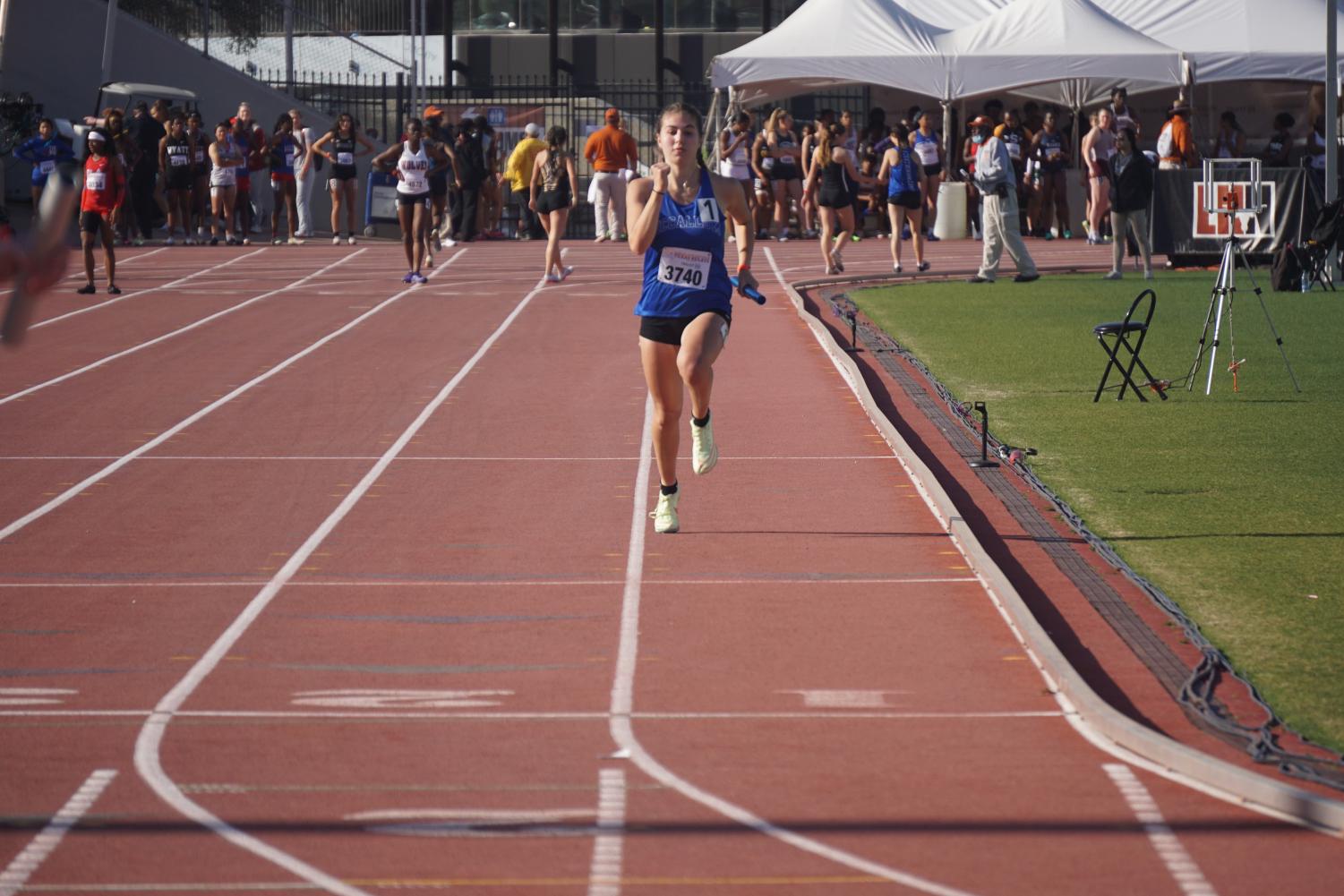 THE ART OF THE SPRINT: Junior Zoe Tanner got the baton with plenty of ground to make up on some of the fastest sprinters in all of Texas. But instead of shying away from that challenge, Tanner chose to rise to it.
Arms and legs pumping, chasing down the finish line, Tanner felt calm. Sprinting down the straight-away is what she does, this was no different.
"I felt calm and in the moment, trusting that all the work that I've put in this season would pay off no matter the end result."
Like an artist with her work in front of her, it was as if Tanner was one with the track.
When the artist's work was done, it was one her and her three fellow artists could be proud of. Regardless of place, they were more than happy with their time and their ability to step up in the spotlight of such a huge event.
Caption by Thomas Melina Raab. Photo by Kennedy Weatherby.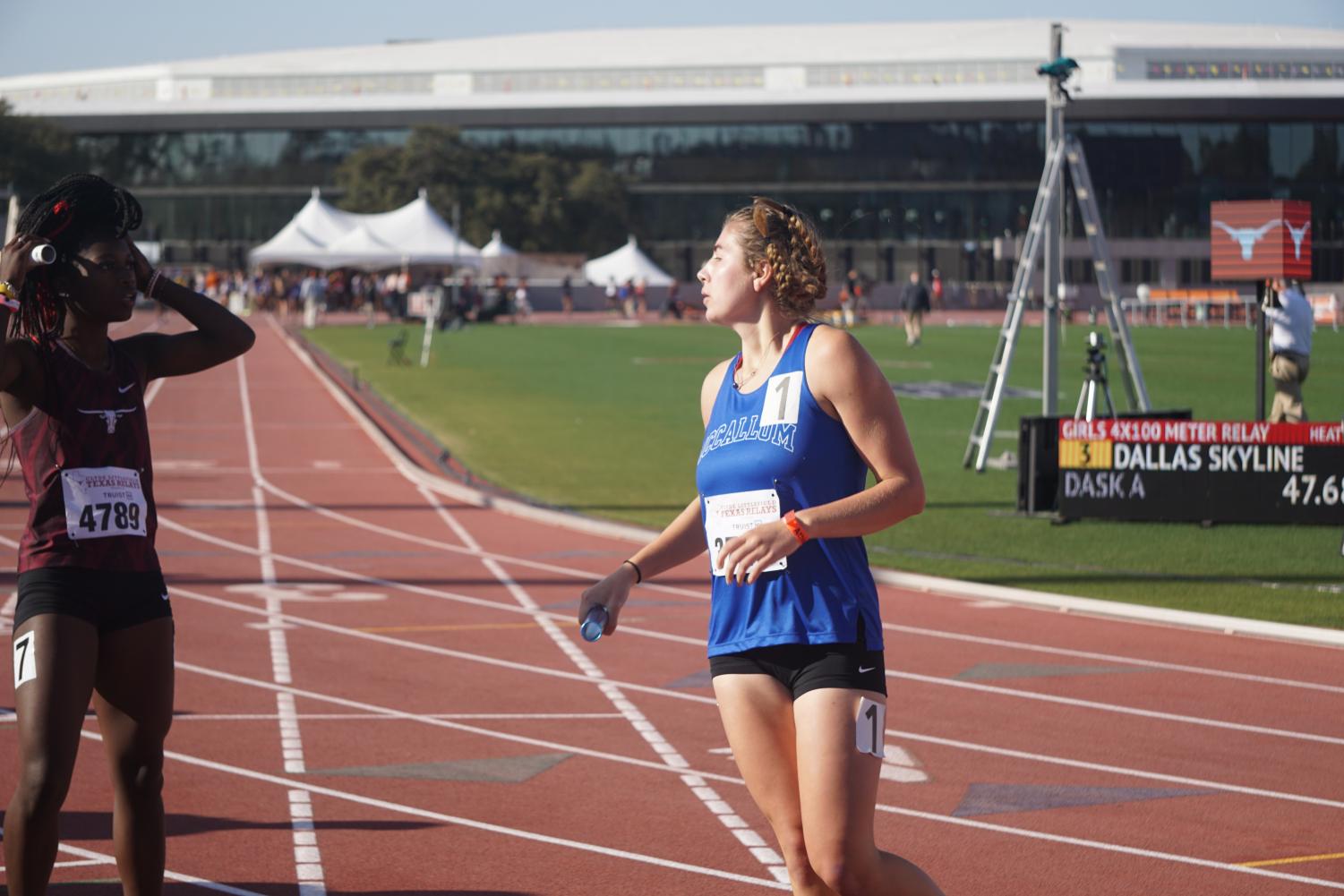 ALL FOR THE EXPERIENCE: When junior Zoe Tanner crossed the line to cap off the girls 4x100m at Texas Relays, there was nothing but happiness coming from the four Knight runners.
Sophomore Gabi Alfarache said just being able to compete in such a wild environment was enough for the team to enjoy themselves.
"We were happy with how we did and happy we were able to get the experience of running there."
The girls' time of 54.41 came within just a few 10ths of a second of their season best, so they had plenty to celebrate about.
They won't celebrate just yet, however, until they can turn this big race experience into a big performance at the district meet on April 14.
Caption by Thomas Melina Raab. Photo by Kennedy Weatherby.