Knights tame Panthers to repeat as bi-district champs
Hauck scores a goal in each half; Gomez ices game with career goal No. 130 as Mac advances to area round tonight
The girls varsity soccer team defeated the No.4 seed Pflugerville 3-0 last Friday night. After repeating as the No.1 seed and the district champs by defeating LASA in their last regular-season game, the Knights also earned a bi-district title for the second year in a row.
The Knights gained an early lead over the Panthers with a goal scored by sophomore center midfielder Sarah Hauck. Up 1-0 at halftime, they knew finishing strong in the second half was going to be key to their victory.
In the second half, the Knights were able to score two more goals, one again by Hauck and one by senior forward Mia Gomez, securing the Knights 3-0 lead and securing Gomez her 130th foal of her high school career.
"During the first half, I was trying to think optimistic and tried to never give up during the game," said Hauck, who added that after her second goal, "I felt reassured that we would win."
The Knights' played again in the 5A playoffs this evening against A&M Consolidated at Giddings High School. We will have coverage of that game on our platforms soon.
Until then, please enjoy this coverage of Friday's big playoff win as this week's Tuesday Top 10.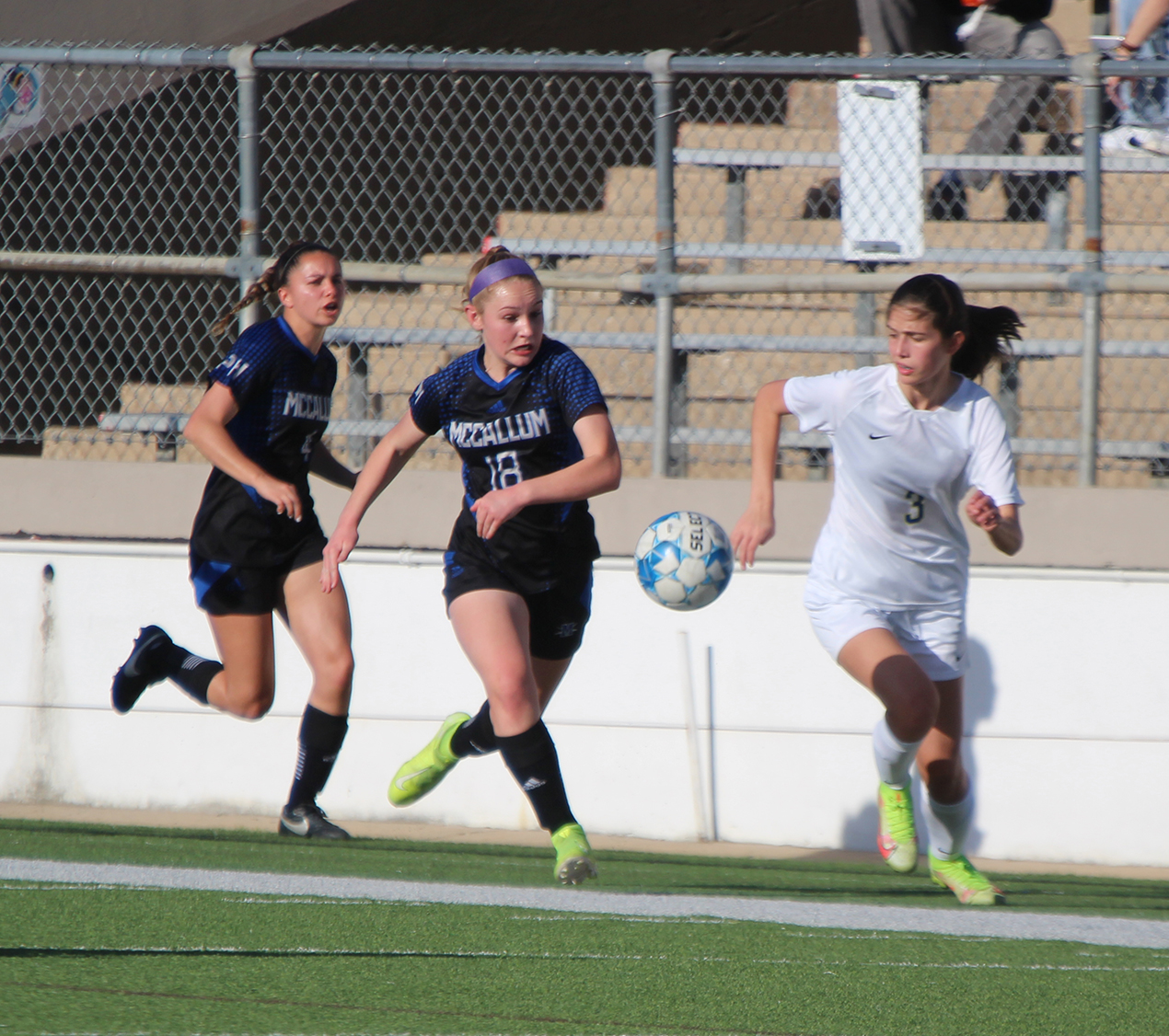 Sophomore Caroline Owen races to beat a defender on the other team to the ball during the girls soccer game against Pflugerville on Friday. The team advanced to the second round after beating Pflugerville 3-0. "Overall I thought the game went really well, but there were definitely things we needed to improve on like communication and aggression," Owen said. Caption by Grace Vitale. Photo by Dave Winter.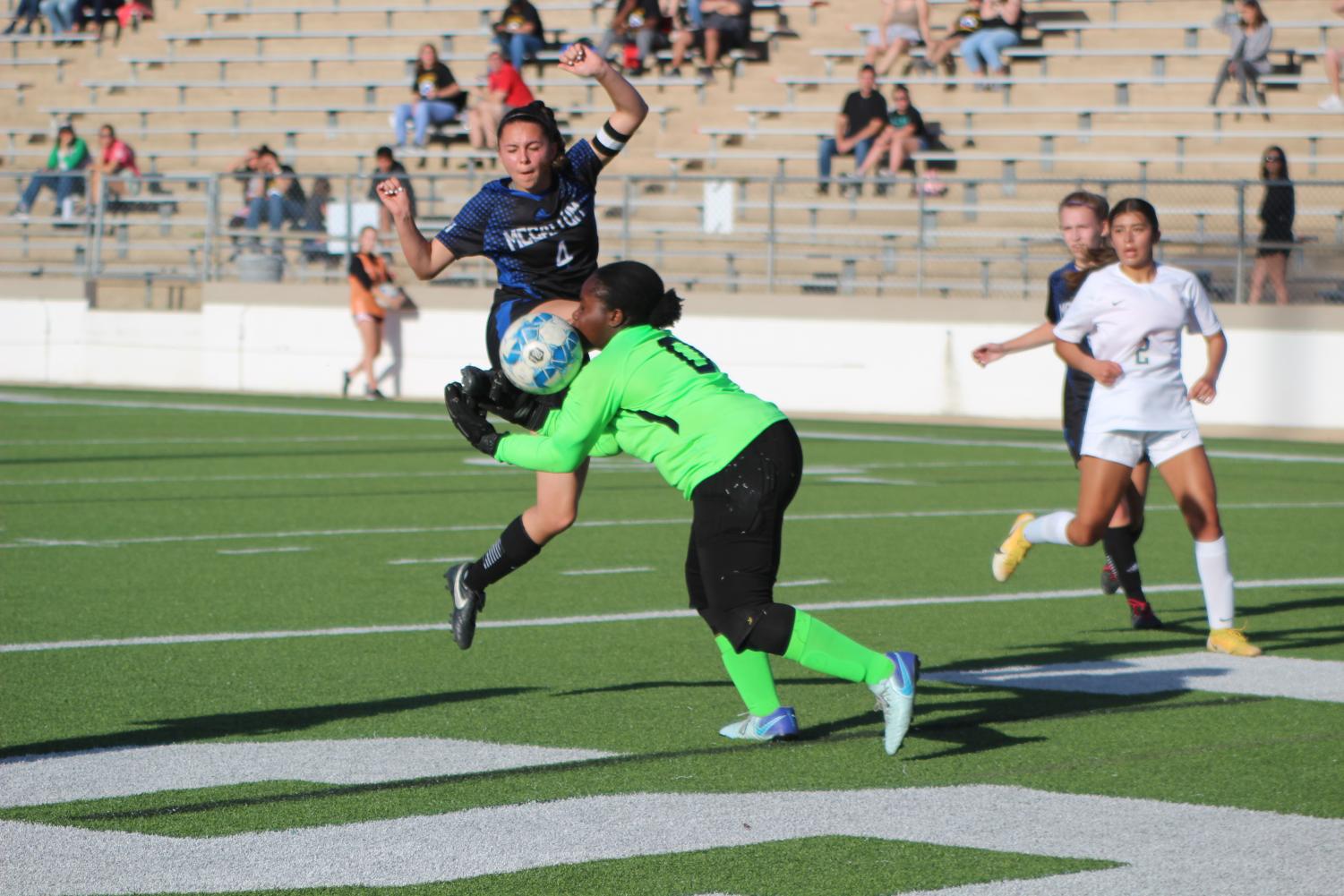 Senior Mia Gomez misses a goal against Pflugerville in the first half of Friday's playoff game. Gomez believes she was having an off day in terms of shooting thanks to playoff nerves. She wasn't alone. Her teammate Sarah Hauck said the whole team got off to a rough start in the first half. "I think in the beginning we had some trouble connecting," Hauck said, "but as the game went on we started playing more like a team." Caption by Cassidy Levin and Dave Winter. Photo by Dave Winter.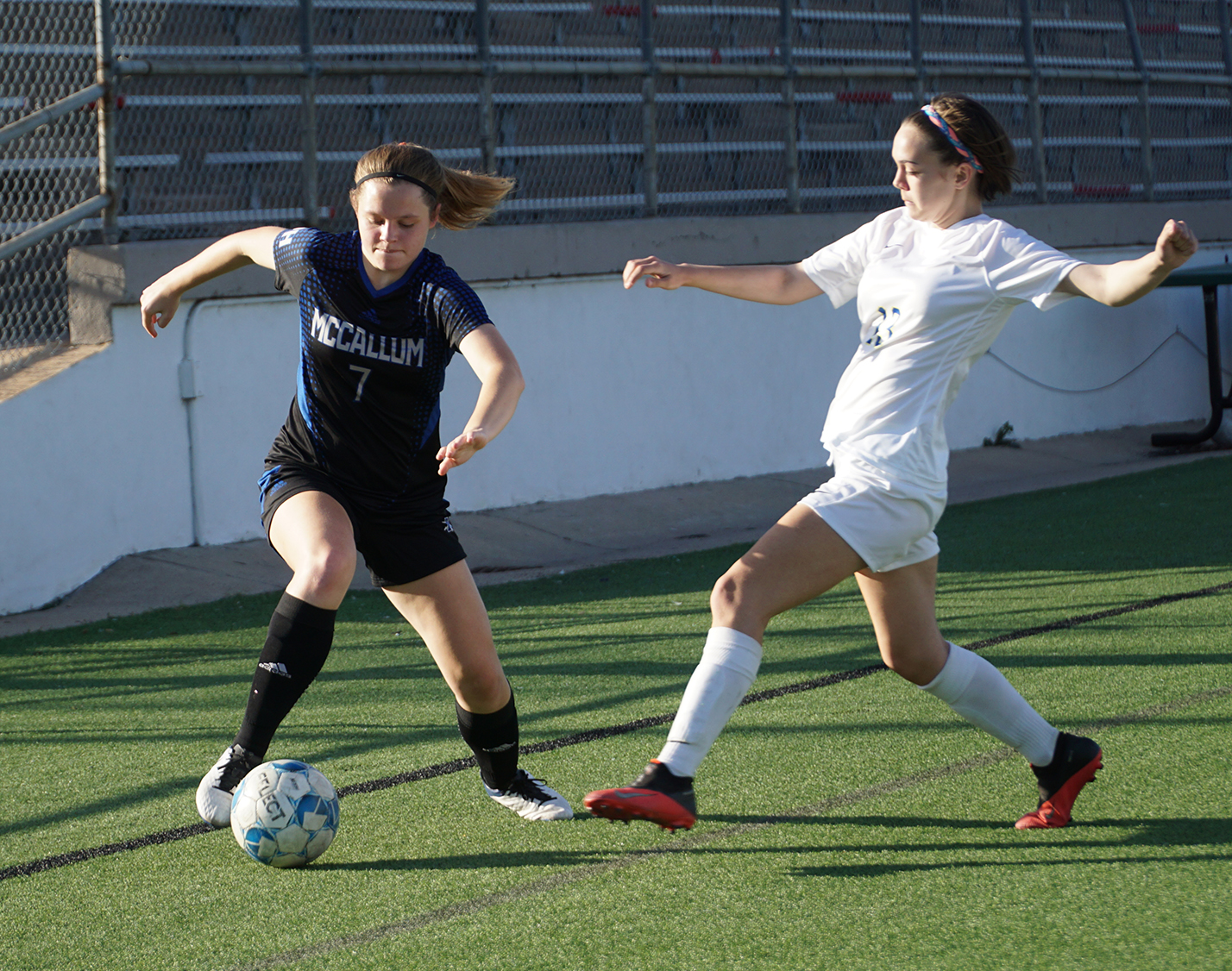 Senior Elly Schottman is seen here crossing the ball during the Knights 3-0 victory over Pflugerville last Friday at House Park. The first two goals were scored by Sarah Hauck and the last one by Mia Gomez. The final goal that Gomez scored in the second half was her 130th of the season. Schottman said of the game, "I think this was a good start to the playoffs." Caption by Oliver Boyd. Photo by Kennedy Weatherby.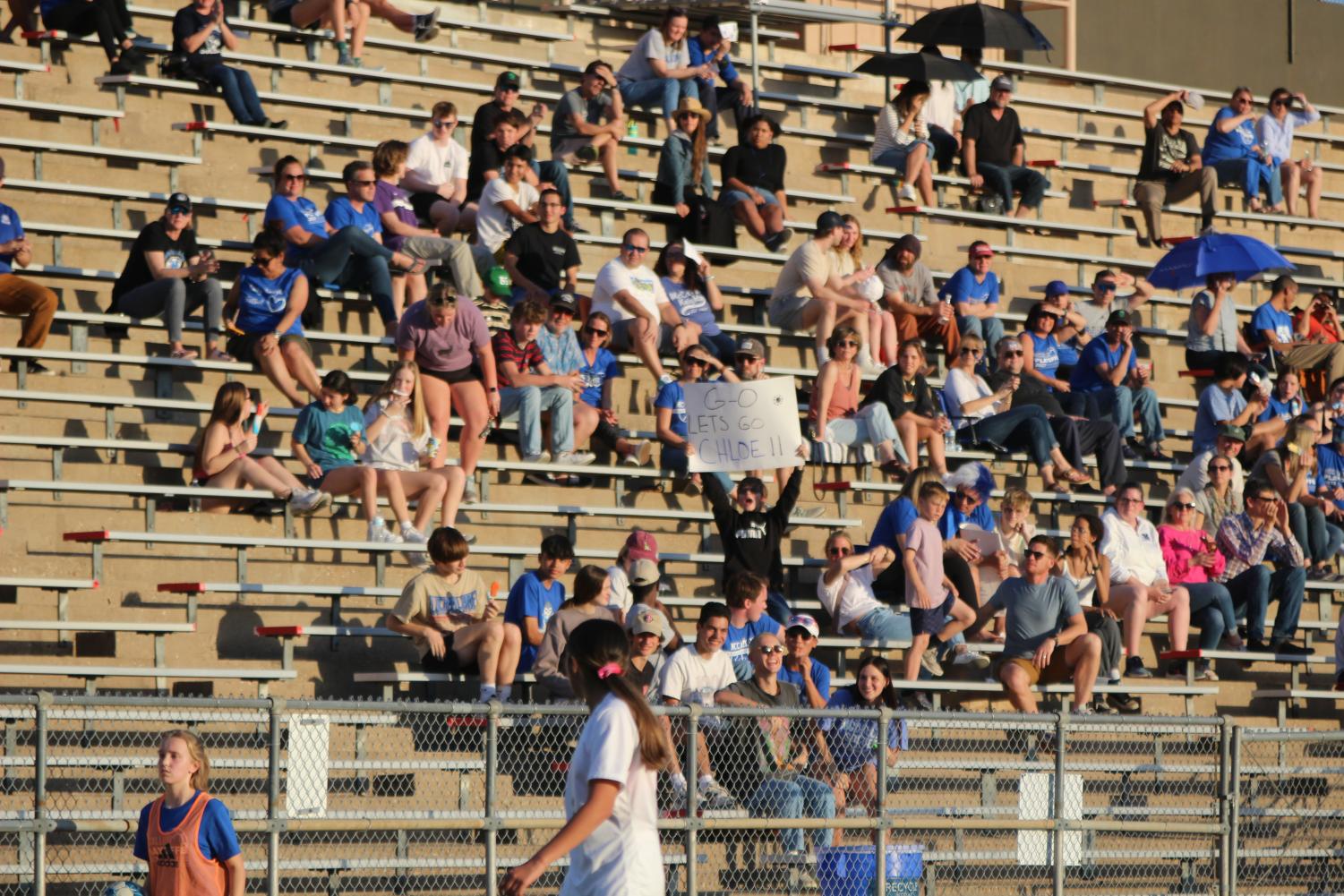 Junior Chloe Anderson got lots of support at the bi-district playoff game against Pflugerville on Friday. Her family and her friends came to cheer her and the team on as they took one step toward a state championship. Her little brother Corvin held up his sign throughout the game. "It made me feel happy to see my friends, family, and neighbors supporting me," Anderson said. "It was a very sweet thing." Caption by Chris Ferina. Photo by Dave Winter.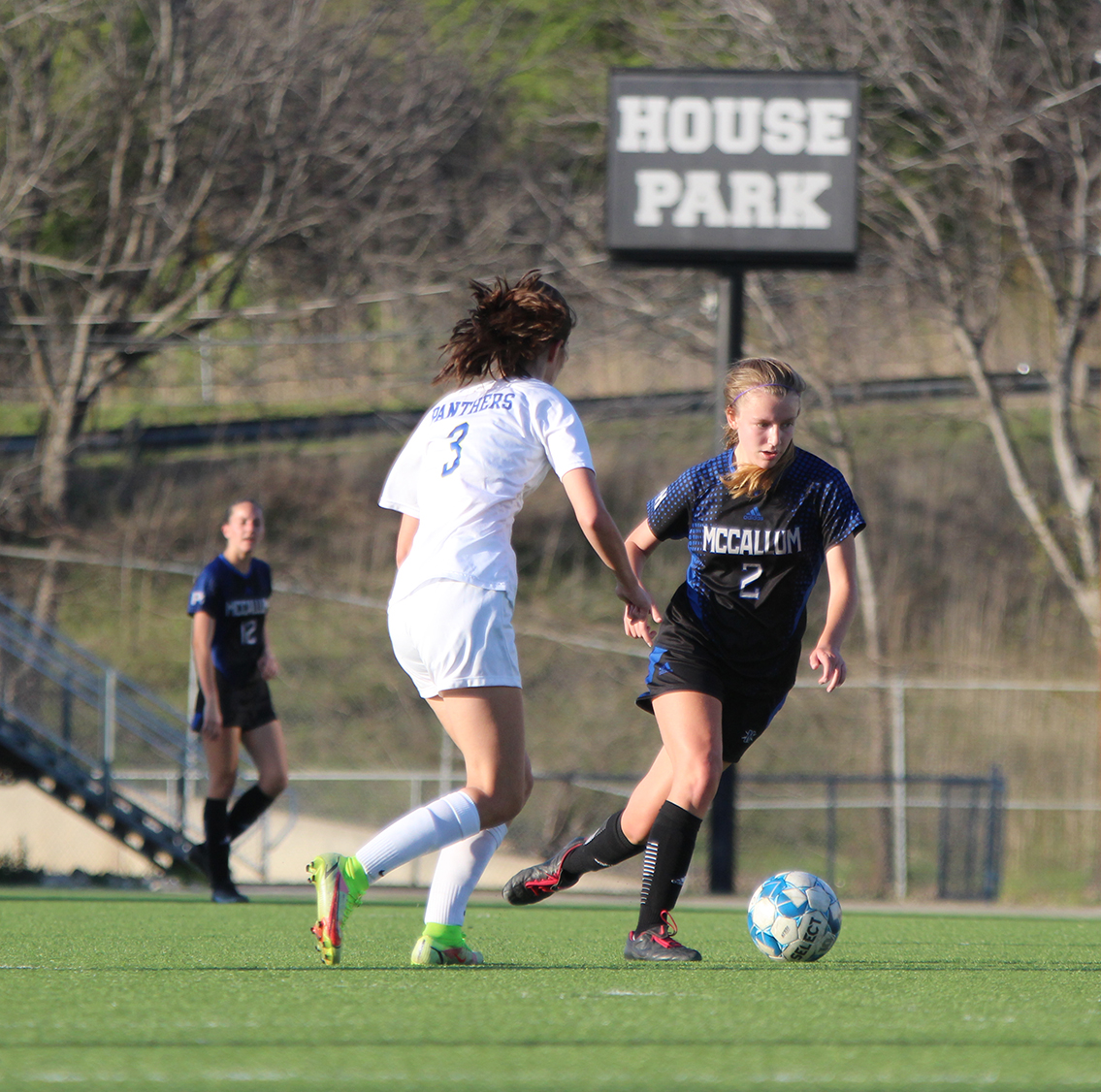 Sophomore Kat Klein takes the ball down the field, and looks up for a pass. At this first half moment in the game against Pflugerville, MacCallum was ahead, 1-0. ¨I felt pretty good," Klein said. ¨I felt like we had a lot of the possession and getting a lot of shots.¨ While still being confident about their chances, Klein focused on pushing for more goals to seal the deal. ¨Our communication felt off in the first half,¨ Klein said. ¨By the second half we started to find our rhythm.¨ Caption by Elena Ulack. Photo by Dave Winter.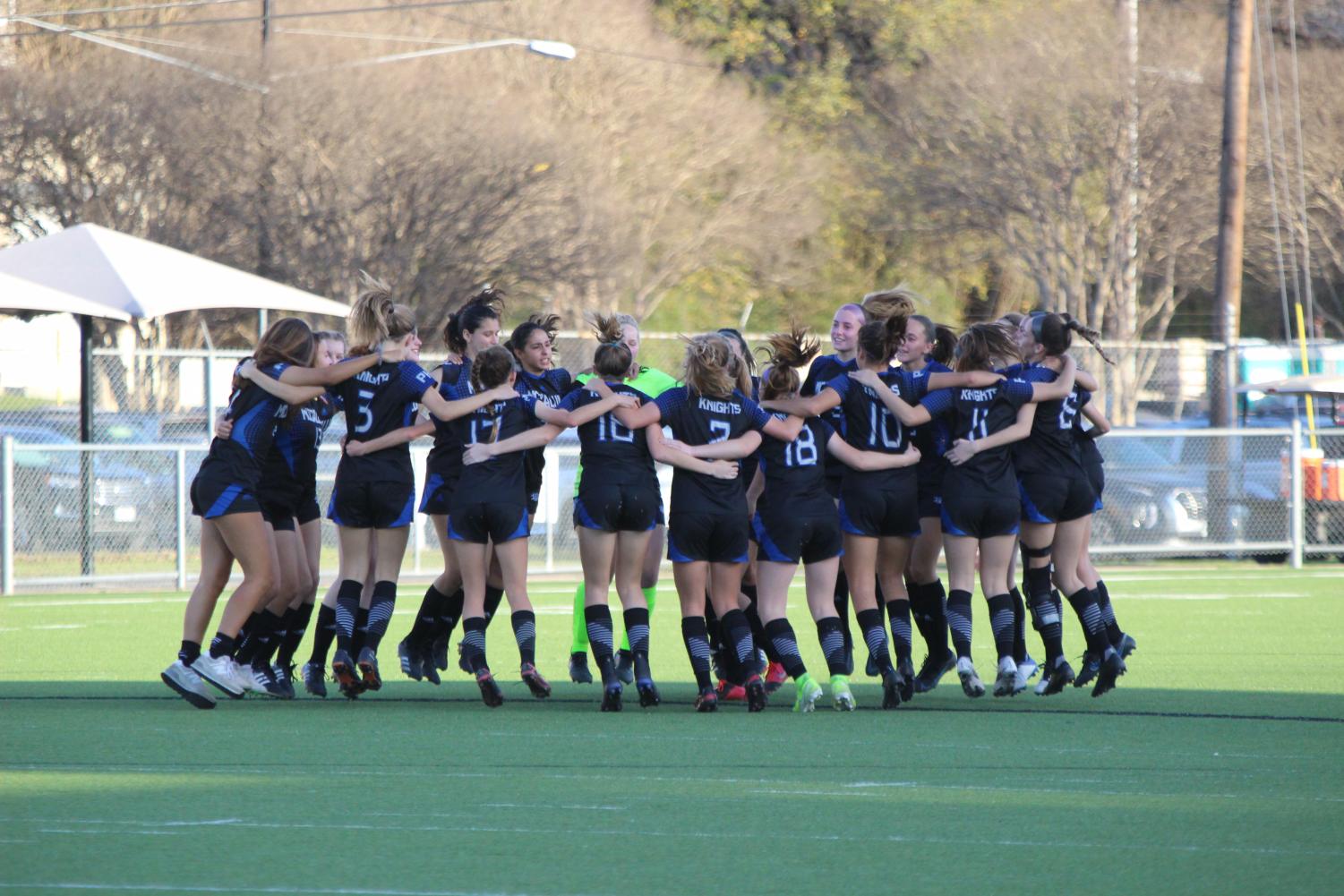 The Knights get fired up for the second half with their traditional "Yay Coach!" The tradition started as a way to support former head coach Nancy Honeycutt Searle after her husband Pat Honeycutt's passing in 2009. "The team started it back then to support her and honor him," senior Anna McClellan said, "Since then it's become a great way to hype the team up." Caption by Cassidy Levin. Photo by Dave Winter.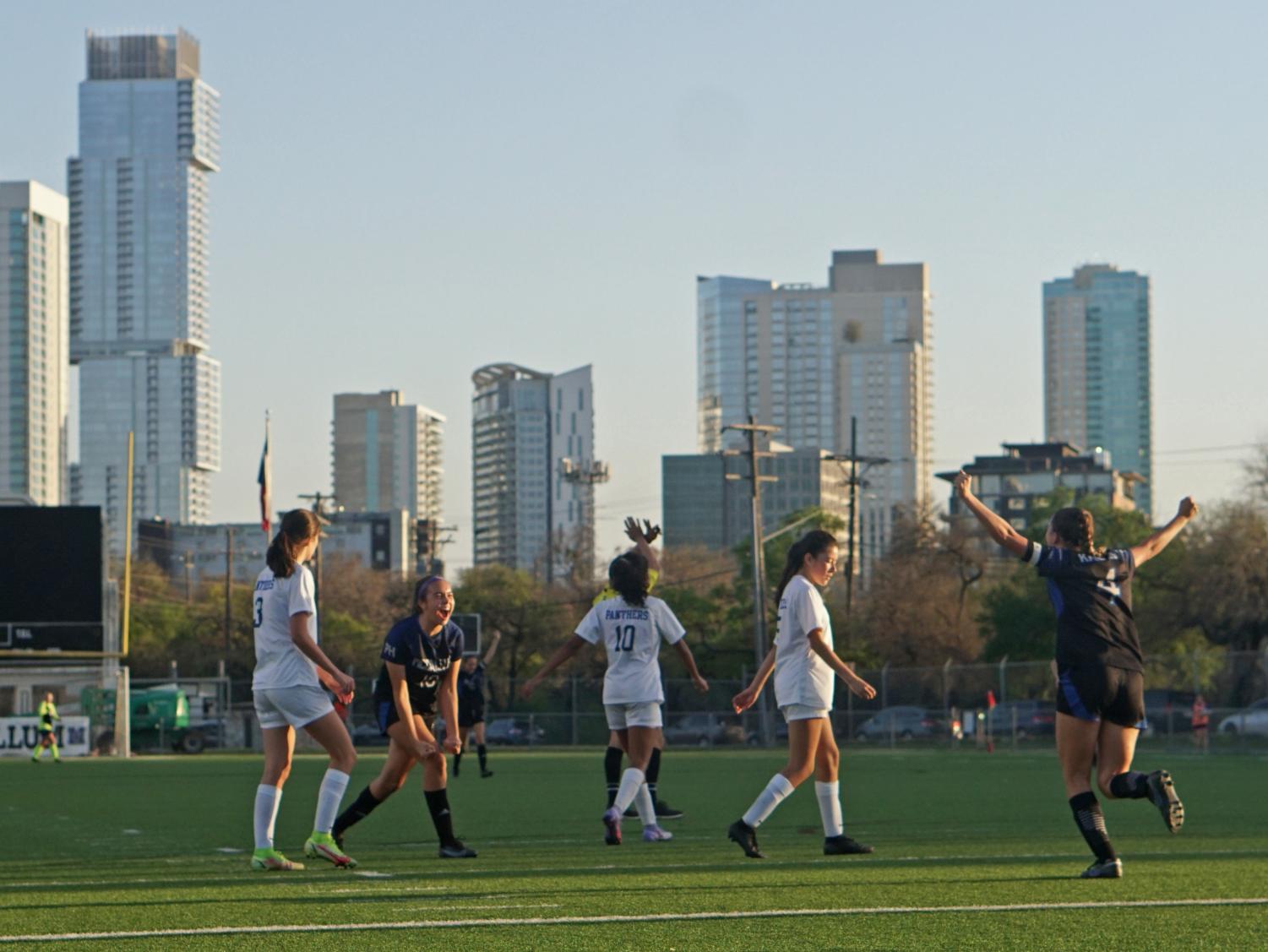 Sarah Hauck runs toward teammate Mia Gomez after Hauck scored her second goal in the Knights' 3-0 playoff win over Pflugerville Friday night at House Park. After receiving a throw-in from teammate Elly Schottman, Hauck beat her defender to create space for a shot and score to give the Knights a 2-0 lead. The goal was similar to Hauck's first-half goal where she beat her defender to get a scoring shot after receiving a through ball from teammate Kat Klein. She said the second goal, which was scored in the second half, gave her confidence that the Knights would prevail in the game. Caption by Dave Winter. Photo by Dave Winter.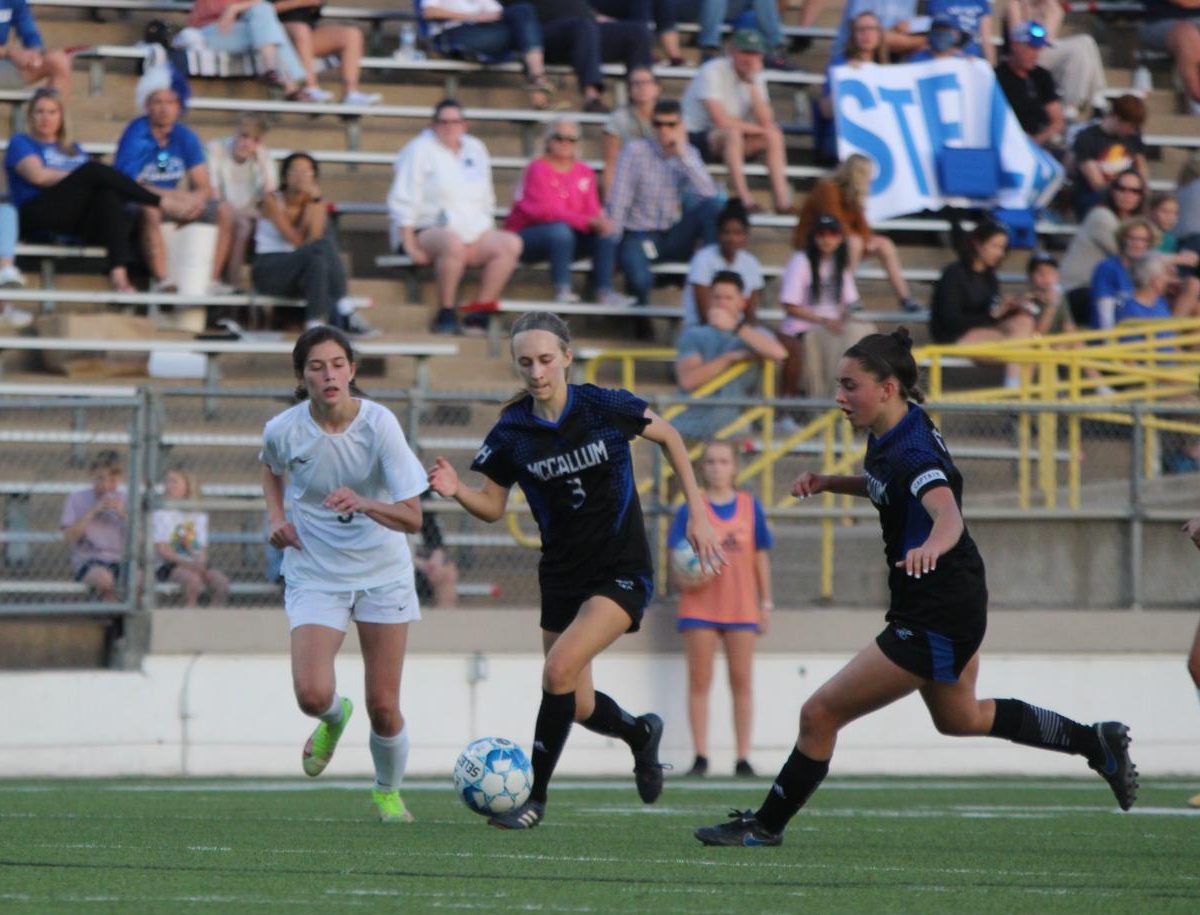 Senior Stella Falkin advances the ball toward the goal during the second half of the Knights' 3-0 bi-district playoff win over Pflugerville on Friday; meanwhile, in the House Park stands above her, Falkin's large cheering section holds up a huge banner with her name on it. Family friends who are graphic designers created the sign, and goalkeeper Emma Mattie's dad was among the most local fans urging Falkin to look toward the stands and see the sign with her name on it. "It was a little embarrassing but mostly really funny," Falkin said. "It gave us a little bit of encouragement at least for me anyways." Caption by Dave Winter. Photo by Dave Winter.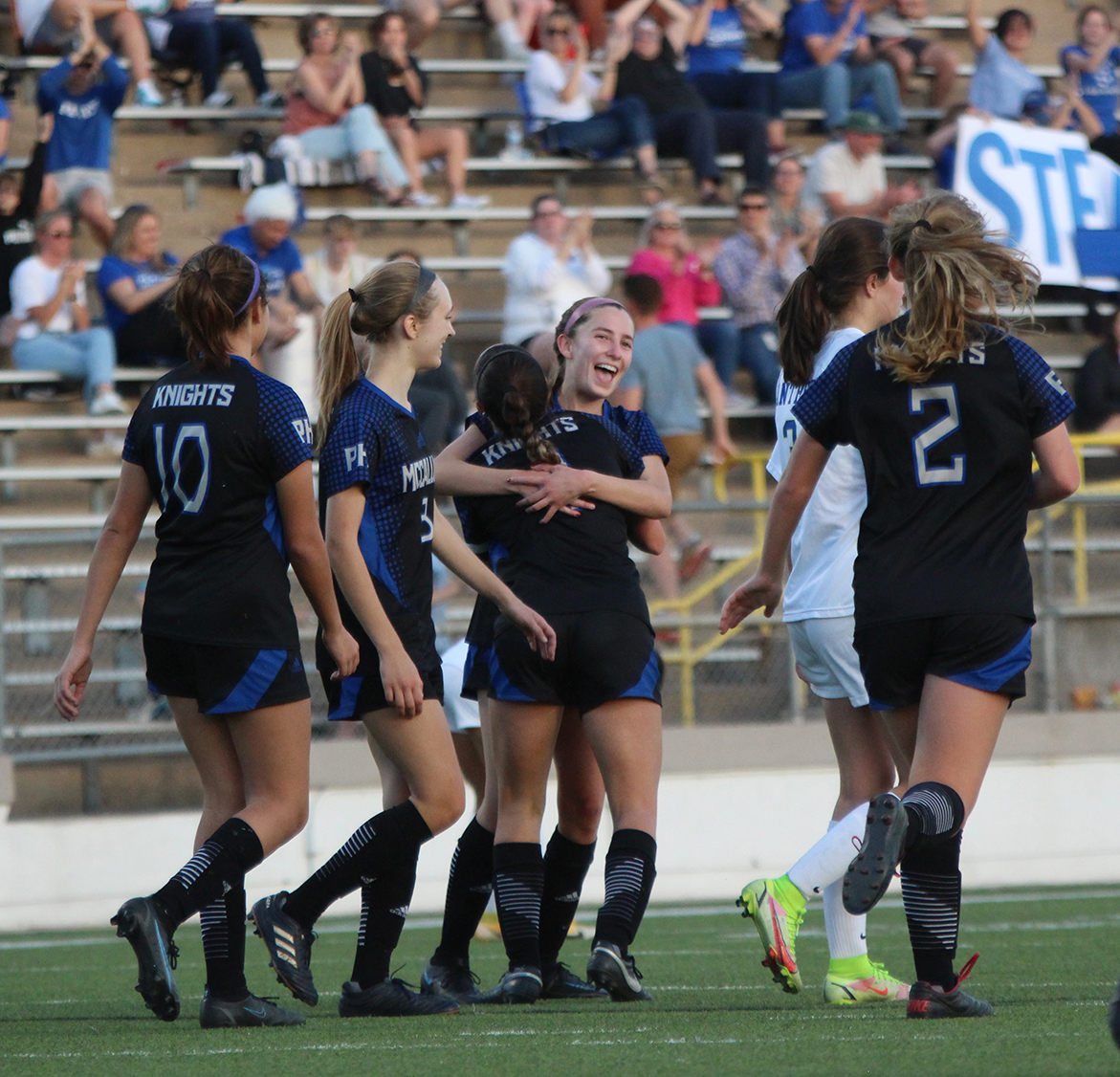 Senior Kyla Murphy embraces Mia Gomez as part of a team celebration after Gomez scored her 130th goal this season. The milestone was a goal that Gomez set at the beginning of the season. "It was really exciting," she said, "It was a playoff game, so going into it I knew I really wanted to score for the team, but also I had in the back of my head that I was at 129." Gomez's goal was the third and final goal of the game. "It was nice to seal the game," she said, "but overall I was really excited that I was able to score in the playoff game." Caption by Cassidy Levin. Photo by Dave Winter.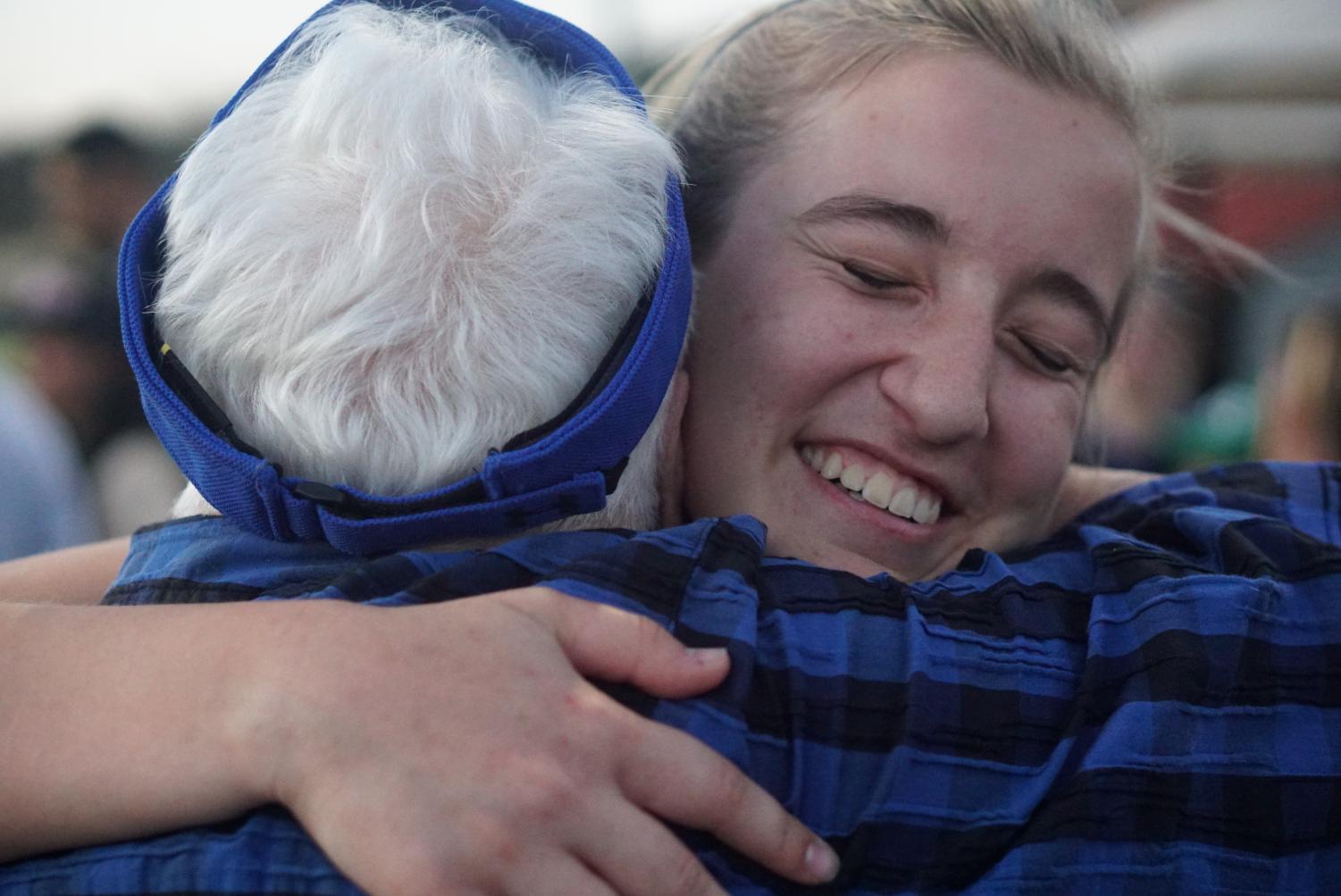 Senior Anna Mcclellan is seen here delivering a victory hug with her substitute grandma after the Knights win their playoff's match against Pflugerville. Mcclellan's grandparents have always been her No. 1 supporters and sideline cheerleaders, coming to almost every game she's ever played for her early days of youth soccer. "Having them always be there and having them be that extra level of support honestly means the world to me." Caption by Meliah Arias. Photo by Dave Winter.