Elizalde to Paxton: We support our LGBTQ+ students
Texas Attorney General's tweet attacking AISD Pride week receives widespread pushback from community
On Tuesday, Texas Attorney General Ken Paxton sent a letter to Superintendent Dr. Stephanie Elizalde claiming that AISD Pride Week is "indoctrinating" students on human sexuality without parental consent. Paxton posted the letter to Twitter, inviting disgruntled parents to sue the school board for violation of state law.
"The Texas Legislature has made it clear that when it comes to sex education, parents—not school districts—are in charge," Paxton tweeted.
Dr. Elizalde responded to Paxton's tweet in support of Pride week and what it stands for.
"I want all our LGBTQIA+ students to know that we are proud of them and that we will protect them against these political attacks," Dr. Elizalde tweeted.
"
I want all our LGBTQIA+ students to know that we are proud of them and that we will protect them against these political attacks."
— superintendent Dr. Stephanie Elizalde
Principal Nicole Griffith echoed Elizalde's sentiments that support for the students will take precedence over political battles.
"I think that there is a political movement that we are in the middle of right now," Griffith said. "That doesn't change the fact that we are going to support our students, and that all students are able to feel safe and welcomed at McCallum."
Griffith says that the emotional and social safety of her students is paramount, despite the political opinions of people outside of the community.
"My No. 1 job as a principal is to ensure safety on this campus, and that emotional and social safety is part of that," Griffith said. "Pride is part of that, making sure we put out there that we celebrate those differences, and we don't back down just because some people feel that it infringes on their rights somehow. I can't do that. Our students need to feel safe here, and our students do have differences. We cannot pretend they don't."
Junior Caytie Brown is a coordinator of Spectrum, a club dedicated to LGBTQ+ students and their allies. Brown is concerned about the ramifications of Paxton's statements. She knows as a queer person that acknowledgement of one's identity is highly important for mental health.
"Students are already feeling like they don't belong," Brown said. "That's just part of growing up, knowing that you're different. [Paxton's statement] just furthers people going into the closet and makes people feel like, 'I truly don't belong,' and that may further the suicide rates and just keep it going. In an effort to bring those down, we have to find a compromise, talking about these things and bringing light to it."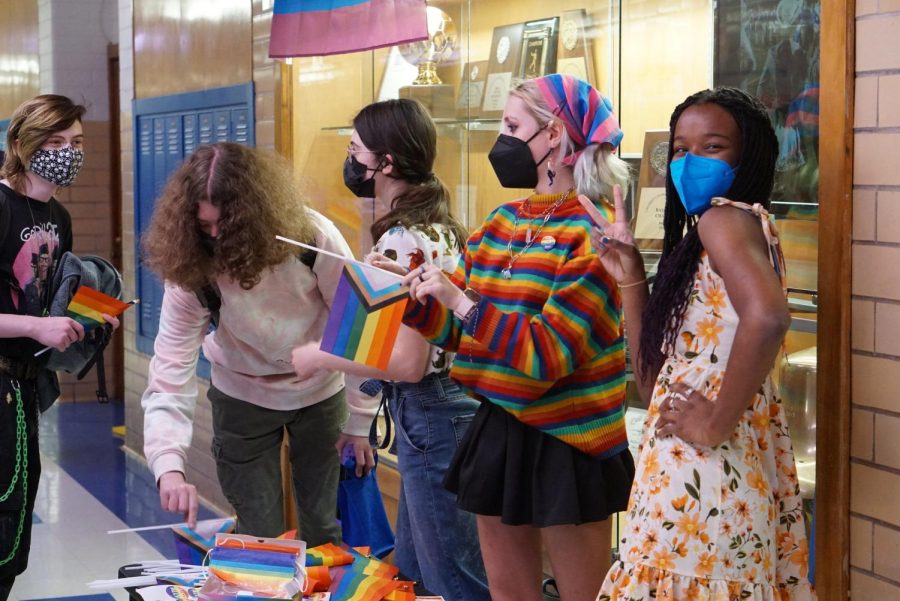 Brown has found it to be very important that they have mentors to look up to who accept them for who they are.
"That was definitely something that saved me for awhile, because my parents are not the most accepting parents," Brown said. "This year especially, I have a teacher of every letter of the LGBT acronym—and so it's definitely important."
Brown sees that her LGBTQ+ teachers are sometimes scared to be open about their identity, and this, she says, creates a double standard.
"Many of my teachers that are straight, they're like, 'Oh, this is my husband, this is my wife,' but a lot of my teachers that have same-sex relationships are a little more scared to talk about it," Brown said. "They should also be able to talk about what they want to talk about."
Senior Ceder Herring, a Spectrum member who is nonbinary, has personally found solace in talking to teachers about their identity.
"Everyone needs someone to lean against, to talk to, like a therapist, or a counselor, or even just a teacher," Herring said. "At McCallum, the majority of our staff is very accepting. You can talk to any teacher about, like, 'Hey, I've been feeling this way about my gender identity,' and they'll listen."
Griffith believes that education about Pride is important for all age groups. For young children, she says, it's important that they learn that families can look different. As a gay woman, Griffith hopes that Pride will show her son, who has a non-traditional family, that it's okay to be different.
"
I've seen the impact on my students when I have been more forthcoming about who I am and how my family looks."
— principal Nicole Griffith
"I've had my own journey as a human and as an educator with a family that is not a traditional family," Griffith said. "I've seen the impact on my students when I have been more forthcoming about who I am and how my family looks. I think about my own son and I want him to be at schools that clearly state that it's OK to have two dads or two moms or one dad and one mom. Families can look very different."
Herring says that Pride week is important for giving LGBTQ+ students a sense of belonging.
"Pride Week, for me, is honestly just something where people can get educated or learn a little bit about the LGBT community," Herring said. "For me, personally, it's a way for the school to show us, like, 'Hey, you belong.'"
Griffith agrees that Pride Week should celebrate students feeling comfortable in their own identity.
"We want everyone to feel safe here," Griffith said. "It's OK to be who you are, and it's OK to change who you are. It's OK. Adolescence is a time where you explore identity, and this is one of those ways."
Griffith stresses that the presence of LGBTQ+ role models is important for students. She explains that Pride is not a sexual issue, it's an identity issue.
"I think my own personal journey on this has seen that it benefits students when the adults around them are open about who they are," Griffith said. "It also benefits the adults. It is not a good place to be when you have to hide who you are and who your partner in life is. And it has nothing to do with sex. It has everything to do with being a human."
—with reporting by Grace Nugent