That's one smart cookie
Seeking answers to life's greatest questions: Chocolate chips or chocolate chunks? Chewy or crunchy?
Chocolate chip cookies are one of the biggest controversies in the baking world. Surrounded by questions like: How much chocolate should they have and should they be crispy or soft?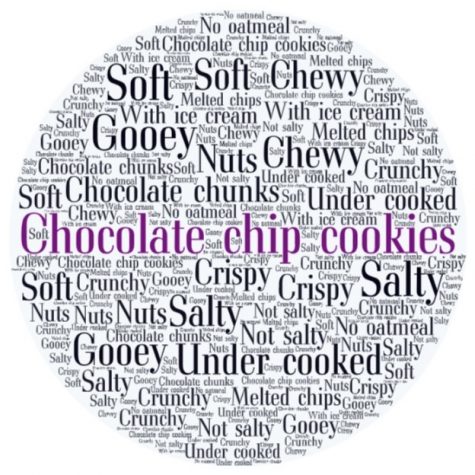 There seems to be lots of opinions, but I wanted to make the perfect one. Leading up to writing this blog, I surveyed my friends on what makes a perfect chocolate chip cookie. This came back with mixed views on what they wanted. 
The different ideas became too much to cater to, so I decided that I would make the perfect chocolate chip cookie for me. I like a gooey center, but crispy edges, with lots of chocolate. The cookie also had to be dairy free, because I'm allergic. 
My go-to recipe for cookies is one from Tasty, a food blog by Buzzfeed, that I found years ago. Usually I will sub the ½ cup of butter that it calls for with shortening. I like the recipe, but the texture always ends up too crunchy.
Shortening is any fat that is solid at room temperature. I use Crisco, which is vegetable fat, and can just be bought at HEB. My introduction to shortening was my grandma's baking when I was a kid. It's often used in pie dough and pastries, but she would always make her cookies with it. 
I decided that the way I would change the recipe would be to change the fat that I use when baking. The five options that I used were shortening, vegan butter, vegan butter and shortening, vegan "browned butter" and coconut oil. 
Recently I've been seeing recipes for cookie that use browned butter; a form of butter that is produced when it's cooked down and the milk becomes solid and brown, separating from the oil. This produces a nutty flavor and aroma. This all sounds great, but I had to work around one big issue: vegan butter can't brown.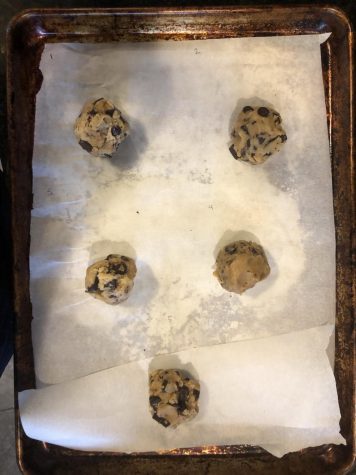 I found a recipe for "browned butter" made without actual butter. You heat vegan butter in a pot and then add some chopped nuts, allowing them to sit in the butter for a while. This produces the same nutty flavor found in non-vegan brown butter. 
I mixed up all five doughs over the weekend, it took me about two hours total, and then after refrigerating them for a while I rolled them into balls and put them in the freezer to bake later. 
The first difference I noticed in the different doughs was that the coconut oil dough was a lot drier and more crumbly than the rest. The dough with the vegan butter was the stickiest. 
I baked the first couple of batches of the cookies Monday morning and came to school with a bag of warm cookies for my friends and classmates to try. 
As I had expected, the stickiest dough, the one with just vegan butter spread out the most while baking. This resulted in a super thin and crisp cookie. The rest spread out similarly to make about the same shapes, but looked slightly different when baked. The browned butter cookie browned the most in the oven, most likely because it had the already cooked butter and toasted pecans.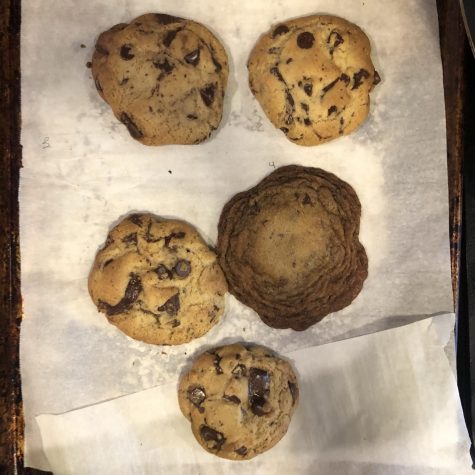 To truly and accurately find the best cookie recipe, I brought a rubric for people to review the cookies I had made. Each rubric had students rate the cookie on a scale from 1-5 on 4 different pieces of criteria, distribution of chocolate, balance in flavor, softness, and crispness. 
After another morning of baking cookies, and bringing them to school to be reviewed I had enough data, that I then compiled into a spreadsheet—one of my favorite things.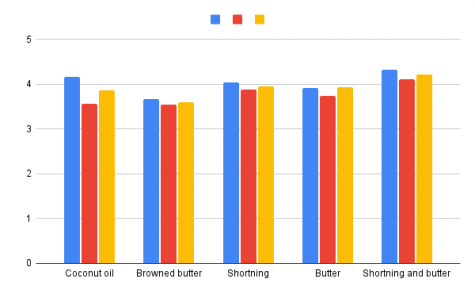 The favorite cookie overall was the cookie that used a combination of shortening and vegan butter. It was also the crowd favorite in taste and texture. I loved the addition of the vegan browned butter to the cookie, so I decided that the perfect chocolate chip cookie, at least for me, was a combination of vegan browned butter and shortening. 
If you'd like a tasty cookie free of dairy, try the recipe below. If you'd like to make the recipe completely vegan, you can substitute the egg for a replacement. If you'd still like to try the cookies, but aren't dairy free or vegan, you can make the recipe with real butter. 
The "perfect" chocolate chip cookie
Ingredients:
For "Browned butter"
¼ vegan butter

¼ cup chopped pecans
For Cookies
½ cup granulated sugar

¾ cup brown sugar, packed

1 teaspoon salt

¼ cup vegan "browned butter"

¼ cup shortening

1 egg

1 teaspoon vanilla extract

1 ¼ cups all-purpose flour

½ teaspoon baking soda

8 oz. vegan chocolate, this can be chips, chunks, or a mix of both
Steps:
For the browned butter-
Preheat the oven to 400 degrees Fahrenheit. Put chopped pecans on baking sheet with foil. Bake for 5-7 minutes until lightly toasted and fragrant. 

Heat vegan butter in a small saucepan over medium heat until bubbling.

Add toasted pecans to the butter and turn off heat. Allow butter mixture to cool for 10-15 minutes and then drain through a sieve to get rid of the pecans. You can add these chopped pecans to the cookies later if you want nuts in your cookie. 
For the cookies-
Heat the vegan "browned butter" with the shortening in the microwave until melted. In a large bowl combine the sugars with the shortening-butter mixture, and with a whisk, mix until combined.

Add the egg, salt, and vanilla, and whisk until combined. 

Fold in the flour and baking soda. 

Fold in the chocolate and put the dough in the fridge for at least 30 minutes, and up to 12 hours. If you would like to save the dough for longer, follow step 6 and then put the dough in containers in the freezer. 

Preheat the oven to 350.

Roll dough into 1 tablespoon-sized balls.

Place the cookie balls on a baking sheet, lined with parchment paper, about 1 inch apart. 

Bake for 6-8 minutes. The cookies will come out still doughy, but after cooling for 10 minutes, they will be ready to eat.