Mac reconnects with its love for costumed community
A year after being relegated to virtual Spooktacular experience, Knights revel in chance to show their characters
A year ago in the darkest days of the pandemic, the Art Society kept the tradition of the Spooktacular costume contest alive by making it virtual. A year later, with virtual school dead and buried the Mac community was able to bring its love of Halloween costumes and Dia de Los Muertos back to in-person life with a series of costume-themed events.
The spirit day on Friday was Costume Day, the Art Society's Spooktacular costume contest was moved from its traditional location in the cafeteria to the more pandemically correct outdoor stage, and the Day of the Dead altar returned to its frightful place in the main hallway.  Friday afternoon's volleyball practice and Friday night's football game also afforded the chance for students to dress up in costume, and the return of MacTheatre's Princess Tea Party on Halloween Eve provided on last chance for students to get in character.
It was a joyous outpourring of costumed community spirit, the perfect topic for this week's Tuesday Top 10 photo essay.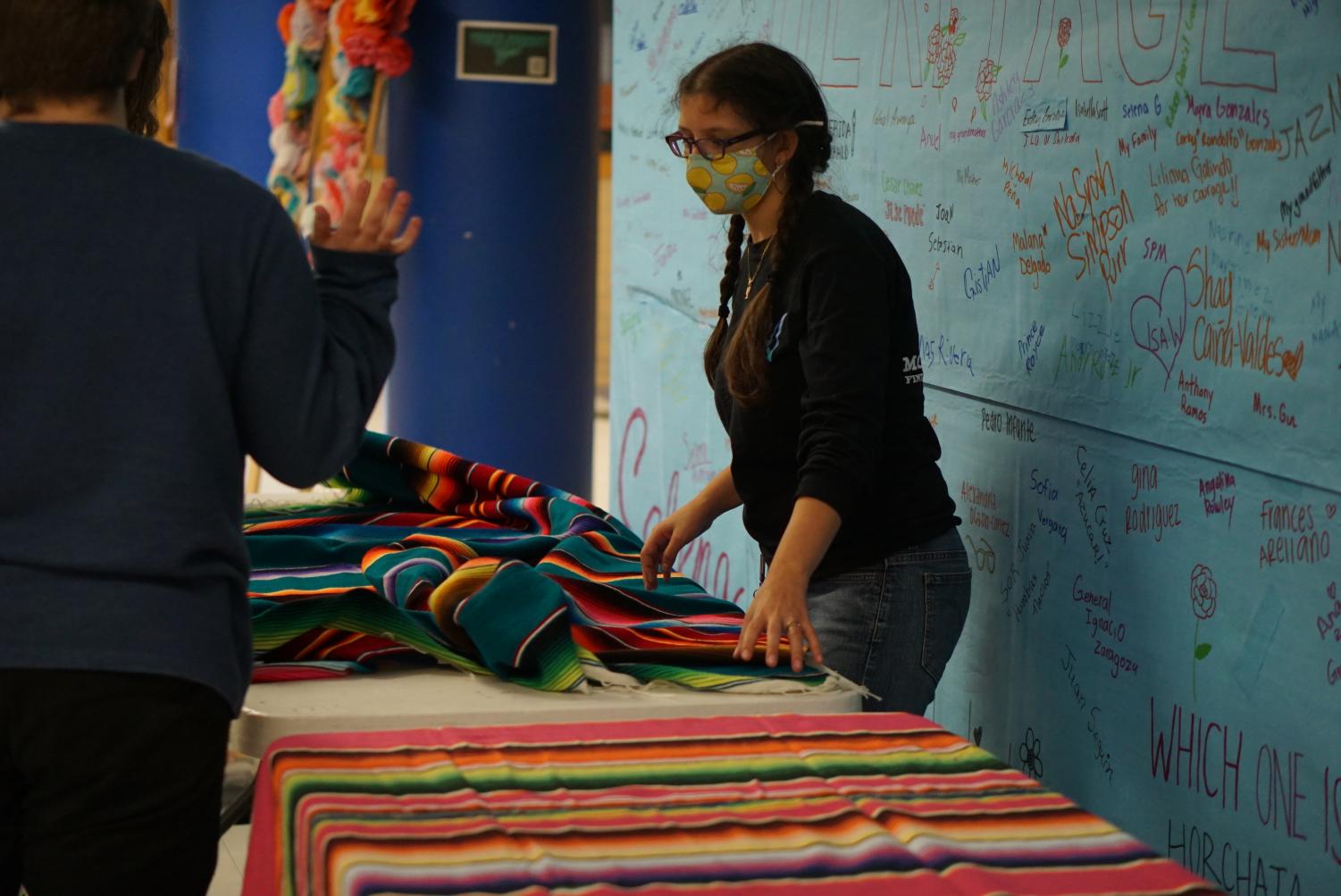 RAISING THE ALTAR: From 4:35 p.m. to 6:30 p.m. last Thursday afternoon, Mac Art Society members and the Spanish classes worked together to build an ofrenda outside the main office. Sra. Rios-Tiessen and Mr. Seckar-Martinez have been in charge of the project for the past five years, decorating the altar with handmade paper flowers, candles, (fake) fruit, and photographs. Senior Marina Garfield has been in the art society for four years, but this is the first time she's participated in this project. "This is actually my first year I've done this," she said. "I wanted to do it because it gave me a chance to decorate the school, and it means a lot to so many people. I think it's really unique and I think it's amazing that we're getting together to do that." Garfield helped show fellow first-timers how to fold flowers and hang them up, along with guiding them through the process of building the altar. While Garfield isn't bringing photos of her own to place on the altar, anyone who wants to can. There will already be pictures up when the day begins, and students are encouraged to bring their own photos of family and friends. "I'm not Hispanic, so Dia de los Muertos isn't something that I celebrate, but I do admire people who are putting their own personal touches on it." Photo and reporting by Helen Martin.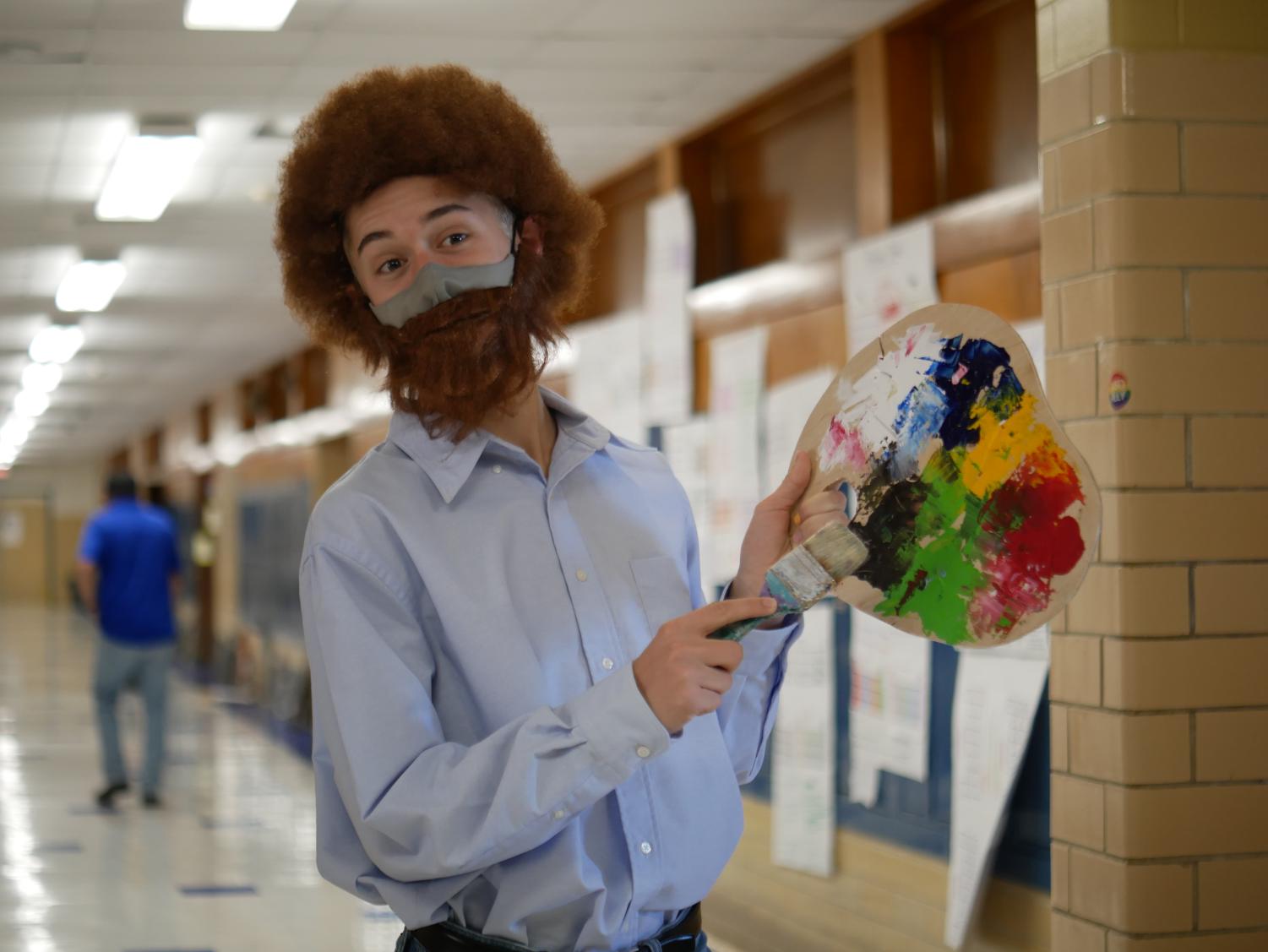 A BRUSH WITH GREATNESS: Inspired after seeing a Bob Ross costume on the HBO show Euphoria, senior Gage Sanchez decided to dress up as the iconic celebrity artist for several reasons: the costume was funny, festive, easy to take on and off and reflected his identity as an art kid who loves to paint. The costume may have been easy to wear, but it wasn't easy to make. Sanchez already had the pants, the belt and the paintbrush, but he thrifted the oversized button-down shirt at Goodwill for $5 and bought the wig and beard from Party City. He then attached the beard to an elastic strap so he could remove it easily, and he cut the artist's pallet from scrap wood with a jigsaw. It may seem like a lot of work, but Sanchez says that's what it takes to get into the spirit of the holiday. "Buying a costume is so much more expensive, plus they all look sort of cheap, so I definitely love to resort to a homemade costume, plus making a costume at home using things from thrift stores or crafts can be really easy. … It's all part of the game in my opinion." Coming to school as Ross was a far departure from the Voo-Doo Doll costume for which he won Scariest Costume in the art society's 2020 virtual costume contest. The Ross costume it turns out was just Sanchez's costume for school. He made his "real deal" costume, Tate from American Horror Story, to wear to a party. It took him six hours. Photo by Terra Balentine.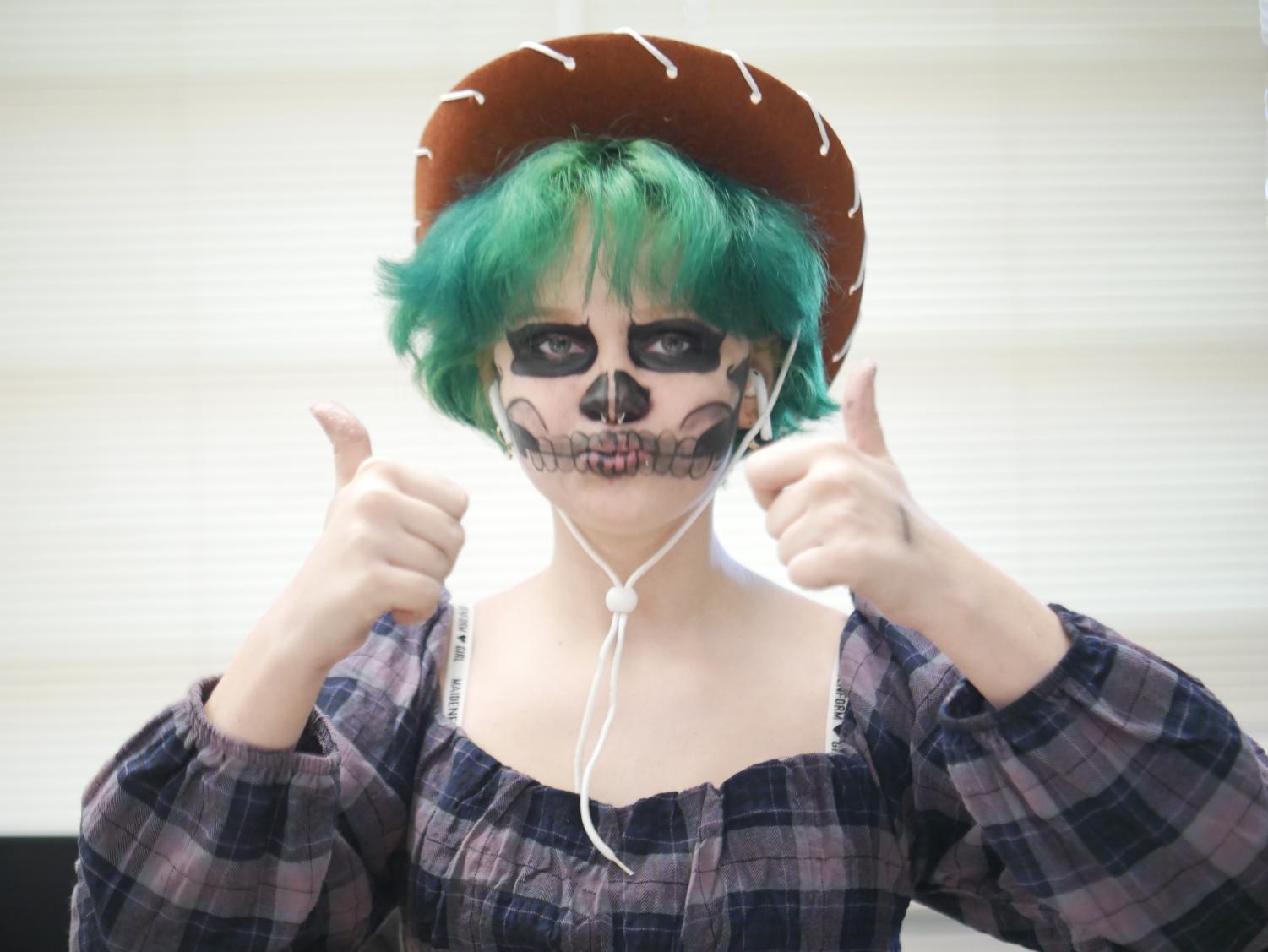 SWEET TASTE OF VICTORY: Freshman Livi Moore and the rest of Mr. Winter's fifth-period digital media class enjoyed fresh Shipley doughnuts, as well as piping hot chocolate with marshmallows and coffee on Friday as payment for being the photojournalism class that earned the most photo credits during the first nine-week grading period. Mr. Winter prepared the coffee and hot chocolate and distributed the drinks and doughnuts to all the students. Not satisfied to rest on their tasty laurels, a half dozen members of the class ate and drank quickly so they could head out to hallways to get Costume Day photographs in hopes of earning the credits they will need if they wish to defend their title in the second grading period. Photo by Gaby Esquivel.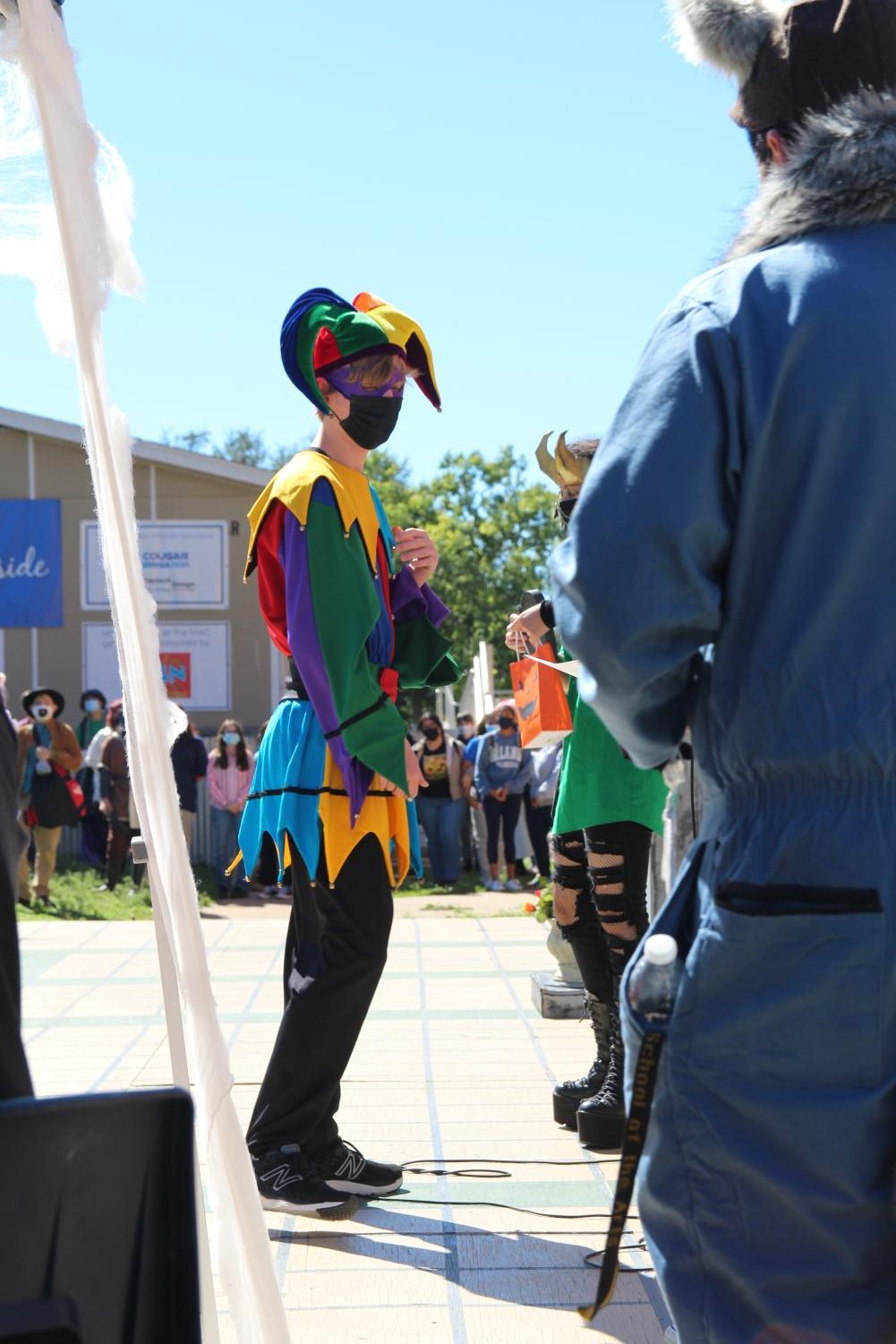 JUNIOR JESTER: Junior Owen McGuire co-hosts the Art Society's Spooktacular Costume Contest during lunch on Friday. McGuire presented himself in a jester costume along with a juggling act, prepared to entertain. McGuire has been a visual arts major in the Fine Arts Academy since his freshman year. Although, this is his first year in Art Society he has enjoyed the immersive experience it offers. "Everyone there was fun to work with," McGuire said. "I liked making the set and announcing the people in costume." Reporting by Amaya Collier. Photo by Meredith Grotevant.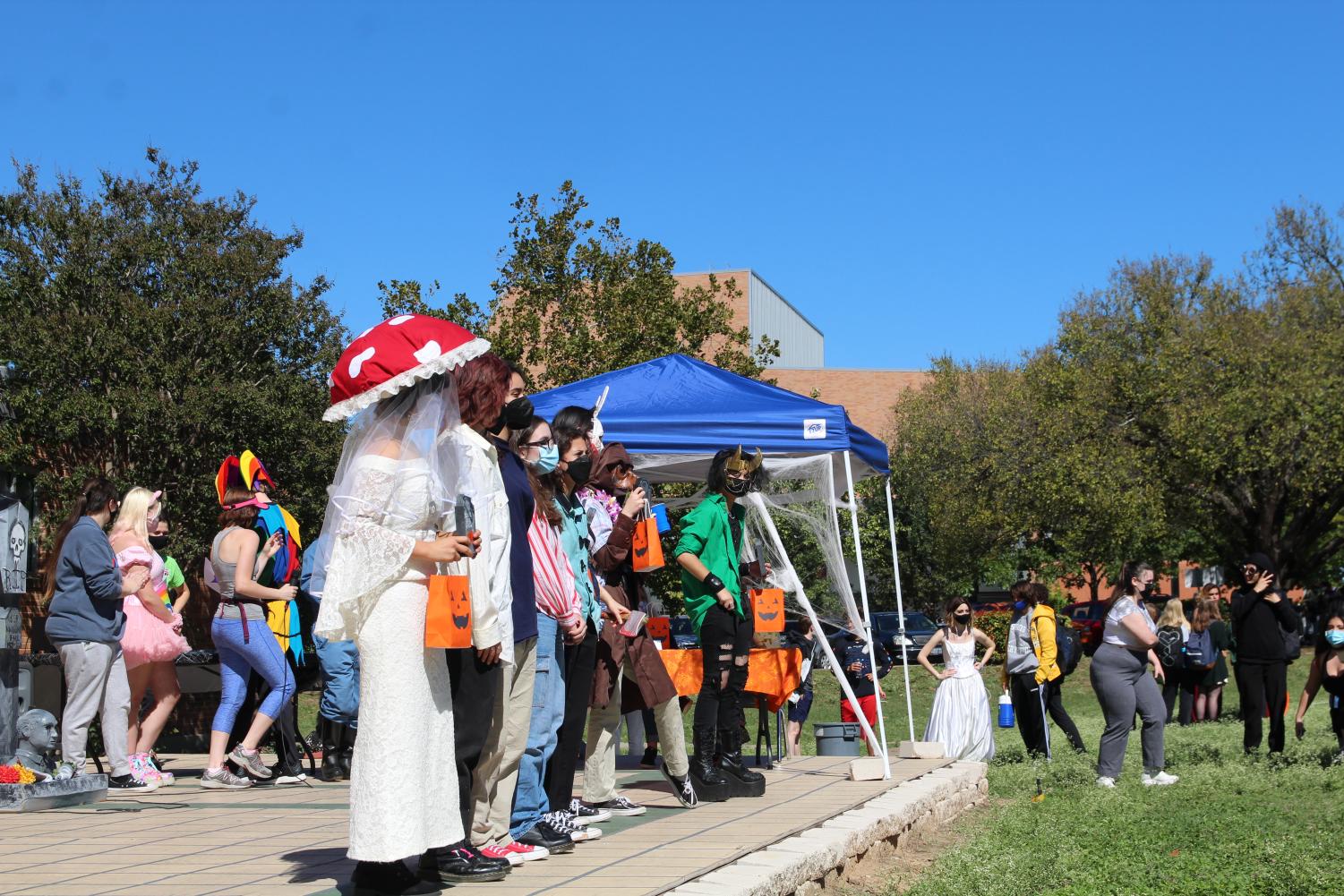 A SPOOKTACULAR SPECTACLE: McCallum students and staff gathered around the outdoor stage at lunch for the National Art Honor Society's annual costume contest. Many students from all grades dressed up today to enter the costume contest in order to win prizes including P Terry's gift cards and a pack of Oreos. There were five categories: most creative, scariest, best group costume, funniest, and best overall. With an outstanding turnout of 53 participants, the event was very competitive. Ms. Shin (Spooky Shin), Mr. Wydeven (Wicked Wydeven), and Ms. Adamson (Afterlife Adamson) judged the contest.  "I liked the [costumes] that were handmade because you can see their creativity," Shin said.  The winners for the 2021 Spooktacular are as follows. Most Creative: Joey Miguel as Drag King Loki; Funniest Costume: Marielle Musick as The Plague Doctor on Vacation; Scariest Costume: Theat Krische as The Huntress from Dead by Daylight; Best Group Costume: Miranda DiGiovanni, Lark Adrian, Jolie Garber, and June Fucik as Weezer; and Best Overall: Kianna Leon as a Mushroom. Mr. Seckar‐Martinez asked us to recognize the NAHS committee chairs and officers, Amaya Collier, Mia Manzano, and the costume contest committee. The committee likewise asked to recognize the role of their sponsors, Mr. Seckar-Martinez and Ms. Massey, in helping make today's contest possible. Caption by Julia Husted. Photo by Meredith Grotevant.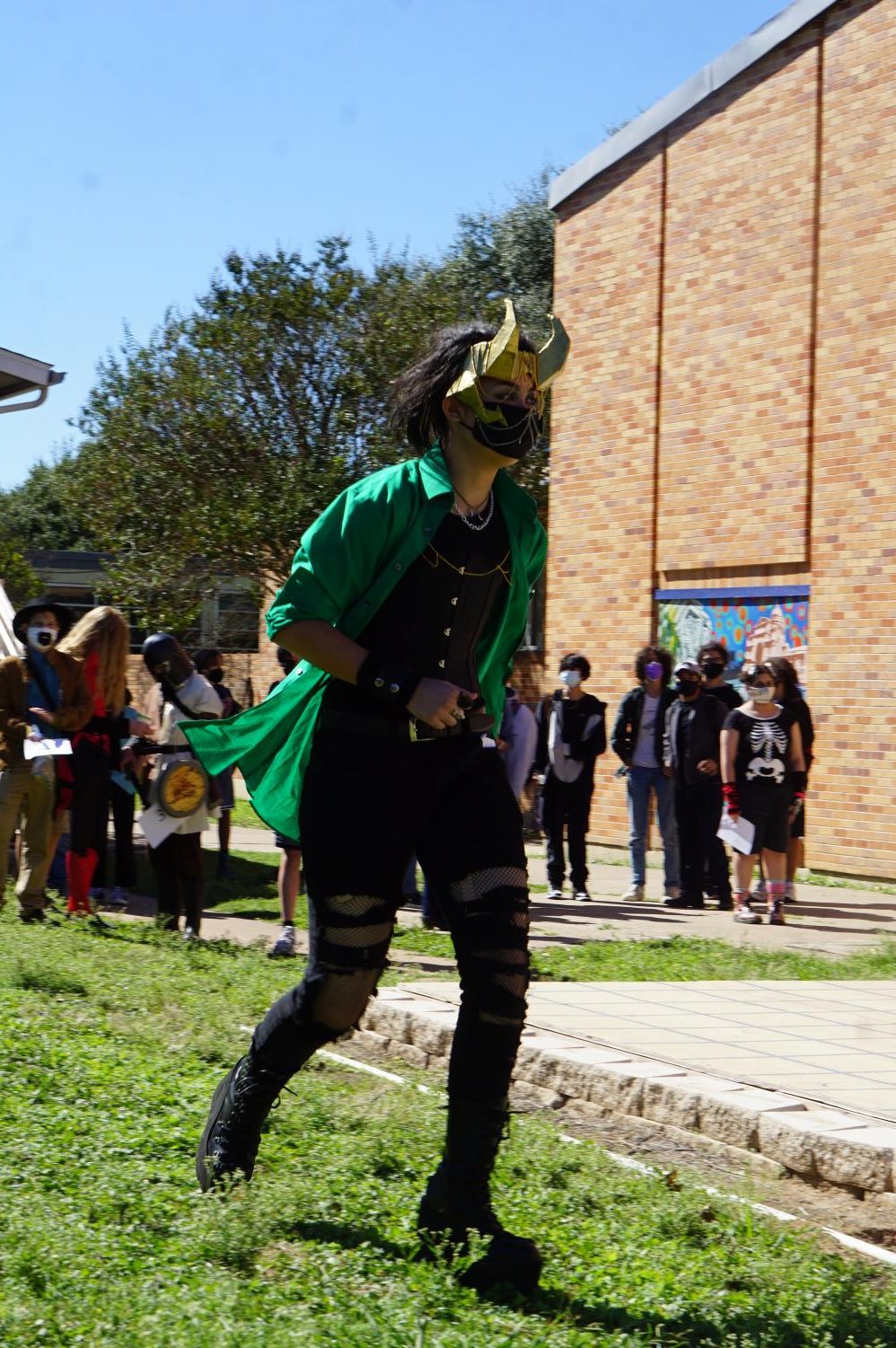 ANYTHING BUT LOW-KEY: Joey Miguel was not a Thor loser at the costume contest. His entirely thrifted and handmade drag king Loki costume impressed the judges and won him the title of most creative costume, as well as some candy and a P Terry's gift card. "My cousin and I are both very obsessed with the character and the show," he said." Loki is just that kind of character that you can do anything with." It took Miguel about a month to assemble the costume. He is most proud of his helmet. "I made the helmet out of cardboard and painted layers to make it look like rusty metal," he said. "I really like it because I worked so hard on it." Miguel did not think he stood a chance to win, but his friends pressured him into entering the costume contest anyway. "I had absolutely no idea I would win," he said. Reporting by Evelyn Griffin. Photo by Dave Winter.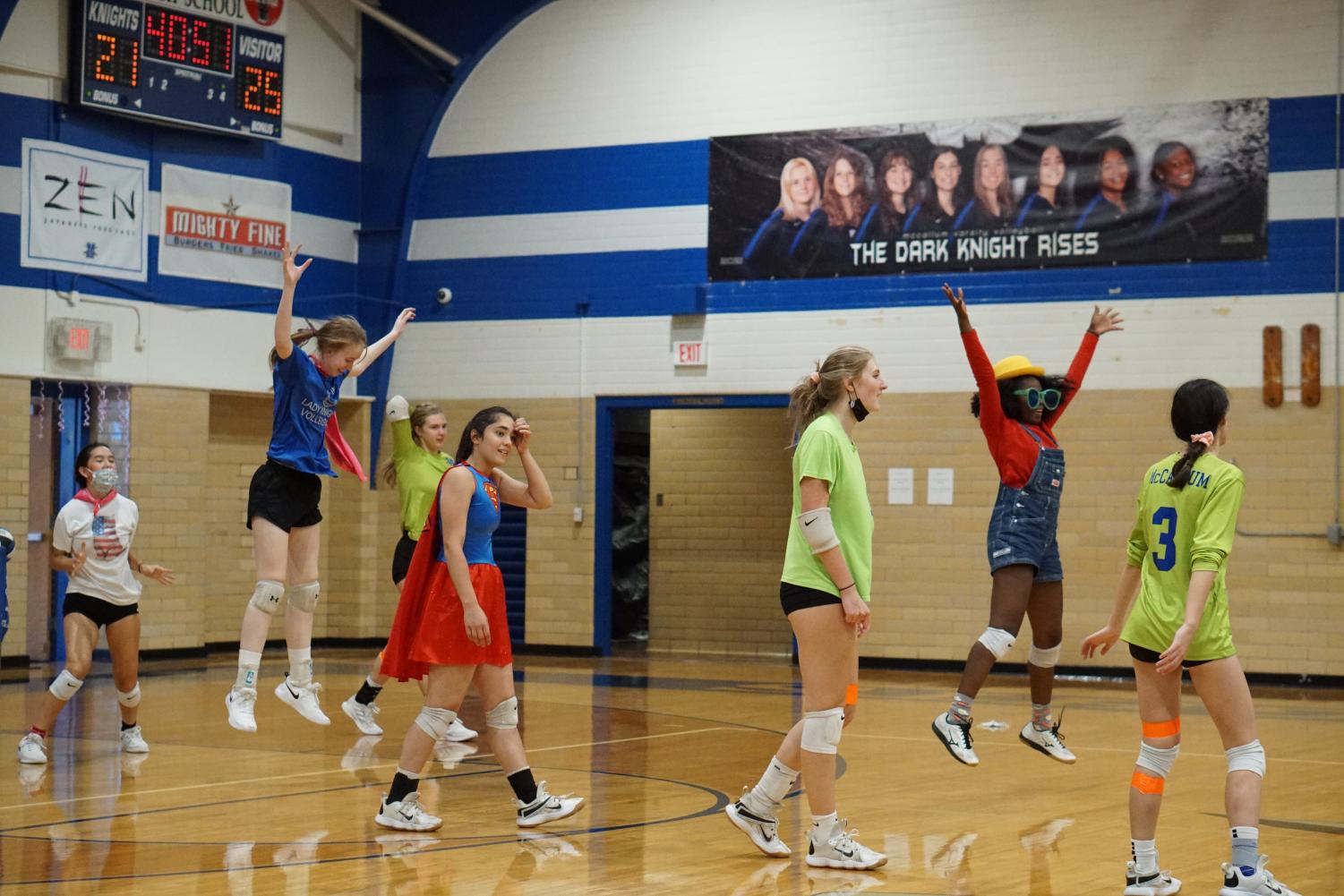 STARS OF THE COURT: Eighth-period volleyball students play a warm-up game on Friday while dressed in their Halloween costumes, including junior Jayden Mason, who dressed up as a cross between Chucky and a clown, and Jaz Mahr, who dressed up as Supergirl. "We were playing a game called fastball, and when we lost, we had to do five 'I'm a stars,'" Mahr said. "We were having just a fun practice, so we were doing all of our warm-up games we like." Seniors Syndey Nabhan and Grace Werkenthin and sophomore Rylee Hissey dressed up as their team's libero, Katie Peterson. Mahr thought "the neon shirts and the orange tape as her knee brace" tied the look together. Reporting by Lucy Marco. Photo by Zahraa Al-Ogaili.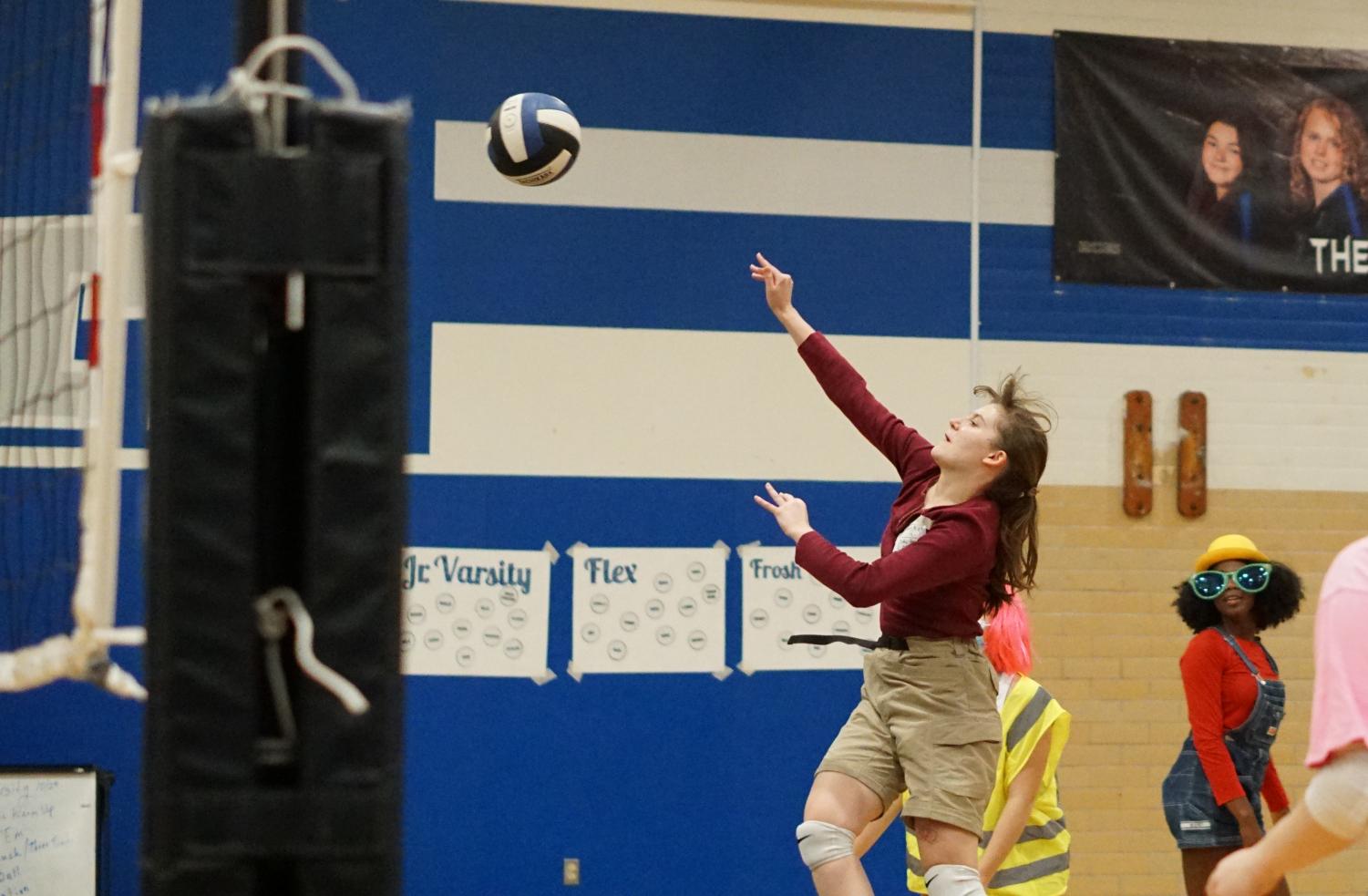 SPOOKY SEND-OFF Junior Rachel Nabhan is pictured "killing the ball" in a game of Activation during volleyball practice last Friday. Although Activation is a frequently played game, this time it was a little different as the players were decked out in Halloween costumes. "We dress up every year," Nabhan said. "It's a way for all of us to get into the spirit of Halloween and spice up practice." This practice was also different because the varsity team was preparing for playoffs.  "We were doing a game day, mainly to try and get hyped for playoffs," said Nabhan, who dressed as Jake from State Farm. "The costumes also helped with boosting morale and got everyone excited." Reporting by Lydia Reedy. Photo by Zahraa Al-Ogaili.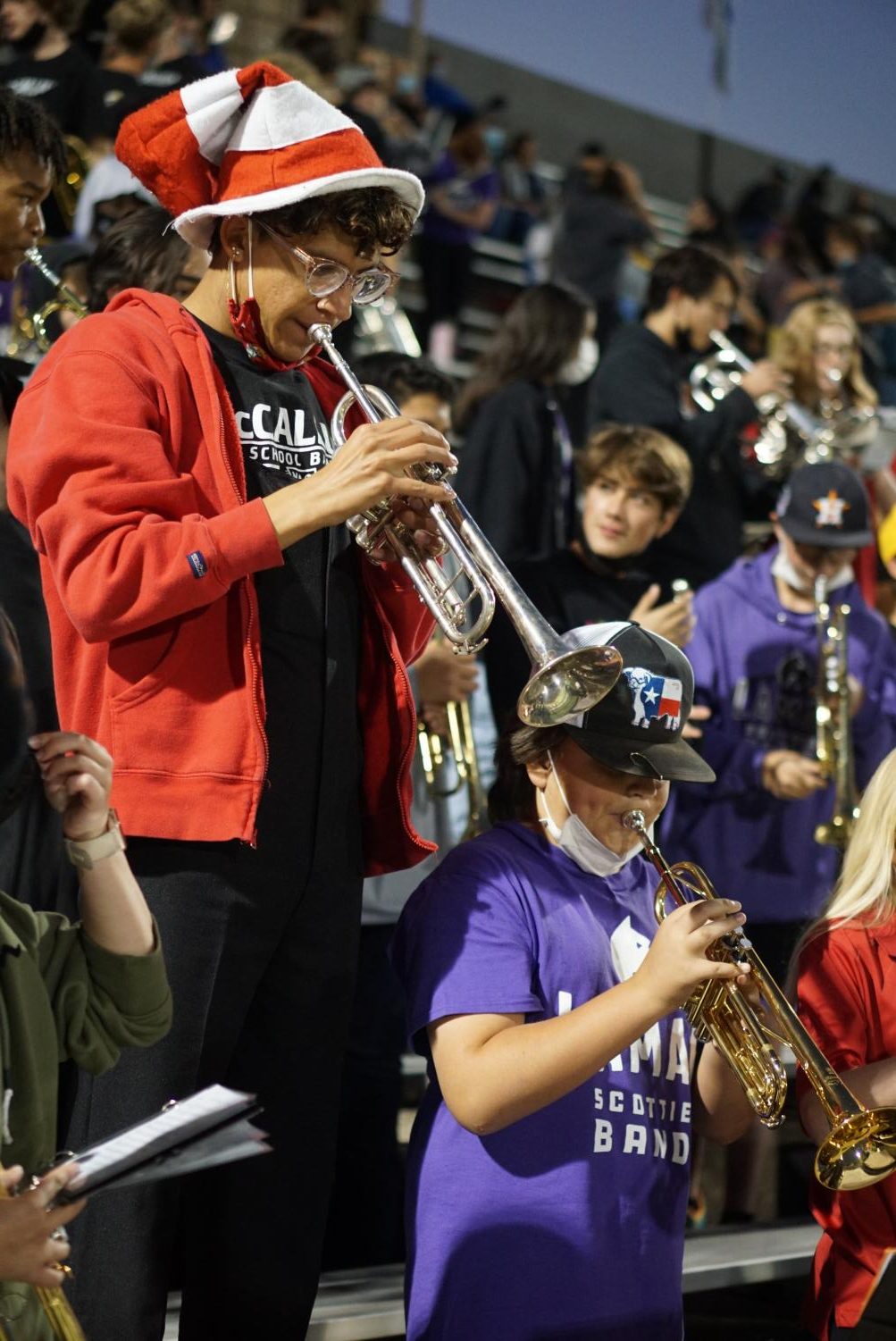 A PERSON'S A PERSON … Before kickoff of the Knights' Friday night football game at House Park, senior Bobby Currie teaches a Lamar Middle School trumpet player how to play "Hawk," a favorite among the brass section. Currie was sporting a "Cat in the Hat moment" in order "to be festive, of course," he said. Some members of the Lamar and Kealing bands came to the game to perform with the Mac band. Currie explained that for all the fun this partnership generates, it's also important for recruitment to the Fine Arts Academy. "All of these middle-schoolers will hopefully choose to come to Mac and continue their band training," Currie said. "In order to keep our incredible band program going, we have to recruit new members and make sure it lives long past us." Reporting by Samantha Powers. Photo by Dave Winter.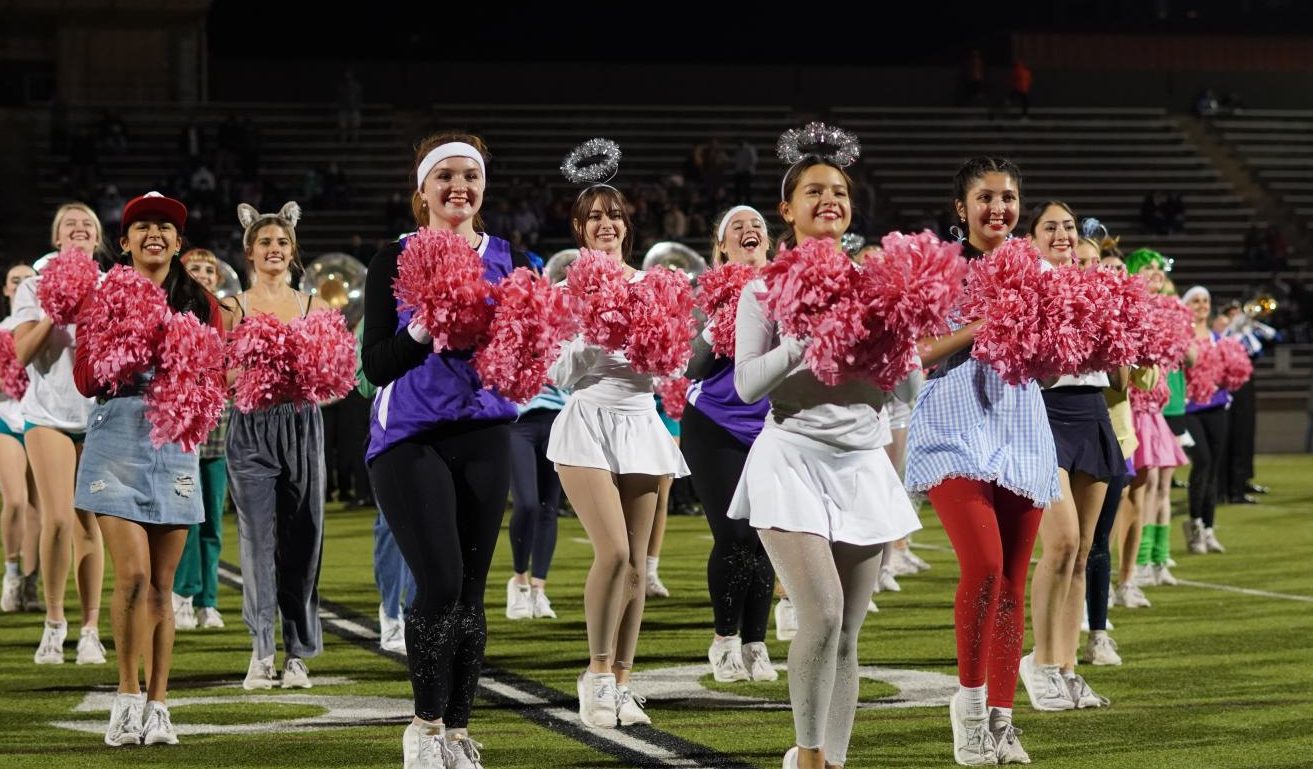 BOO! BRIGADE: Decked out in squad-themed Halloween costumes, the Blue Brigade performs a pom routine to "Blinding Lights" during the McCallum football game against Crockett at House Park. After honoring the annual Halloween tradition of swapping uniforms with the cheerleaders during the school day, the Blue Brigade seniors took the field masquerading as everything from angels and ninja turtles to scarecrows and Super Mario characters. Senior and First Lieutenant Annabel Winter enjoyed working with her team to create the perfect costume and hopefully impress the costume judges, considering many factors from danceability to creativity, eventually deciding on customized jerseys. "Wearing the costumes brought so much excitement and energy to the team," Winter said. "The costumes got everyone extra excited for the game because we got to do something other than the same uniforms we always wear, which are great of course, but costumes are so much more fun." Reporting by Ingrid Smith. Photo by Charlie Partheymuller.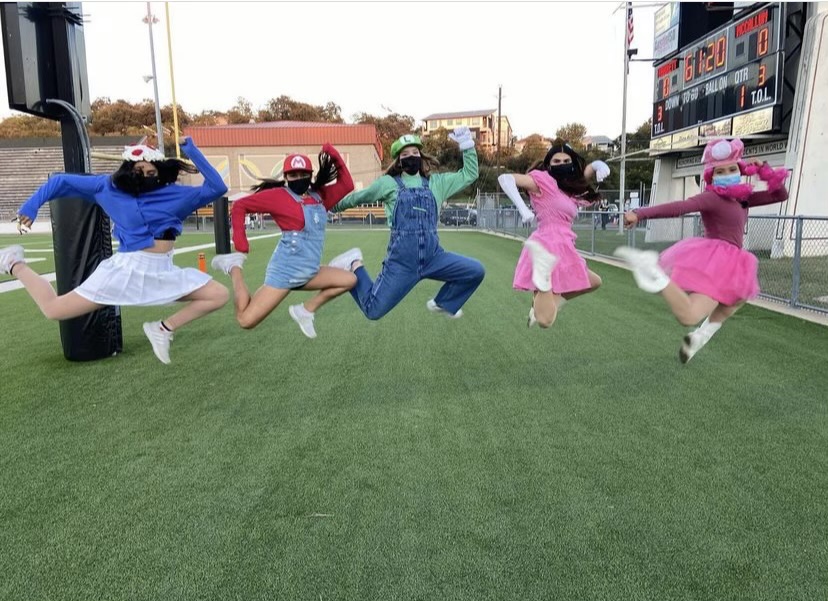 MARIO SISTERS: The Blue Brigade squad Elise's Elites played their Super Mario Brother parts to perfection prior to kick off at the Friday football game at House Park. Led by senior lieutenant Elise Crouse as Mario and senior social officer Natalie Dean as Luigi, the squad also included Gaby Alvarado as Toad, Alyssa Sparks at Princess Peach and Sofia Orton as Toadette. Each Blue Brigade squad picked a costume theme for the game. The Super Mario Brothers performed at halftime alongside Teenage Mutant Ninja Turtles, Space Jam All-Stars, mermaids, angels and the cast of the Wizard of Oz. Crouse said the squad's costume idea was collaborative. "When we initially talked about the Halloween game for the first time, we had some trouble thinking of ideas, but when the Mario idea was pitched, everyone was so excited, so we decided to go for it." Caption by Dave Winter. Photo by Nancy Searle.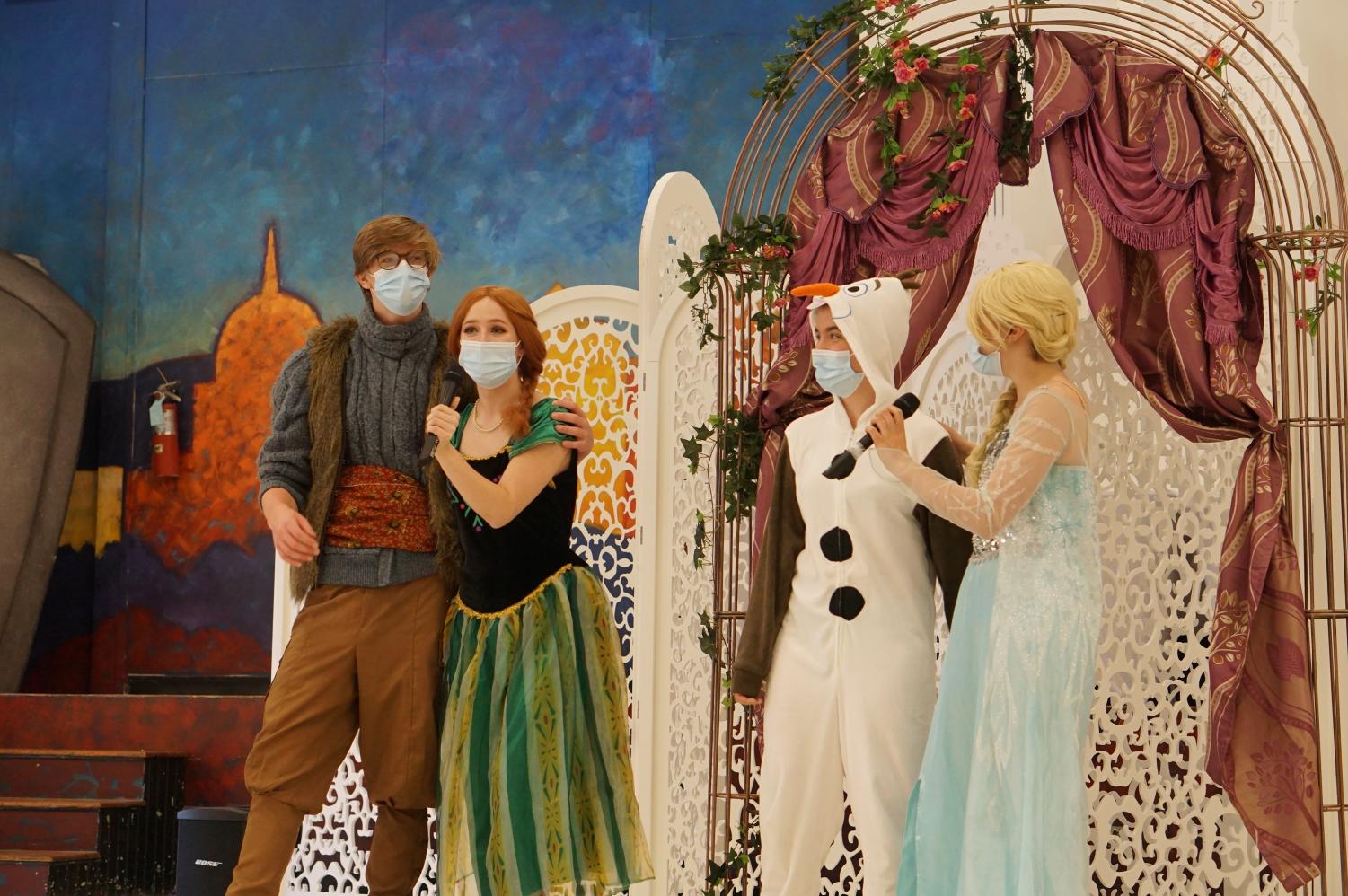 Sophomore Adrian Recar played Olaf at the MacTheatre's annual Princess Tea Party fundraiser on Saturday in the cafeteria. Since he missed the audition for The SpongeBob Musical and was unable to participate, Saturday's tea party offered a chance for Recar to get back in the act. "I went to see SpongeBob and realized how much I missed doing theater," Recar said, "The experience was absolutely amazing." Reporting by Cassidy Levin. Photo by Sophie Leung-Lieu.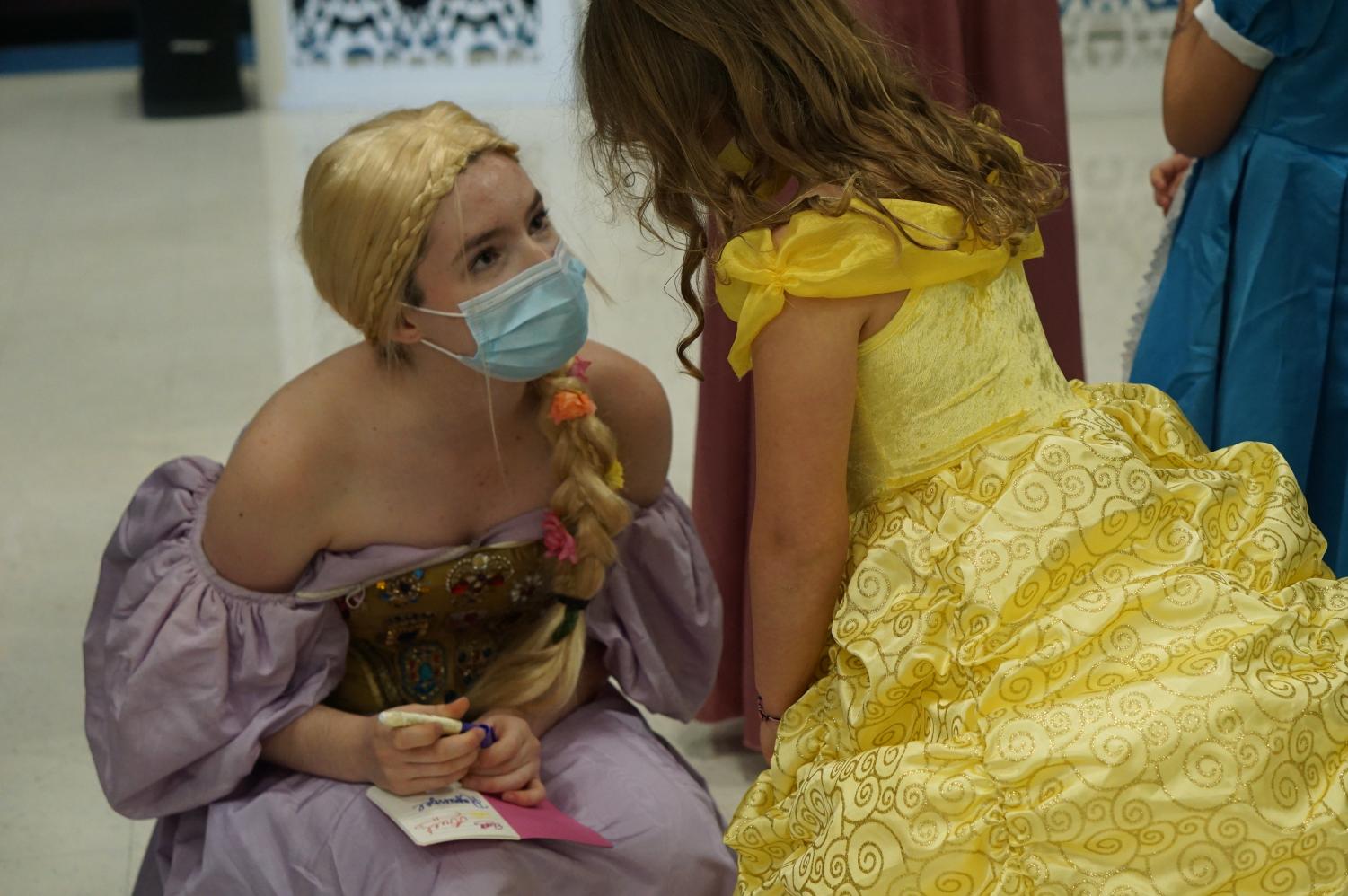 SIGN ME UP: Dressed as princess Rapunzel, junior Kathryn Dooley signs a little girl's autograph book after the show. The princess tea party consisted of three main events: the prepared performance — a mix of choreographed disney songs and short scenes, autograph signing and a photobooth. "After the princess tea party show when we got to meet all the little kids," Dooley said. "We were able to talk to them and sign their autograph books. It was really sweet to see how happy meeting all the princesses made them." The fundraising event originated in 2015 when then junior Atley Brown, a committed fan of the Disney princess franchise, came up with the idea. She and Alana Raper, also a junior at the time, managed the donations while Jack Holtcamp organized everyone to perform the songs. Sophomore Ava Deviney, who played Tinker Bell at Sunday's tea party, said the 2021 event was also planned, organized and staged entirely by students. Reporting by Alice Scott. Photo by Sophie Leung-Leiu.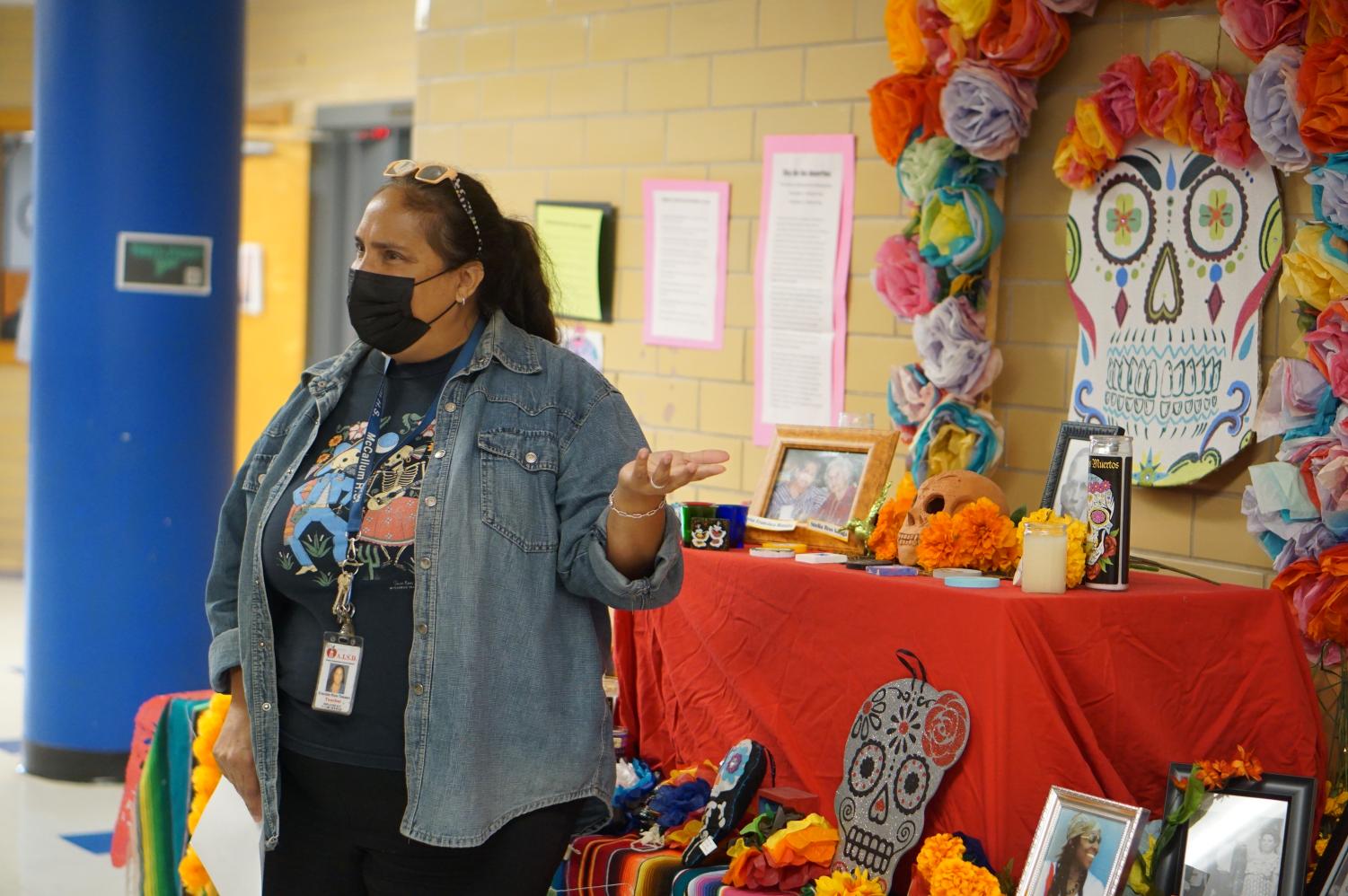 SO HAPPY TOGETHER: Spanish teacher Gabriela Rios-Tiessen brought her Spanish 2 class to the Días de los Muertos altar on Tuesday during sixth period. The altar, which contains traditional offerings such as papel picado, candles, and yellow flowers, also contains photos of Rios's own family. "On the altar I have pictures of my family members, my grandmothers and my grandfathers and I was talking about the things they liked and I had that near their pictures," Rios said, "It's a beautiful day to remember the memories of our loved ones and friends. I think people are sometimes afraid to remember their loved ones without being sad, and this is a great way for people to remember them in a happy way." After sharing stories of her family and friends, Rios pointed out the picture of longtime Mac basketball coach Don Caldwell, who passed away in 2019. Reporting by Evie Barnard. Photo by Dave Winter.