TMR punches ticket to State
Senior Melina Raab becomes second Mac cross-country runner to qualify for state in past 18 years; girls place 15th
Thomas Melina Raab did not think he was going to qualify for the state cross country meet today at Kate Barr Ross Park in Huntsville.
After the outcome of the race, however, he can happily say that he thought wrong.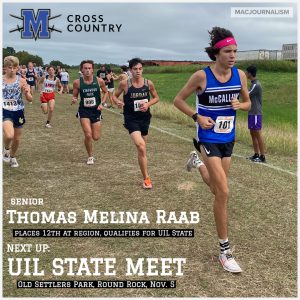 By finishing 12th with a time of 16:27.39, Melina Raab qualified for the cross-country state championship meet. Despite the achievement, he said he expected more from himself.
"I was hoping to go a little faster," Melina Raab said, "but I was really nervous before the race so qualifying was huge."
The top 10 individuals qualify for state as well as the top four teams. If a runner is on one of those four qualifying teams then they don't count as an individual qualifier. Five of the runners who placed before Melina Raab were on state qualifying teams; therefore, Melina Raab comfortably claimed one of the 10 individual sports with his 12th-place finish.
"In all honesty though I wasn't really sure if I was going to qualify," Melina Raab said. "My season best was 11th in region, so I knew I should qualify, but I've had a string of bad races and inconsistency lately so I didn't really think I was going to."
"
I've had a string of bad races and inconsistency lately so I didn't really think I was going to [qualify]."
— senior Thomas Melina Raab
While Melina Raab was uncertain about his abilities, his teammate and friend Robert Krajicek, who came to the meet to support the Knights, never doubted.
"Tommy has been telling me all week that he was super nervous," Krajicek said. "I could tell this meant so much for him, so to see him accomplish his goal after putting in all that hard work is such a cool thing to see."
The girls varsity team placed 15th in the girls 5,000 meters with an average time of 22:45. Freshman Lillian Grey was proud of the team's performance but disheartened with her own.
"I was very disappointed with my time and run because I wanted to try and beat my pr, 21:26, but ended up getting a really bad cramp at about mile two that slowed me down to the point where I almost started walking," she said. "It was really hard to get a good pace after that and I ended up finishing with a few other McCallum runners."
The girls end their historic season as region qualifiers.
"Our team did a fantastic job," Grey said. "Pretty much all of us had never been to regionals before and our team has a few freshmen that have never had this kind of experience especially at a high school level. But everyone seemed to run their best race in the conditions we were put in."
Melina Raab will be the sole runner representing Mac at the state meet at Old Settlers Park on Friday Nov 5. By qualifying, he joins Chris Riley as the only Mac cross-country runners to qualify for state in the last 18 years (perhaps longer).
Just like Grey, Melina Raab said he is very proud of the team's showing at regionals.
"I'm gonna prep for state the same way I've been for every meet—just train hard through it," Melina Raab said. "This isn't the end goal: that's track season, so I'm just gonna keep pushing."