Sink or rise
I tested baking the egg-based dessert, a soufflé, crossing my fingers it didn't sink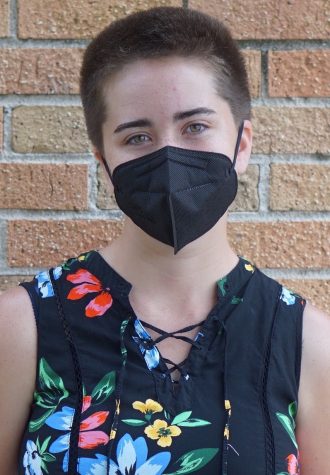 More stories from Kate Boyle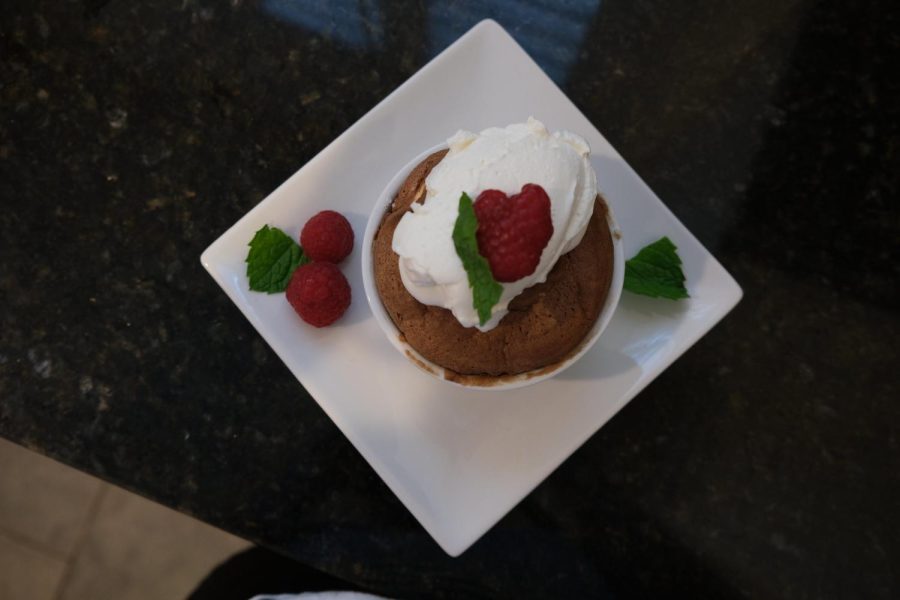 Since a little French patisserie opened in my neighborhood I've been obsessed with fancy French desserts, my last obsession being macaroons, which varied in success. Over the summer I decided I would attempt to bake chocolate soufflé. The goal of this delicate French dessert was to create a perfectly puffed, yet deeply chocolatey sweet dish. 
Soufflés are egg-based which means the rise of your dish relies on how whipped your eggs are. The egg whites being under or over whipped can change the texture of the dish completely. 
My first task was to find a recipe for my soufflé. When looking for a recipe I have a specific strategy; in fact, the last thing I do is look at the actual recipe. First off I see the reviews on the recipe. Anything less than four stars I'm suspicious of. Next, I'll look to see who's written the story. Usually, I won't pick a story from a random blog that I've never heard of because I don't trust it as much as a recipe that comes from a website that I've used for recipes dozens of times. The last thing I look at is the actual recipe. From baking and cooking for many years, I know what a bad recipe looks like. 
The recipe that I found was one from The New York Times, with five stars on its website. The ingredients were simple: butter, sugar, chocolate, eggs and salt, and the proportions were similar to other recipes that I had seen. 
One different thing about the recipe than other ones I had seen was how they were cooked. The soufflé dish was supposed to be baked on the bottom of the oven, on no racks. After putting the soufflé in the oven the oven is supposed to be turned down from 400 degrees to 375 degrees. 
As far as ingredients for the recipe there's not much that you need to know. With the chocolate, you can pick milk chocolate or dark chocolate depending on your preference. I used dark chocolate and have to say that it was very chocolatey and not very sweet. It's important in this recipe that the eggs are at room temperature. The ensures that when whipping them they hold the right texture.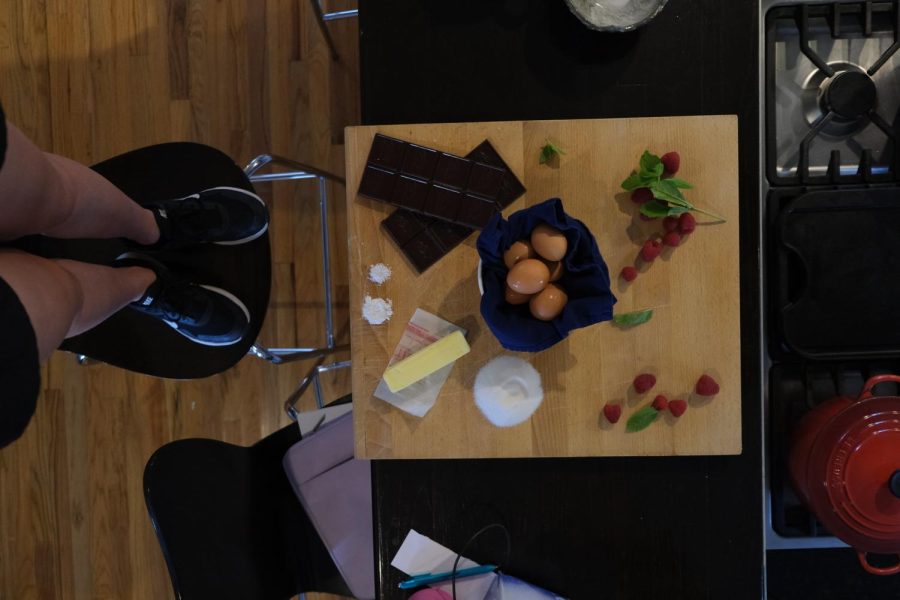 The first problem that I ran into in this recipe was with my new oven, a convection oven, that didn't recommend anything to be baked on the bottom. Which meant I couldn't follow the recipe exactly, which didn't end up being a huge problem.
Another problem was I didn't have a soufflé dish, so I ended up just using some mini ramekins that I got a couple of years ago on Christmas. Reviews on the recipes page said that when smaller dishes were used to cut back on the baking time, which is what I did. I covered these ramekins as well as possible with butter and then coated them with sugar. This creates a sweet crust around the soufflé. 
The next thing I did was melt the rest of the butter and chocolate together. I did this in the microwave because I never see a difference when I use a double boiler. I left this to cool while I separated my eggs. The egg yolks then went into the chocolate and butter mixture. Make sure the mixture is cool enough that the eggs don't cook (a problem I've run into in the past.)
Next, I put my egg whites and cream of tartar into my electric mixer. Although cream of tartar tastes disgusting on its own, in egg whites, it will ensure that you always have white fluffy eggs. As the mixer whips air into the eggs I slowly add the sugar. 
Once the egg whites hold stiff peaks, you can test this by holding the bowl upside down over your head and nothing will drop. Now it's time to combine your two mixtures. 
This is when I started to think I had failed. The mix started to look all clumpy and separated. The recipe didn't say the mixture should look like this, but I just kept mixing, making sure not to knock too much air out of the mixture, and eventually, the mix looked smooth.
"
Over the summer I decided I would attempt to bake chocolate soufflé. The goal of this delicate French dessert was to create a perfectly puffed, yet deeply chocolatey sweet dish. "
I filled the ramekins almost to the top with the soufflé batter. Many of the recipes I had looked at, as well as this one, recommended running your thumb along the inside rim of the dish. This leaves about a fourth of an inch space between the batter and the ramekin which is supposed to help the dish rise higher. This step was a lot harder than it looks and it resulted in lots of batter on my hands that I couldn't eat (because of all the raw eggs).
Baking soufflé is very nitpicky, and I did a terrible job. The recipe says to bake with the door closed for the first 25 minutes, which I cut down to 15. The recipe also says to turn the oven down to 375 degrees when the soufflé goes in, which I realized after I finished baking them. After 15 minutes in the too-hot oven the soufflés were unfortunately slightly overbaked.  
To cover up the ugly and overbaked tops I whipped up some cream and washed raspberries and mint for decoration. This step is totally optional but does make you feel like you're eating at a fancy restaurant.
And although not looking very tasty, they did taste good. 
I brought some friends over to be my taste testers. Neither of them had eaten a soufflé before but love anything with chocolate. 
"The souffle was chocolatey and rich," junior Sofia Ramon said, "It wasn't too sweet. I liked the cream, it made for a nice presentation."
My sister, who doesn't like chocolate, was not a fan, but I was expecting that. Sophomore Maggie Coulbourn is a self-proclaimed dessert expert.
"I'm a big chocolate fan," Coulbourn said. "The texture was smooth and light. Very delicious."
I would say that despite some flaws this recipe test was a success. If you'd like to stress out about chocolate and the amount of air in eggs—resulting in a delicious chocolate dessert—then I recommend trying the recipe below.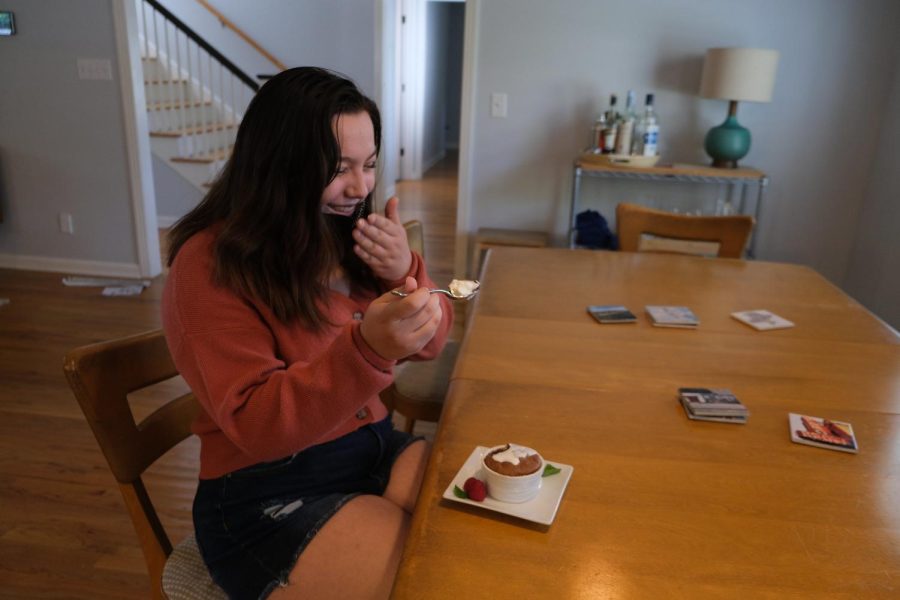 For the batter:
½ cup (114 grams) unsalted butter + more for coating dish (about 1 tablespoon, this should be softened)

¼ cup (50 grams) granulated sugar +more for coating dish (about 1 tablespoon)

8 ounces (225 grams) bittersweet chocolate, chopped

Pinch of salt

½ teaspoon cream of tartar 
Optional decorations:
Whipped cream (homemade with ½ cup of cream and 1 tablespoon of sugar or storebought) 

½ cup fresh raspberries

Sprig of mint
Instructions: 
Remove wire racks from oven and place a baking sheet directly on oven floor. Heat oven to 400 degrees. Generously butter a 1 1/2-quart soufflé dish. Coat bottom and sides thoroughly with sugar, tapping out excess. For the best rise, make sure there is sugar covering all the butter on the sides of the dish.

In a medium bowl, melt chocolate and butter either in the microwave or in a bowl over a pot of simmering water. Let cool only slightly (it should still be warm), then whisk in egg yolks and salt.

Using an electric mixer, beat egg whites and cream of tartar at medium speed until the mixture is fluffy and holds very soft peaks. Add sugar, 1 tablespoon at a time, beating until whites hold stiff peaks and look glossy.

Gently whisk a quarter of the egg whites into the chocolate mixture to lighten it. Fold in remaining whites in two additions, then transfer batter to prepared dish. Rub your thumb around the inside edge of the dish to create about a ¼-inch space between the dish and the soufflé mixture.

Transfer dish to baking sheet in the oven, and reduce oven temperature to 375 degrees. Bake until soufflé is puffed and center moves only slightly when dish is shaken gently, about 25 to 35 minutes. (Do not open oven door during first 20 minutes.) Bake it a little less for a runnier soufflé and a little more for a firmer soufflé. Serve immediately.
Leave a Comment