Where all the signs are encouraging
Naomi Jordan has brought enthusiasm, inclusion to the task of teaching sign language to a new club of Knights who are very eager to learn it
Naomi Jordan teaches the Sign Language Club every Wednesday during lunch in Ms. Smith's Room 148. With the assistance of her translator, Emily Williams, Jordan brings enthusiasm and encouragement as she teaches the basics of sign language to her students, the club's members. Speaking from my personal experience, the club is really fun with lots of neat learning experiences, all because Naomi is a talented teacher. New members are always welcome. To give you a taste of what the club is like, I have created this photo essay, which is also the Tuesday Top 10 on the Shield website this week.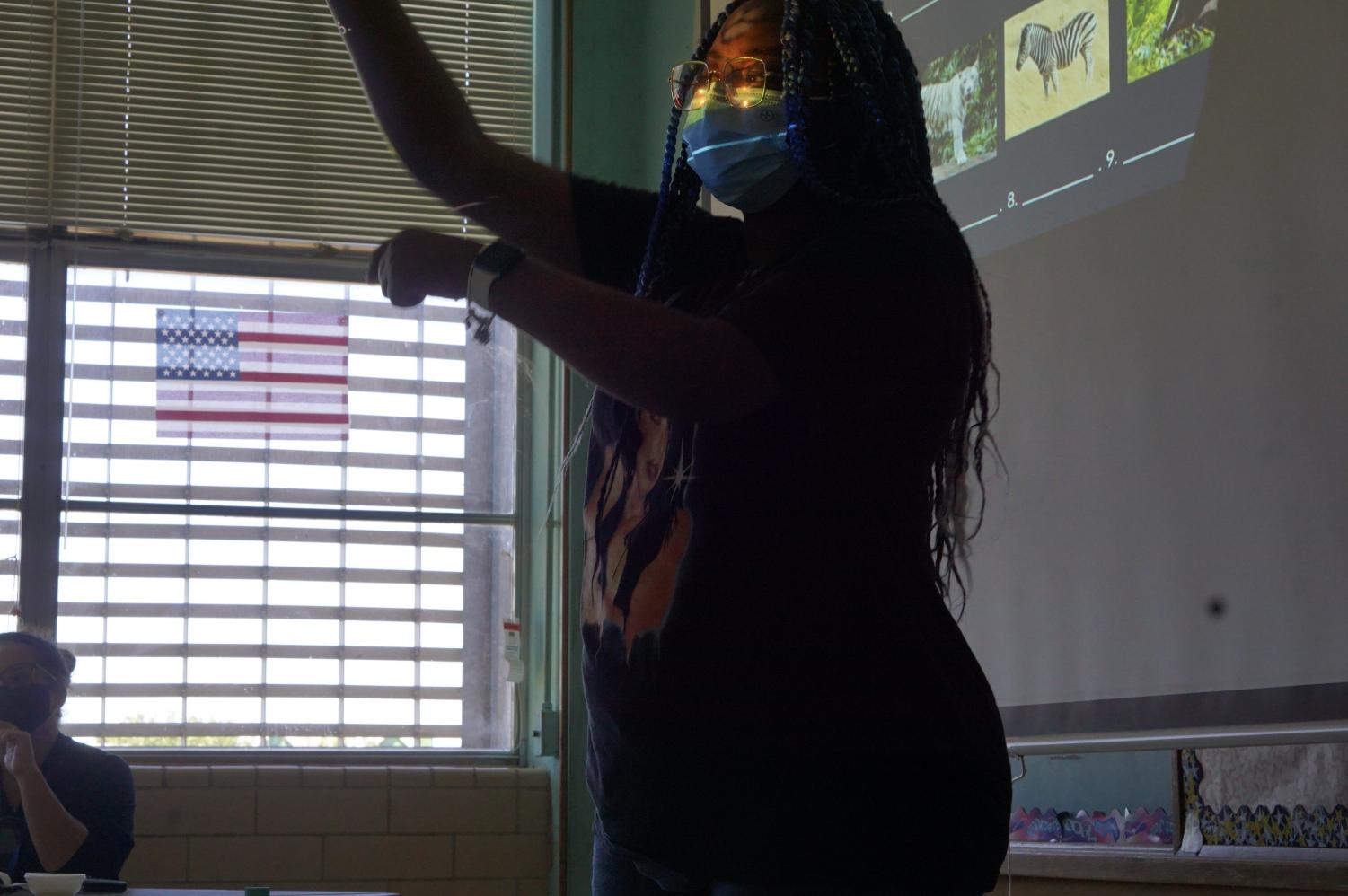 SPELLING IS FUN: Sophomore Naomi Jordan teaches her Sign Language Club how to finger spell last Wednesday. Naomi started the club in order to teach more people how to speak sign language. "People  are curious when they see me signing to my translator," Naomi said. "They're always interested in my language."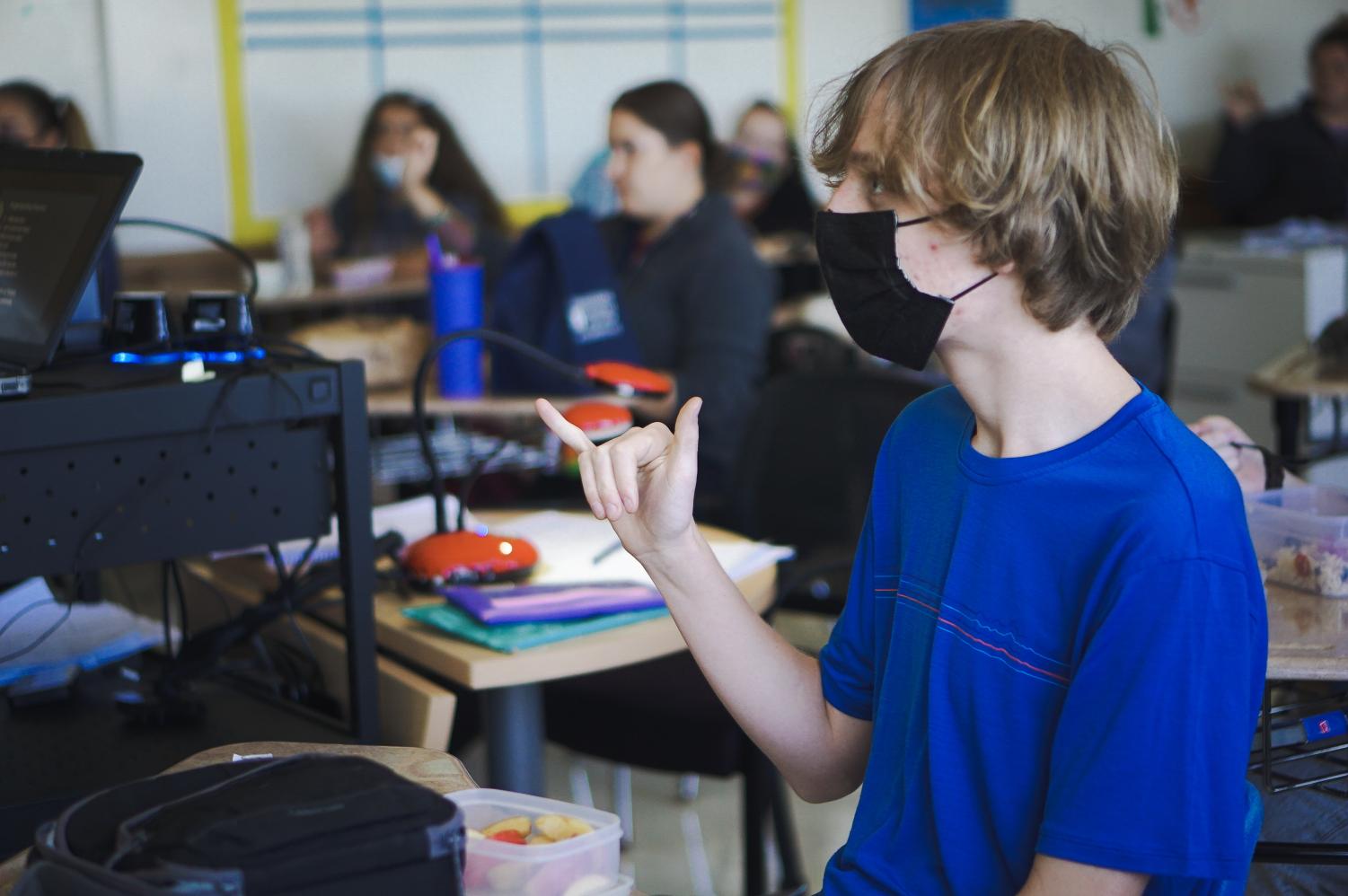 SIGNING WITH FRIENDS: Junior Owen McGuire practices fingerspelling in Naomi Jordan's Sign Language Club on Sept. 30. Owen joined the club with some of his friends because they had a mutual interest in learning sign language and thought this would be a good way to pursue it. "Naomi shows us the signs in a way that helps us all understand it," Owen said.  "She's patient and overall a good teacher."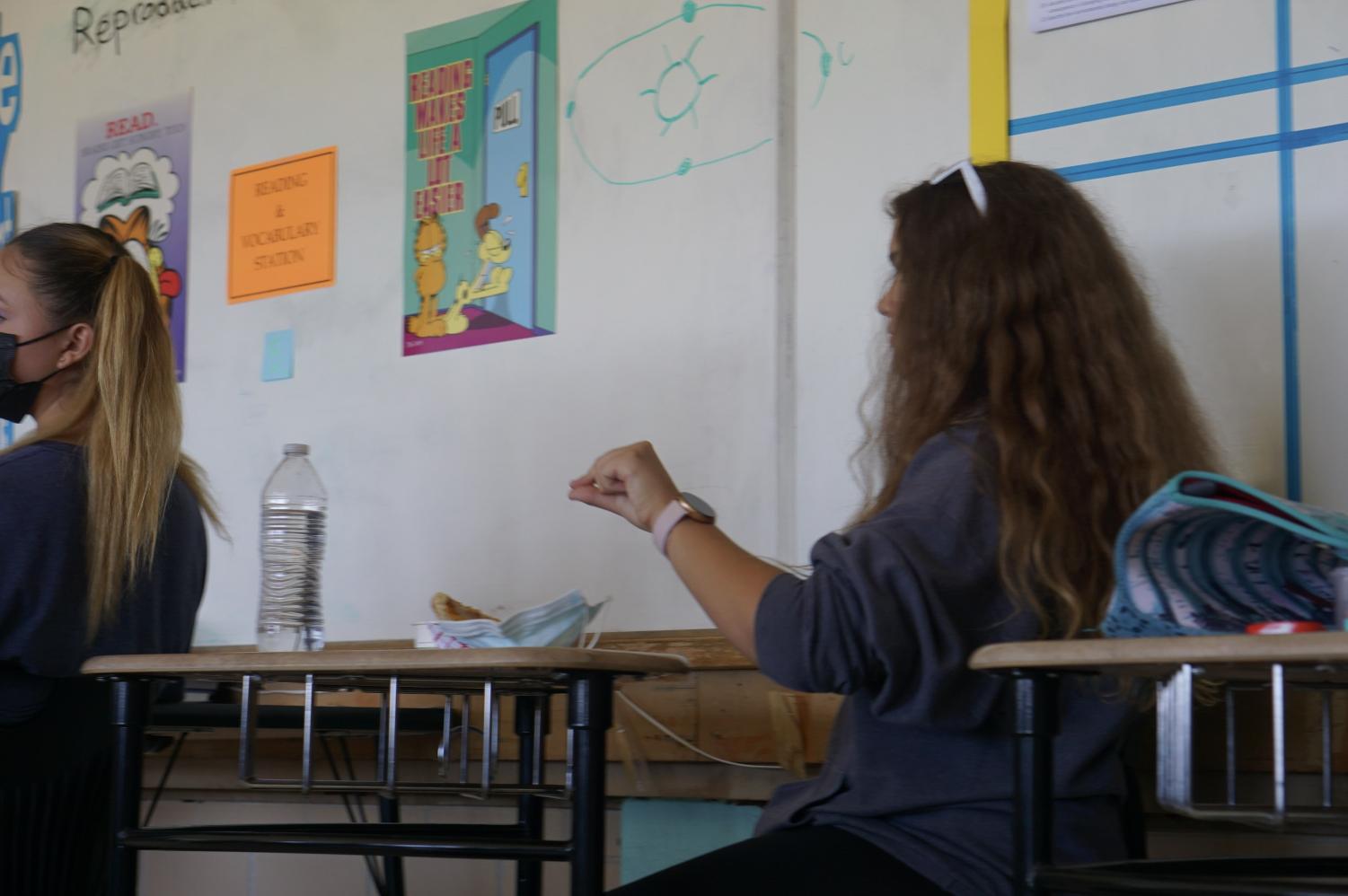 G=GOALS: Freshman Micayla Nestlebush signs the letter G in Naomi Jordan's Sign Language Club in Room 148. Micayla joined the Sign Language Club because she felt like it would be useful for the job she wants to pursue. "I want to be an Occupational Therapist," she says.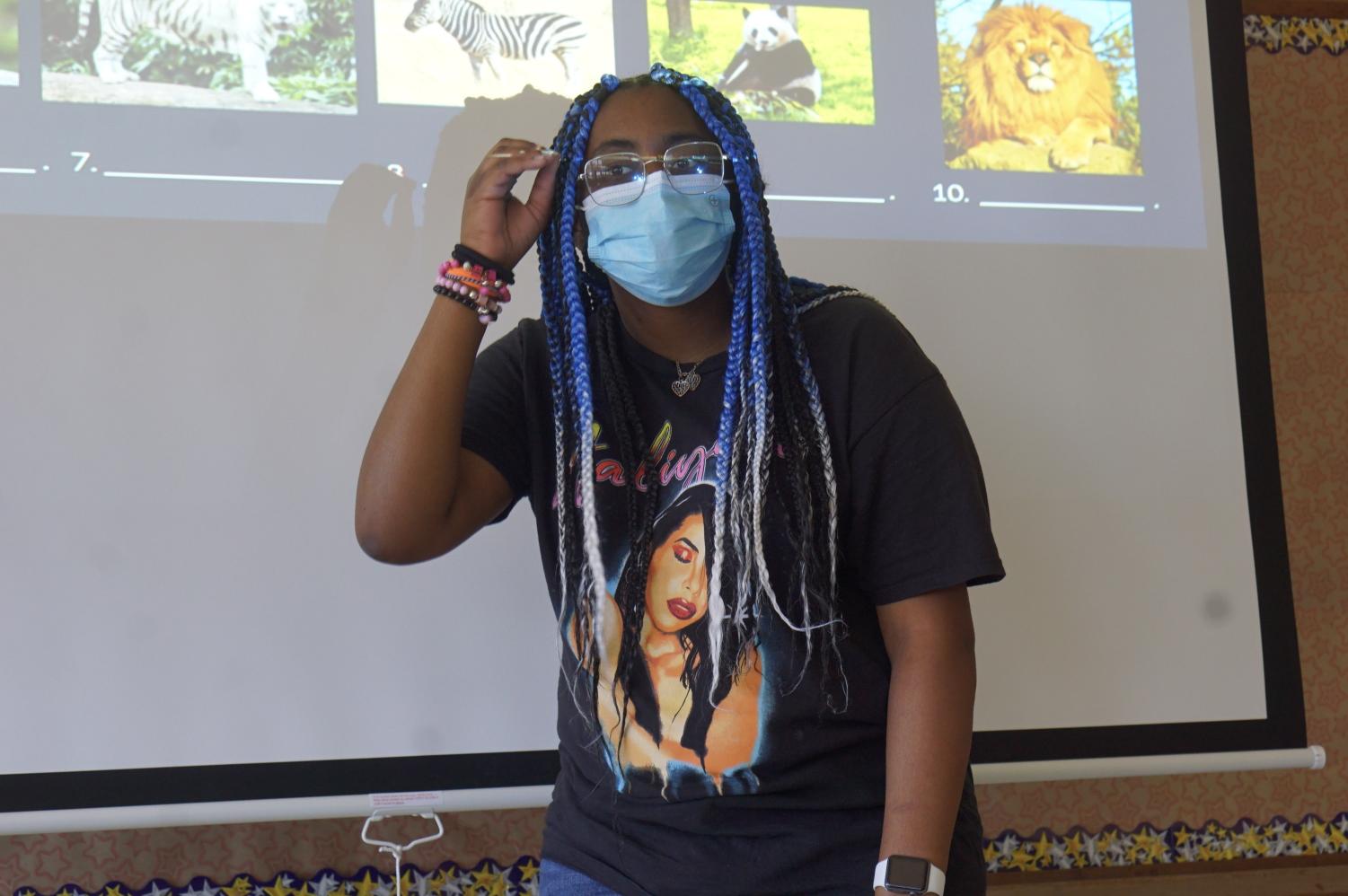 HOW DO YOU SPELL … ? As part of her lesson for Sign Language Club on Sept. 30 in Ms. Smith's room, Naomi Jordan played a game with her class where they finger-spelled the names of different animals. "Pandas are my favorite animal," Naomi signed.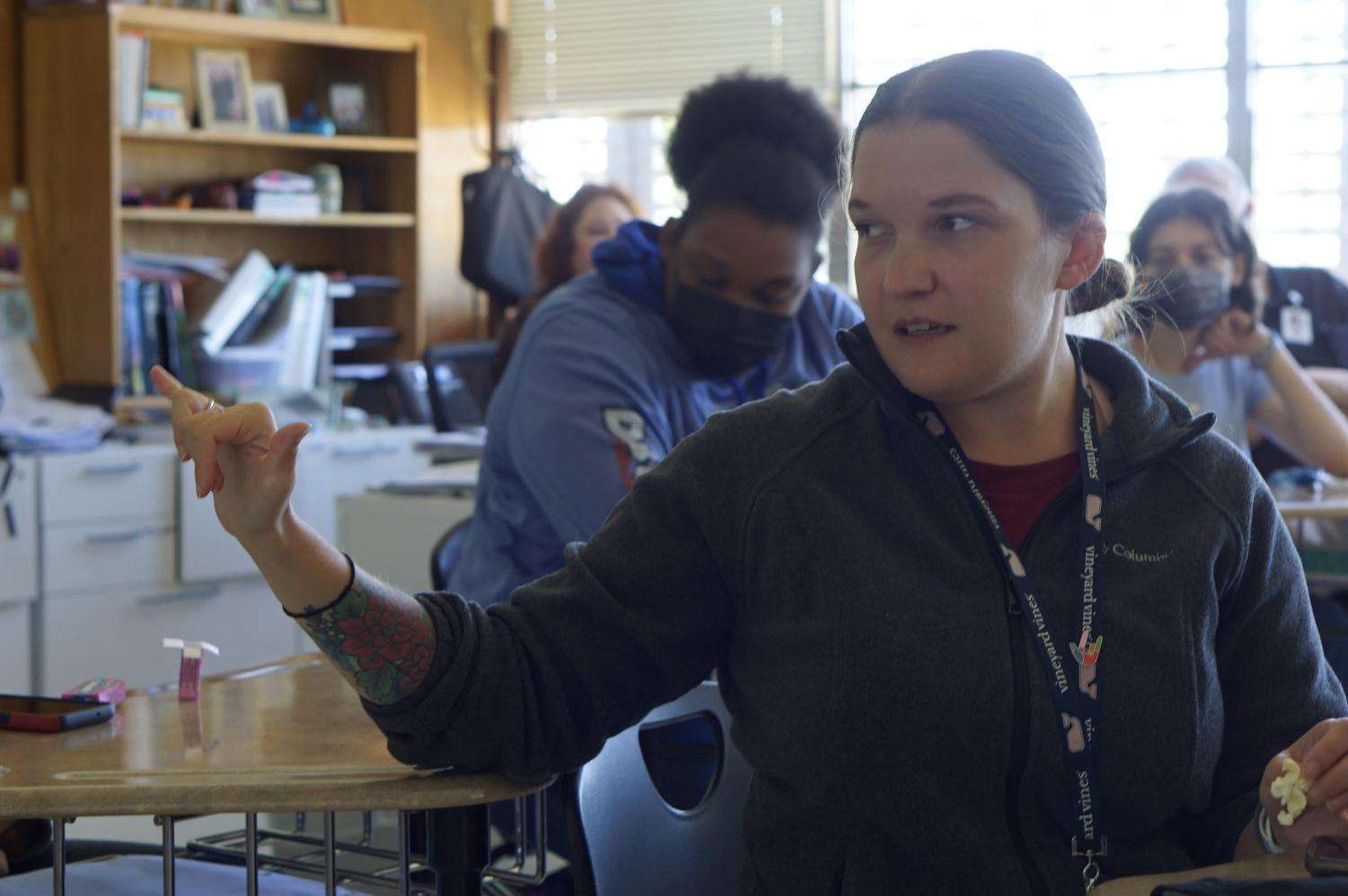 SPELL CHECK: Emily Williams, Naomi's translator, helps students with perfecting their signing. Here, she corrects a student's finger-spelling of butterfly. "B-U-T-T-E-R-F-L-Y" She spells out.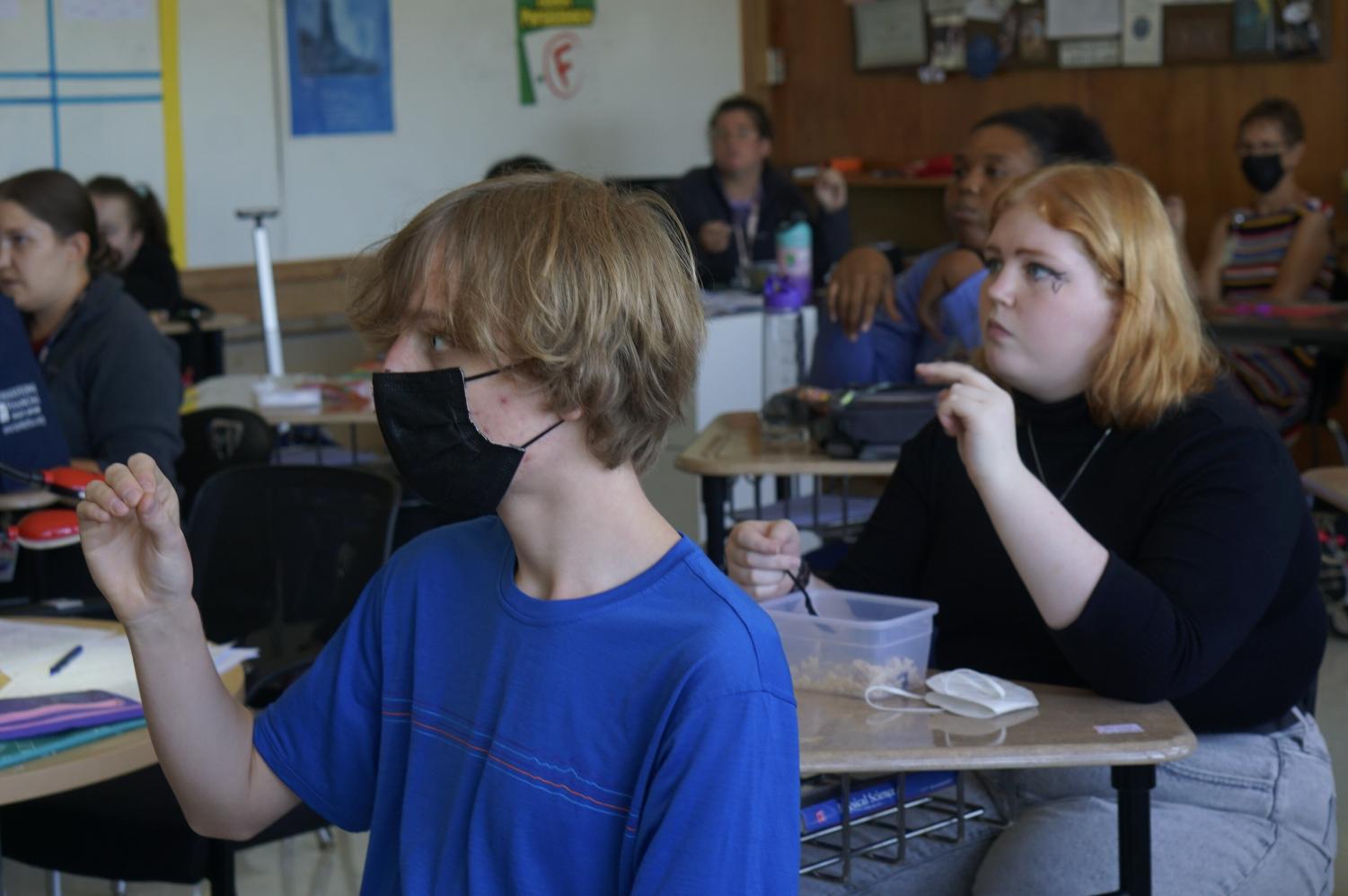 PASSIONATE ABOUT LEARNING: Junior Anna Fox (right) joined Naomi's club because she loved the beauty of the language and wanted to embrace the chance to learn it. "My favorite part so far is definitely just how smoothly Naomi runs things, and how much effort she puts into making sure we're all speaking," Anna said. Across the board, Naomi's teaching has received nothing but praise from club members.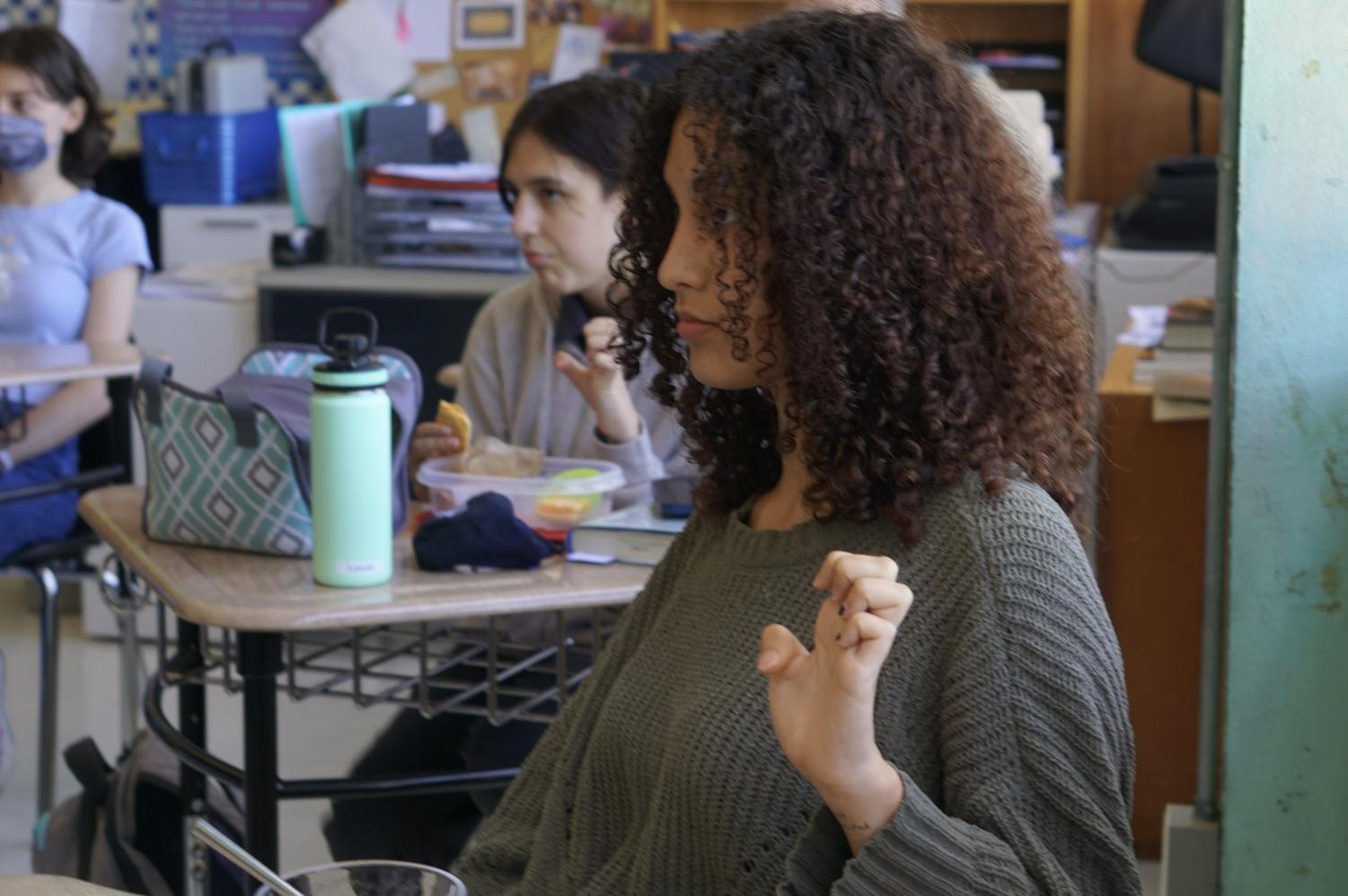 THE SIMPLICITY OF SIGNING: Junior Ella Rosenblatt finger-spells in Naomi Jordan's ASL club on Sept. 30. Many members said that they find it hard to memorize words when learning a spoken language, so they appreciate how physical sign language is because it's easier for them to learn. "I really enjoyed learning all the animal signs," Ella said. "It's a very literal language so when you sign an animal you sort of mimic that animal."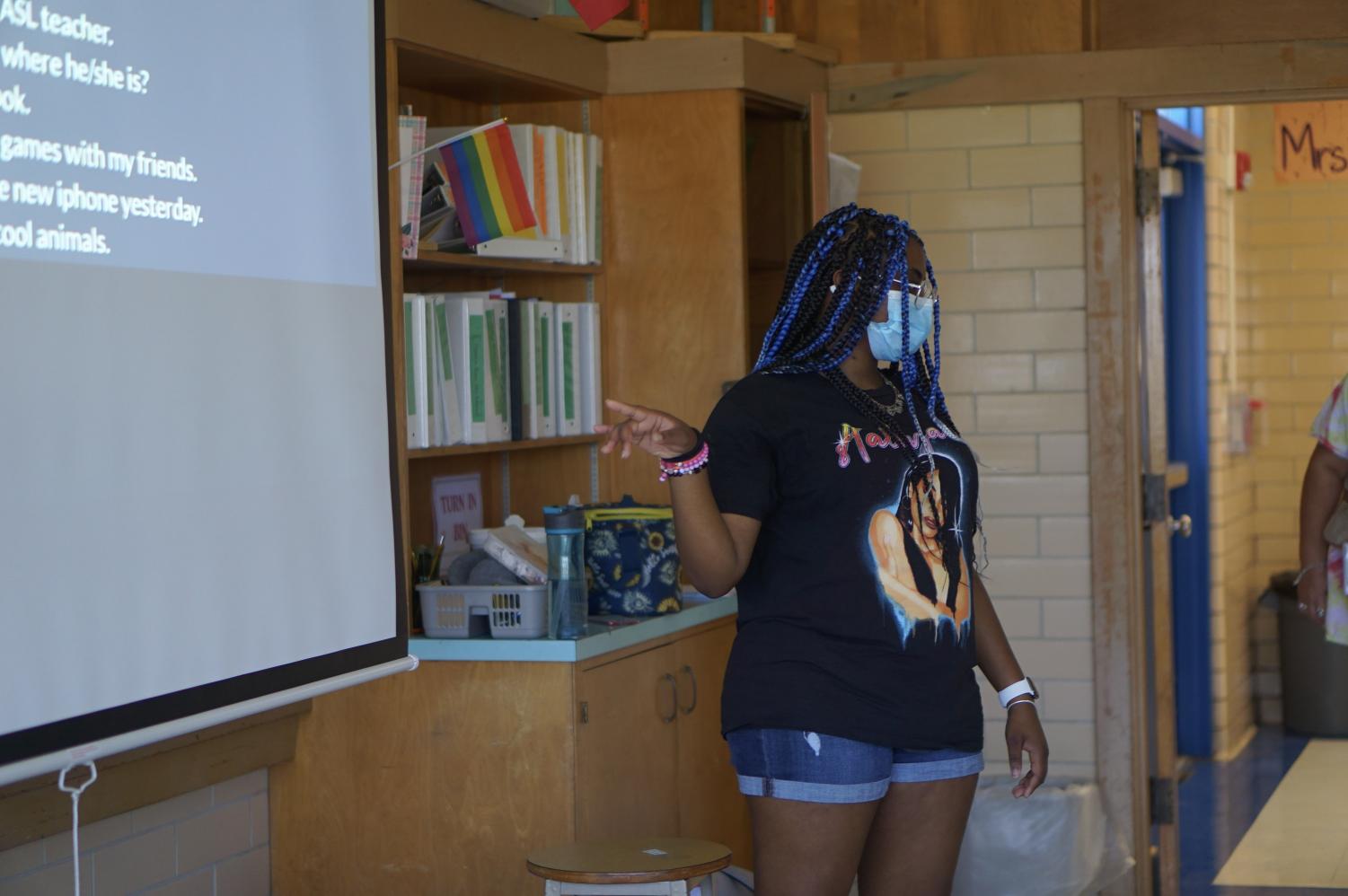 PASSIONATE ABOUT TEACHING: Naomi gestures to the screen behind her as she teaches her lesson on fingerspelling. Naomi is openly enthusiastic about teaching others sign language and loves when people are interested in how she speaks. "One of my favorite words to sign is friendly," Naomi informs the class.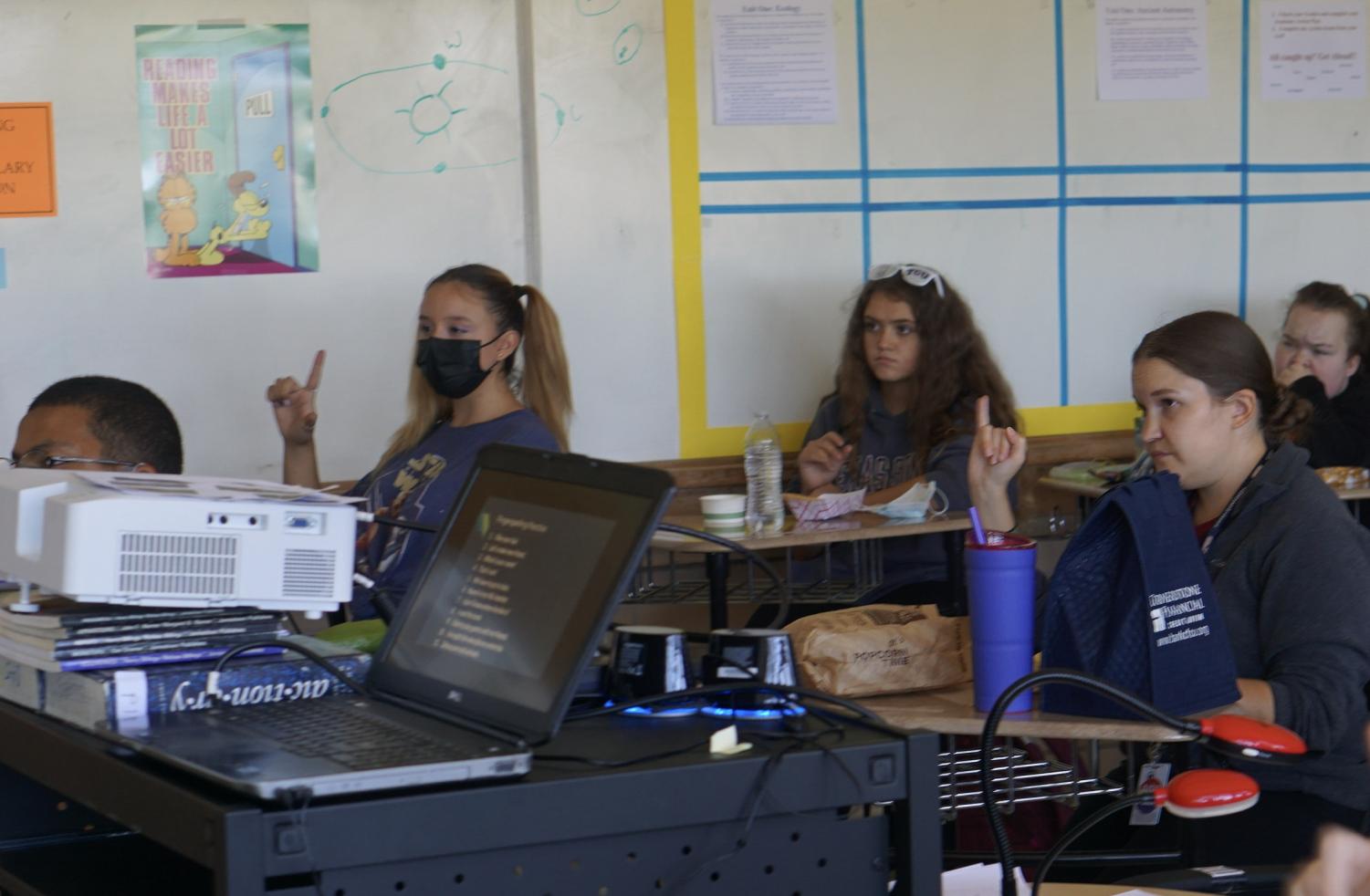 PRACTICING THE ALPHABET: Participants in Naomi Jordan's Sign Language Club sign the letter "I" during their fingerspelling practice Sept. 30. Students have learned fingerspelling, how to sign animals and how to sign emotions so far. "My favorite animal to sign is 'dolphin,'" junior Owen McGuire said, demonstrating how to sign the word.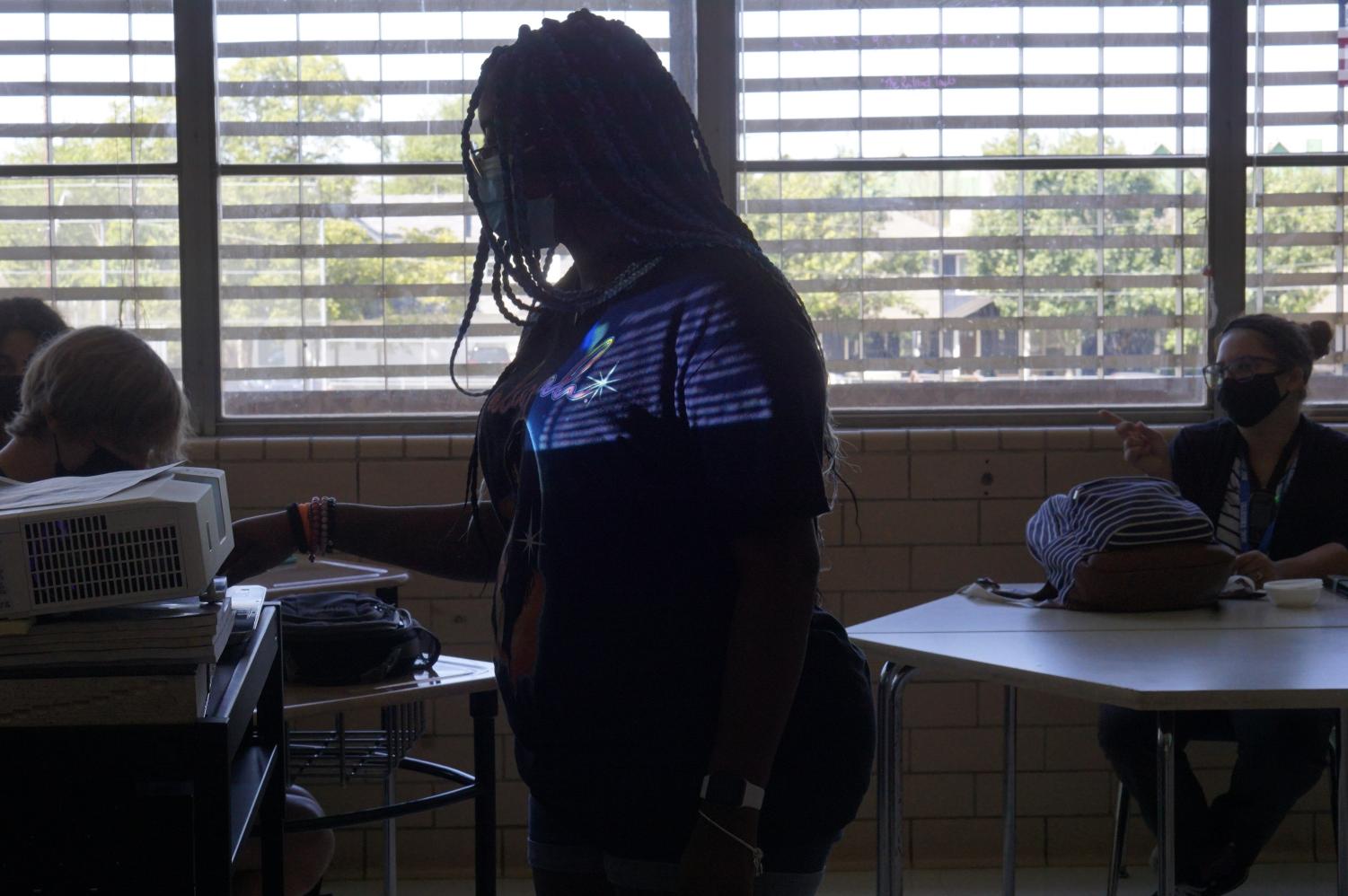 SIGN WITH A SMILE: Naomi is always happy to talk about sign language, and she loves having the ability to teach others. Every time she talks about teaching, she gets the biggest smile on her face. Her encouragement to her students? "Don't give up on learning," Naomi says. "Sign language is really so beautiful!" And we couldn't agree more.