Austin Public Health invokes Stage 5 COVID risk factor
Citing a critical shortage of ICU beds caused by sharp increase in COVID hospitalizations, local health officials urge citizens to get vaccinated, wear masks indoors
Austin Public Health increased the COVID-19 risk factor to Stage 5 on Friday. The threshold for Stage 5, the highest risk factor, was reached, APH announced Friday, because the seven-day moving average of new COVID-19 hospital admissions has reached 50.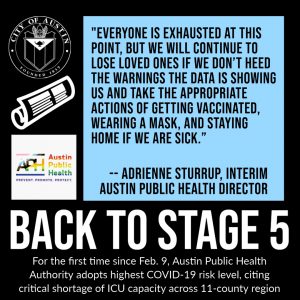 The increase in ICU admissions is particularly of concern. According to APH, the Trauma Service Region 0, which serves 11 central Texas counties with more than 2.3 million residents, had only 16 staffed ICU beds available on Friday.
"Our ICU capacity is reaching a critical point where the level of risk to the entire community has significantly increased, and not just to those who are needing treatment for COVID," said Dr. Desmar Walkes, Austin-Travis County Health Authority. "If we fail to come together as a community now, we jeopardize the lives of loved ones who might need critical care."
According to the APH statement, vaccinated individuals should choose drive-through and curbside options, outdoor activities, returning to social interactions with limited group sizes, as well as social distancing and wearing masks indoors. Partially or unvaccinated individuals, meanwhile, should avoid gatherings, travel, dining and shopping in favor of curbside and delivery options and should wear a mask when conducting essential activities.
APH stated in the release that 63.12 percent of Travis County residents are fully vaccinated. The percentage of unvaccinated or partially vaccinated residents and the new more contagious variants of the virus have fueled a dramatic increase in the positivity rate that has reached 13.7 percent, the highest rate since early January.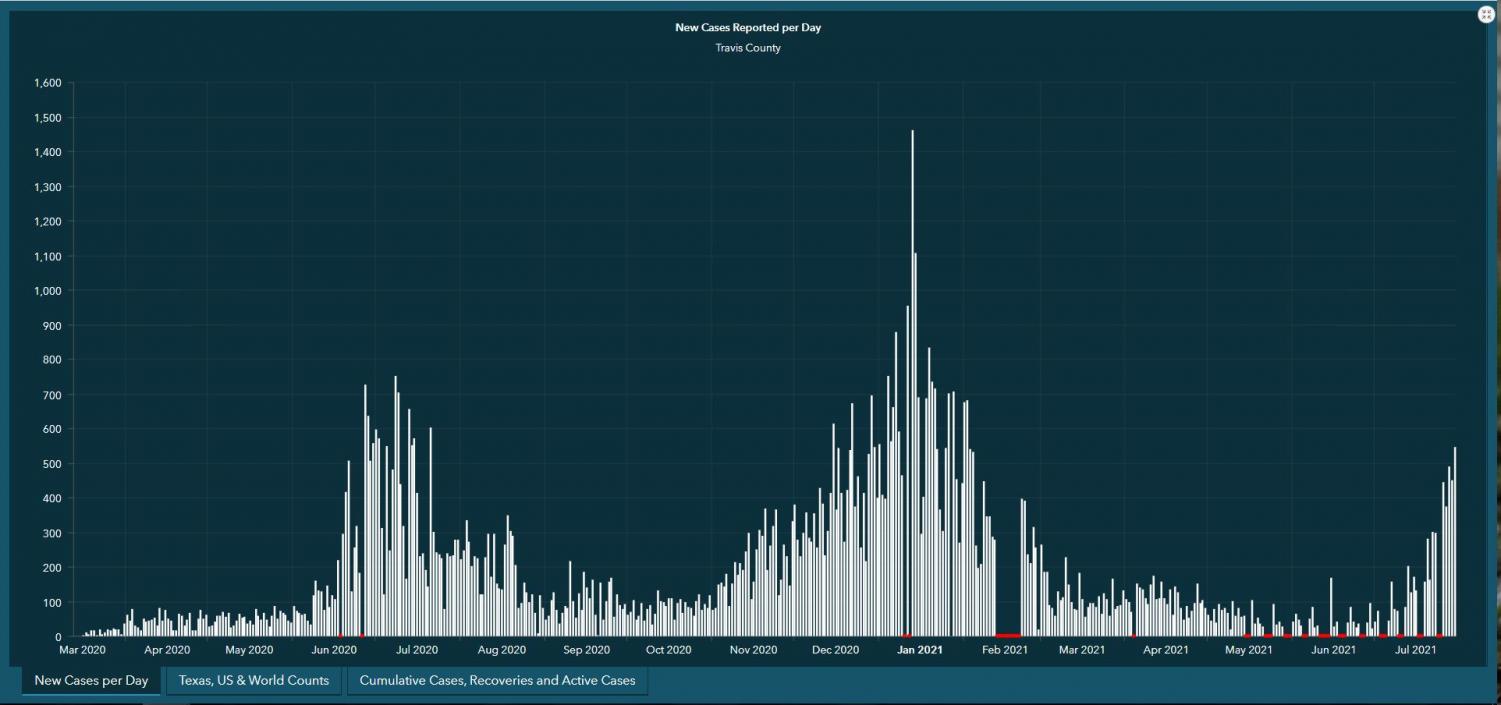 The Stage 5 announcement also contained a joint statement by Ascension Seton, Baylor Scott & White and St. David's Healthcare, confirming the dire situation that local hospitals currently face.
"The latest COVID-19 spike is putting extraordinary pressure on our hospitals, emergency departments and healthcare professionals, and it has further challenged hospital staffing due to a longstanding nursing shortage."
Over the past week, APH reports that the local increase of COVID-19 is documented in these indicators:  
The seven-day moving average for hospitalizations in a week has increased more than 47 percent from 34 to 50 new admissions on July 30.

The number of COVID patients in local ICUs increased 28 percent from 91 on July 23 to 117 people on July 30. 

The number of COVID patients on ventilators increased 38 percent from 47 on July 23 to 65 people on July 30.
On July 14, Austin-Travis County was at Stage 2. In just over two weeks, the risk factor has increased all the way to Stage 5.