Anna McClellan: NSPA Artist of the Year portfolio
In a year full of uncertainty and struggle, one of the outlets of stress I had was through art, especially design and cartoons. Art has always been something I've used to ease anxieties, so knowing I would be able to use it for myself and also to benefit the newspaper was something that was beneficial all around. So, on September 5, I entered the virtual Zoom room our staff used to meet as Design and Visuals editor, knowing that this year would be tough from the start. However, I wasn't going to let that get in the way of my creativity.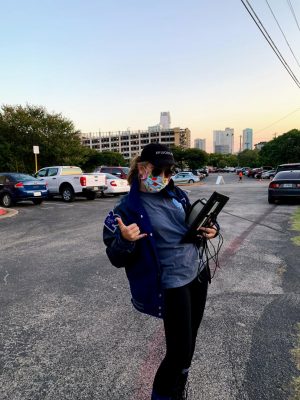 My goals for the year were to help revitalize the designs used for the Shield and get a rhythm for the style of cartoons and graphics I wanted to make. As Design and Visuals editor I knew that it was not only my job to create artwork for the Shield, but also to help others achieve their creative goals, too. 
Last summer I began learning how to use Procreate, an application used for animation and digital artwork. I watched videos to learn different techniques and how to edit brushes to adapt them to my needs and the style of art I was creating. I was able to create artworks for both the Shield and myself using new techniques and styles to complete them. 
In the fall, I entered the editorial cartoon category of the TAJE virtual Fall Fiesta Contest, and wanted to take this opportunity to try something new, a style of cartoon that I'd only previously seen on the walls in my grandma's house. As a kid, I grew up walking through halls of political cartoons at her house, and wanted to try and adapt my art to be like that. I bought some pens, opened up a fresh page in my sketchbook and took a shot. After eight hours of work and several energy drinks, I was more than proud of what I had completed. 
This past year consisted of many trials and many errors, but ultimately I'm proud of all the work I have accomplished. With the support of my fellow staffers, and especially that of my advisors, I was able to create and keep creating pieces of work that supported my goals and creations, and gave me the ability to keep going and keep creating in the midst of some of the hardest and lowest points in my life.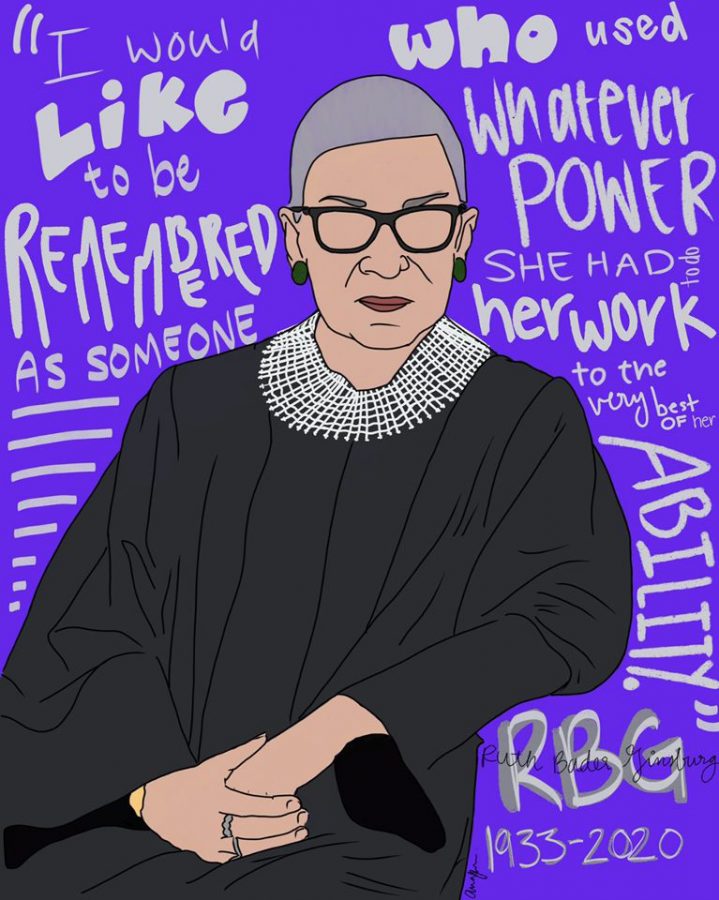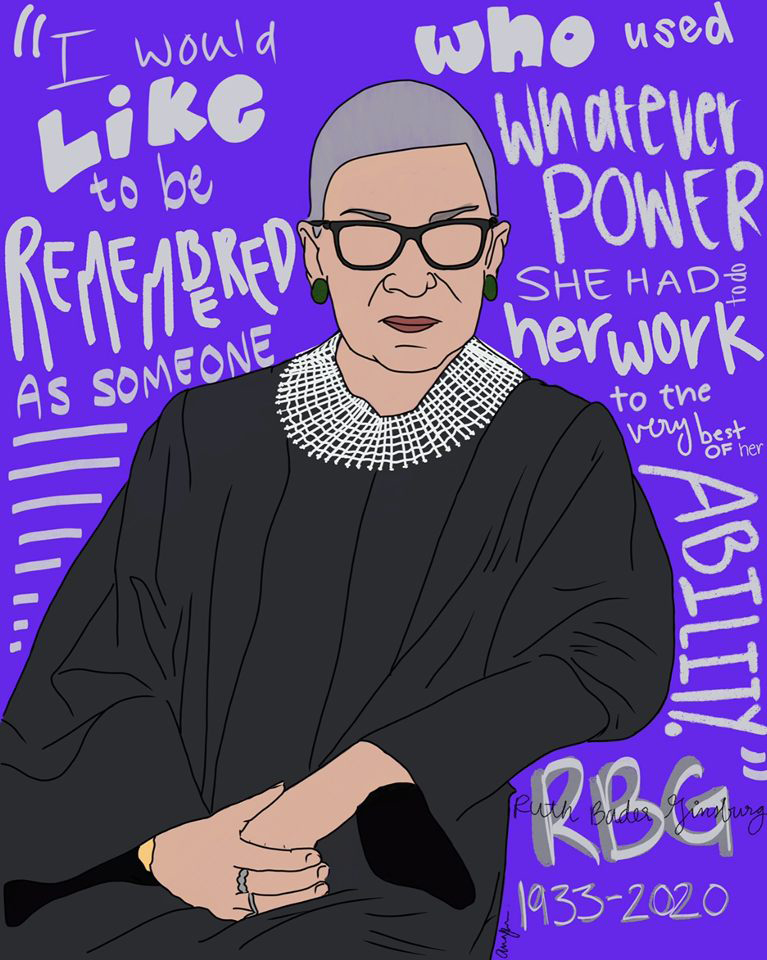 REMEMBERING THE GREAT RBG: One of the first and most memorable pieces I made for the Shield this year was a portrait of RBG, made the day she passed. In the midst of tears, texting my advisors to see what was going to be the best course to take and how we should announce it on our instagram, I began to work. I based it off of one of her most notable portraits, and while considering a busier background, I decided a royal purple was best. From there I added a quote about how she wanted to be remembered, in a somewhat abstract format in the space in the background, and her name and the years she was alive. I figured it was a simple piece, but it conveyed how important of a person she was, and still is, to our society.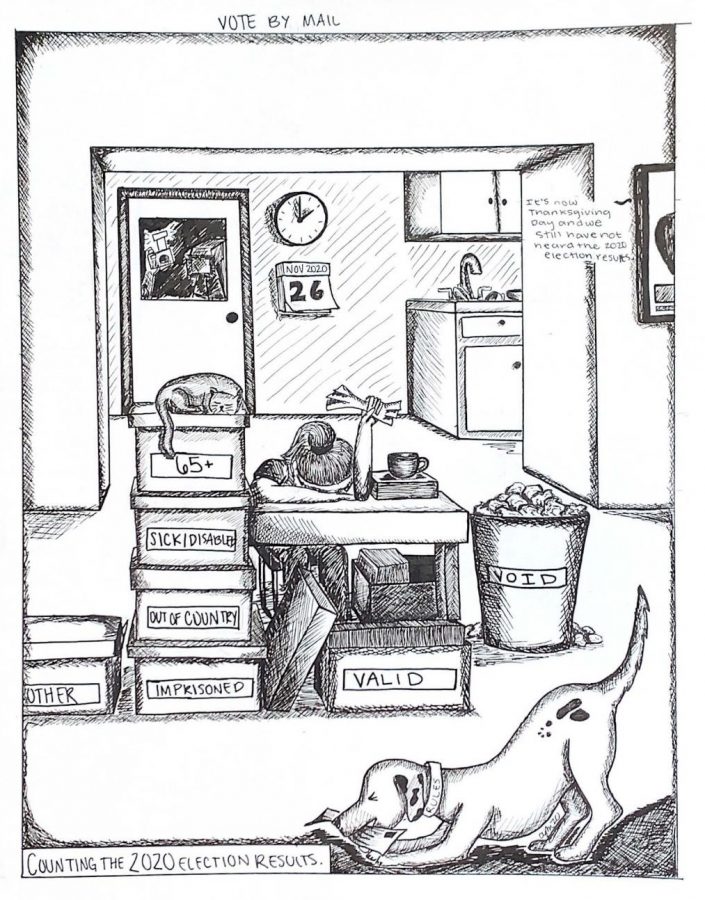 VOTE BY MAIL: In the fall I entered TAJE's fall fiesta contest, where I had around 24 hours to make and submit a piece that reflected a stance on Mail-in voting. I wasn't really sure how others were going to go about doing this, but even before they told us the prompt, I knew I wanted to make a hand drawn piece. Throughout my life I would see political cartoons done by hand hung up around my grandma's house, and figured this would be a great way to use that type of cartoon as inspiration. In this, I made all sorts of hidden (and some very obvious) hits at mail-in voting, and chose this approach because I figured it wasn't an angle many were going to take. 
For example, I named the dog "Rules" because all of the mail-in ballot "rules" were "tearing up" the process of voting. All the boxes are labeled with different groups and types of people potentially using the mail-in voting system, and the trash can full of ballots represents the number that could potentially be thrown out. I also noted the allegations of how long the votes were going to take to count and validate by labeling the calendar November 26, aka Thanksgiving. There's a newscaster talking about how they still don't know what the results of the 2020 election are, and the person counting the votes is exhausted. There's also a bit of paparazzi at the door trying to see who is going to win the race. This is probably my favorite piece I've created all year, because it is unique, and I know that it is something I will always be proud of accomplishing.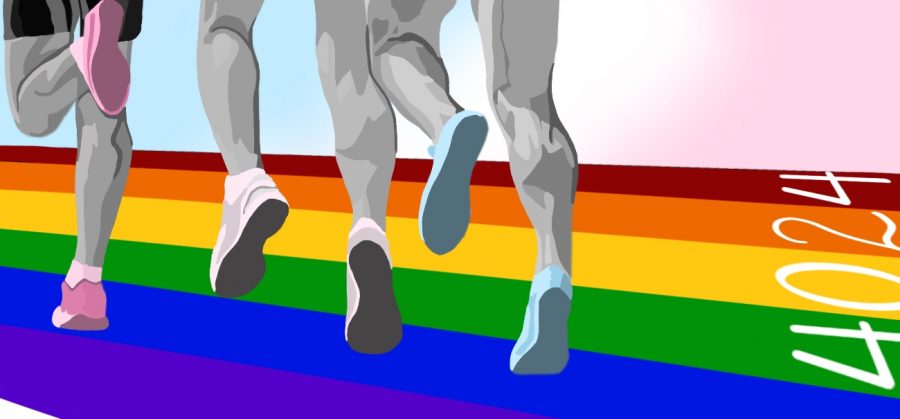 HB-4024: In May 2021, Texas Legislature introduced HB-4024, aka the Trans Athlete Bill. This bill would prevent transgender athletes from participating in sports of the gender they transitioned to, forcing them the play as the gender they were assigned at birth. One of my fellow staffers on the Shield wrote an opinion piece on it, and so I created this piece to complement the writing. After looking around for inspiration, I decided to focus my piece on a group of runners, not their faces but just the fact that they were racing and doing something they loved. Their shoes are each one of the colors of the Transgender pride flag, along with the background. The track is the traditional LQBTQ+ pride flag, and the numbers on the track  represent the bill number.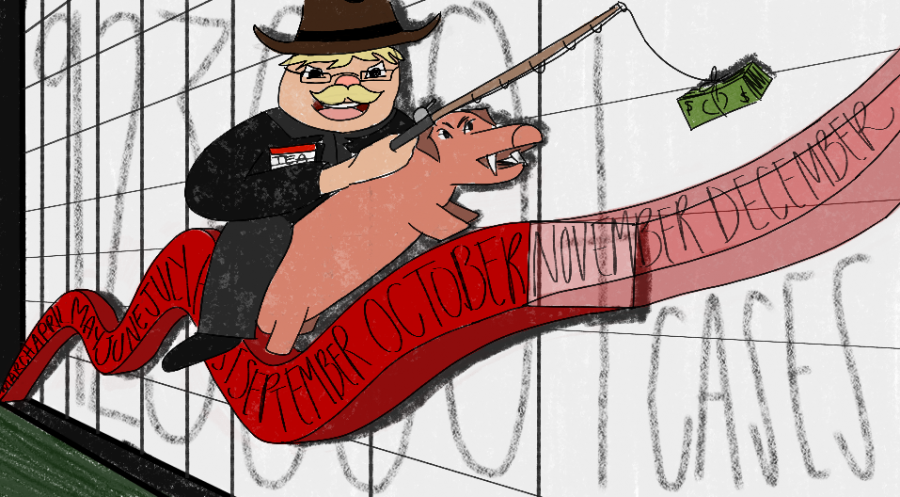 IN IT FOR THE MONEY: In the fall TEA announced that if students didn't start attending school in person, then funding for their schools would be decreased, making many upset since it was unsafe with COVID-19. In this picture, the TEA president is riding a pig up a graph that continues to shoot upward and represents how everything is focused on money over students and teacher's safety.
View this post on Instagram
MAY THE FOURTH: Last year on May 4th, I made a drawing of "Imperial Academy" with Darth Vader teaching a group of storm trooper students over zoom. This year, since students had begun to return to campuses, I thought it would be cool to show the in-person and virtual learning that was happening in a galaxy far, far away. Here, we have Jedi master Yoda teaching a group of younglings lightsaber combat, and those who are in person are wearing masks, and the student "on-line" is projected through a hologram and is still wearing pajamas.