Hannah to head to Houston this fall
Praised for her leadership, work ethic, Zuñiga to major in biology, play D3 soccer at the University of St. Thomas
Hannah Zuñiga is taking her car and heading east to Houston next fall to attend the University of St. Thomas. Zuñiga has committed to play soccer for the Division-3 Celtics.
UST reached out to Zuñiga first.
"I actually hadn't heard of the school until they reached out," Zuñiga said. "I was originally talking to the University of Houston-Victoria and was very close to choosing them. But then UST reached out to me after a college showcase, and we got chatting. I looked at the university and noticed it was in a very familiar place."
Zuñiga is no stranger to Houston. 
"My mom's side of the family lived in Houston, so I've spent most of my childhood there," Zuñiga said. "I have so many good memories there. Even after we stopped visiting as much, I still went to Houston for soccer tournaments."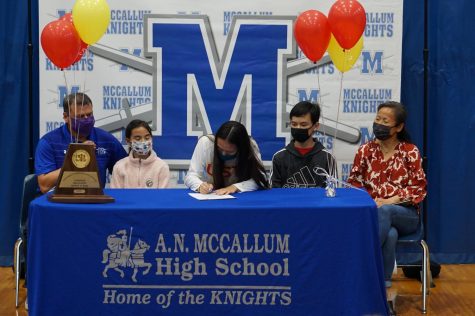 UST is located in Houston's museum district, something Zuñiga is particularly excited about.
"I think the location is absolutely perfect for a non-local moving into a more touristy city," Zuñiga said. 
While the city is a draw for Zuñiga, UST was also a place where she could picture herself thriving in soccer and in academics. 
"I was drawn to the small community," Zuñiga said. "I found that I do better in smaller classes with professors who know you by name, and that's what UST is like. I wanted to make sure that I could see myself playing and continuing my academic career there."
"
I'm honestly very excited to start over. I'm ready to start my life in a new environment with new people."
— senior Hannah Zuniga
Zuñiga will major in biology so she can pursue a career as a physical therapist. 
Initially Zuñiga claimed there to be too many good memories at McCallum to only pick one, but she said her heart will always be with the McCallum girl's soccer team.
"If I had to choose a favorite memory, it would be going to an out of town tournament with the girls varsity team," Zuñiga said. "We stayed in a hotel overnight and really bonded, and it was just super fun."
While she will miss her Mac teammates and friends, Zuñiga is excited to start fresh and embark on a new journey. 
"I'm honestly very excited to start over. I'm ready to start my life in a new environment with new people," Zuñiga said. "Of course, I'll alway love the people who've grown up with me because they've helped me become who I am today."