Can't hold it any longer
Despite weather delays, MacTheatre to stage Urinetown outdoors with COVID precautions
From sports, to the arts, to even graduations, the pandemic has altered the high school experience in profound ways, but in certain cases, with the help and innovation and teamwork, Mac students have been able to continue to do what they love the most.
This has been the case for McCallum Theatre, who due to the construction of an outdoor stage has continued on with its spring production of Urinetown, the musical.
"
[Urinetown] is very relevant to our current political climate and is a very important story to tell."
— sophomore Anderson Zoll (Bobby Strong)
Urinetown is set in the future where a terrible water shortage has caused the government to ban private toilets. It is a satirical comedy that follows the lives of the people of Urinetown as they begin to revolt against the corporation that runs the public toilets. According to sophomore Anderson Zoll, who plays protagonist Bobby Strong, the play also seems to be a subtle representation of our current climate.
"I think that while on the surface the musical Mr. Denning chose this year is extremely entertaining, full of big dance numbers, and bigger-than-life characters, it also is very relevant to our current political climate and is a very important story to tell," Zoll said.
Of course, preparing to tell that story looks a little different this year.
"We rehearse outside in the evenings," Zoll said. "It gets very dark and cold quickly, which makes the rehearsal process a little bit more challenging. I think that the biggest challenge we have had to overcome is masks. Masks make it harder to sing, and they also cover up part of our face, which hides some of our acting. We have had to adjust by singing/speaking louder so that we can be heard through our masks, and we will have clear masks for the performances."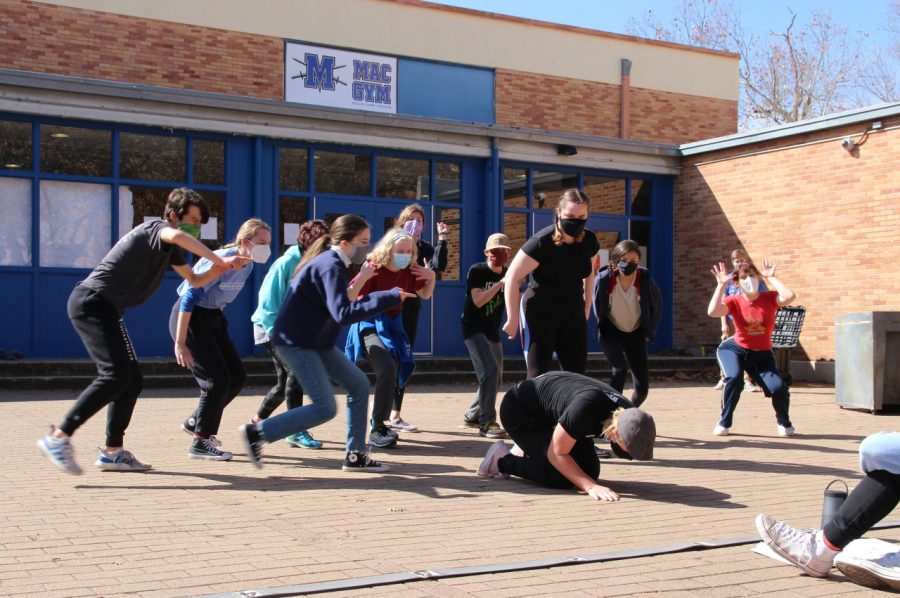 Zoll says that the adaptation, while frustration at times, has been worth it.
"Masks are extremely important to the cast staying safe, so it was crucial that we learned to perform with them," Zoll said.
Tech rehearsals have also had to adapt. Being outside this year has limited some of the luxuries MacTheatre typically enjoys, like having personal mics for actors.
"We've had to use zone mics, which I don't really know a lot about," sophomore crew member Anna Fox said. "We didn't have them last year, so it's definitely really different. Also, for tech specifically, all of the tech calls have been optional. I know a lot of people who just haven't gone because they are worried about getting sick."
"
To see when something starts as nothing and then becomes something it's really fascinating."
— sophomore Anna Fox, tech crew
Though it's not exactly the same experience as in other years, just being able to put on a show has cast and crew members abuzz.
"It was really tentative for a long time, but once we found out it was really happening I was stoked," Fox said.
"I was extremely excited when I found out that we would still do a live musical this year," Zoll said. "I missed live musical theatre so much last year, and I was so happy when I learned that we were still going to be performing a musical."
In the theatre program, Fox and Zoll have found their passion.
"I really like tech theatre stuff," Fox said. "I think it's really interesting. I've always really liked how things worked and getting to see the back stage, beating heart of most things. I started stage management in middle school and really enjoyed it. I decided to continue in high school, where I kind of found my calling."
She also said that watching a production from beginning to end was immensely gratifying.
"I don't really see that a lot because I'm not really a part of many long-term projects, so to see when something starts as nothing and then becomes something it's really fascinating."
For Zoll, the love of theatre is something that has been in the works for a while.
"I have loved musical theatre since I was little, and MacTheatre felt like the best-fit high school musical theatre program for me," he said. "I wanted to do this show specifically because of how fun the music is and how it tells a very relevant story in a very entertaining way. I was especially excited to do this show because it gives me a chance to perform live with a whole bunch of my friends, which I haven't been able to do recently."
For both Fox and Zoll, the ability to continue to follow their passions has been worth the risk.
"Luckily, we have an amazing faculty, cast and crew who are willing to follow these safety precautions so that we can keep everyone safe and continue to perform," Zoll said. "I think that the Mac fine arts faculty have adapted to the current circumstances extremely well, and I am so proud of our department for persevering through this year."
Plus, for Fox and Zoll, being able to do a restricted show is better than nothing.
"We had the option to not be a part of the play, but I knew that this was worth it," Fox said. "It was one of the few things that I wanted to make the sacrifice of seeing people for because it's important to me, and it was something that I wanted to follow."
Zoll agreed.
"Even though we can't be on the Mac stage, we still get a great sense of community, which is what many of us missed most about Mac shows during this past year," he said. "We are all so excited to perform on Mac's new outdoor stage and can't wait to perform live!"
Due to weather delays, Urinetown will run for only one weekend, March 4-7. Tickets can be purchased through MacTheatre's website at www.mactheatre.com.