Bus drivers double essential duties
District buses brave the elements to continue to provide vital Wi-Fi services to virtual students
On any given day in Austin, there are hundreds of buses sitting on the side of the road quietly providing essential Wi-Fi service to students. With Austin currently in a Stage 4 COVID risk factor, most students are choosing to remain at home and attend school through virtual learning.
"
Bus drivers are stretched between taking children to and from school and providing Wi-Fi services for those who choose to stay at home."
Even without technical challenges, students are well familiar with the struggles of learning through Zoom, encompassing everything from confusing online assignments to awkward breakout rooms. Without reliable internet access, of course, this system of remote learning is not just difficult to navigate, it's completely inaccessible. For students who lack internet access, AISD's Wi-Fi buses offer a way to connect.
Austin ISD first deployed these buses last spring, at the start of the pandemic. They were a quick, affordable solution to ensure student's access to their education. Now, nine months later, students continue to rely on these Wi-Fi buses.
For much of the 2020-2021 school year, campuses have been allowing students to attend school in person. While this shift may seem like the perfect way to make sure students without internet access can make it to school, in some cases it only complicates the situation. Because there's a mix of students without internet access who choose to go in person and who choose to stay home and utilize the Wi-Fi buses, bus drivers are stretched between taking children to and from school and providing Wi-Fi services for those who choose to stay at home.
Each morning, drivers go on their morning route to pick up children and take them to school. Then, at 9 a.m. they head out to man the Wi-Fi buses. Some drivers sit in their bus for the next four hours, making sure students have Wi-Fi access. AISD has placed the Wi-Fi buses next to apartments and in neighborhoods where they can serve the most students in need, and for students who cannot access the signal from their homes or apartments, many connect from nearby parked cars.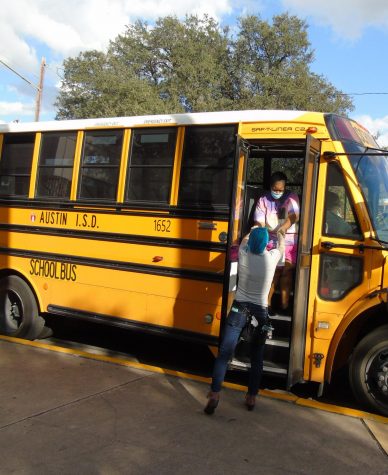 Some, like driver Linda Shelby, are relief drivers who spend their shifts going from station to station to provide the bus drivers with much-needed food and bathroom breaks so they don't have to move their buses away from the kids who need them.
When 1:30 p.m. hits, Wi-Fi services end, and drivers prepare to drive their afternoon routes as school ends and children attending in-person school need to be taken home.
Shelby has been a bus driver for 18 years but says this year offers an entirely new experience because of COVID.
"It's a challenge, but I enjoy doing it for the children, knowing that they need their education and it's beneficial for them," Shelby said. "The hardest part is getting people to cooperate."
Monday Jan. 11 provided a new problem for the bus drivers: the cold. While many districts chose to call a snow day due to record snowfall the previous day, AISD opted for an all asynchronous day.
This decision meant that students still needed to be able to log into classes and, therefore, that the Wi-Fi buses needed to head out into the cold.
"
[Doing double duty] a challenge, but I enjoy doing it for the children, knowing that they need their education, and it's beneficial for them."
— bus driver Linda Shelby
That Monday morning, over 100 buses made their way across the icy roads to bring equipment and provide students with access to schooling for the day. After setting up camp in their designated locations, drivers settled into the freezing conditions to wait out the day. With a high of 48 degrees, the day proved a challenge.
Conditions across Austin differed, leaving some drivers enjoying safe roads while others were exposed to hazardous ones.
"When I got up that morning, the ice had melted where I lived, so I felt safe about coming and trying to get Wi-Fi for the kids, but for a lot of other drivers there was still ice out when they left in the morning so they were kind of scared," Shelby said. "But we survived it."
Although she believes the Wi-Fi buses are working to provide children access to their online learning, she is anxious to get kids back in school once it's safe to return completely.
"I want to know how the kids are feeling about this, which ones want to go back to school and which ones want to go home and how they feel about the situation," Shelby said. "That's my concern: how the kids are feeling."
She believes the use of Wi-Fi buses will continue for many months after this.
"I think it will probably go to the end of the year—not just the school year but the calendar year—until more people get the vaccination," Shelby said. "When they come up with a solution to get [cases] down then I think it will be OK [to fully return]."
AISD has not announced any intention to stop the use of Wi-Fi buses in the near future.