Planting the seeds of change
The Austin Climate Coalition provides students the opportunity to lead the fight for environmental activism
The Austin Climate Coalition is a youth advocacy group, where all the members are local highschoolers. The group doesn't have a president or official roles; instead, people can choose to take charge of the projects about which they are most passionate.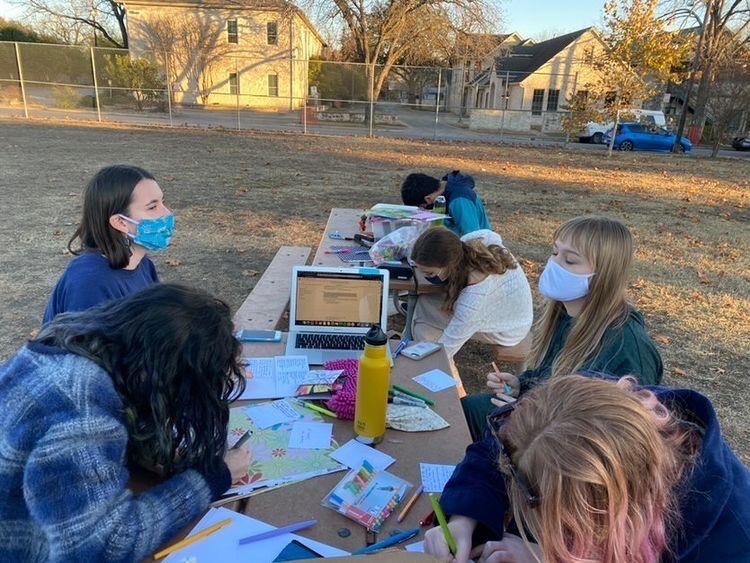 The group formed after the climate strike in September 2019. McCallum junior Veronica Britton says that the coalition was formed with accessibility in mind.
"There's no minimum knowledge [about climate change] needed to join," Britton said.
Britton added that it's different from other organizations that she's been a part of because the members are approachable, while other activist groups can be intimidating, especially to teenagers.
The group, however, has one criteria: youth. After many highschoolers participated and helped organize the 2019 Austin Climate Strike, the ACCo was created to continue the effort.
"Students are easier to work with than adults because we have a lot in common," Brtitton said. "I also think it's easier when you're working with your friends."
On the coalition's website, the group pledges allyship to BIPOC organizations, and to "hold justice at the core of our actions."
"
Stopping climate change isn't just for the polar bears; it's for marginalized people."
— Veronica Britton
On Jan. 11, the Austin Climate Coalition hosted the second installment of its speaker series on a Zoom call with an audience of about 65. The speakers, Shane Johnson and Kaiba White, are committee members of the Austin Climate Equity Plan. They presented a plan with 18 goals and 75 strategies to reach net-zero greenhouse gas emissions in Austin by 2040. The plan connects combating climate change and racial equity and criticizes Austin's historical decisions to "expose people of color to toxic pollution," by placing fuel storage, a landfill and a powerplant in East Austin communities.
"Stopping climate change isn't just for the polar bears," Britton said. "It's for marginalized people."
Senior Serafina Scalo says that the current No Mow Zone project is her favorite. The project aims to turn highway medians into designated areas to preserve nature, instead of routinely mowing them.
"They create sheltered areas for wildlife to nest and hide from predators, help increase the pollinator population, and actually help increase water quality because the plants filter fertilizer and pesticides," Scalo said, "and they also help prevent soil erosion because the root growth stabilizes the soil."
In order to support biodiversity amidst Austin's growing infrastructure, the coalition created Project Wildflower.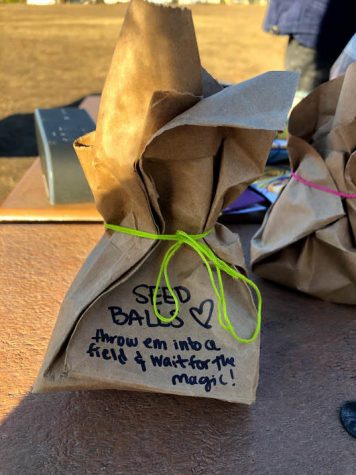 For Project Wildflower, the ACCo collected and donated seeds from a few local programs, including the Wildflower Center and the Native American Seed Farm. They put together seed packets by mixing the different wildflower varieties and making their own packaging with patterned paper from Austin Creative Reuse.
While Coalition members use social media to connect to the community, they also believe in taking their work further. Social media can be a powerful tool, but Britton says it's not enough. The ACCo utilizes a few different types of social media to reach their audience, including Instagram, Twitter and a website. The Instagram is collectively run, and all the members research information and craft well-designed posts, like "Debunking Common Climate Change Myths" and "Eco-Friendly Gifts." The account is also used to promote their projects and zoom meetings.
The website (austinclimatecoalition.com) has both a blog and a news section with student articles. The blog shares information on local environmental topics, including a list of Austin farmers markets, written by Scalo. One of the latest articles is Britton's profile on the country's new National Climate Advisor.
"It's valuable for the first steps of political actions, but you have to take it further."
She feels that information is often passed around on social media, but rarely acted on.
The ACCo's podcast, "One World, Our Coalition," currently has seven episodes, most of which are under a half hour long. The latest episodes of the podcast are a part of the miniseries "Green Thumbs," which focuses on gardening. In episode five, "Reactions of Presidential and VP Debates," a few members discuss the presidential candidates' views on climate change.
Fast forward to today, with Biden in office, "a new era of climate action started…but we know that the fight is not over until the legislature is signed, so we will continue to put pressure on the people in power," the ACCo writes in an Instagram post.
"A change in the president doesn't change the system," Britton said, "We have so much work to do."
For more information check out "austinclimatecoalition" on Instagram, where you can find their projects, as well as a link to their weekly zoom.