Pandemic survival: Austin businesses adapt
COVID-19 has challenged the city's retail and service institutions to innovate in order to remain open.
In this week's #TuesdayTop10, photojournalism student Ingrid Smith documents the many ways the Austin businesses and cultural institutions have adapted their practices to stay open and serve the citizens of Austin.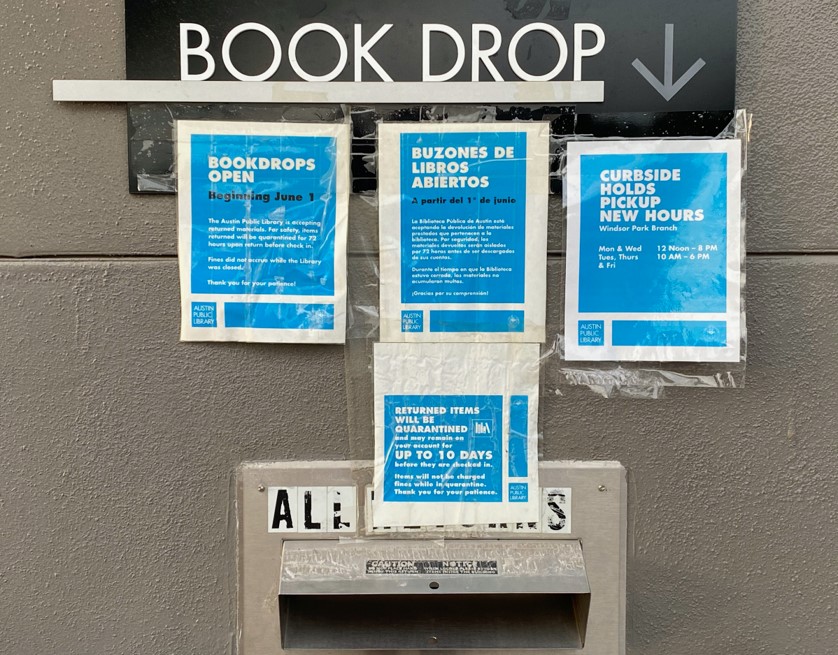 Libraries get creative
The Austin Public Library system has found ways to continue offering resources while taking safety precautions and ensuring that all their operations function smoothly during these times. The Windsor Park Branch hosts a book drop complete with signs explaining that library curbside pickup options are available, book drops are open, and returned items will be quarantined and "may remain on your account for up to 10 days before they are checked in." As noted on the Austin Public Library's website, the curbside pickup service offers "a way to provide safe access to physical materials during these unprecedented times." Photo by Ingrid Smith.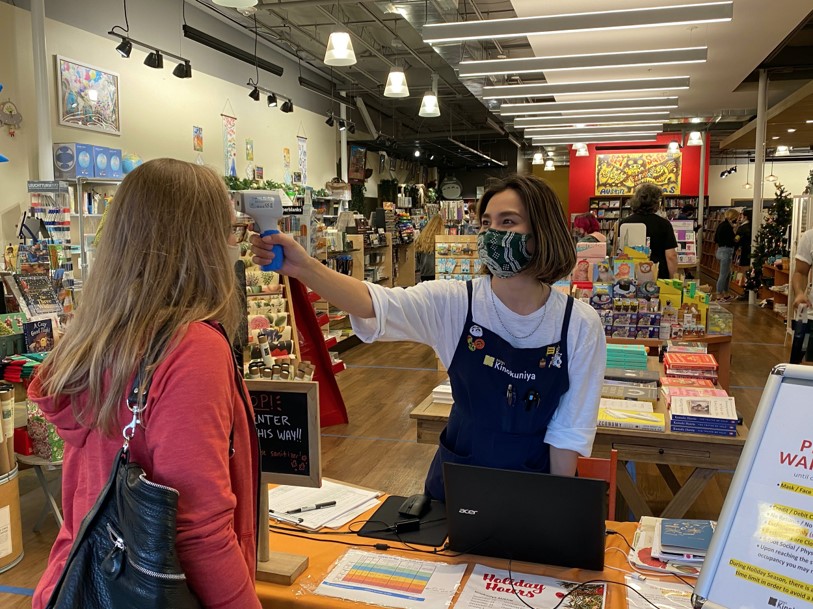 Shopping safely
Kinokuniya is a Japanese book and gift store that has been taking many COVID precautions these last few months, including a mandatory shopper temperature check at the entrance to ensure the safety of their customers. Pictured here, a Kinokuniya worker checks the temperature of customer Jenny, who said, "I feel safer knowing that the store is being so careful." A sign at the door lists all of the store's COVID precautions and rules, stating that "during holiday season, there is a 20-minute shopping time limit in order to avoid a long wait outside." Photo by Ingrid Smith.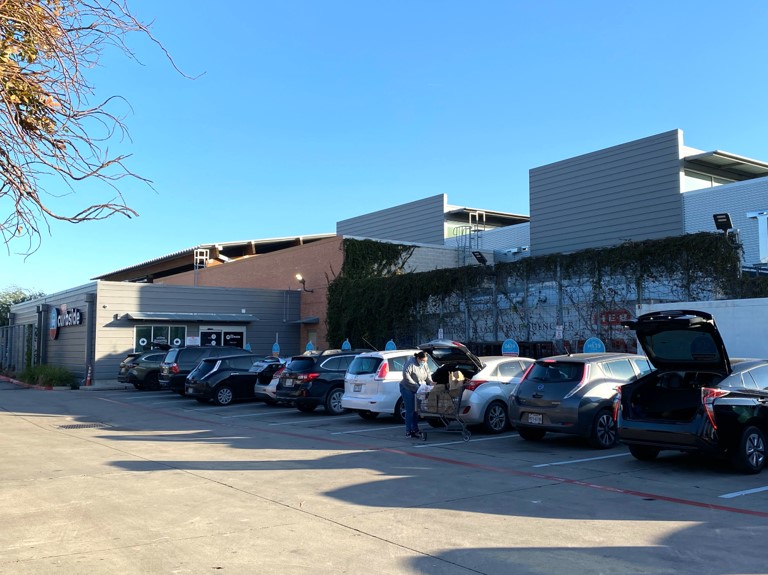 Groceries to go
H-E-B now offers curbside pickup and home delivery in its efforts to protect customers and maintain social distancing within stores. As pictured here at the H-E-B Mueller curbside pickup area, the curbside pickup process involves cars pulling up to designated spots during their specific time slots and opening the trunk for personal shoppers to load up the groceries. Offering this service from 7 a.m. to 9 p.m., H-E-B's website explains that they want customers to be able to "access the food and supplies they need with limited public interaction." Photo by Ingrid Smith.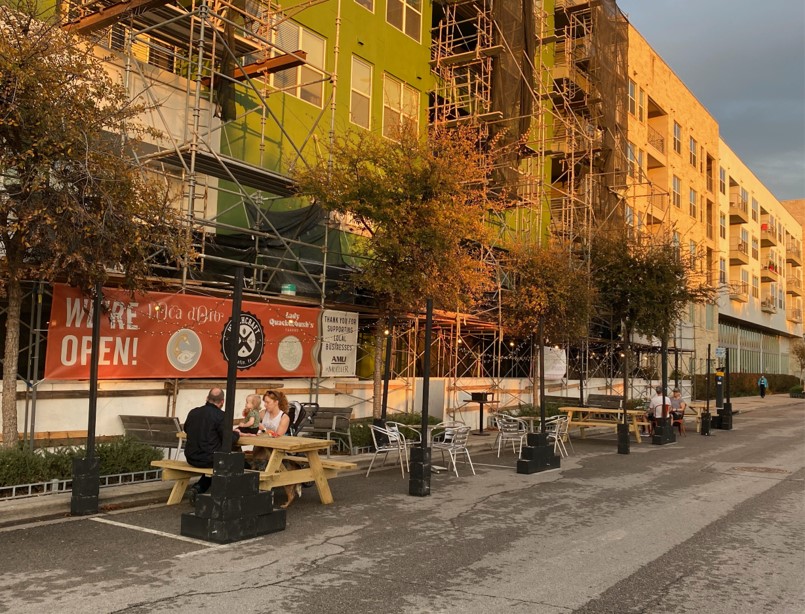 New patios popping up
Whichcraft Tap Room and Bottle Shop is a craft beer market across from Mueller Lake Park that has adapted to operate during COVID a few ways, including opening a "new beer garden right outside the front doors." This new beer garden consists of socially distanced tables located on the main street. Whichcraft recently expressed excitement about its new beer garden on its blog, saying that it is "excited to offer a new and socially distant way for you to come enjoy a pint or two with us." Photo by Ingrid Smith.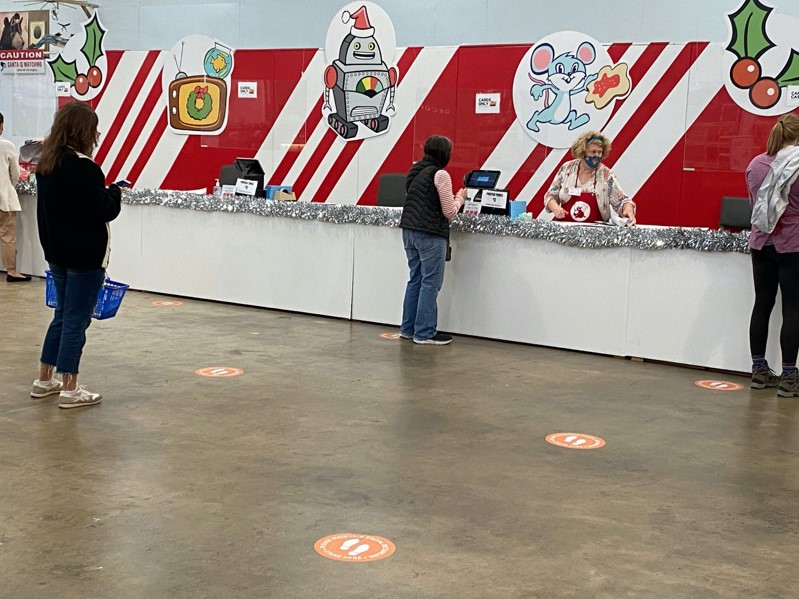 New ways to shop
The Blue Genie Art Bazaar, a business open seasonally as a gift store for the holidays, has not only been taking all the necessary safety measures for in-store shoppers, but making changes to their business model and offering new services to shoppers as well. As pictured here, Blue Genie has required that customers wear masks, installed socially distanced floor markers with a transparent checkout screen and even offered personal shoppers. Sarah Nowlen, who works at Blue Genie, explained what they have done to adapt to COVID-19 this year: "Limited capacity, requiring masks, free reservations online for two-hour shopping blocks, and online shopping and shipping, and sanitizing and cleaning." Photo by Ingrid Smith.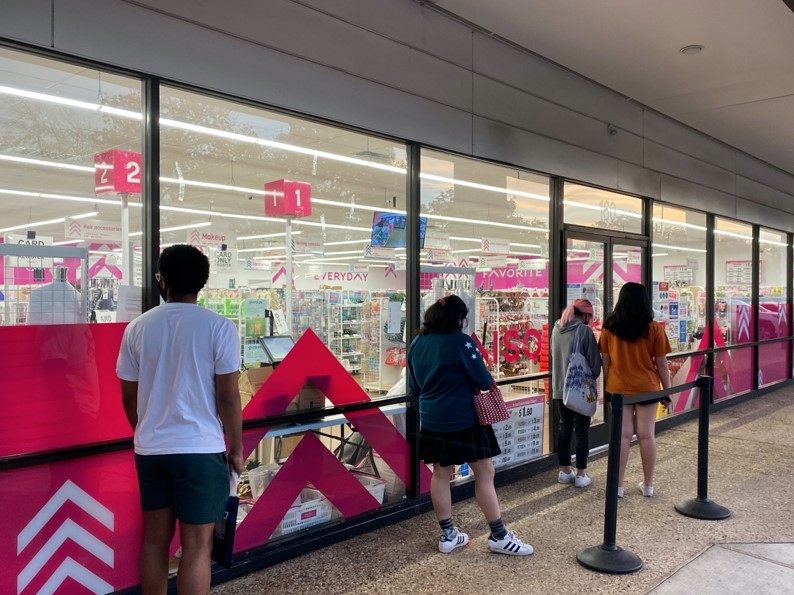 Counting customers
Daiso, a Japanese discount store that opened in late October and sells most items for $1.50, has been taking many safety measures to protect its new customers. As pictured here, Daiso often maintains a socially distanced line out the door, as workers have been counting customers and limiting the number of people inside the store at once. Daiso's website says it has also "increased cleanliness and sanitation in our distribution center" and asks that we "all work together to stay safe and clean during this time." Photo by Ingrid Smith.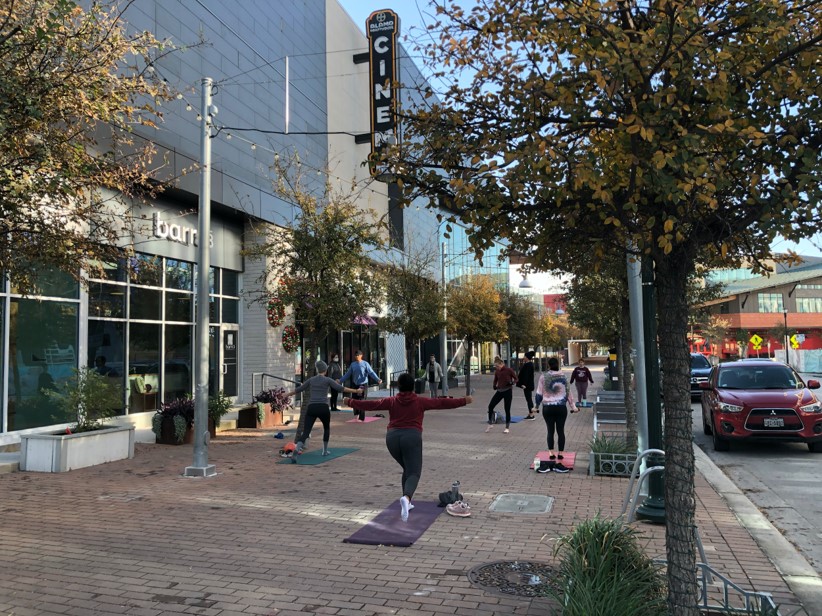 Exercise classes move outdoors
Barre3 is an aerobic workout studio in Mueller that has begun hosting physically distanced morning exercise classes in front of its studio. As indoor gym use has often been discouraged during the COVID-19 pandemic, many exercise facilities like Barre3 are finding new ways to continue hosting classes safely. Barre3 studio in Mueller explains on its Instagram account that it now offers "physically distanced but oh so socially connected outdoor classes … in front of the studio on weekends and in the parking garage weekdays." Photo by Ingrid Smith.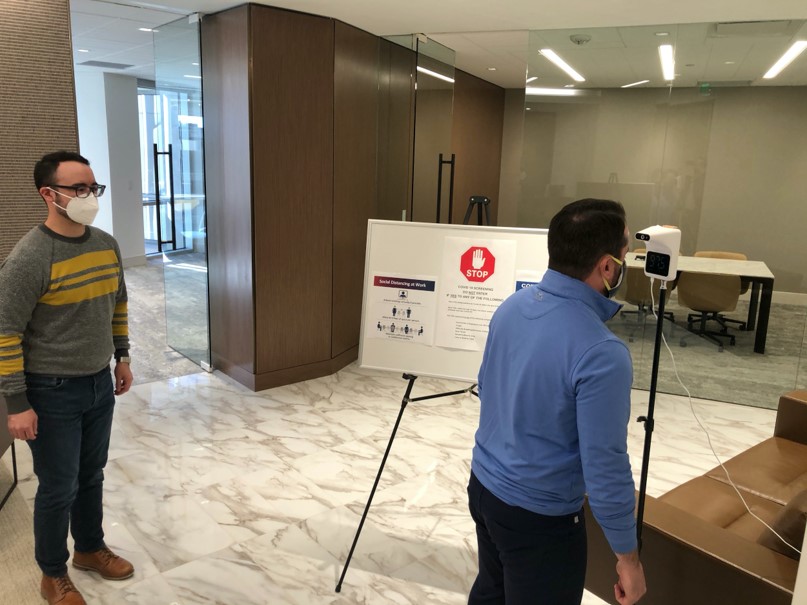 Fever free workplace
Some law firms and offices nationwide have installed automated, no-touch temperature scanners to help maintain a fever-free workplace. Popp Hutcheson PLLC, a law firm that currently offers an in-person work option, has similarly initiated a mandatory temperature check and mask requirement upon entry.  Danny Smith, General Counsel of the Popp Hutcheson law firm, said: "Having self-serve, walk-up scanners at the entrances to our office has been a way to help protect the employees who choose to work in the office, while also maintaining their privacy." Photo by Ingrid Smith.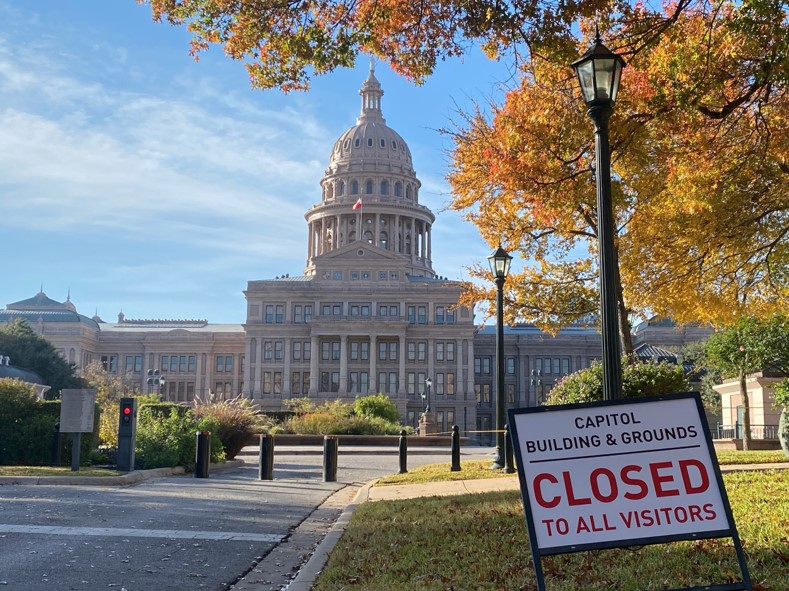 Public buildings closed
The Texas Capitol Building and its grounds, normally a popular destination for tourists and day-trippers, is now closed to all visitors due to the spread of COVID-19. As explained in a press release on the State Preservation Board's website, public access to the Texas State Capitol has been closed since March 18 until further notice "in an ongoing effort to reduce exposure to the COVID-19 contagion." In addition to the Capitol building, the closure includes the Capitol Grounds, Capitol Visitors Center and the Bullock Texas State History Museum. Photo by Ingrid Smith.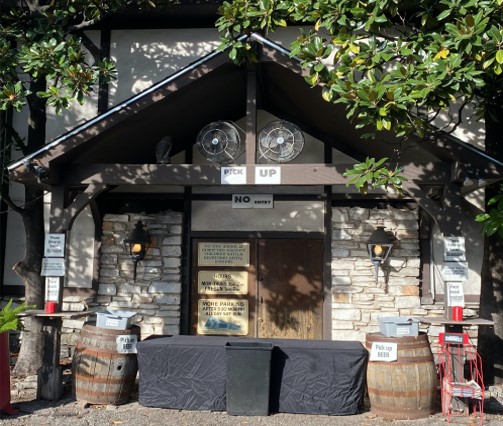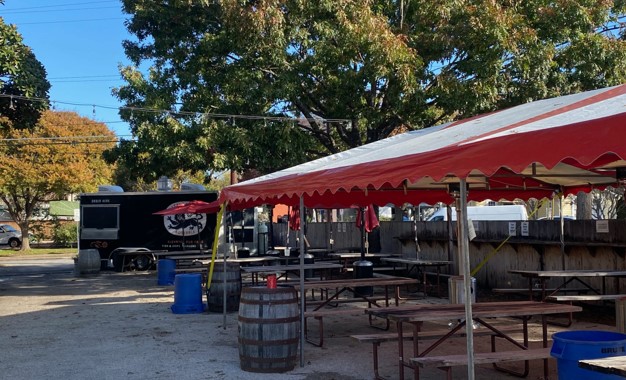 Bars evolve to survive
The Draught House, a beer pub featuring an outside beer garden, has had to adapt its business in many ways to comply with COVID-19 regulations and "pull in revenue" during these times. Draught House relied on a food truck on site to be able to open its patio when the Texas Alcoholic Beverage Commission approved emergency orders in August to allow bars to reopen with food service. In addition, Draught House is requiring masks as well as creating pick-up beer buckets and a no entry indoors policy. Photo by Ingrid Smith.